September Bujo Setup - Picnic Theme (Free Printable!)
HAY, how art you? September is the start of fall season, but staying in a tropical country means an outdoor picnic is possible all year round! I came across an easy paper weaving tutorial recently, and incorporated the technique in a little basket for this month's cover page. To match this bujo theme, this month's free printable is titled Picnic Day. You can find the download link at the end of this article. Without further ado, let me show you my September bujo setup!
September Bujo Setup Video
Watch the following video for the setup process and plan with me!
What I used this month: 
You can use my affiliate codes to purchase stationery at the following stores:
September Bujo Setup Cover Page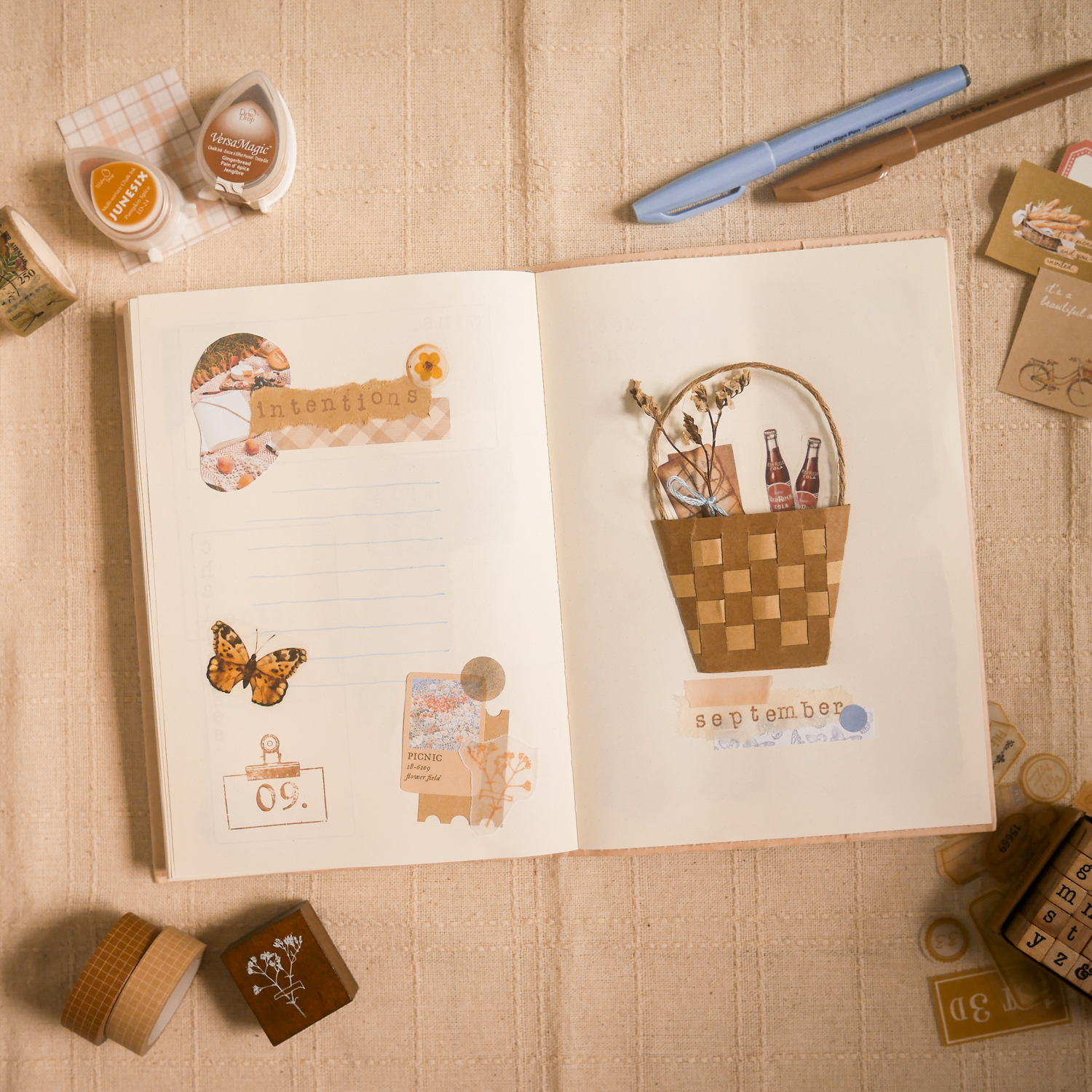 Paper Basket
The cover page features a paper basket along with the monthly header. To create the basket, I cut a trapezium shape with flaps from kraft card paper. For the woven pattern, I cut slits along the centre of the shape, and inserted light kraft paper strips across them in an alternating pattern. Twine was glued on as the basket's handle. To add more texture, I put in a little dried flower bouquet and pasted vintage stickers inside.
Intentions Page
This page is kept simple with a lined section for setting the month's intentions accompanied by collage decorations all around. I used a mixture of cutouts from my Picnic Day printable, stickers  and stamps to assemble the collages.
September Bujo Setup Weekly Spread 1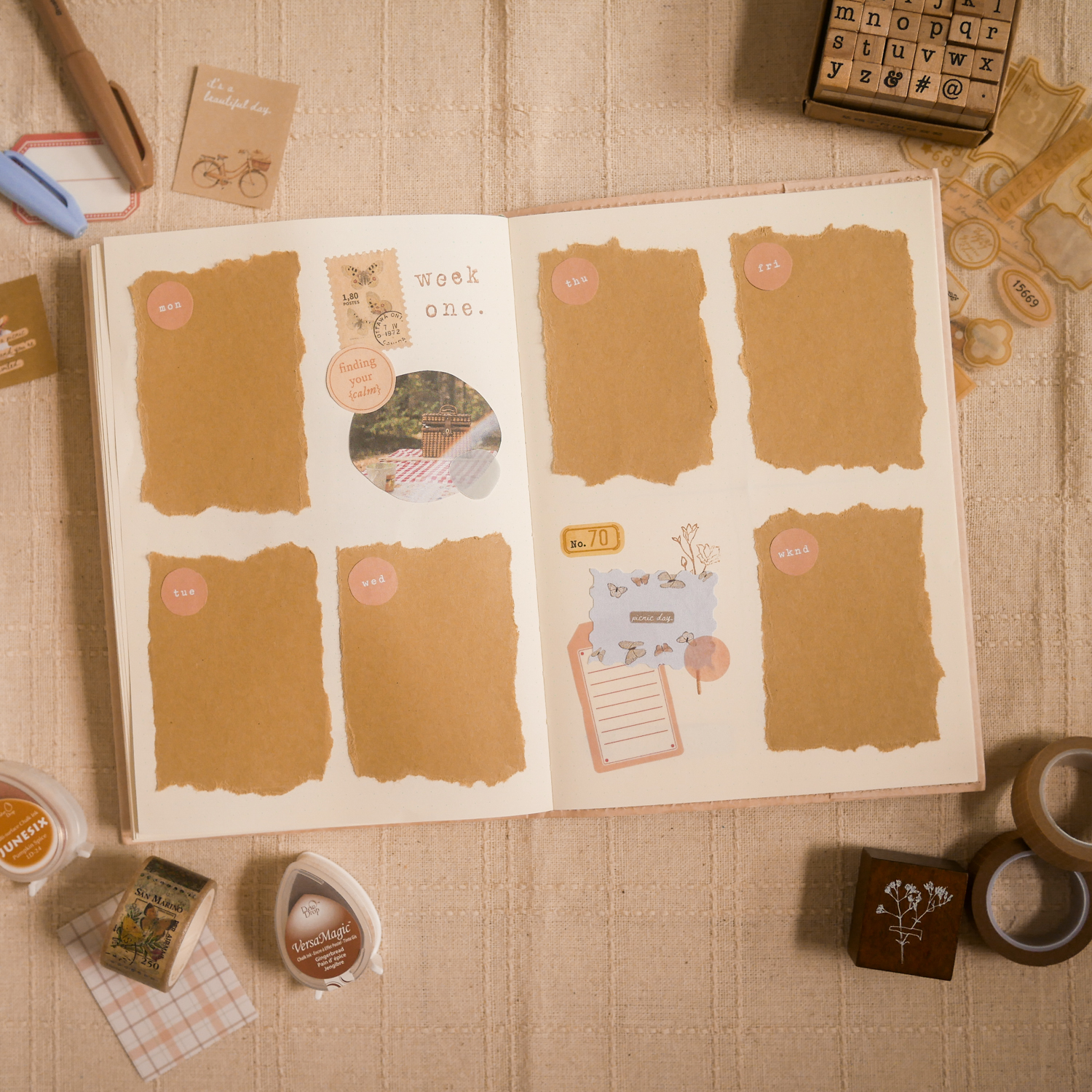 For the first September weekly spread, I tore and pasted pieces of kraft paper for the daily sections. They add a nice rustic texture to the spread! To fill up the remaining spaces, I added stickers, cutouts and stamps to decorate. 
September Bujo Setup Weekly Spread 2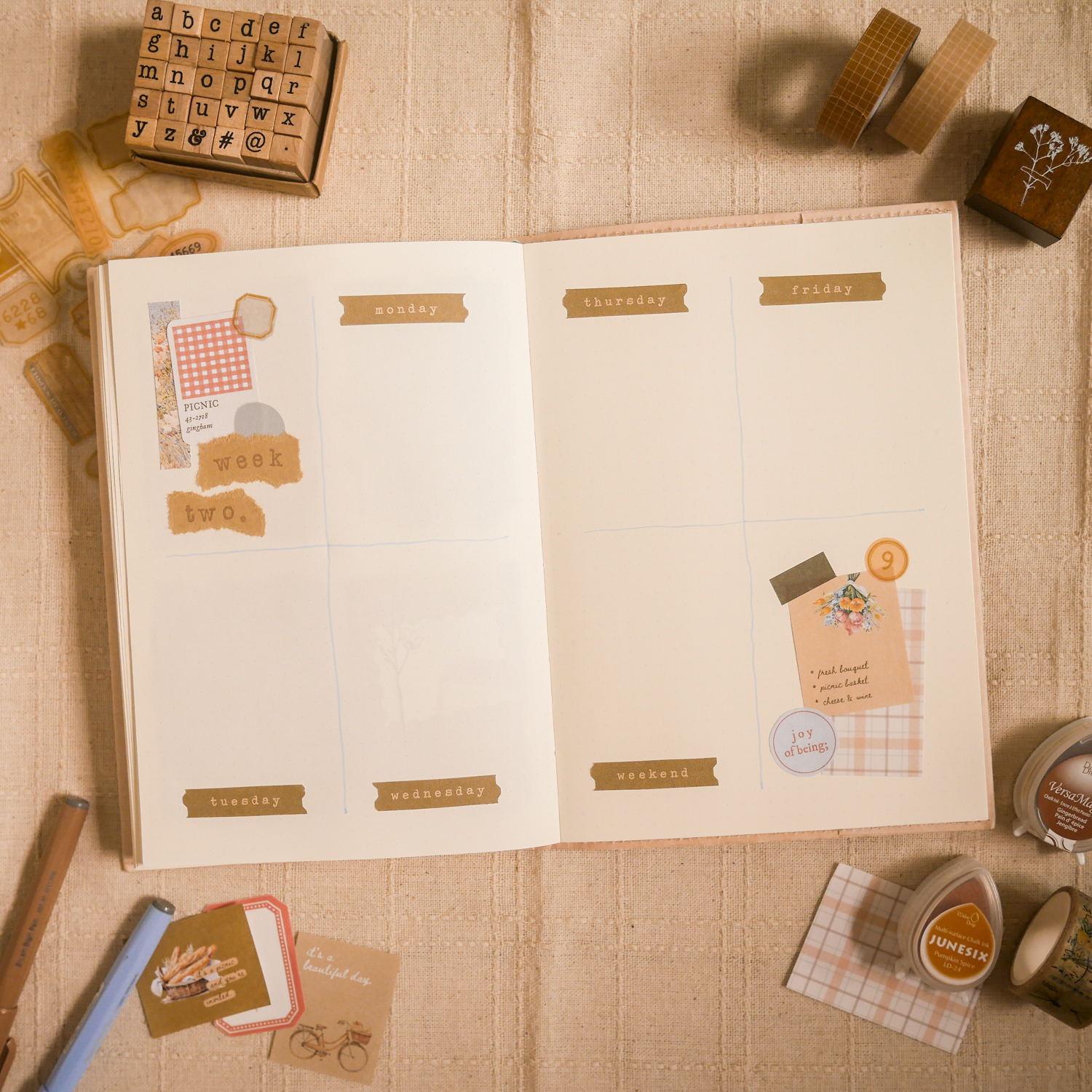 For the second weekly spread, each page was divided into four sections. This layout is fuss-free and easy to create! The headers were printed, cut and pasted. I have been doing that for a couple of months now, and I love how I can customise the font and colour palette according to the theme. 
Free Journaling Printable – Picnic Day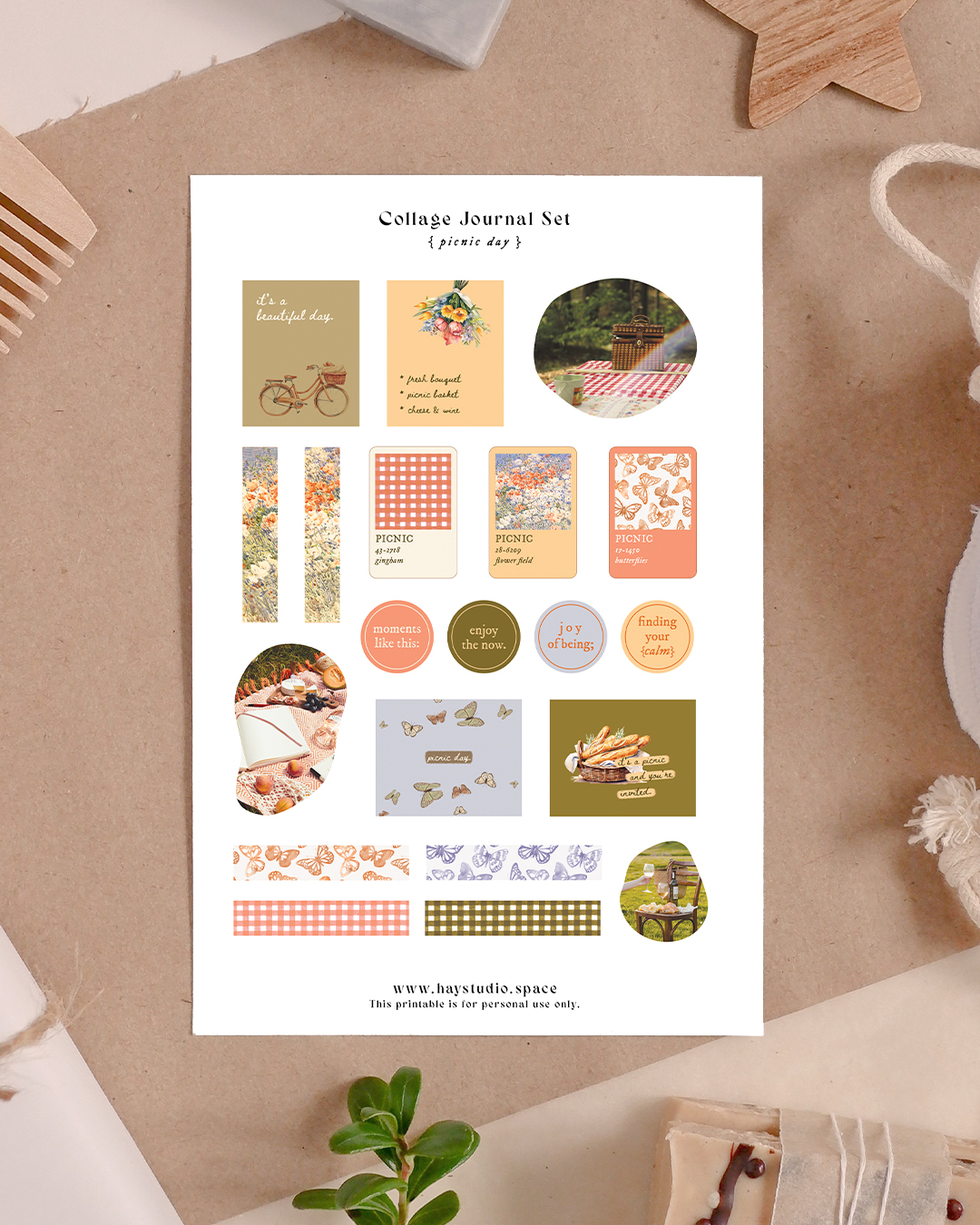 If florals, gingham patterns and cosy vibes are your thing, this printable set is for you! Make a picnic-inspired spread in your journal and scrapbook with this Picnic Day free journaling printable. 
Tag me on Instagram (@hay.studio) if you share any of your creations that contain my free printables; I would love to see them. Happy journaling!
To download this free journal kit, click here.
More Bullet Journal Ideas
Subscribe to my YouTube channel for more bullet journal setups! Check out these videos for my setup for the previous months:  
***
 If you enjoyed this article, share the love with your bujo pals! To stay updated on future blog posts, subscribe here. 
Related articles, videos and resources:
Disclaimer: Some of the links above are affiliate links, meaning I earn a small percentage of commission via those links, but it doesn't cost you anything extra!
Enjoyed this post? Spread the joy!
☆ Pin this image to help this article reach more people. ☆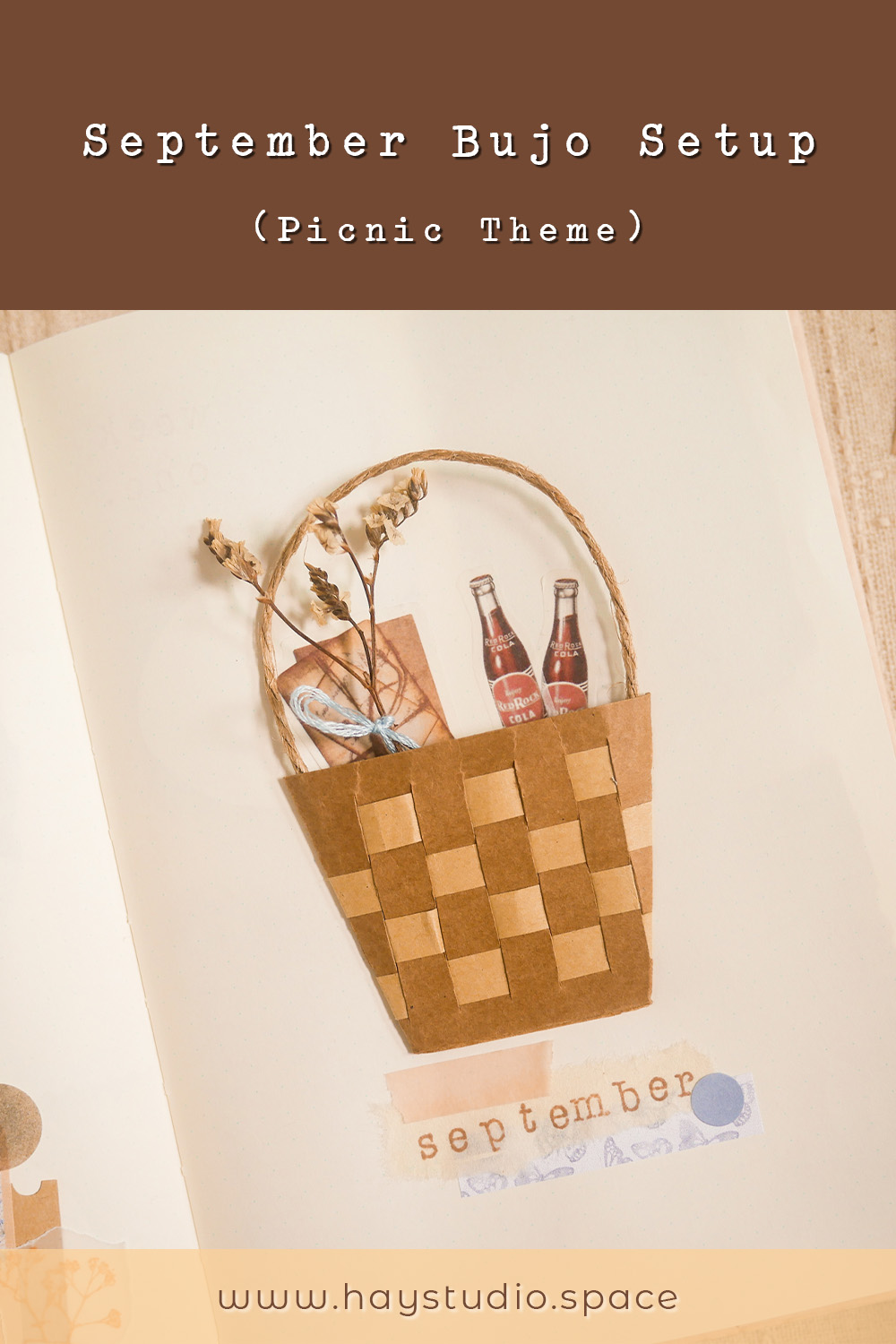 Clicking On These Helps Me Pay My Bills...