5 Aesthetic DIY Tag Ideas (Easy Mini Paper Collages)
HAY, how art you? It's been a while since I embarked on any DIY projects. Recently, I received some stationery from Paperwrld, including a tag punching machine. I was inspired to make some DIY decorative tags with the help of this handy tool. If you're interested in making your own, keep scrolling for the DIY tag ideas!
Check out the following video to watch the DIY process video!
Here is a list of supplies I used to make the DIY tags: 
The tag punching machine works like any regular puncher. To start, prepare strips of paper that you would like to use for the tags. The puncher I used can create tags of three different widths – 1.5 inches, 2 inches and 2.5 inches. Then, simply insert the paper and press down to punch. I flipped the puncher over to check if the paper is inserted properly before punching. 
The tag puncher that I got creates a rounded top and a 6mm hole for attaching ribbons or strings. The length of the tag depends on how long the paper strip I used is. I tried it out on kraft paper card stock that is 200 gsm thick, and the blade had no issue producing a clean cut!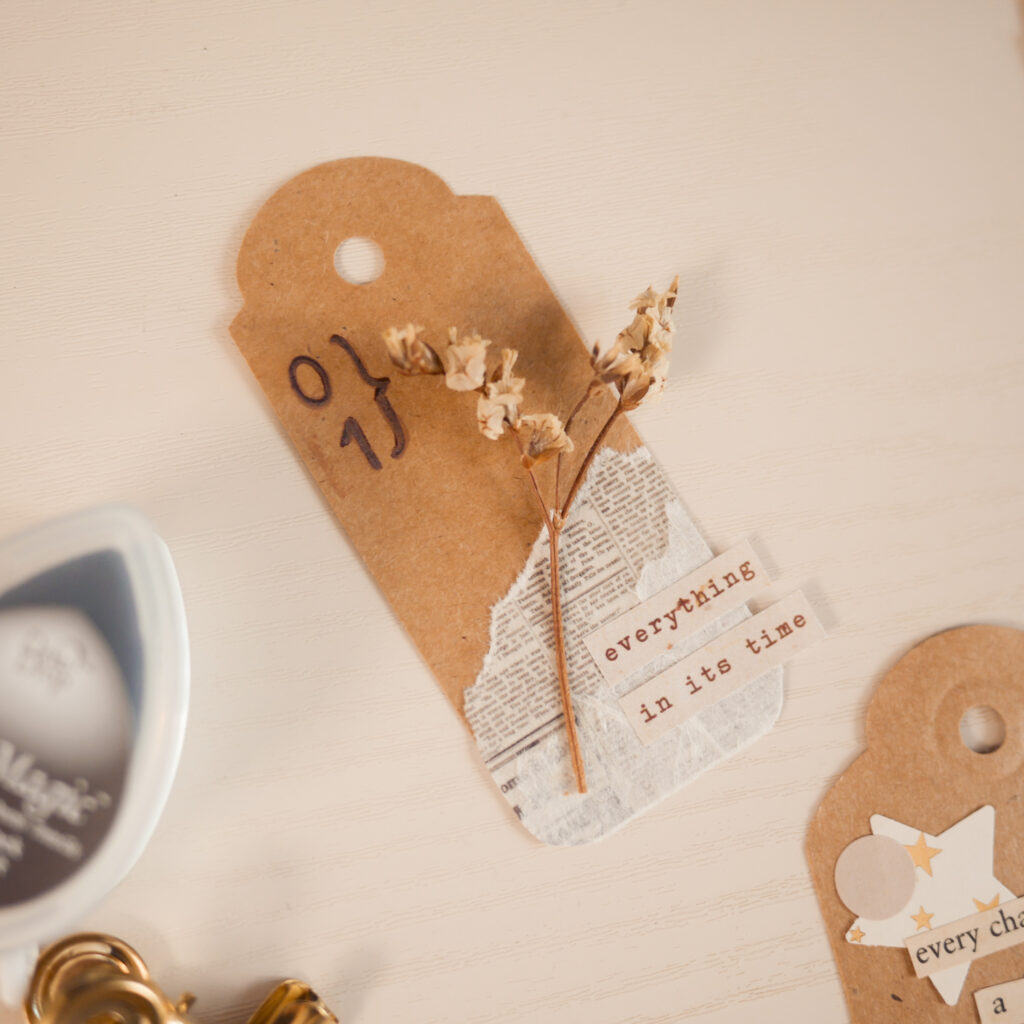 The first DIY tag idea features a little dried flower at the centre. Before attaching it with craft glue, I pasted printed and textured papers at the bottom corner to create some layers. I also stamped on numbers on each tag to serve as additional decoration.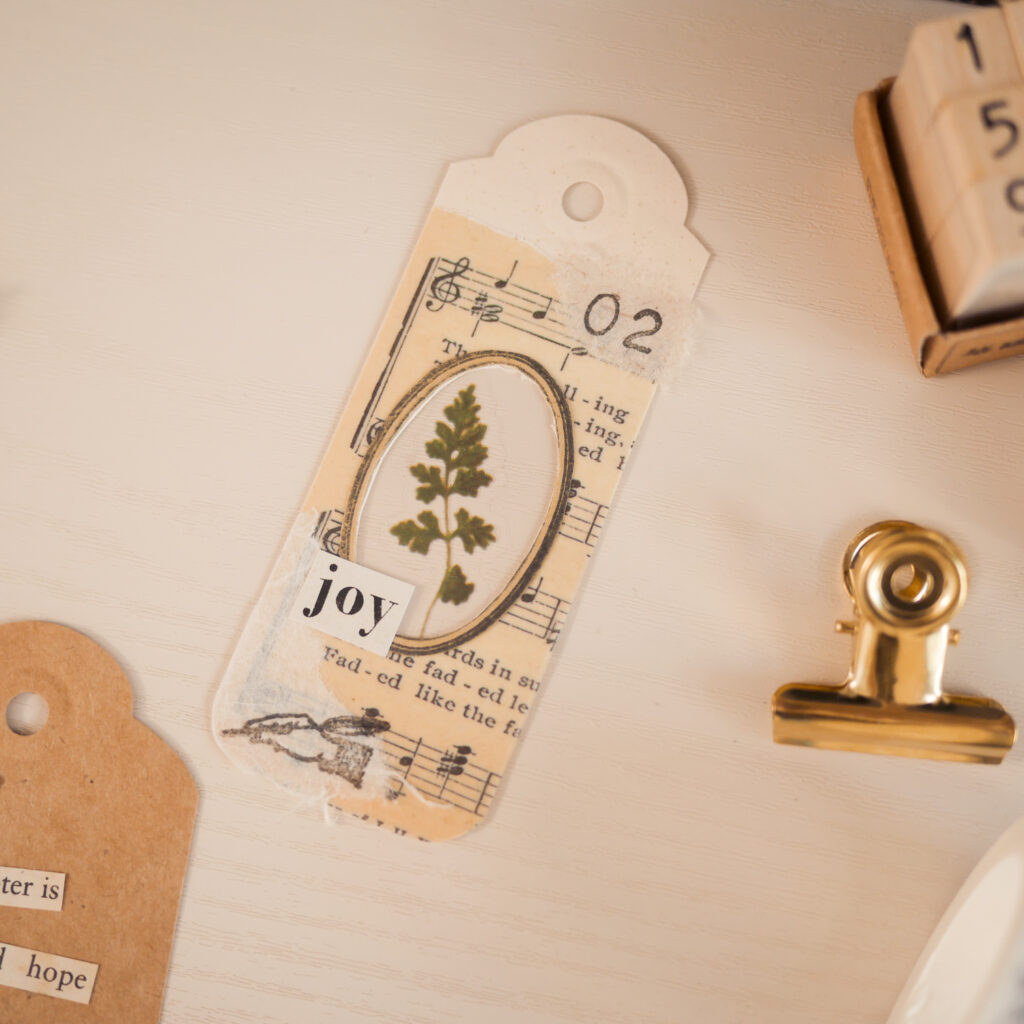 The second DIY tag idea features a see-through oval window right in the middle of the tag. A piece of music score vellum paper was layered to add a patterned background to the tag. Then, I cut away the oval shape with a cutter, and pasted a transparent film and leaf sticker at the back of the tag. It takes a little effort to cut the window away, but I really love the visual effect of it! To finish off, I added a few other decorations.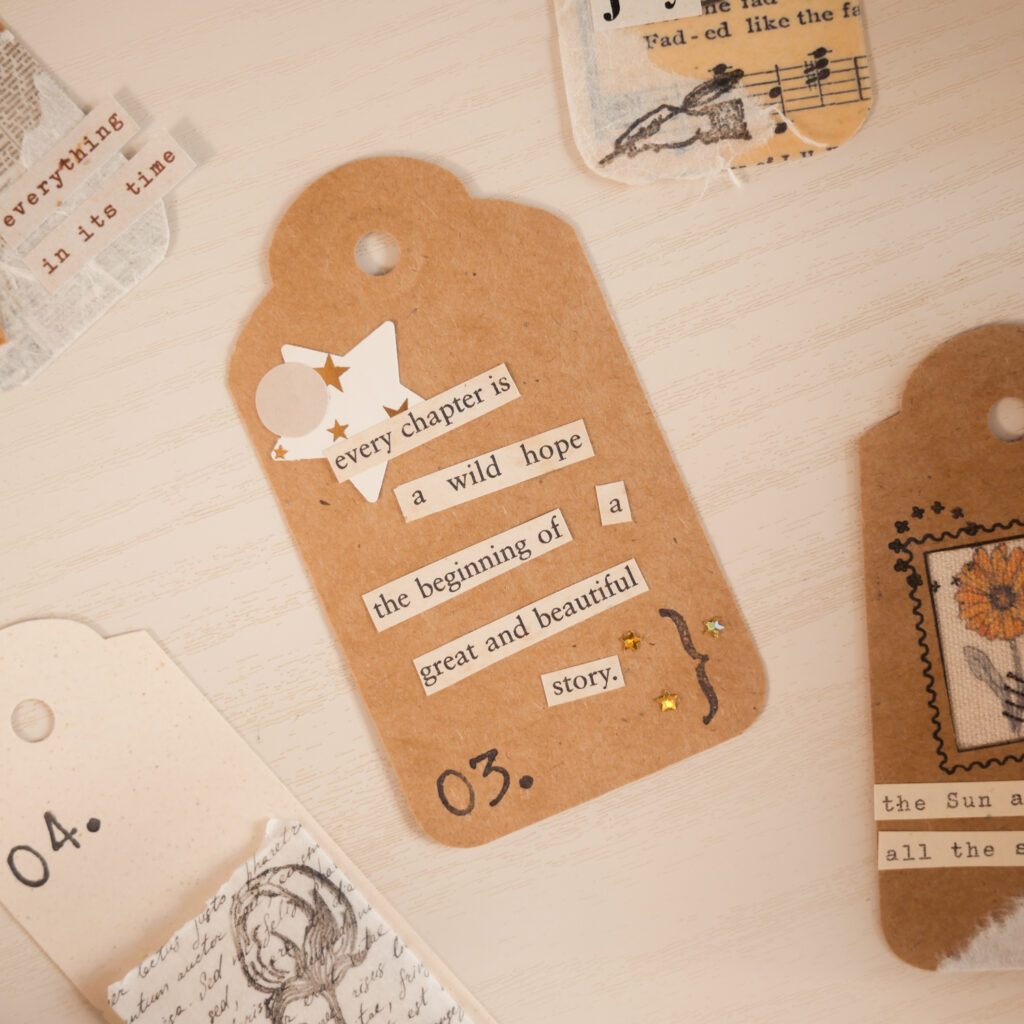 The third tag was pretty simple to make! I cut out some words and phrases from a thrifted book page and assembled them together to form a new sentence. The rest of the decoration was kept minimal with a star-printed paper, stamps and gold glitter stars.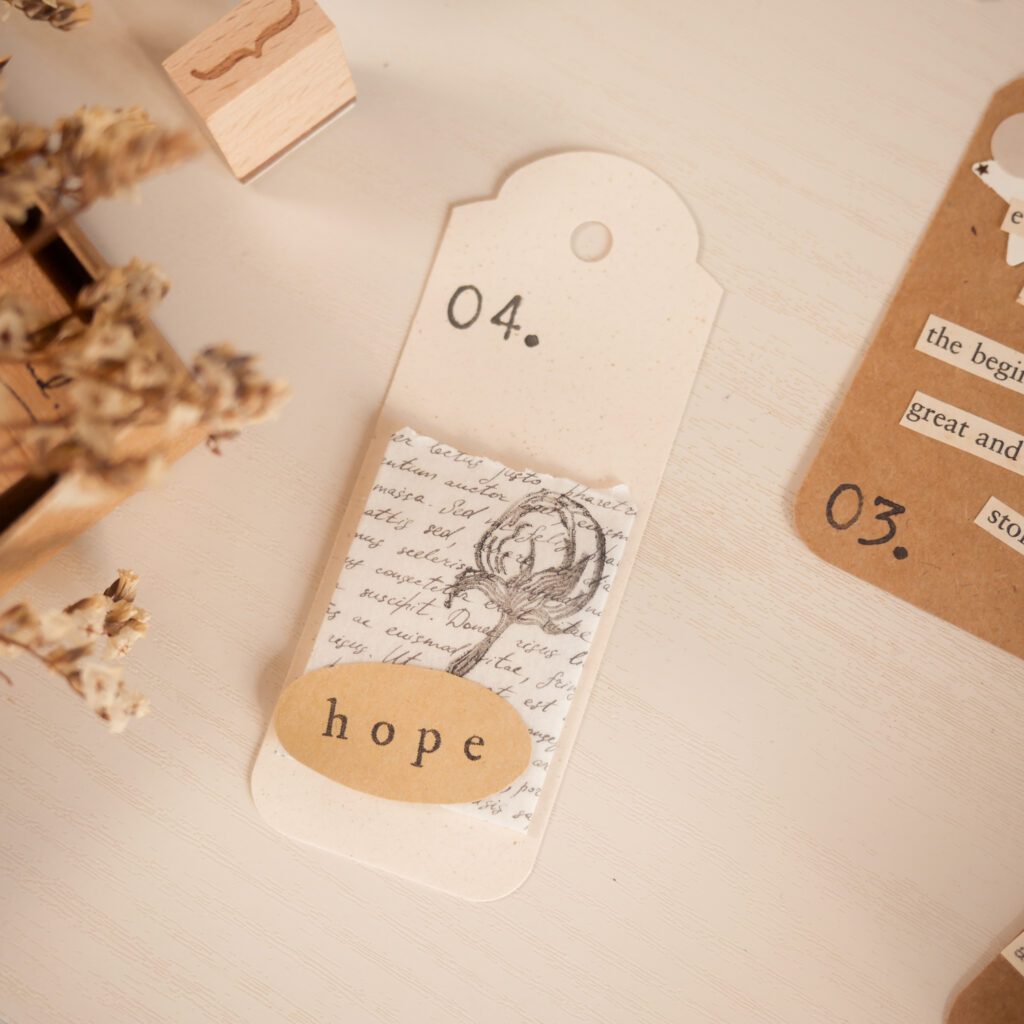 The fourth tag looks simple, elegant, and I love its functionality! At the centre is a mini pocket made from vellum paper and decorated with washi tape. Small paper scraps can be kept in the pocket for the next journaling session. However, I wish I had made this for a wider tag as the pocket was really mini and a struggle to make!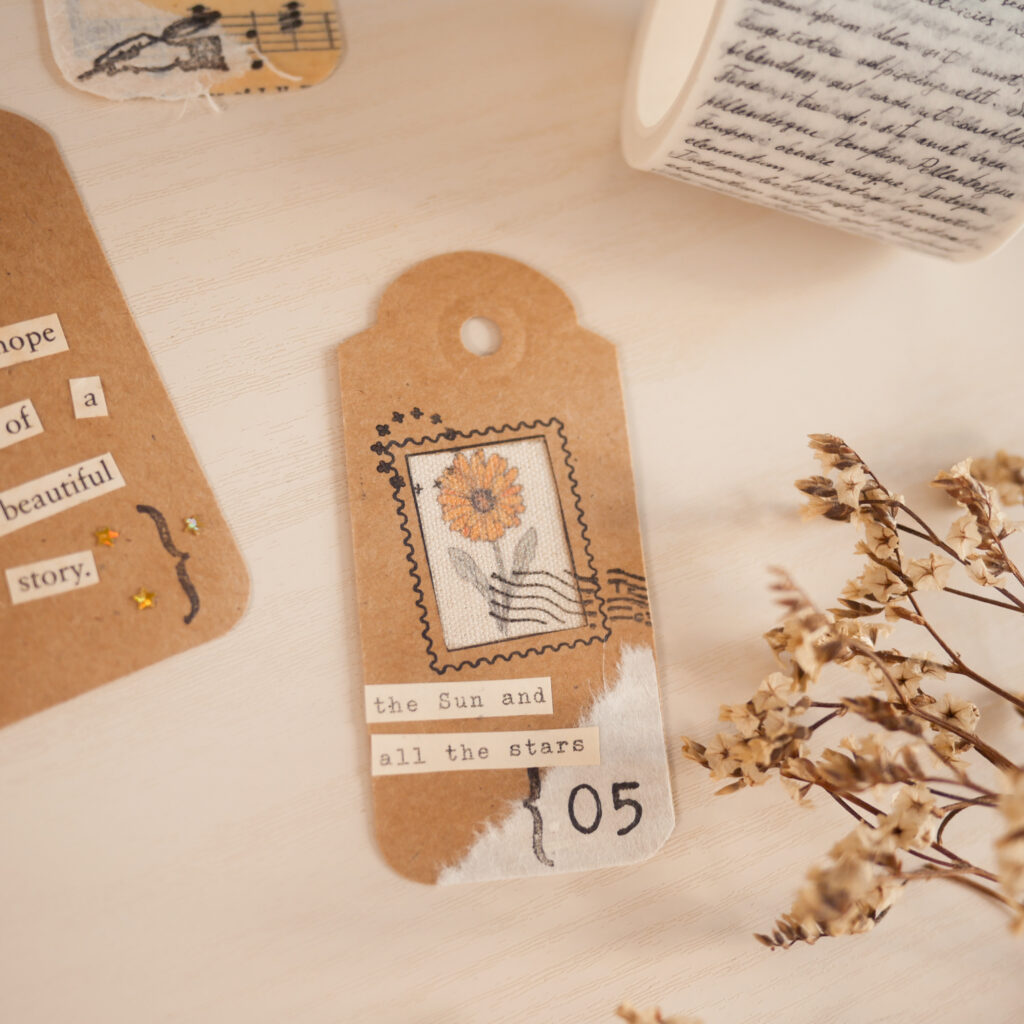 The fifth and final tag idea is similar to the second tag. This time, instead of a see-through window, I layered a piece of canvas flower-print cloth at the back of the tag. You can always switch it up and use stickers, textured papers or just add a simple doodle.
If you are interested in getting the tag puncher or any journaling stationery and supplies from Paperwrld, feel free to use my affiliate code haystudio15 to get 15% off your purchase!
Subscribe to my YouTube channel for more DIY project ideas! Check out these videos for some inspiration:  
***
 If you enjoyed this article, share the love with your creative pals! To stay updated on future blog posts, subscribe here. 
Related articles, videos and resources:
Disclaimer: Some of the links above are affiliate links, meaning I earn a small percentage of commission via those links, but it doesn't cost you anything extra!
Enjoyed this post? Spread the joy!
☆ Pin this image to help this article reach more people. ☆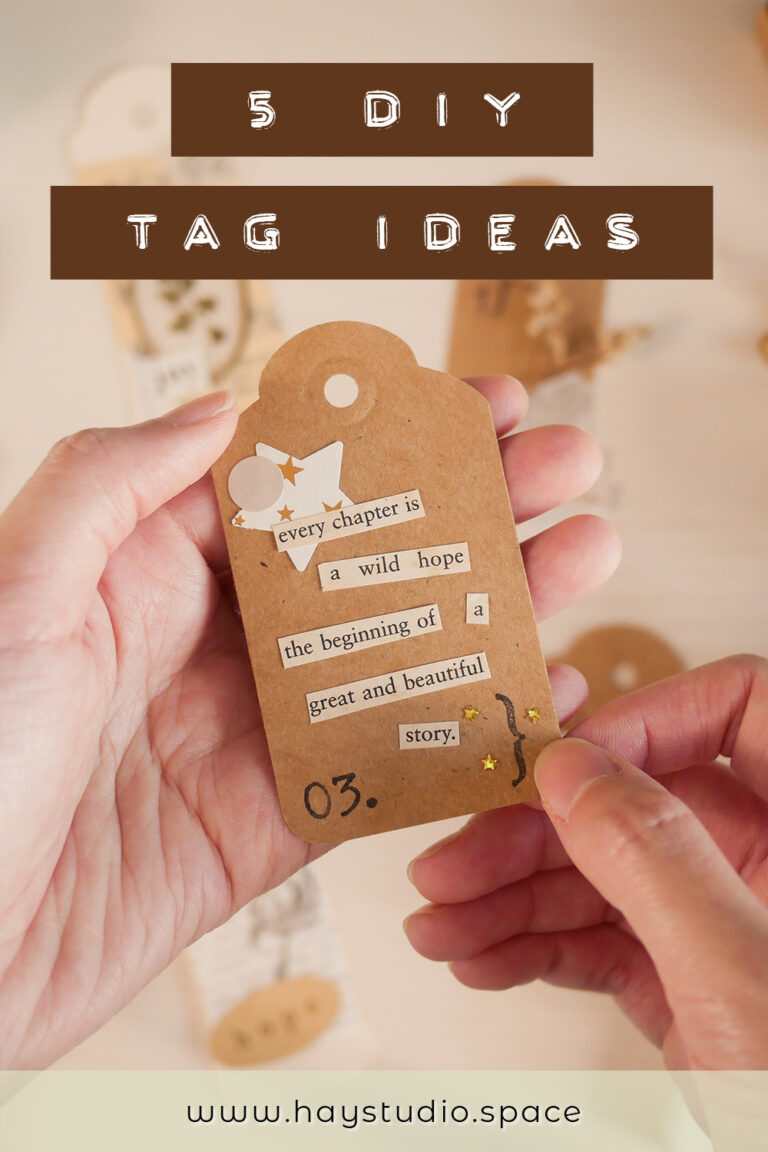 Clicking On These Helps Me Pay My Bills...