Notion Virtual Cafe: Free Template for Productive Work/Study
HAY, how art you? As the title of this article says, I built a Notion virtual cafe. This page is inspired by study websites like imissmycafe.com and lifeat.io, and contains a pomodoro timer, motivational quotes as well as focus music to set the vibes for a study or work session.
I feel that having a dedicated page in Notion is less distracting since we won't have the chance to get on the internet and be distracted by other websites. It is also more convenient and accessible, even on the tablet or the phone.
In this article, I'll be detailing the step-by-step process of making this template, so feel free to read on and build your own customised virtual cafe in Notion with me!
Check out the following video to watch the building process of this template:
Notion Virtual Cafe Step 1: Cafe Opening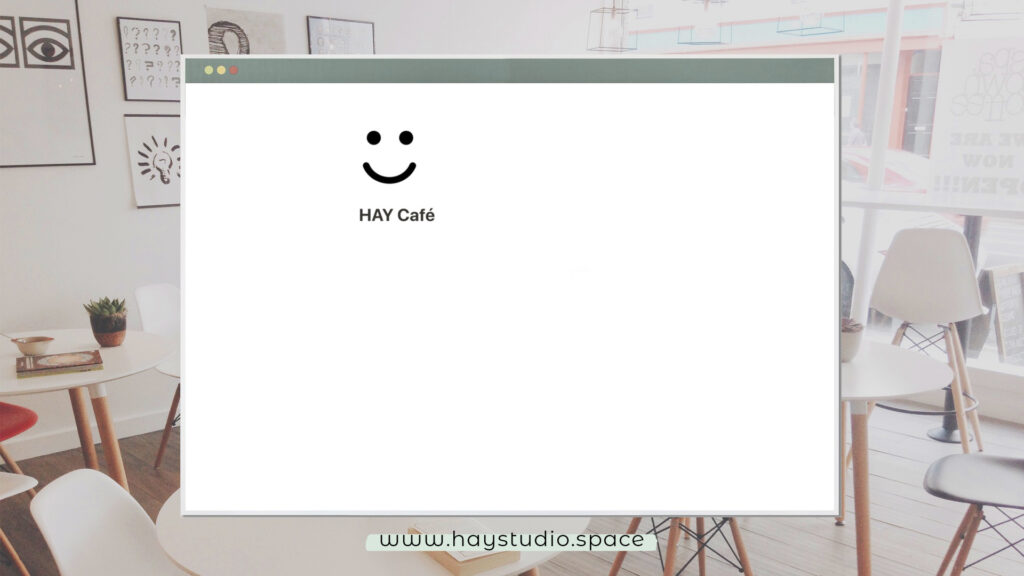 Page Title & Icon
The first step is, of course, to create a new page in Notion wherever you want your page to be. Name your café and pick an icon. I decided to use a simple smiley face from flaticon.com. To use an image from the internet, follow the steps below:
Right click on chosen image
Click on copy image address
Go back to Notion
Click on icon
Select link
Paste the image's address 
Click submit
This is a fun way to customise your page icons and you can use any image that you like. 
Cover Image
I decided not to use any cover image for my Notion virtual cafe since I wanted to keep it really clean-looking to avoid any distractions, but feel free to add one for yours if you like!
Notion Virtual Cafe Step 2: Focus of the Day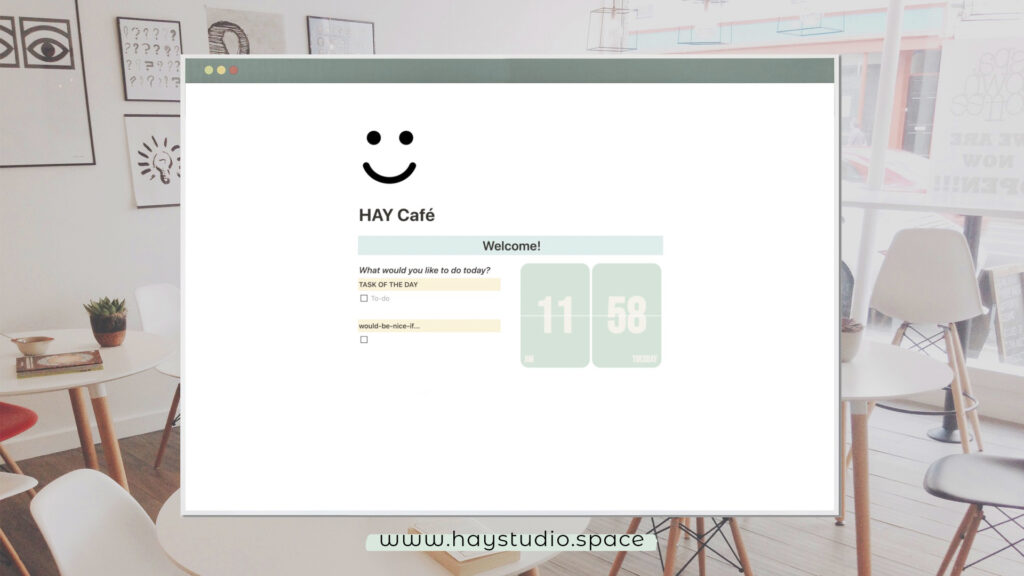 Setting the Main Focus of the Day
For the first section, I added a heading to say welcome and I set the text background to green. Here, I included a section to write down the task of the day. Below it is a would-be-nice-if list for to-dos that can be completed if there is extra time after completing the main task. 
Digital Retro Clock Widget
Next, I added a flip clock widget from widgetbox.app. Both the background and text colours can be customised. Once the colours are set, just copy the URL provided at the bottom of the page and paste it in Notion. Select create embed and the clock widget should appear. To customise the size of the clock, just drag the corners of the widget. 
Notion Virtual Cafe Step 3: Mindset Reframe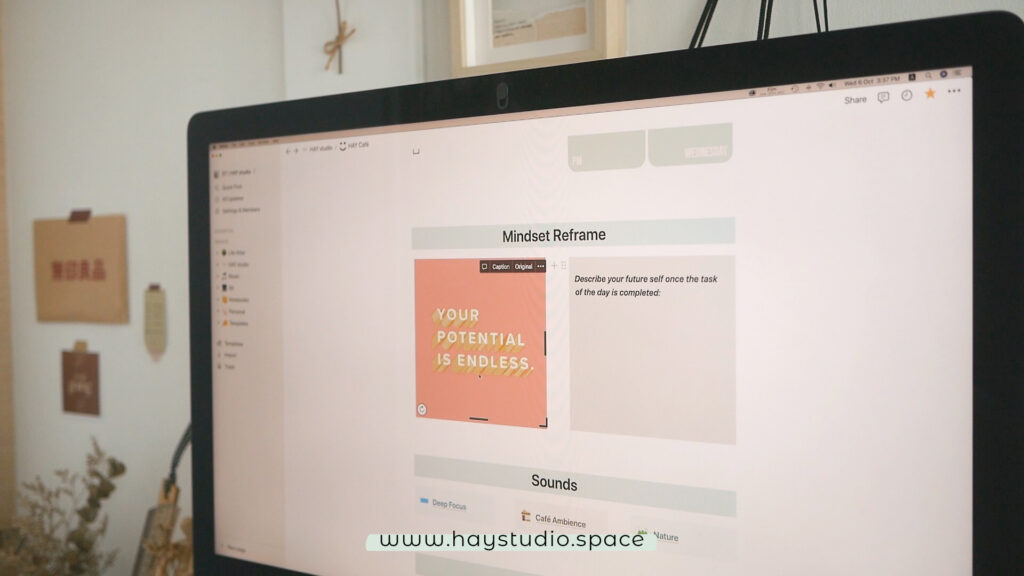 Quotes Widget
For this section, I added a quotes widget from indify.co. There are a couple of customisation options that you can play around with. Once it's ready, just copy the link and paste it in Notion, and select create embed. This widget can be refreshed so you will never get bored of seeing the same quote over and over again. 
Faux Post-It Note
On the right, I added a faux post-it note to describe my future self once the task of the day is completed. This adds an extra dose of motivation to get started with the task. To colour the background of this entire section, hold the shift key while pressing enter to create new lines within the block.
Clicking On These Helps Me Pay My Bills...
Notion Virtual Cafe Step 4: Setting the Vibes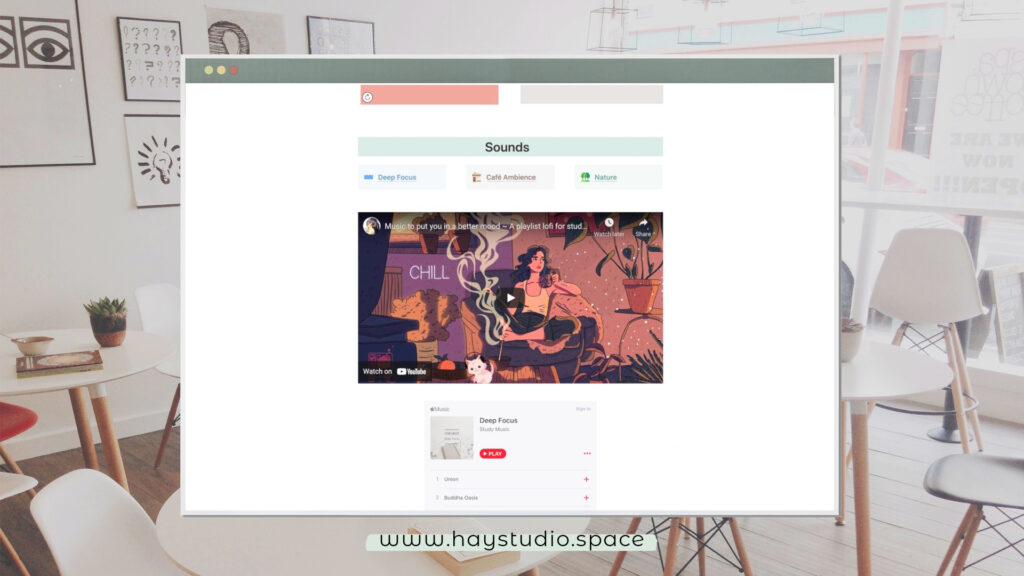 Spotify Playlists
This section is for adding sounds to set the vibes for the study or work session. I find that playing ambient music helps me to focus better, but feel free to skip this section if you don't need it. 
Embedding a Spotify playlist only allows the tracks to be played for 30 seconds, so to work around that, I decided to link Spotify playlists for easy access instead. I used the callout block for each type of music, and added custom icons from flaticon.com again. 
To quickly create a link, copy the URL of your chosen playlist, highlight the words to be linked in Notion, and then paste. Clicking on the link should open the playlist on your web browser but and you can also choose to open the Spotify app from there.
Other Music Providers
If you don't use Spotify, you can also link or embed YouTube videos or an Apple Music playlist using the same method.
Notion Virtual Cafe Step 5: Getting Things Done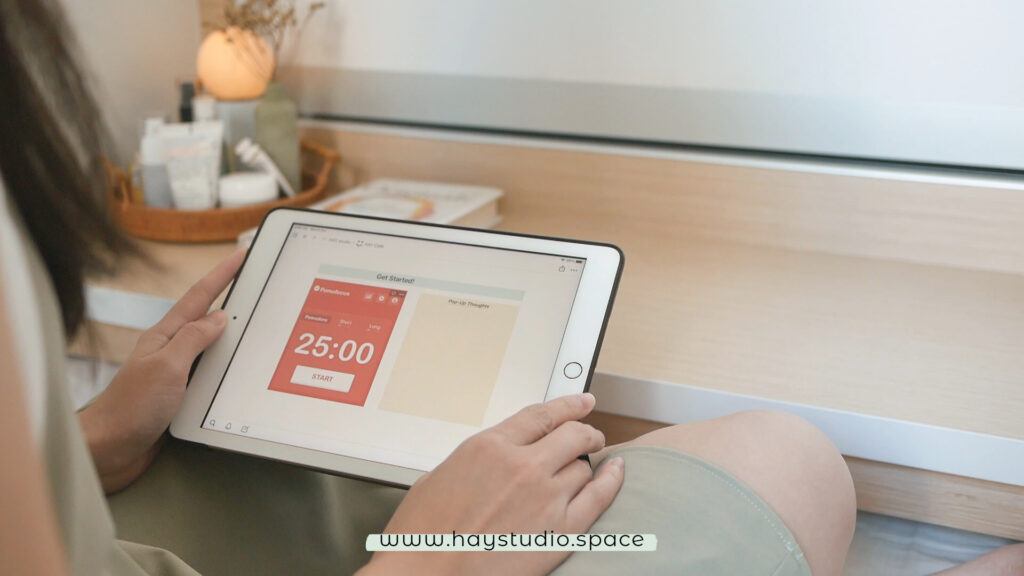 Pomodoro Timer
Finally, for this last section, I embedded a Pomodoro timer website. Just copy the URL of the website you like and paste it into Notion, and click create embed. Then, drag the corners of the widget to change the size. Check out these Pomodoro timer websites to see which one you prefer:
I prefer pomofocus since it looks the most minimal and neat. 
Distraction Log
Lastly, I added a text block on the right to record any thoughts that pop up and distract me during the study or work session. 
Shop My Notion Templates on Etsy
Check out my Etsy shop to find more creative and useful templates I have designed!
Free Notion Virtual Cafe Template
To duplicate the Notion template I created into your workspace, click the link below:
Subscribe to my YouTube channel for more Notion ideas! Check out the following video for some life organisation page ideas:  
***
If you followed along and made your own template, feel free to share the link in the comments below so that I can check out your Notion virtual cafe. 
If you enjoyed this article, share the love with your Notion pals! To stay updated on future blog posts, subscribe here. 
Related articles, videos and resources:
Disclaimer: Some of the links above are affiliate links, meaning I earn a small percentage of commission via those links, but it doesn't cost you anything extra!
Enjoyed this post? Spread the joy!
☆ Pin this image to help this article reach more people. ☆