5 Notion Page ideas to Organise Your Life (Free Template!)
HAY, how art you? I've been using Notion for nearly a year and since then, I've never looked back. *hair flips* It is hardly a surprise that almost my entire life is now organised in this very versatile app. If you are new to Notion, it is basically an all-in-one application that can be used to organise anything under the sun. In this article, I will be sharing 5 Notion page ideas that you can use to organise your life. There is also a free template that you can duplicate with one click into your own workspace, so read on to know more!
Watch the explanation video
Before scrolling down, check out this quick video to watch how I use each page:
Notion Page Idea #1 – Weekly Reset Task List
The first page idea is a weekly reset task list, which contains all the nitty gritty to-dos when starting a new week. The brain is usually crammed with too much stuff to remember, so it's really helpful to off-load mundane information into a list like this one. For my page, I have separated the to-dos into different sections:
Cleaning up my physical space

Organising my virtual workspace

Reviewing my tasks and projects

Planning for the new week

Money-related matters

Life in general
 Ever since I set up this list, I've been feeling more organised and prepared for each new week. If a weekly list sounds too stressful for you, you can also personalise the list to make it a monthly reset instead. 
Notion Page Idea #2 – Learning Notes
The second idea is a virtual notebook to capture learning notes. Right on top, I have included some quick links to learning resources as well as a photo from Unsplash to decorate the page. Every time I take an online course or webinar, I make sure to take down notes and add to my notes database. For each entry, I include the following: 
Course title
Category, the main topic of the course
Source, where I took the course
Date of creation
I also pre-made a simple course notes page template that allows me to set up a new page easily. Lastly, I added different views for each course category to allow me to find my notes quickly according to the different topics. 
Clicking Here Helps Me Pay My Bills...
Notion Page Idea #3 – Expenditure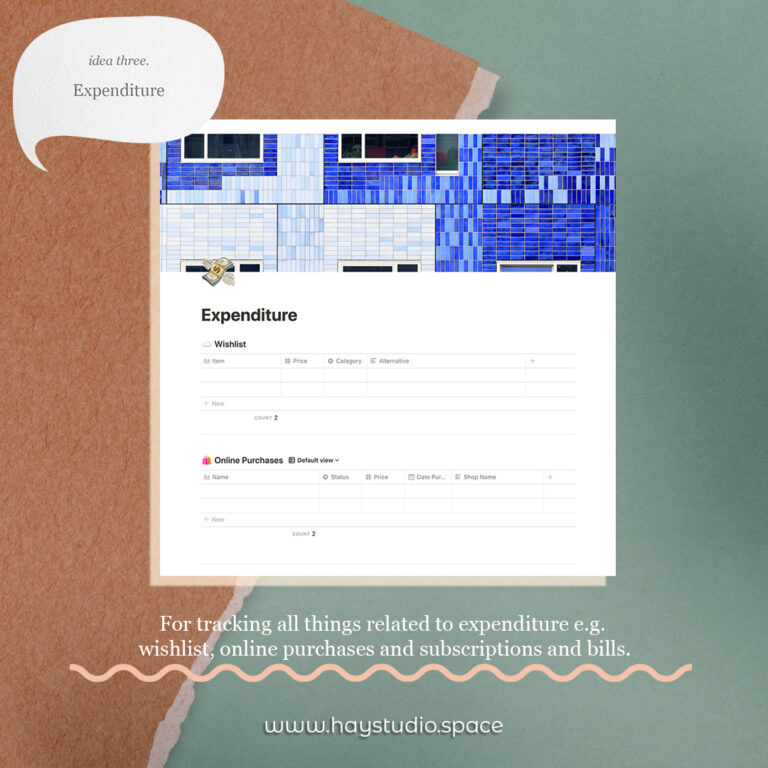 The third idea is a page to organise things related to expenditure. On my page, I have 3 tables:
Wishlist
Online purchases
Subscriptions and bills
Putting items in the wishlist first will decrease the likelihood of impulse buying. For each item, I can do first research on the prices and models of the product, list out pros and cons, and think of alternative solutions before buying something new.
Under the table for online purchases, I record what I have purchased recently and the status of the delivery.
The subscriptions and bills table lets me review my subscriptions from time to time to prevent unnecessary spending.
Notion Page Idea #4 – Library (Free Template!)
The fourth idea is a library, to keep track of all things related to reading and books. Right on top are some links to reading resources. In the centre, I added a counter widget from Indify to track how many books I have read this year. On the right, I uploaded a photo from Unsplash with a link to my Book Shelf database, where I keep my book summaries and reviews.
The TBR (to be read) list database below is organised by priority, where 3 paper clips represent the books I want to read the most. I also added tags for the book topics and a source column to document where I got to know the book from.
This page is my favourite one in my Notion setup! If you would like to duplicate it into your own Notion workspace, feel free to click on this link to do so:

HAY studio's FREE Library Notion template
Notion Page Idea #5 – Encouragement Jar
The last idea is an Encouragement Jar to record positive messages and inspiring quotes. There would always be times when we feel unsure, discouraged or unproductive. This page is meant to be a little pick-me-up and extra motivation when we need it. On this page, I paste screenshots of kind YouTube comments (check out my channel here!), Instagram DMs and motivating quotes that I come across. Also, I like to colour the blocks to make the page as cheery and vibrant as possible. 
Shop My Notion Templates on Etsy
Visit my Etsy shop for a variety of creative and useful Notion templates.
Subscribe to my YouTube channel for more Notion content! Check this one out for another free Notion template:  
***
I hope these Notion page ideas are useful for you. Feel free to personalise these pages and the free Library template to fit your lifestyle needs.
 If you enjoyed this article, share the love with your Notion pals! To stay updated on future blog posts, subscribe here. 
Related articles, videos and resources:
Article – 10 Functional & Free Notion Widgets
Disclaimer: Some of the links above are affiliate links, meaning I earn a small percentage of commission via those links, but it doesn't cost you anything extra!
Enjoyed this post? Spread the joy!
☆ Pin this image to help this article reach more people. ☆