Effective To-Do List Tips — 5 Simple Changes You Can Make Now!
HAY, how art you? Do you swear by to-do lists? I definitely do. On days without it, I would feel disorganised, lost and unsure of which task to tackle first. Recently, I made a few changes to the way I use to-do lists and noticed that the productivity genie in me is a lot more cooperative. Plus, I feel less stressed and frustrated even if I fail to check off all the boxes, thanks to a certain minor adjustment that I made (hint: it's tip #2!). Without further ado, here are 5 effective to-do list tips that you can easily implement in your productive routine immediately. Enjoy!
5 Effective To-Do List Tips Summary Video
Before reading on, you can also check out this video to watch these 5 to-do list tips in action:
Effective To-Do List Tip #1: Define one priority task.
This simple adjustment has done wonders for me! Before flooding my to-do list with to-dos, I would first set one priority task that I would like to complete for the day. I usually use a star symbol to define it. Since it is a priority task, completing it becomes my mission of the day, which minimizes decision fatigue. I would then invest most of my effort and energy in the priority task, rather than scattering them among many other to-dos. With the increase in effort and energy invested, it is much more likely that I would complete the task and check it off. That in turn leaves me feeling more fulfilled and motivated to work on the other tasks on my to-do list.
Effective To-Do List Tip #2: Create flexibility by using a "would-be-nice-if" section.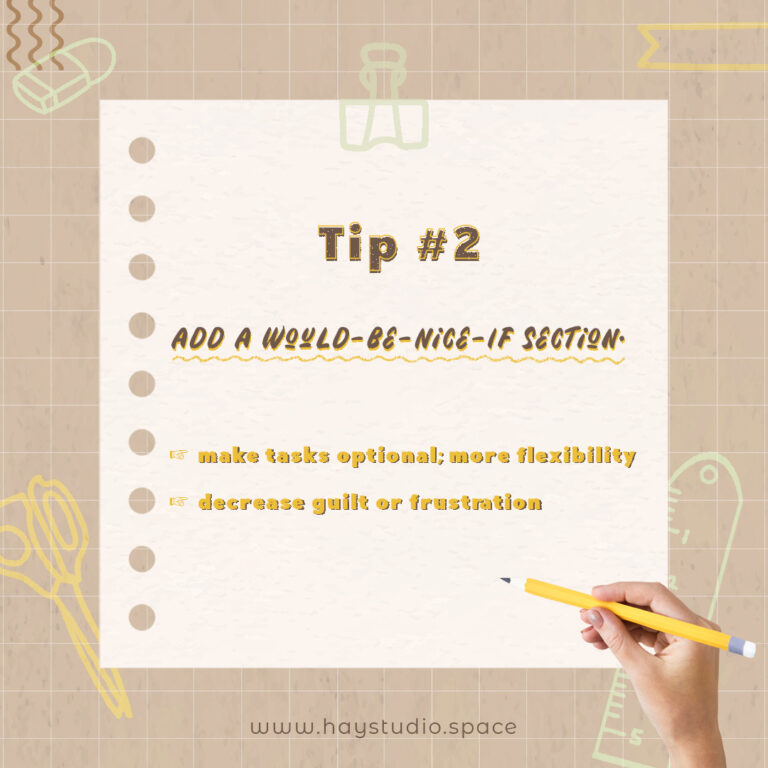 With one priority task defined, I add 3 to 5 other to-dos to my list, depending on the time and energy required for them, and the number of available hours I have for the day.
Any other tasks that I am unsure if I could complete within the same day spill over to a smaller "would-be-nice-if…" section — it would be nice if I could complete these tasks, but it is also totally fine if I don't manage to. I know I can simply complete them tomorrow or later in the week.
This creates flexibility in my schedule and I don't feel as guilty if I didn't manage to check off everything on the list.
Effective To-Do List Tip #3: I make my to-do list accessible wherever I am.
I usually kickstart my week by creating a weekly to-do list in Notion, and then plan out my daily to-dos in my bullet journal. This gives a clear overview of what I need to accomplish this week. Even though I don't carry my bujo with me when I'm out, I know that I can refer to my weekly to-do list using the Notion app in my phone. On days when I really need my daily list, I would simply snap a photo of what I have planned out, and then refer to the photo whenever I need to.
If you're new to Notion, check out the following video for some life organisation ideas that you can implement in this powerful app!
Effective To-Do List Tip #4: Pair the to-do list with timeblocking.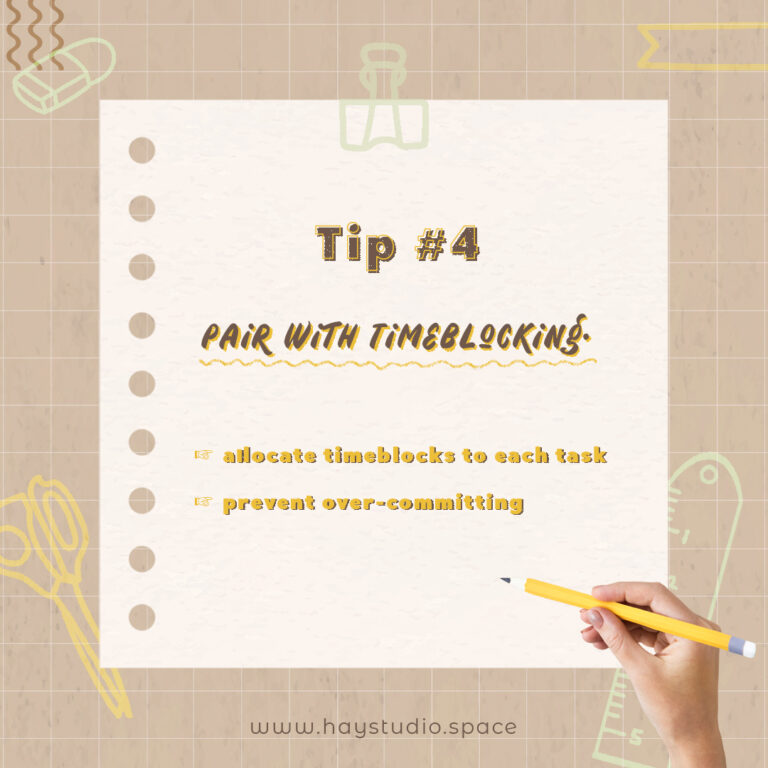 I used to hugely underestimate the time I need for my tasks and frankly, I still do sometimes. Practising timeblocking has helped me stop and think about exactly how much time I would need for a task. 
For example, I allocated an hour to script and plan the shots for this YouTube video. However, the truth is I had to spend 30 minutes just to get into the groove of writing. Then, I took another hour to write the script. Finally, I used another 30 minutes to plan out the shots for the video. Talk about expectations versus reality. 
Timeblocking on my calendar app allows me to move or extend the time blocks with flexibility, according to the actual time I spent on each task. I am then able to create my to-do list in a practical manner without overloading it.
Effective To-Do List Tip #5: The best time to plan it is the night before.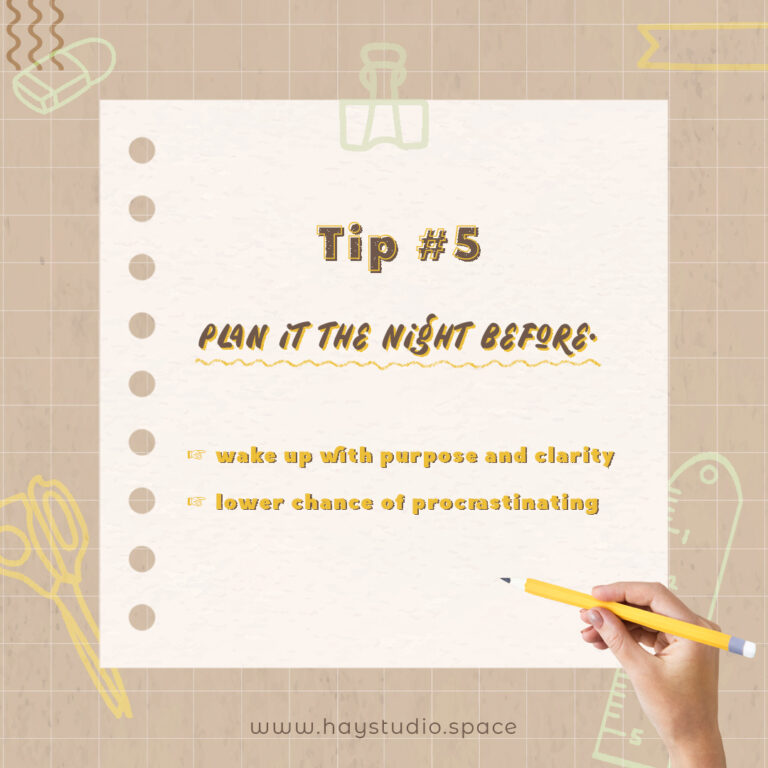 On nights when I skip planning my to-do list for the next day, I get distracted by social media or TV after I wake up. I lose my sense of purpose and urgency, and before I knew it, half the day is gone. Guilty me will then scramble to put together my plan for the day. 
On the other hand, I wake up with much more clarity if the past version of me had already planned out my day. The procrastinator in me has no chance of showing up because my to-do list tells me, "Hey, this is what you need to complete for the day!".
Subscribe to my YouTube channel for more productivity tips! Check this one out for more inspiration:  
Disclaimer: Some of the links above are affiliate links, meaning I earn a small percentage of commission via those links, but it doesn't cost you anything extra!
Enjoyed this post? Spread the joy!
☆ Pin this image to help this article reach more people. ☆
Clicking Here Helps Me Pay My Bills...