3 Simple Time-Based Productivity Tips to Help You Stop Procrastinating
HAY, how art you? Time is elusive. It's one of those things that we can't control, and always don't have enough of. Since time is constraining, we can make use of that trait to work in our favour. Here are 3 simple productivity tips to stop procrastinating and help you be more productive. 
This article is also available in video format here: 
Productivity Tip #1 – The 5 Second Rule by Mel Robbins
The 5 Second Rule is as straightforward as it sounds: when you have the desire to work on a task, count backwards from 5 to 1 and immediately get into action. This prevents you from spending unnecessary time on distracting or self-crippling thoughts and make excuses to avoid the task at hand. 
According to Mel Robbins, 5 seconds is all it takes for our brain to kill that instinct and cause us to remain inactive. The best way to combat that is to will yourself into physical action within 5 seconds. If you wanted to work out, get up from the couch and move to get your workout gear. If you wanted to cook yourself a healthy meal, go to the fridge and take out those ingredients. Often, getting started is the most difficult part of any task.
Read more about this productivity rule in Mel Robbin's book, " The 5 Second Rule":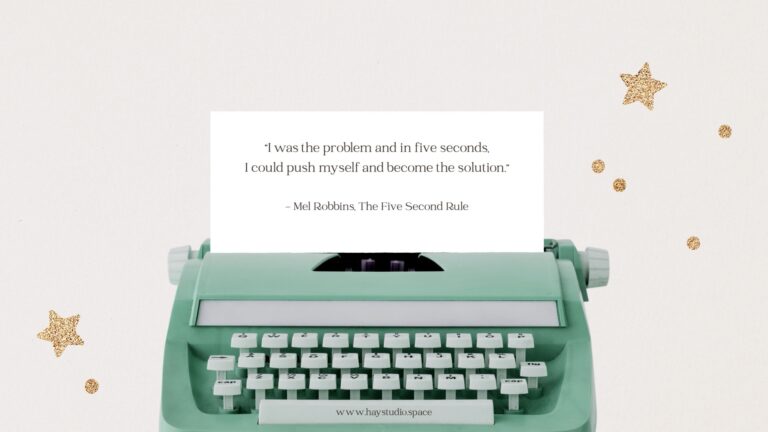 Productivity Tip #2 – The 2 Minute Rule by David Allen
The rationale behind this principle is, if you put off the task now, it will potentially take more time in future to organise and review the same task when you revisit it. This rule is especially useful when you are in the reviewing and processing phase. Going through your emails is the best example; you can delete, organise, reply emails depending on the actions required, instead of leaving all of them in your inbox for later action. If you often find snippets of downtime in your schedule, this rule is perfect for checking off small tasks.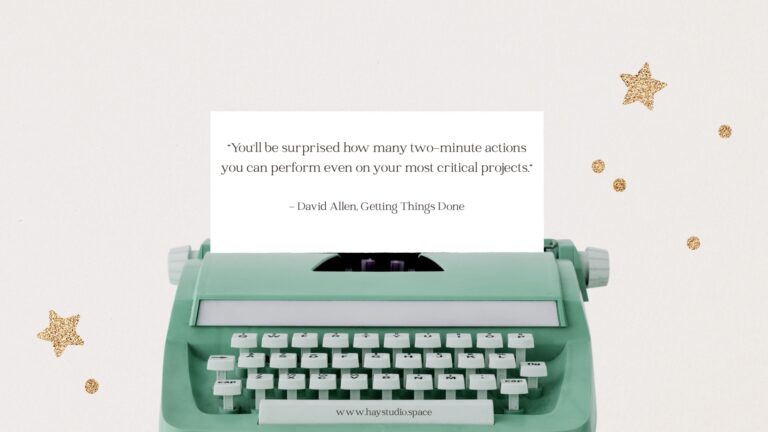 Productivity Tip #3 – The Pomodoro Technique by Francesco Cirillo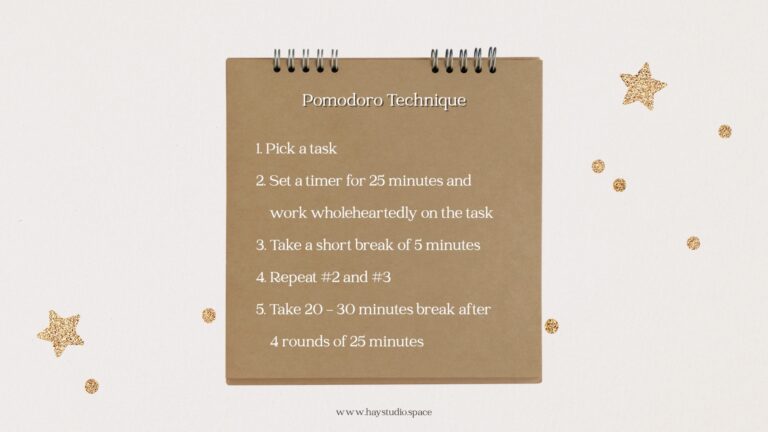 The Pomodoro Technique consists of a few steps: 
1. Pick a task 
2. Set a timer for 25 minutes and spend the time wholeheartedly on that task, free of any distractions
3. Take a short break of 5 minutes once 25 minutes is up 
4. Repeat steps 2 and 3
5. After 4 rounds of 25 minutes, take a longer break of 20 to 30 minutes
This technique works because it makes it easier to start on a task. 25 minutes definitely sounds less daunting than 2 hours of non-stop studying. It breaks down a complex task into smaller, actionable steps with breaks that you can look forward to in between.
There are many apps you can download to track your Pomodoro sessions. I'm using Flow, a simple and minimal app on the desktop. It also comes with app blocker function, in case you need to block any apps during your Pomodoro sessions.
Which productivity rule should you apply?
Check out the charts below to see if you are in any of the situations listed, and the most suitable rule to apply for them now.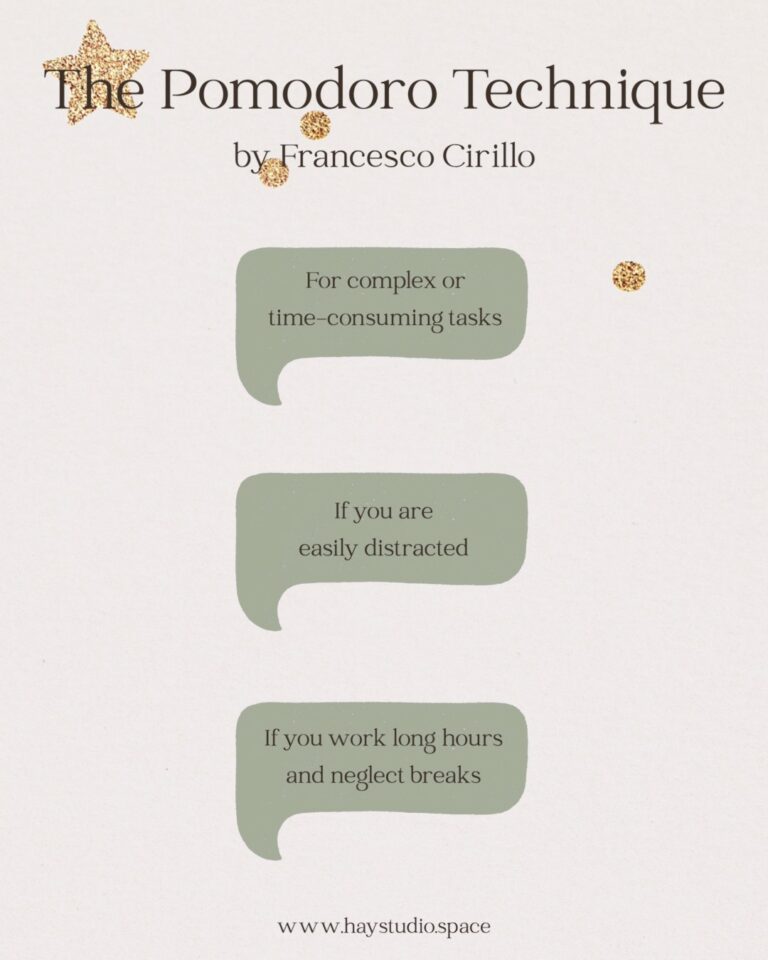 Disclaimer: Some of the links above are affiliate links, meaning I earn a small percentage of commission via those links, but it doesn't cost you anything extra!
Enjoyed this post? Spread the joy!
☆ Pin this image to help this article reach more people. ☆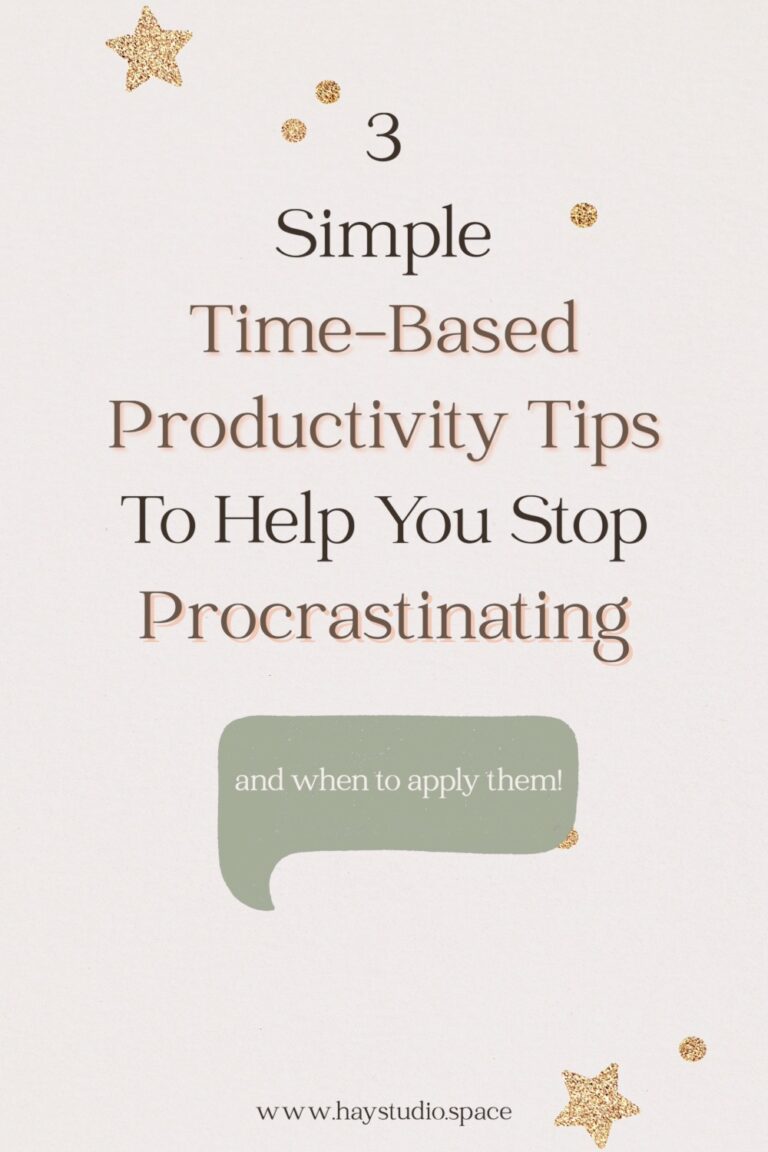 Clicking On These Helps Me Pay My Bills...