Brown & White Minimal Bullet Journal Setup for September
HAY, how art you? I set up my bullet journal minimally in brown and white for September. I'm currently reading "The Bullet Journal Method" by Ryder Carroll, the creator of the bullet journal. One key insight that I have taken away so far is to use my bullet journal intentionally and meaningfully. With that, I decided to go for a more minimal theme and focus on the functionality of the bullet journal, rather than the aesthetics. Also, I took the chance to practise pointed pen calligraphy for this setup since I've been meaning to get back to practising it (it's been a few years since I practised!). Keep scrolling to see more of this setup!
Check out the following video to watch the setup process and journal with me!
Brown & White Minimal Bullet Journal Setup – Supplies I Used
Here's a list of supplies I used for the setup this month: 
Gillott 170 calligraphy nib
Dark brown coloured paper
Brown & White Minimal Bullet Journal Setup
– Cover Page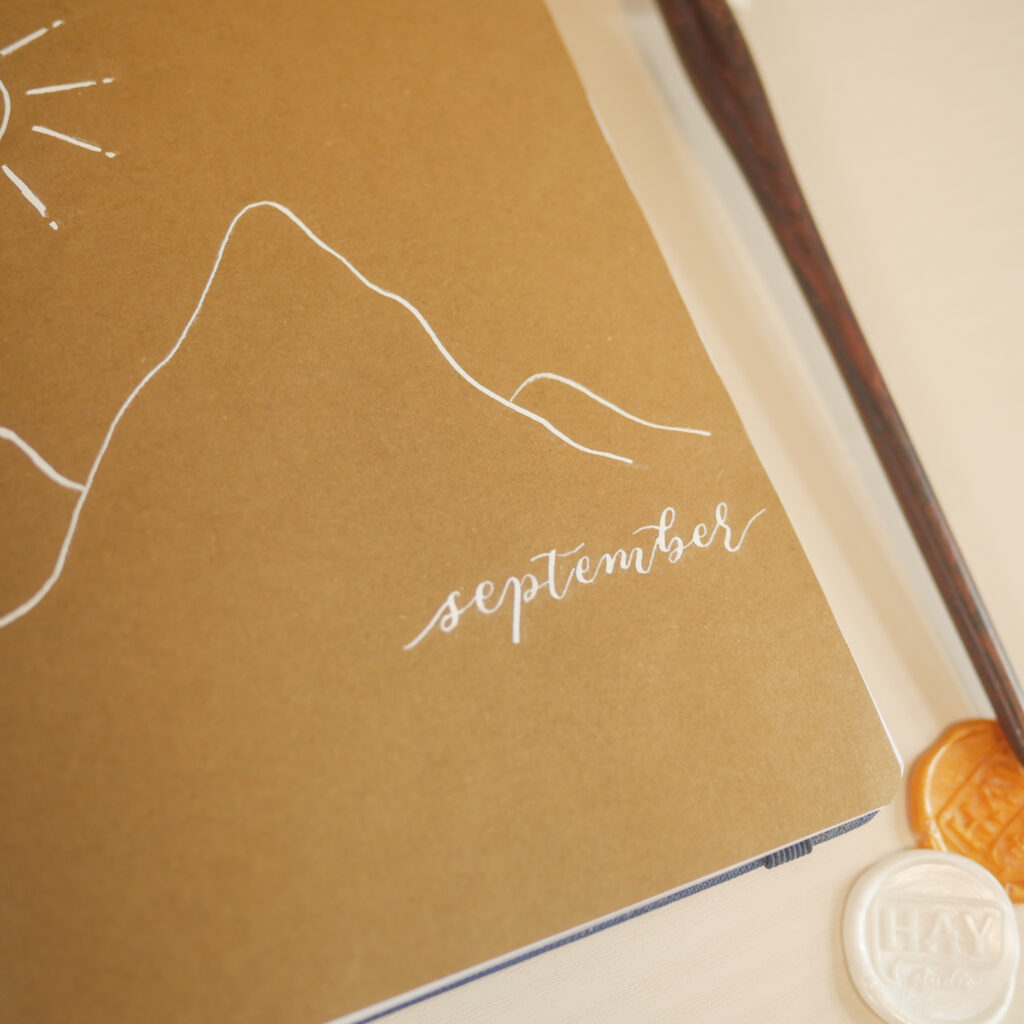 For the cover page, I pasted dark brown paper to cover the entire page and used Dr. Ph. Martin bleed proof white ink to draw a simple sun and mountains line art. I also wrote the month September in the same white ink. It takes some trial and error to get this white ink to the right consistency for pointed pen calligraphy, but I love how opaque the ink is, plus it really stands out against the dark brown background. 
Brown & White Minimal Bullet Journal Setup
– Monthly Log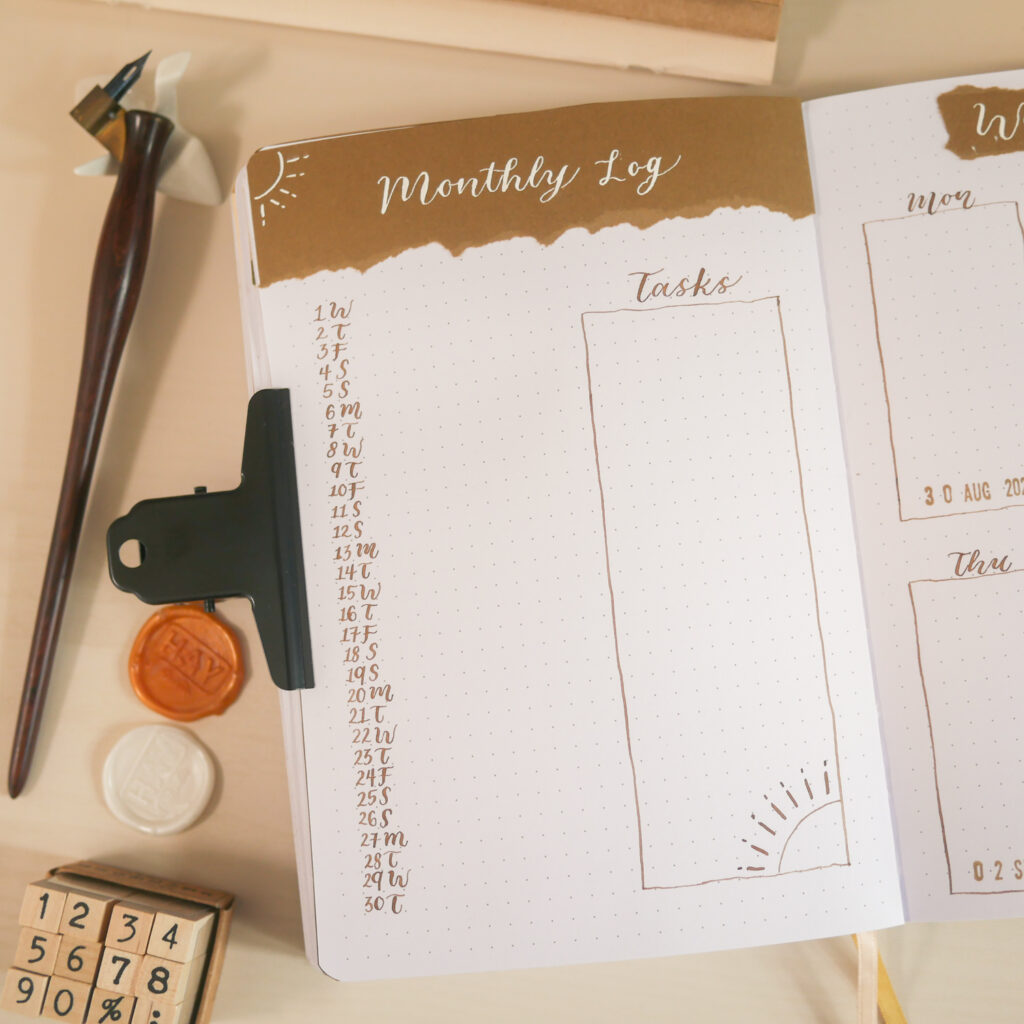 I utilised the classic monthly log layout this month and also drew a box to record September's tasks. I'm using Daniel Smith walnut ink with a Gillott 170 nib, and I love how the ink dries quickly to a beautiful shade of brown. 
Brown & White Minimal Bullet Journal Setup
– Weekly Spreads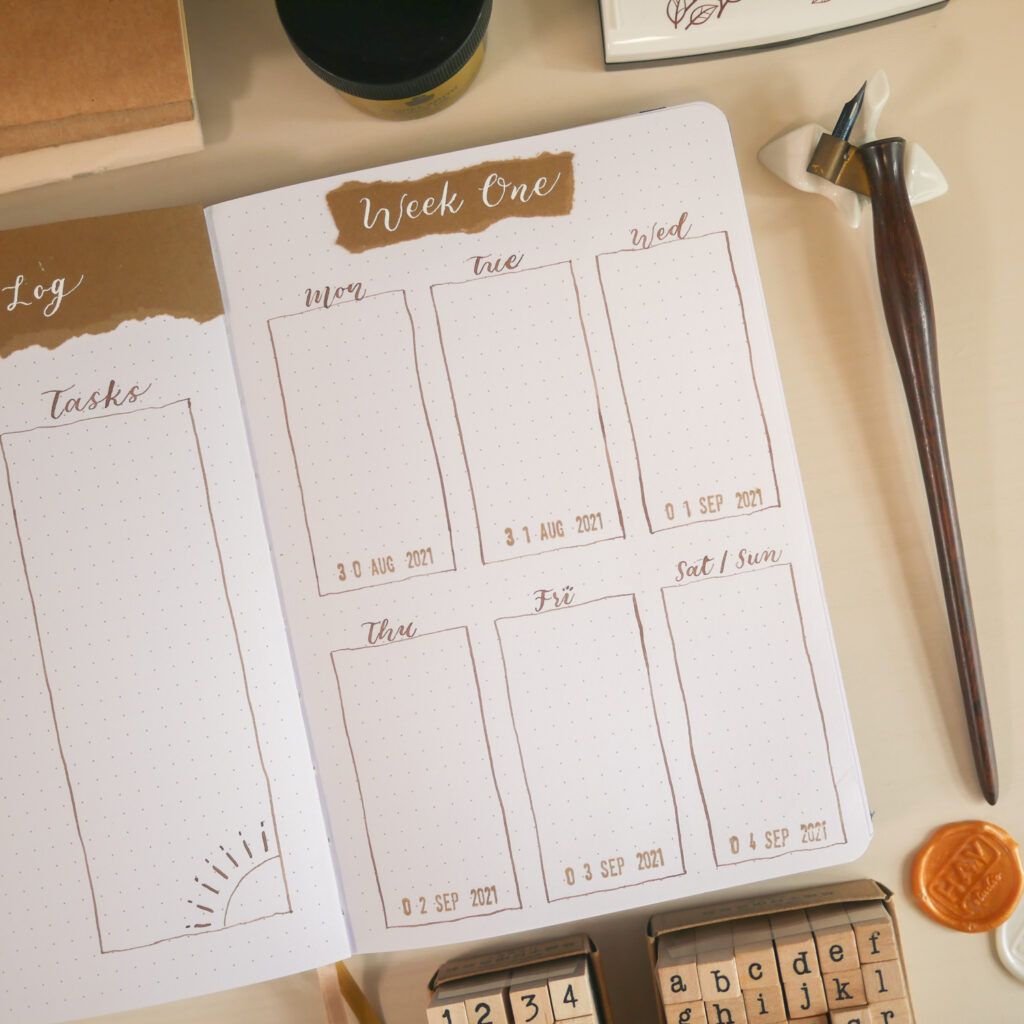 To keep the rest of the spreads minimal, I went for the same layout and created three weekly spreads. The first week has six rectangular boxes for Monday through Friday, as well as the weekend. For Week Two and Week Three, I drew arches instead of rectangular boxes for each day. Also, I stamped on the dates in a matching shade of brown. 
More Bullet Journal Ideas
Subscribe to my YouTube channel for more bullet journal setups! Check out these videos for some inspiration:  
***
 If you enjoyed this article, share the love with your bujo pals! To stay updated on future blog posts, subscribe here. 
Related articles, videos and resources:
Article – 3 DIY Zine Ideas You Can Try at Home
Disclaimer: Some of the links above are affiliate links, meaning I earn a small percentage of commission via those links, but it doesn't cost you anything extra!
Enjoyed this post? Spread the joy!
☆ Pin this image to help this article reach more people. ☆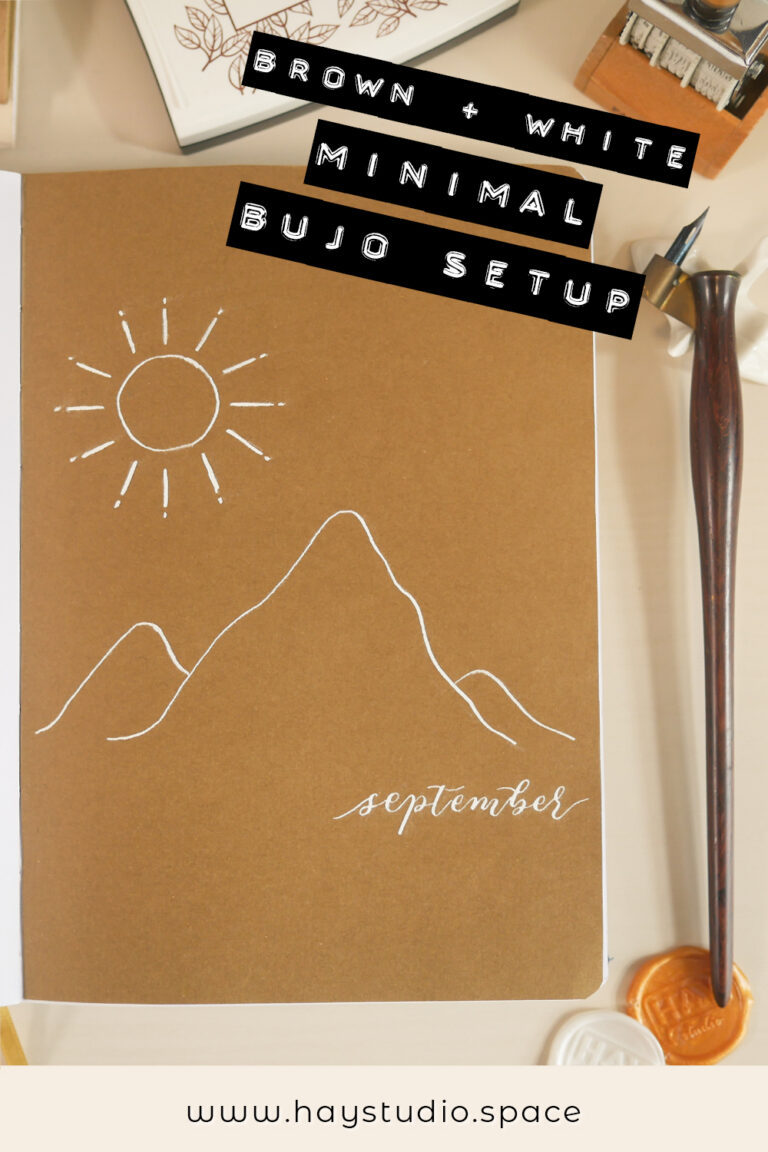 Clicking On These Helps Me Pay My Bills...