June Bullet Journal Setup - Wildflowers Theme (Free Printable!)
HAY, how art you? Here is my June bullet journal setup to the theme of wildflowers. Wildflowers come in an assortment of species and are delicate yet strong. There is a fragile charm they exude, and they make a simple but beautiful bullet journal theme. In line with this month's setup, I designed a journaling printable kit which is available to download for free! You can find the link at the end of this article. Keep scrolling to see more of my June bullet journal setup!
Check out the following video to watch the setup process and plan with me!
Here is a list of supplies I used for the setup this month: 
Tittle&Jot A5 Dot Grid Journal 
June Bullet Journal Cover Page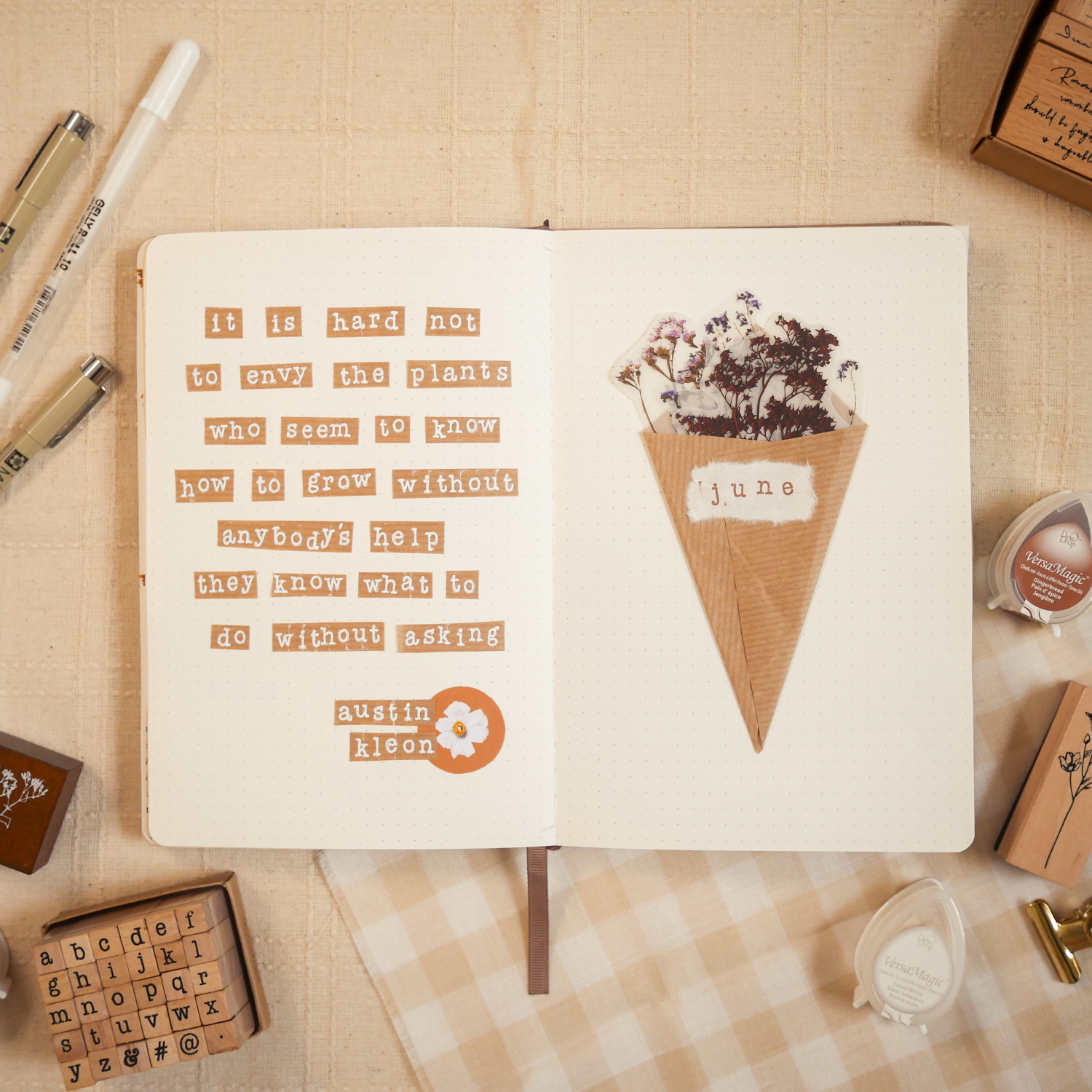 June's cover page features a quote made up of stamped word cutouts on the left, and a paper bouquet on the right. I have been wanting to try this word cutout quote page for a while! Even though it is really tedious and time-consuming to make, the outcome is really cute and scrapbook-ish. This quote by Austin Kleon is also perfect for the theme!
For the paper bouquet, I folded the sides of a square kraft paper inward into a conical shape and pasted it on the page. I wanted the cover page to be functional, so the floral stickers each serve a different purpose. They are pasted on vellum paper to remain a little see-through, which creates a pretty layered effect when placed inside the bouquet. Each floral sheet can be taken out, and I will be using them for setting intentions, writing a gratitude reflection, and habit tracking.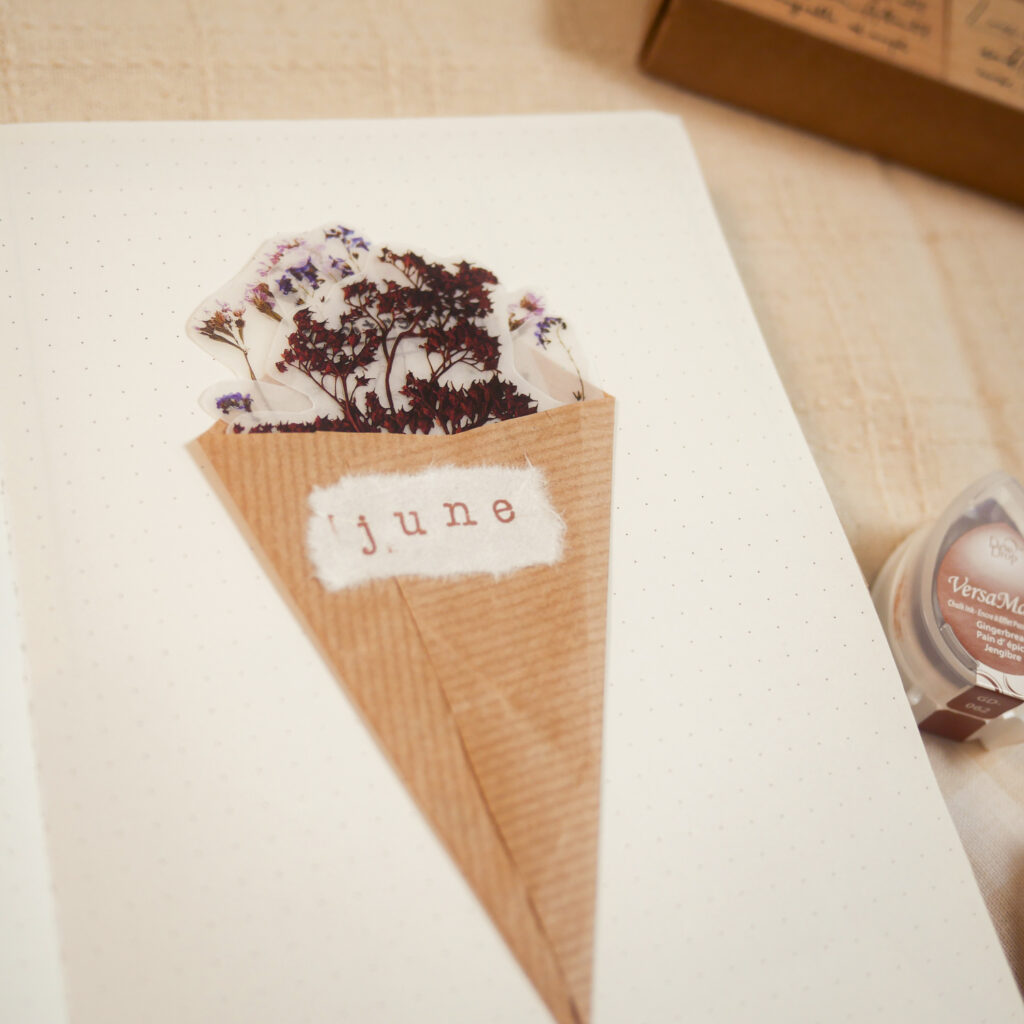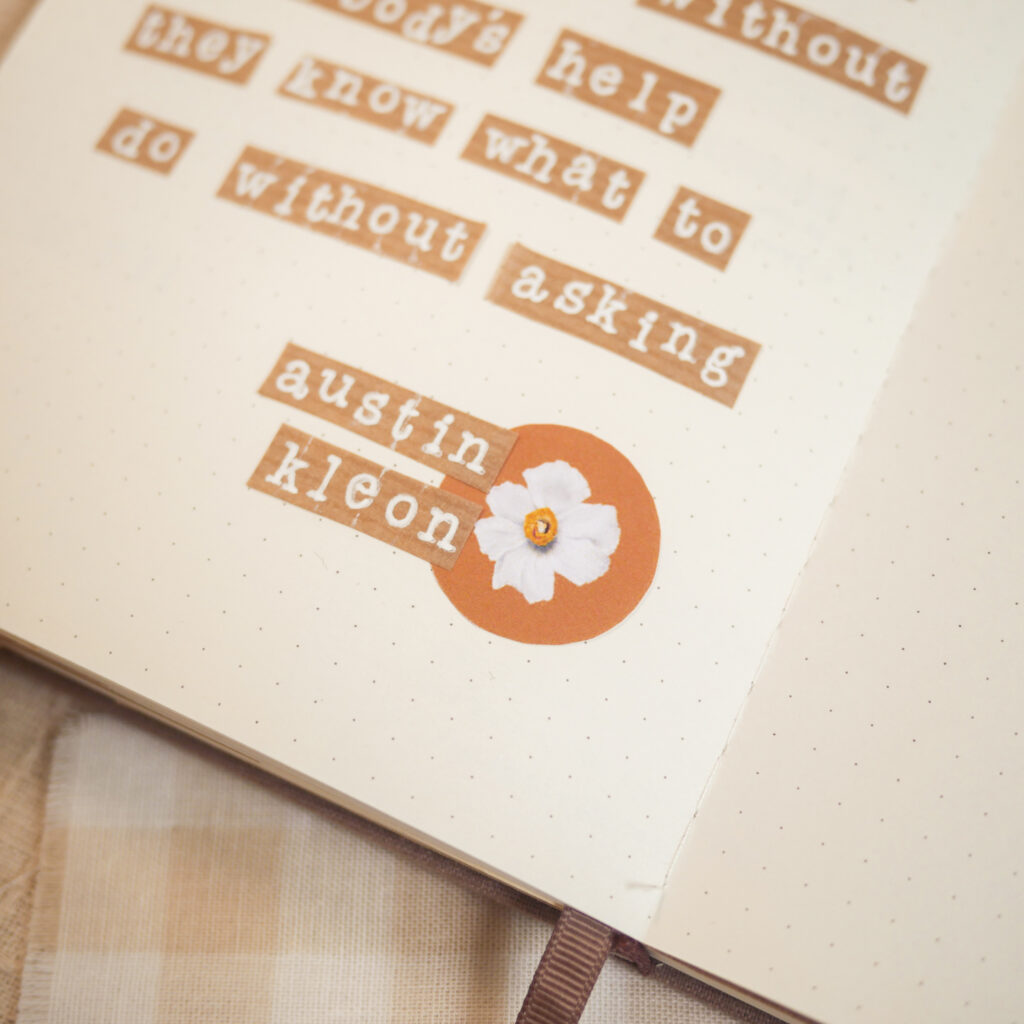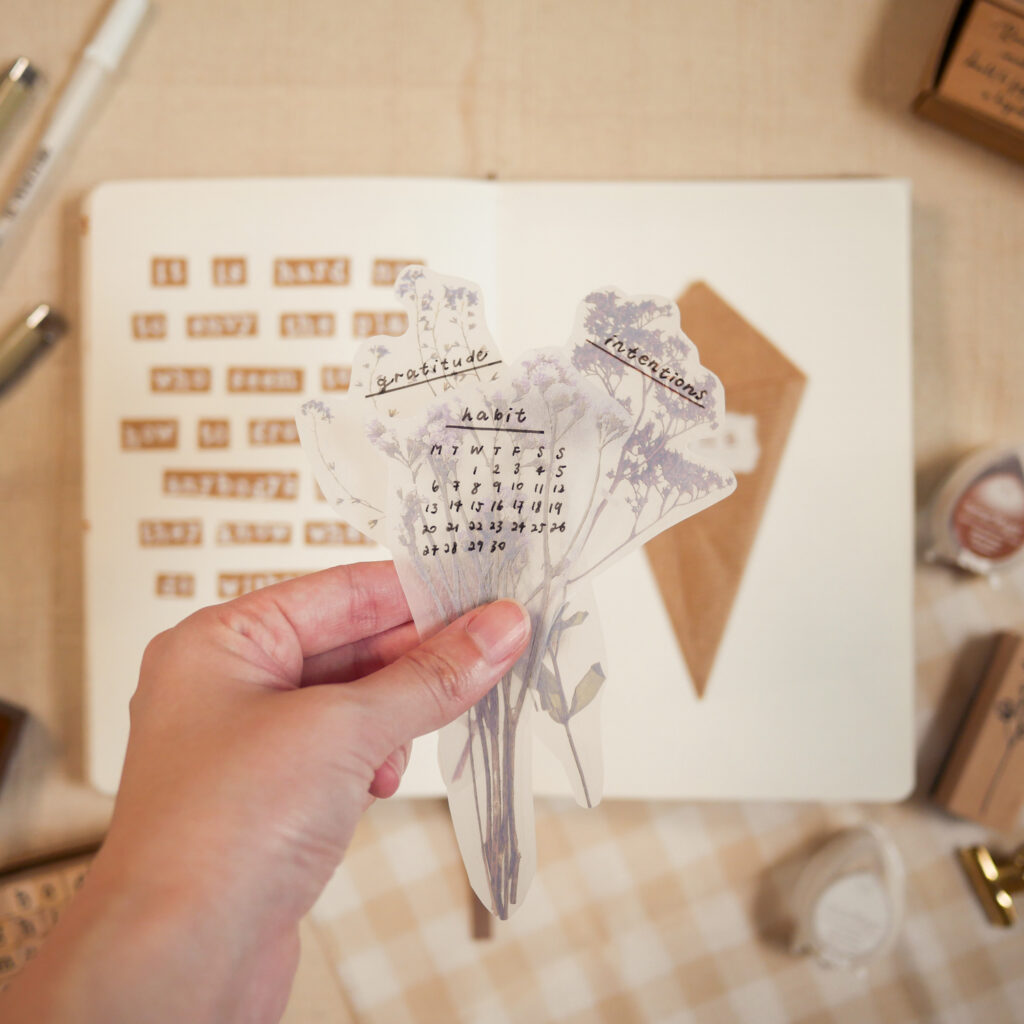 June Bullet Journal Weekly Spread 1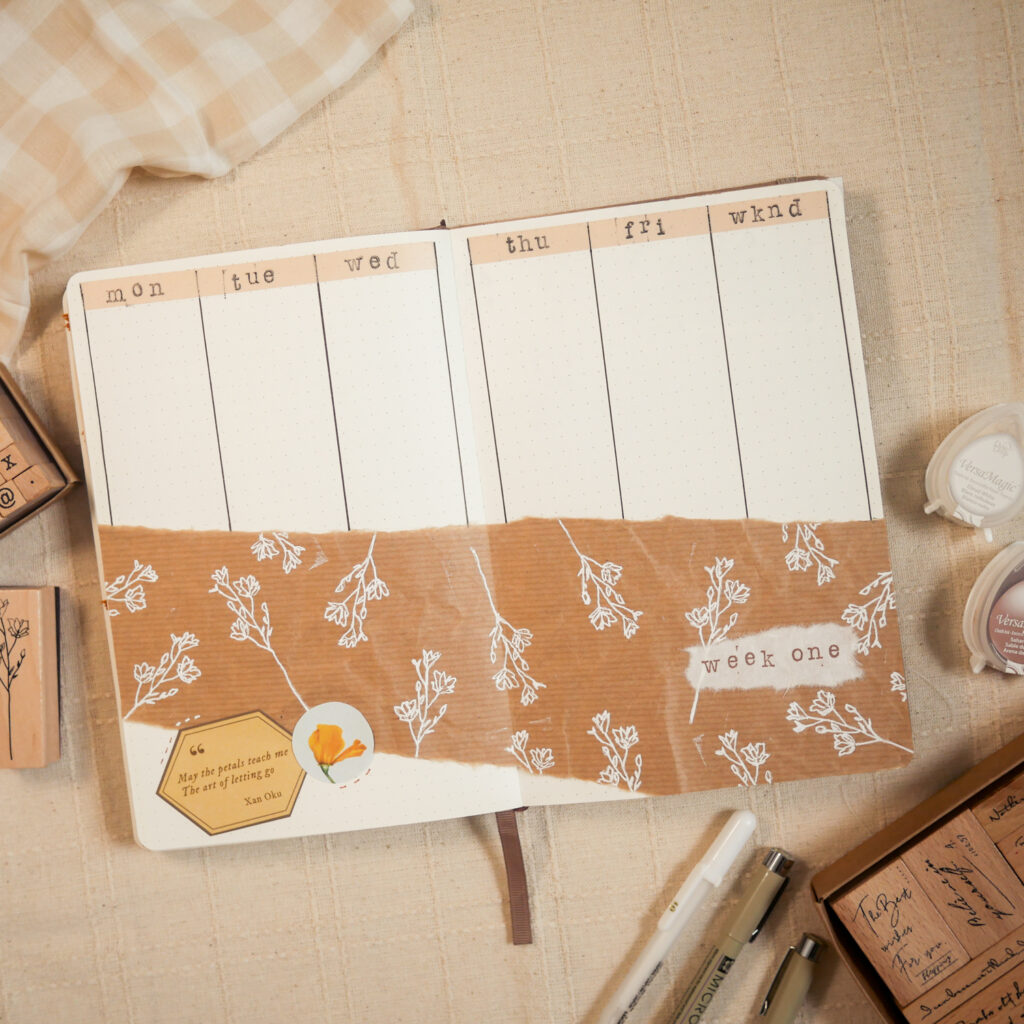 The first weekly spread for June features a long piece of kraft paper pasted across the pages. The kraft papers I used for the spreads are slightly crumply, as they are recycled packaging from online purchases. I stamped a gesang flower stamp all over it, and traced them with a white gelly roll pen to make them stand out. I also added two cutouts from my free printable kit to fill up the space at the bottom left corner. What a lovely quote by Xan Oku!
June Bullet Journal Weekly Spread 2
The second weekly spread is similar to the first weekly, but this time, kraft paper is used for the daily log sections, while the florals are stamped directly on the pages. Stamping is a really simple way to add some design and colour if you are not confident at doodling or drawing! 
The header is kept minimal with "week two" stamped on a little piece of kraft paper, and I pasted a faux washi tape strip and words cutout to decorate it.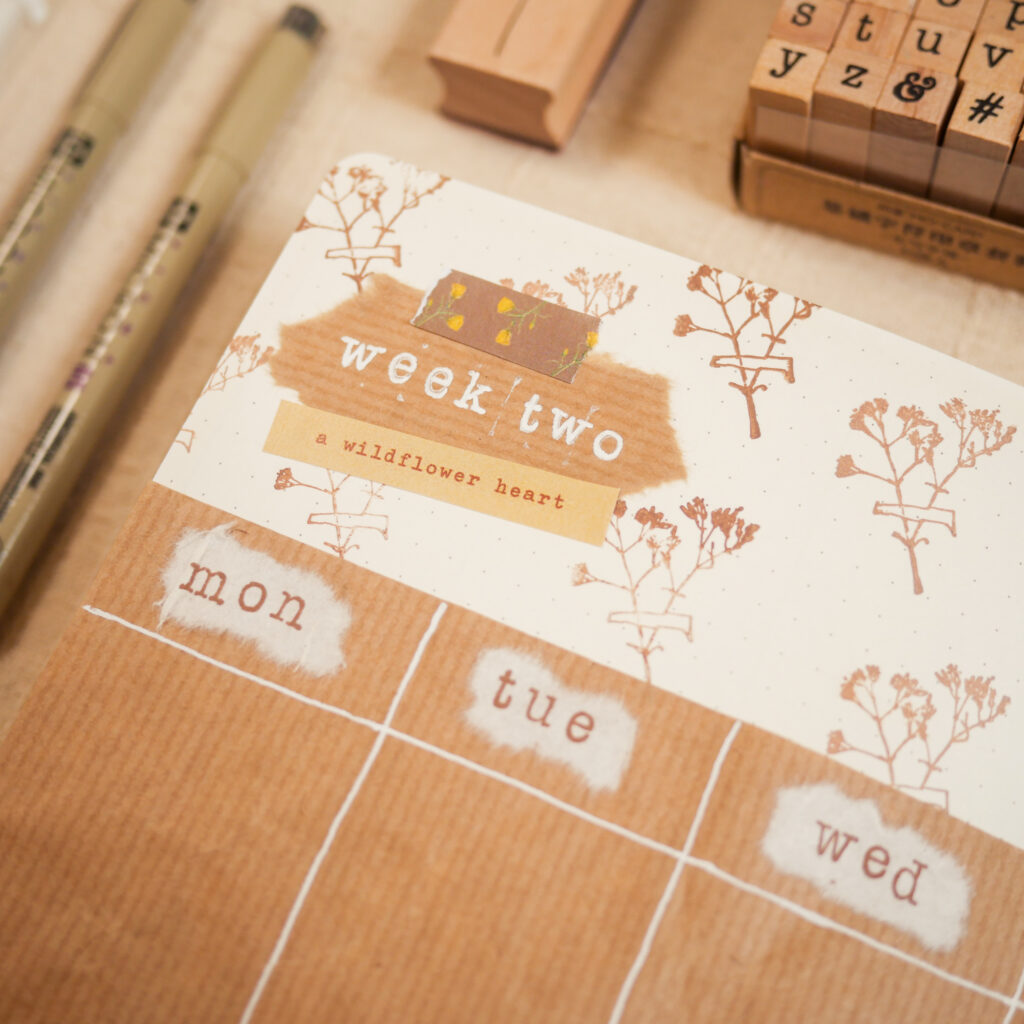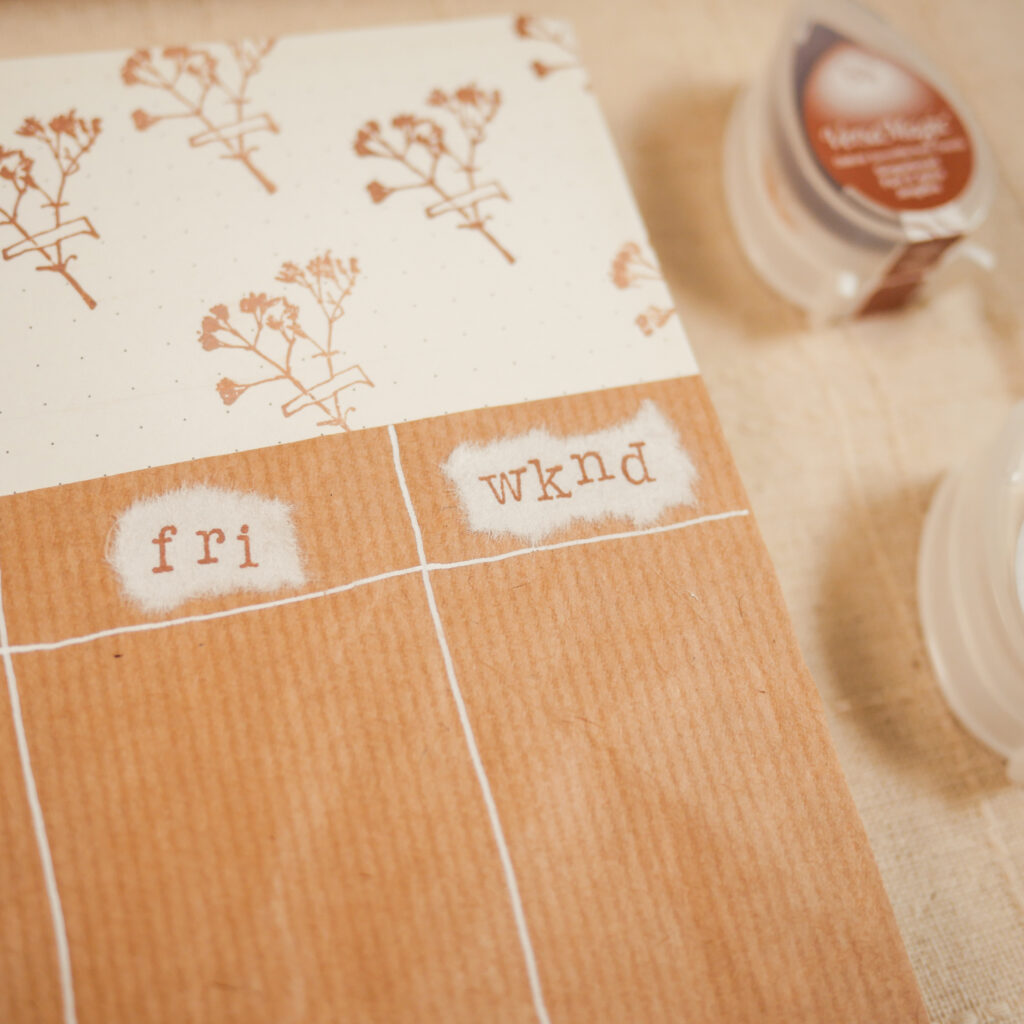 June Bullet Journal Weekly Spread 3
I just noticed that all the June weekly spreads created so far are vertical layouts! Vertical layouts are neat and I find that they have more writing space than horizontal layouts, though I like to switch up my layouts from time to time. 
The third weekly spread is collage-style and I used more cutouts from my free printable kit to decorate the kraft paper section. To match the previous spreads, I added a few floral stamps and traced them with a white pen. 
The mini floral-print envelope is really adorable (though practically non-functional, haha). Not sure if I added too many florals for this one, but I guess flowers could never go wrong! 
Free Journaling Printable – Wildflowers
This month's free printable is designed to the theme of wildflowers. Hope you love it as much as I do! Feel free to tag me on Instagram (@hay.studio) if you share any of your creations that contain my free printables.
To download this free journal kit, click here!
More Bullet Journal Ideas
Subscribe to my YouTube channel for more bullet journal setups! Check out these videos for my setup for the previous months:  
***
 If you enjoyed this article, share the love with your bujo pals! To stay updated on future blog posts, subscribe here. 
Related articles, videos and resources:
Disclaimer: Some of the links above are affiliate links, meaning I earn a small percentage of commission via those links, but it doesn't cost you anything extra!
Enjoyed this post? Spread the joy!
☆ Pin this image to help this article reach more people. ☆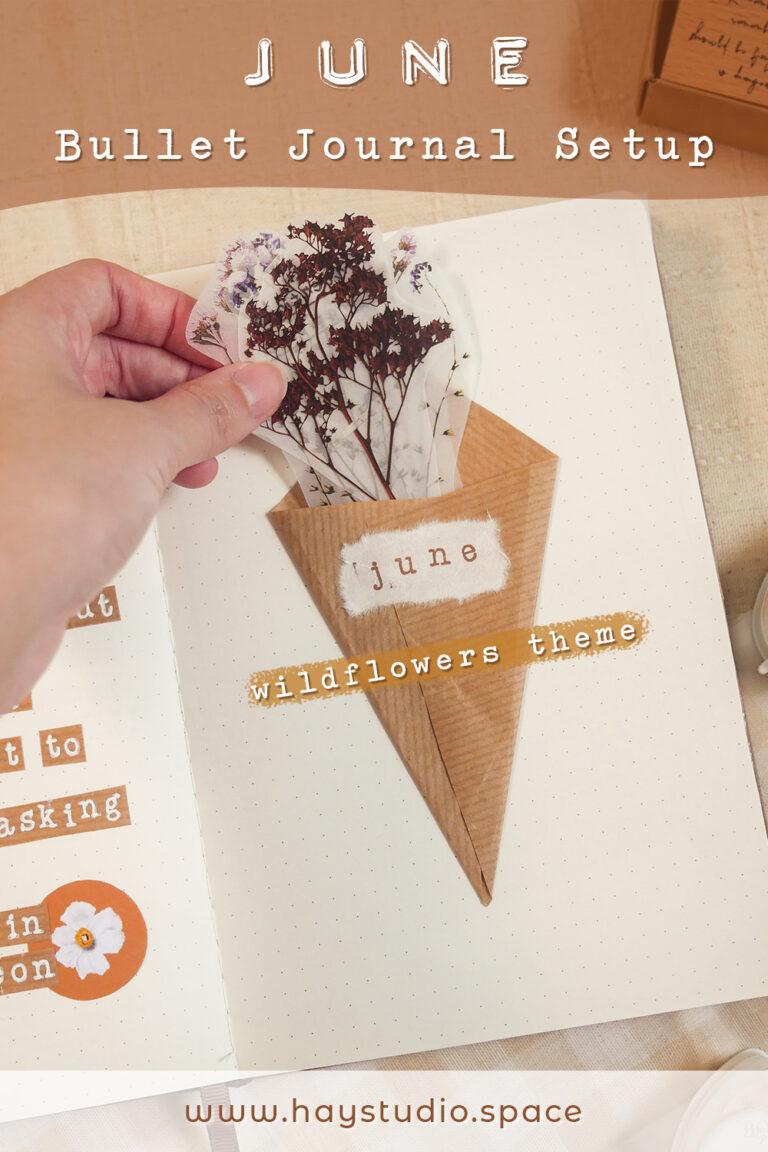 Clicking On These Helps Me Pay My Bills...