June Bujo Setup - Cosy Books Theme (Free Printable!)
HAY, how art you? After using a strong black and gold combination for May's bujo setup, I want to tone things down this month with a soft, neutral colour palette. The bullet journal theme for June is cosy books, and I will be using a free printable set which I designed, titled Bookworm Club. You can find the link to download the free PDF at the end of this article. Now, let's get cosy and scroll down to see my June bujo setup!
Check out the following video to watch the setup process and plan with me!
What I used this month: 
You can use my affiliate codes to purchase stationery at the following stores:
June Bujo Setup Cover Page
Collage Page
On the right of the cover page is a large collage featuring a selfie sticker from Lulu Couleurs. I love the simple line illustration and purchased both the coloured version, and the non-coloured version which I am using here.
To create this collage, I tore out a circular piece from a book page ephemera paper, and pasted it over a brown textured paper. Framing the selfie sticker are PET floral stickers and a brass bird sticker. The phrase "getting lost in" is a cutout from my Bookworm Club free printable set. Lastly,  I stamped the monthly header on brown paper and traced the letters with a white gelly roll pen, before pasting them.
Intentions Page
The page on the left is kept minimal to balance out the large collage on the right. I'll be using this side to set intentions of the month, and I decorated the section with cutouts from my printable, an open book stamp, and tiny floral stickers.
June Bujo Setup Weekly Spread 1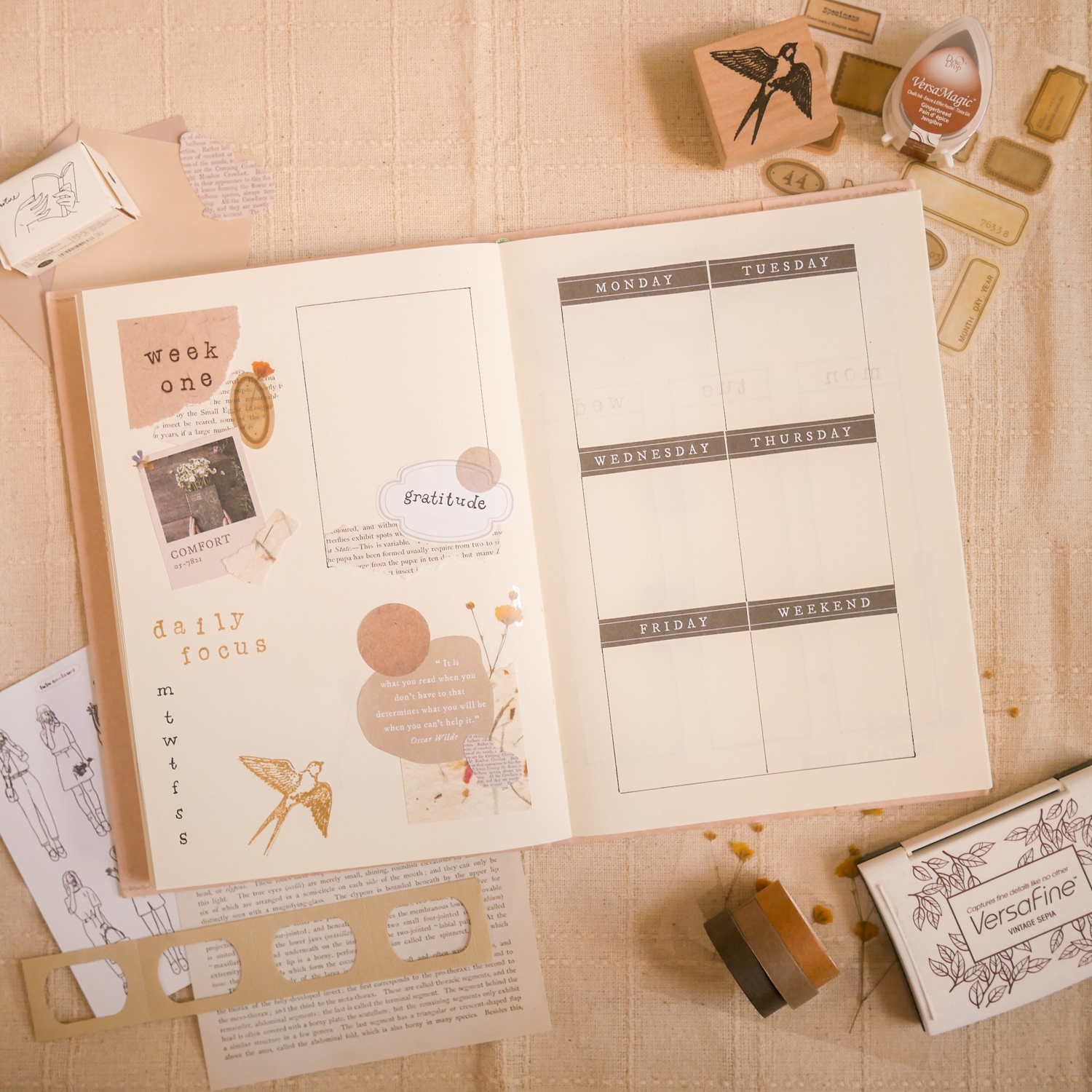 The first weekly spread for June uses this layout that I have found myself revisiting. The daily sections are boxed neatly on the right, accompanied by headers that I printed and cut out. On the left, I made collages and two sections. The daily focus section is for planning out one main task to be accomplished every day; the gratitude section is for me to jot down things that I am grateful for during the week. 
June Bujo Setup Weekly Spread 2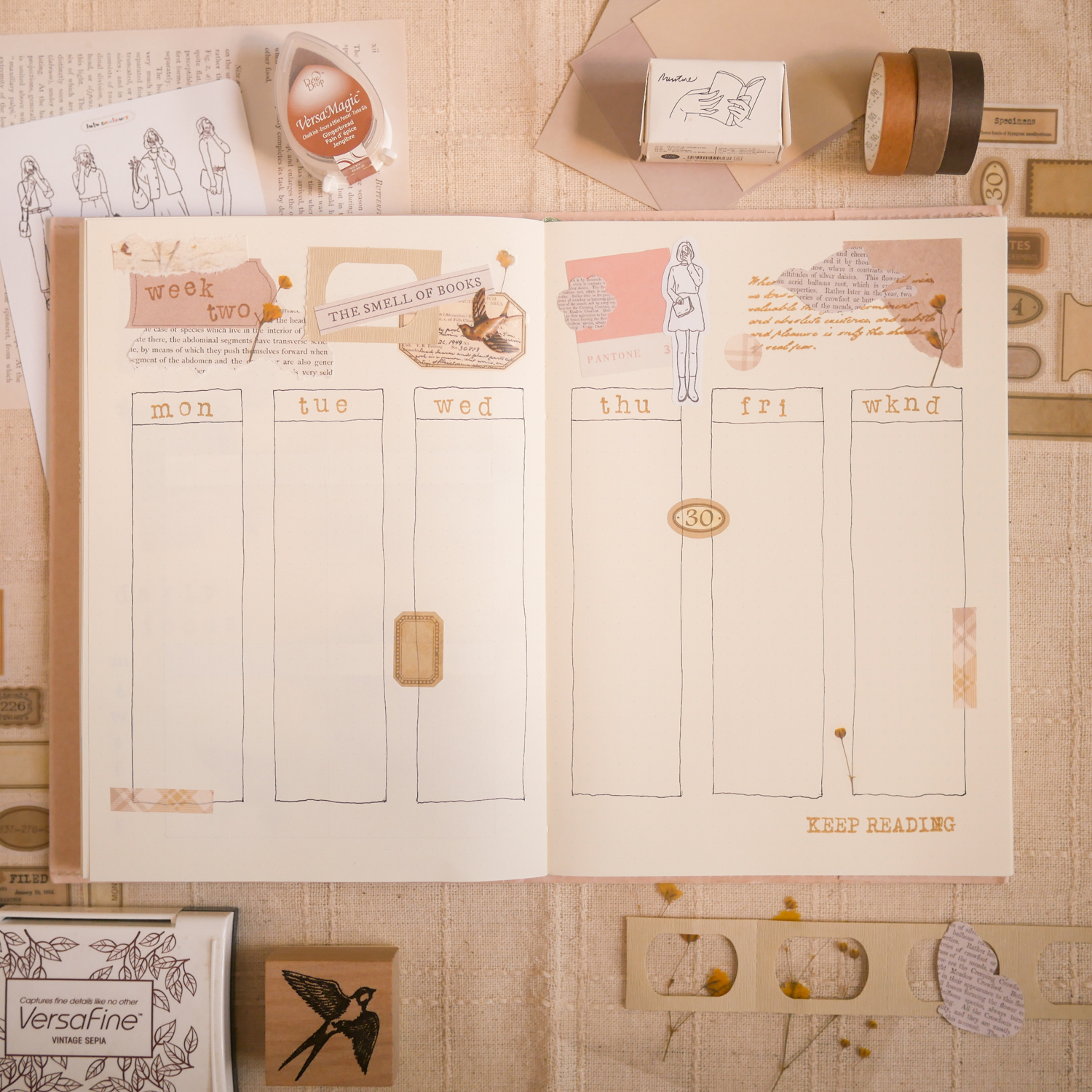 For the second weekly spread, I created a vertical layout by drawing six boxes for daily logging. It is a pretty simple and minimal layout, with some space on top of the pages for collaging and layering. 
To add interest to the boxes, I layered stickers and washi tapes randomly so that they don't look too plain or bare.
Free Journaling Printable – Bookworm Club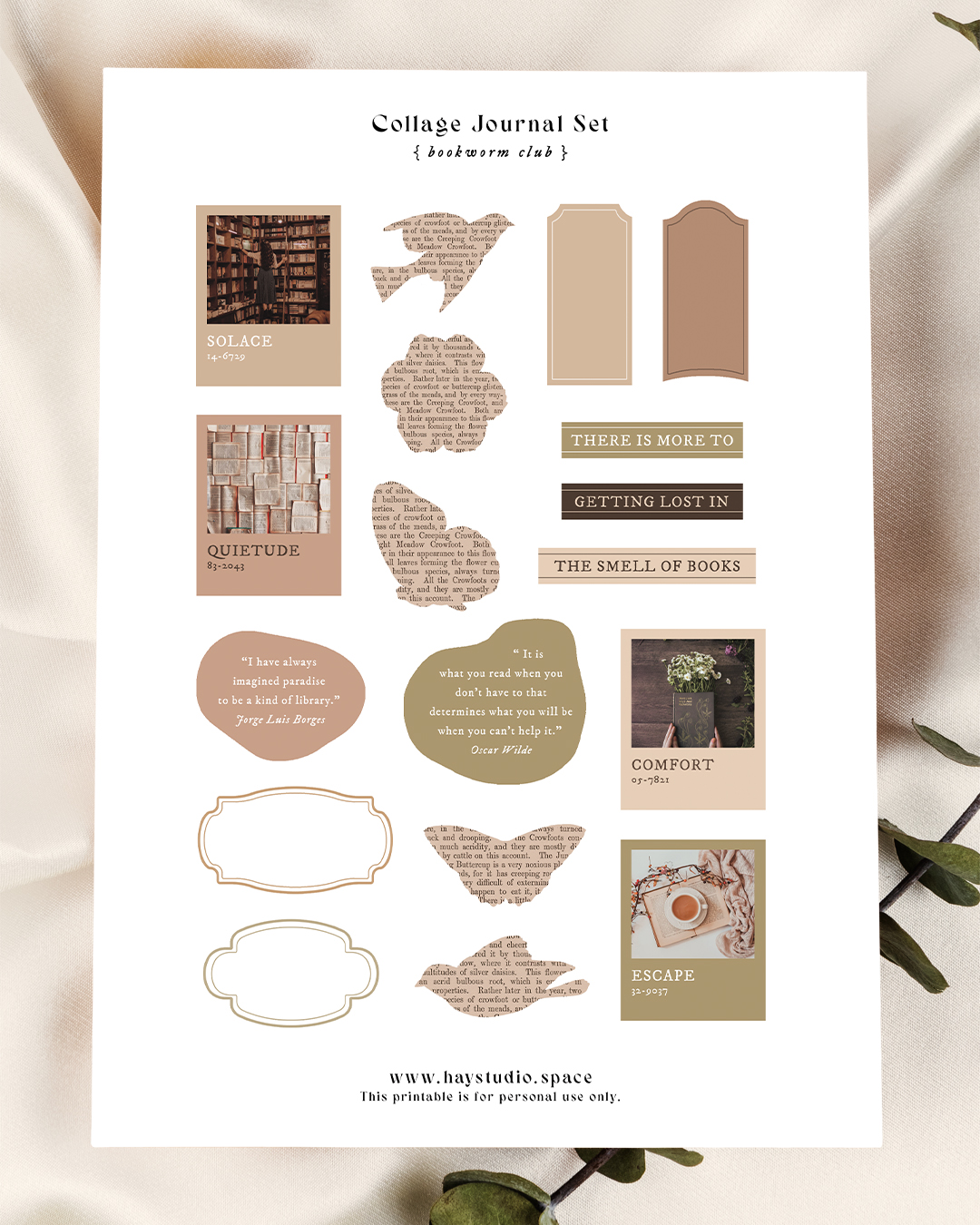 Get cosy with this month's free printable titled Bookworm Club! Includes Pantone-inspired photo cards, vintage labels, nature-shaped ephemera, and quotes and phrases related to reading.
Tag me on Instagram (@hay.studio) if you share any of your creations that contain my free printables; I would love to see them. Happy journaling!
To download this free journal kit, click here.
More Bullet Journal Ideas
Subscribe to my YouTube channel for more bullet journal setups! Check out these videos for my setup for the previous months:  
***
 If you enjoyed this article, share the love with your bujo pals! To stay updated on future blog posts, subscribe here. 
Related articles, videos and resources:
Disclaimer: Some of the links above are affiliate links, meaning I earn a small percentage of commission via those links, but it doesn't cost you anything extra!
Enjoyed this post? Spread the joy!
☆ Pin this image to help this article reach more people. ☆
Clicking On These Helps Me Pay My Bills...