May Bujo Setup - Magic Moments Theme (Free Printable!)
HAY, how art you? Magic is quite a common bullet journal theme and I am surprised that I have not gone for this theme before. This month, I titled my bujo theme Magic Moments, and I'll be using lots of magical elements in black, gold and browns. To match this theme, I created a set of free printable which you can download. You can find the link at the end of this article. Keep scrolling to see more of my May bujo setup!
Check out the following video to watch the setup process and plan with me!
What I used this month: 
Gold 3D stickers, cutting mat, starry papers – Daiso
You can use my affiliate codes to purchase stationery at the following stores:
May Bujo Setup Cover Page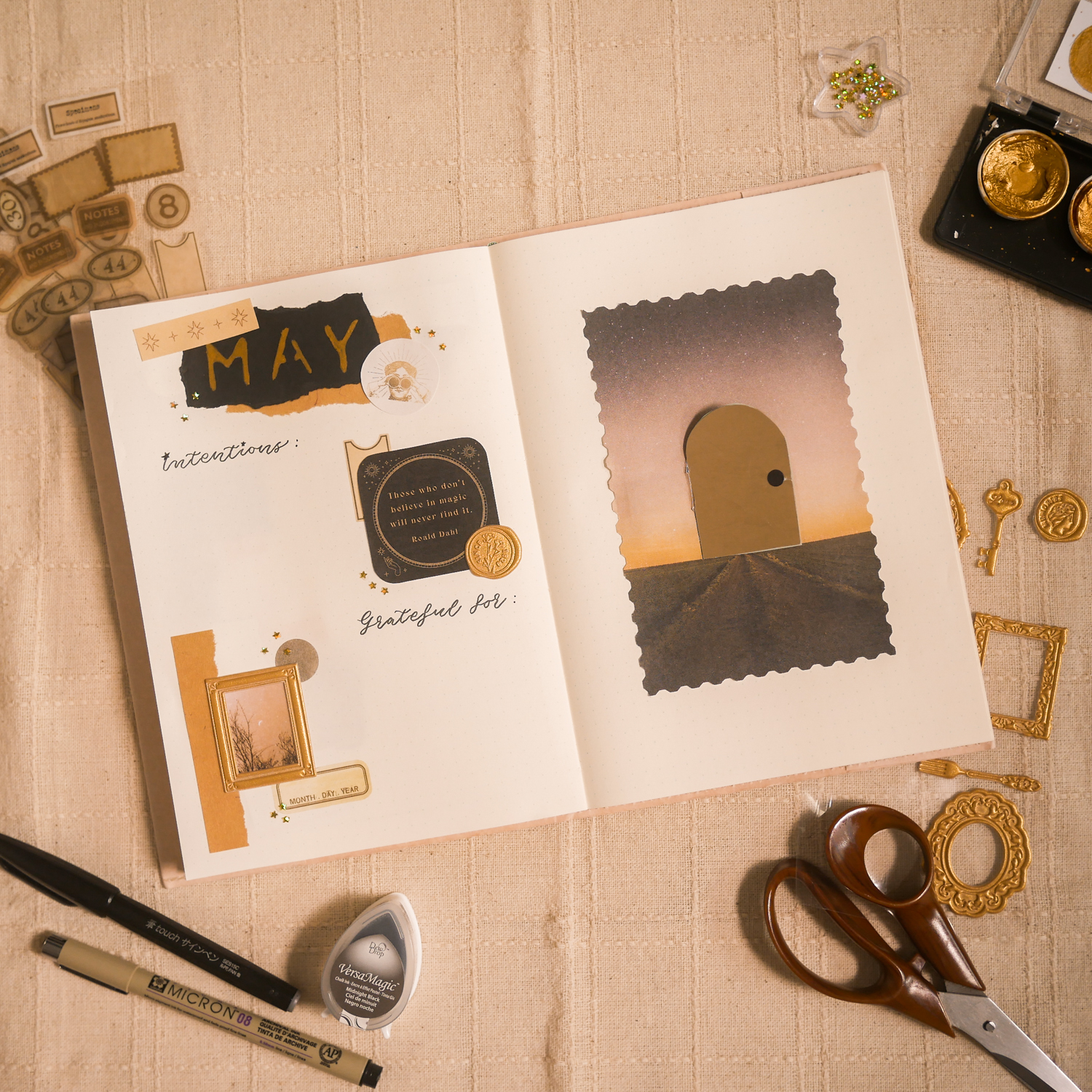 Interactive Page
The May cover page features an interactive collage on the right. I printed a photo of a road and starry night sky from Unsplash, and cut a door shape at the centre using an x-acto knife. To create the door, I used a piece of recycled kraft paper that is slightly harder than regular paper. I covered it with gold paper (a piece of leftover wrapping paper) to add some shine. Before attaching the door and photo, I cut the same shape from my journal page too. 
On the following page, I pasted a small piece of black paper so that the background is black when the door is opened. I wanted to create a magical realm at the other side of the door, so I scattered some gold and holographic stars in a recycled plastic bag (it's from a sticker sheet), and pasted it on the black paper.
Functional Page
For the page on the left, I added a few collages and set up two sections. The top left section is for setting intentions of the month. The bottom right section will be used for some gratitude reflection at the end of the month. 
If you're curious about the gold 3D frame and faux golden wax seal, they are from a sticker set I found at Daiso! The stickers are made of foam, so they are incredible light but super pretty and vintage-looking.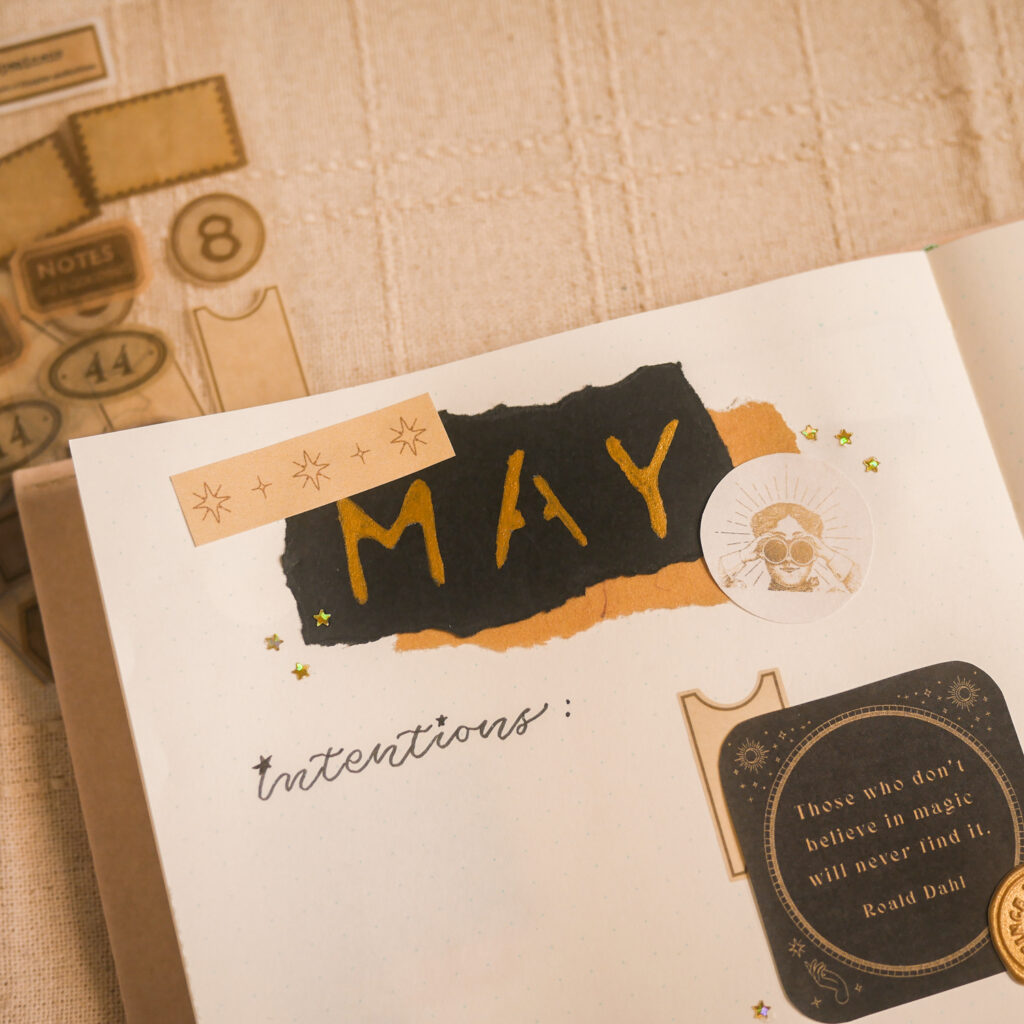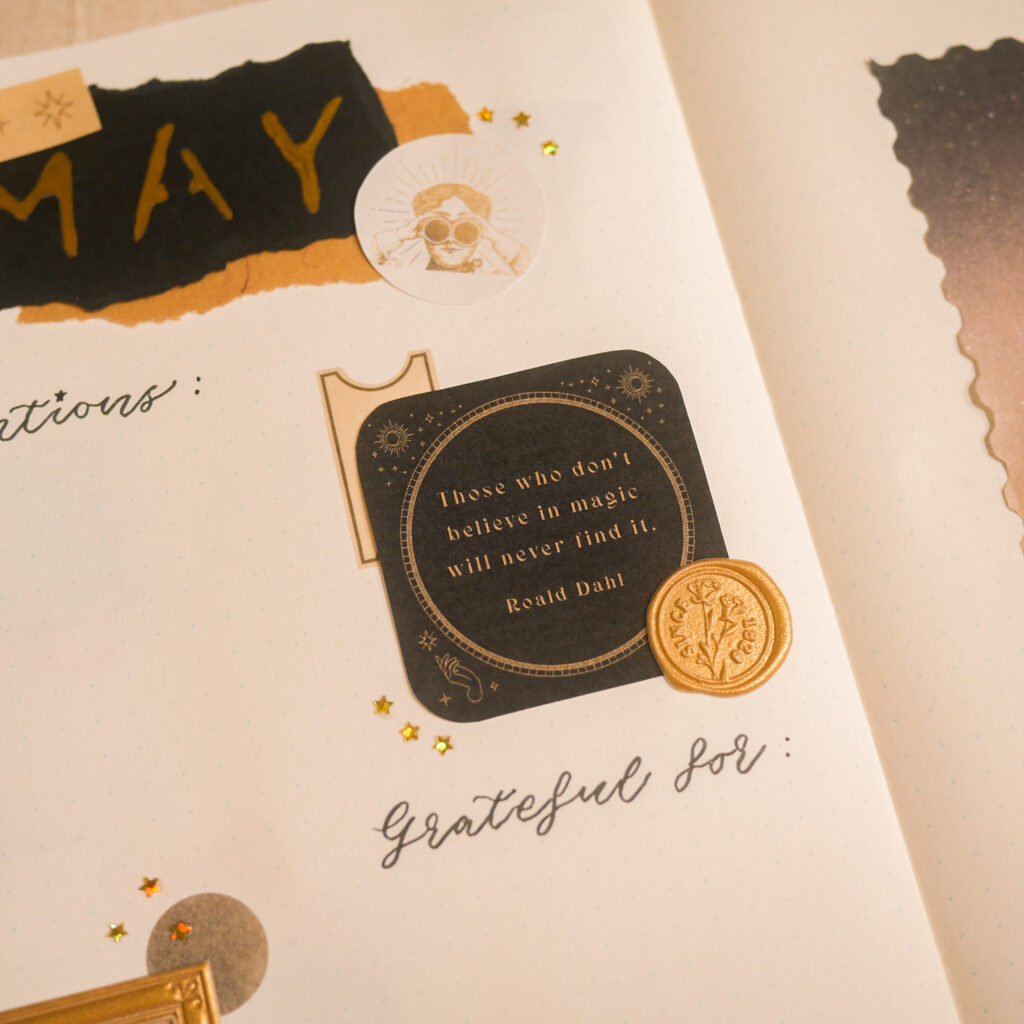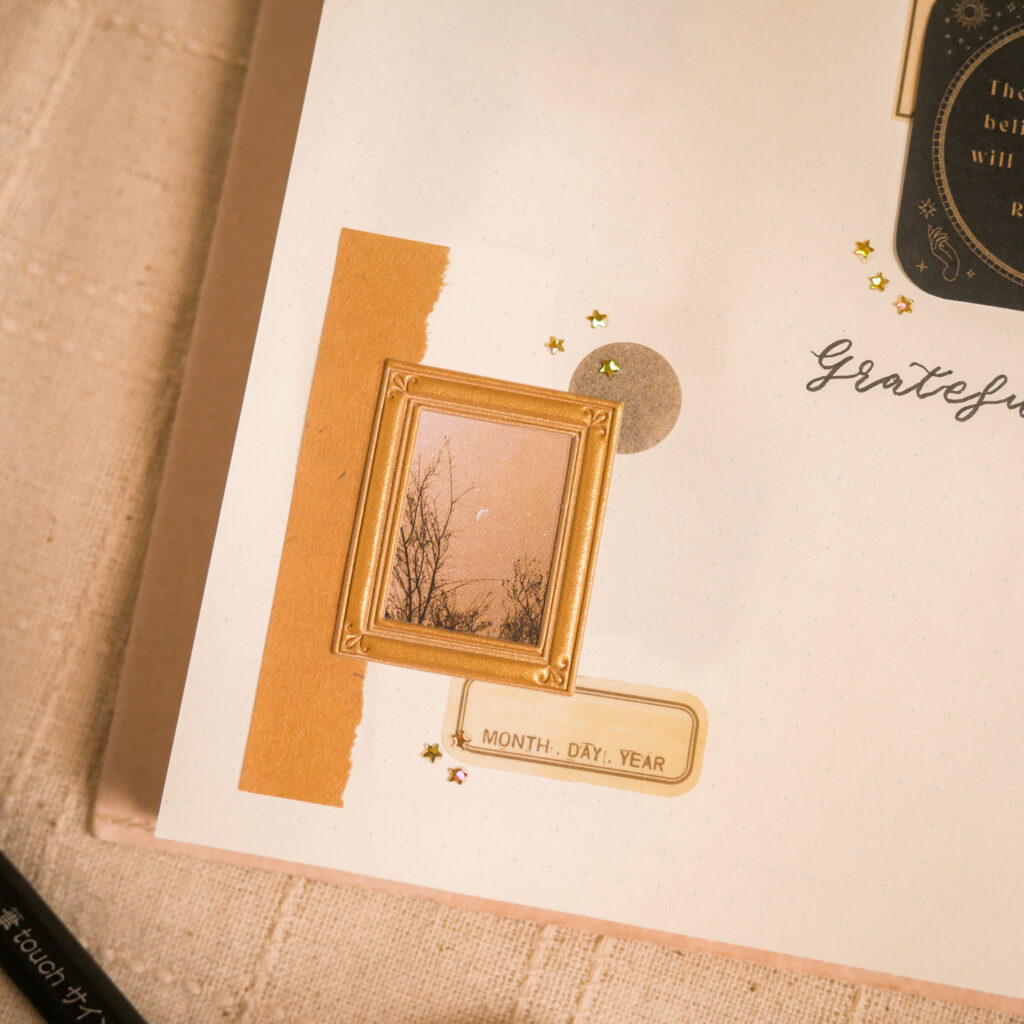 May Bujo Setup Weekly Spread 1
I printed out daily headers for the first weekly spread. It's been a while since I used a ruler for drawing the sections, and I love how neat the boxes turned out. The layout is simple – just divide each page into four sections. On each page, I created a collage using my Magic Moments free printable, and other papers in my stationery stash. To match the cover page, I added gold glitter stars as embellishments.
May Bujo Setup Weekly Spread 2
For the second weekly spread, I filled up the top of the pages with collages. Eight square boxes were drawn below, and the extra box is used for the week's to-do list. The headers are dot stickers from Suatelier, which I purchased here. They are really useful for setting up weekly spreads quickly! Besides using this month's printable, I also used my Starry Night printable set. 
May Bujo Setup Weekly Spread 3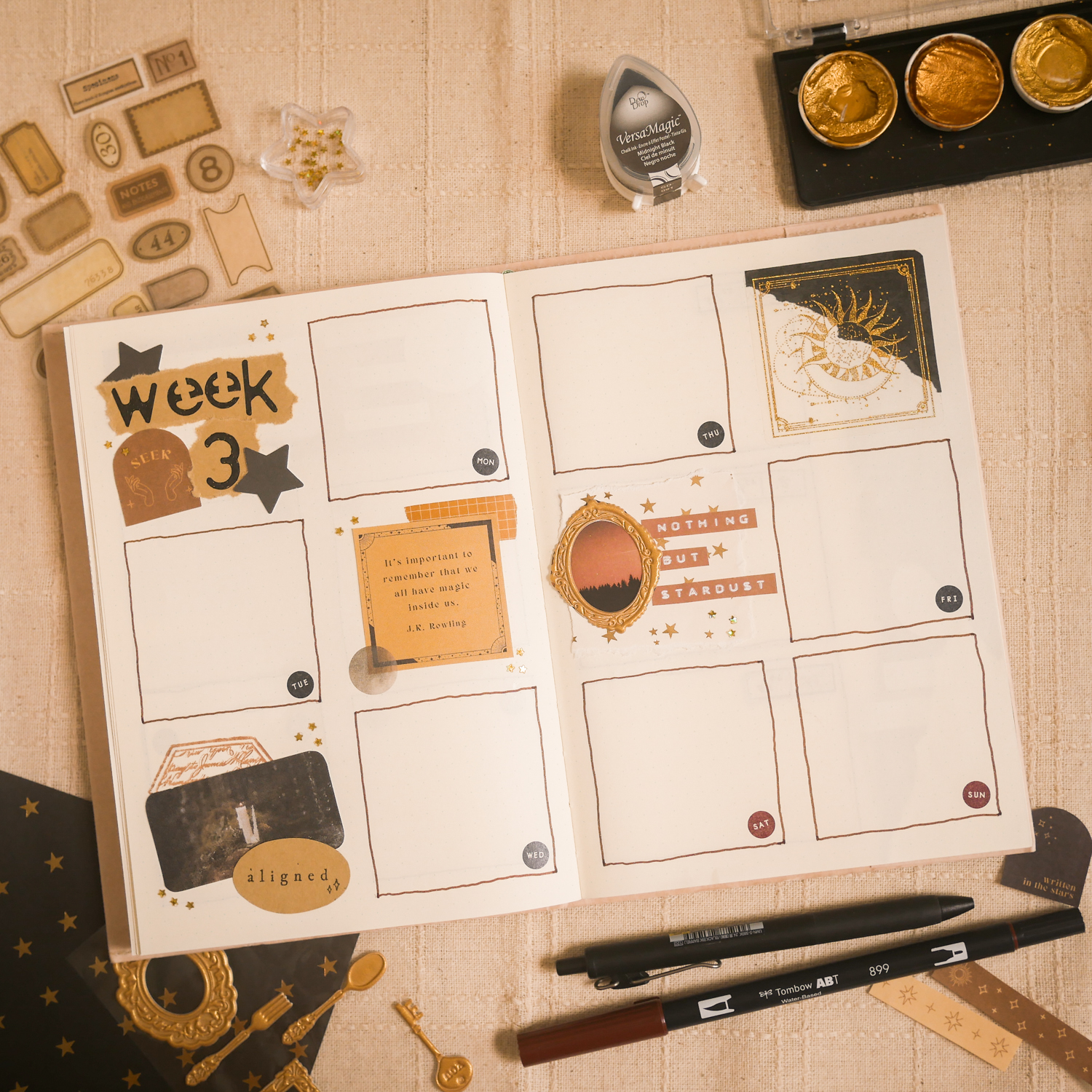 The third weekly spread features small collages around the seven daily sections. This is one of my favourite layout since I get to make several collages. I combined a mini photo cutout with the oval frame sticker to make a faux photo frame for one of the collages, and I'm in love with how it looks!
May Bujo Setup Weekly Spread 4
For the fourth and last weekly spread, I used black paper and starry paper to decorate the sides of the pages. Then, I added tons of stickers, glitter stars and cutouts to decorate the panels. The header for this spread is slightly different as I used gold watercolour to paint over the stencilled letters. 
Free Journaling Printable – Magic Moments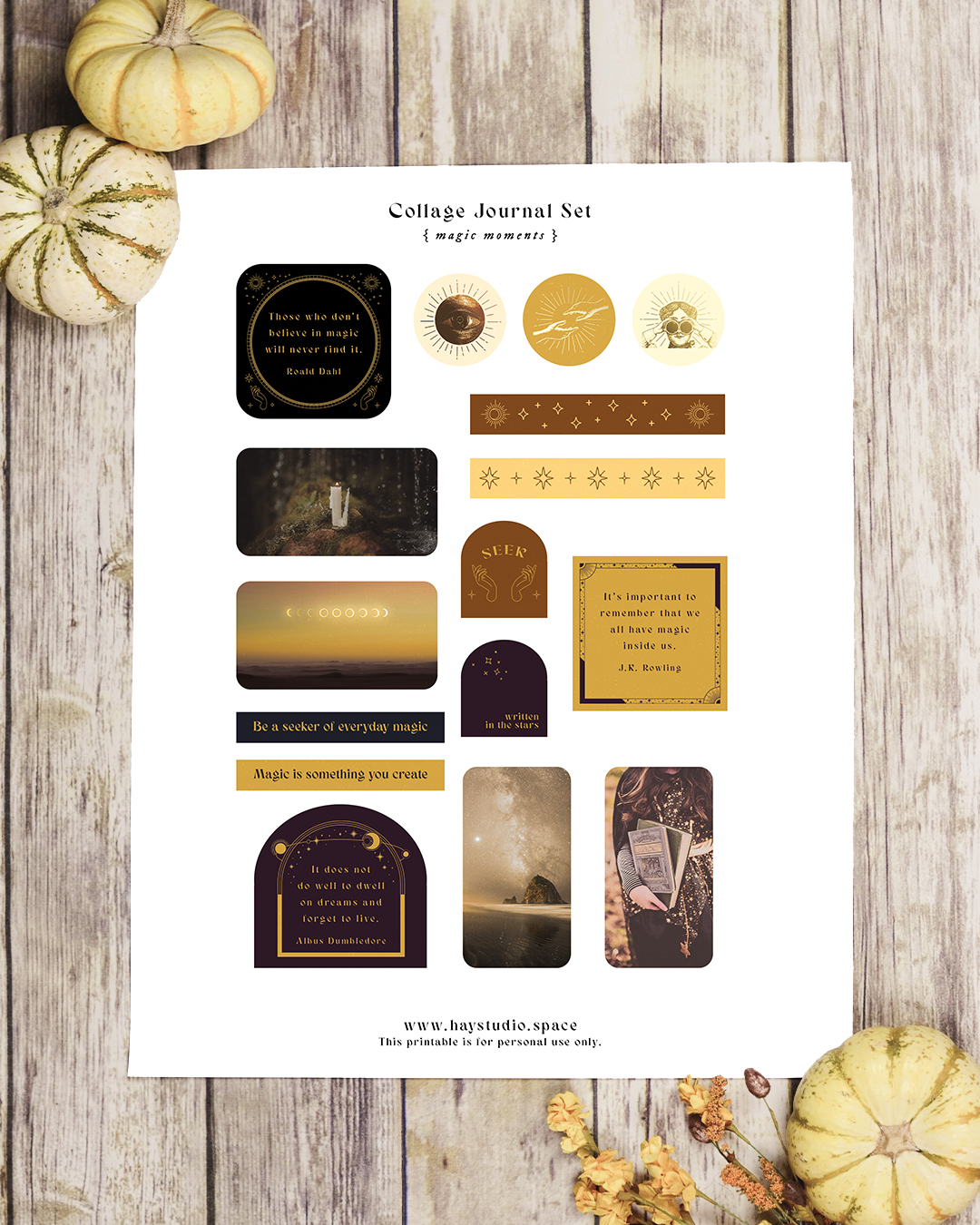 Add some magic to your journal spreads with this month's free printable! Themed Magic Moments, this set contains quotes, photos, faux washi tapes and various shaped cutouts. 
Tag me on Instagram (@hay.studio) if you share any of your creations that contain my free printables; I would love to see them. Happy journaling!
To download this free journal kit, click here.
More Bullet Journal Ideas
Subscribe to my YouTube channel for more bullet journal setups! Check out these videos for my setup for the previous months:  
***
 If you enjoyed this article, share the love with your bujo pals! To stay updated on future blog posts, subscribe here. 
Related articles, videos and resources:
Disclaimer: Some of the links above are affiliate links, meaning I earn a small percentage of commission via those links, but it doesn't cost you anything extra!
Enjoyed this post? Spread the joy!
☆ Pin this image to help this article reach more people. ☆
Clicking On These Helps Me Pay My Bills...