July Bujo Setup - Leaves Theme (Free Printable!)
HAY, how art you? It's been a while since I created a plant/floral bullet journal theme, so here we go! There are lots of green botanical stickers and journaling materials in my stationery stash, so I thought a leaves theme will be perfect for putting them to good use. I also designed a free printable set titled "Among the Foliage" and you can find the download link at the end of this article. Without further ado, let's check out my July bujo setup!
Check out the following video to watch the setup process and plan with me!
What I used this month: 
You can use my affiliate codes to purchase stationery at the following stores:
July Bujo Setup Cover Page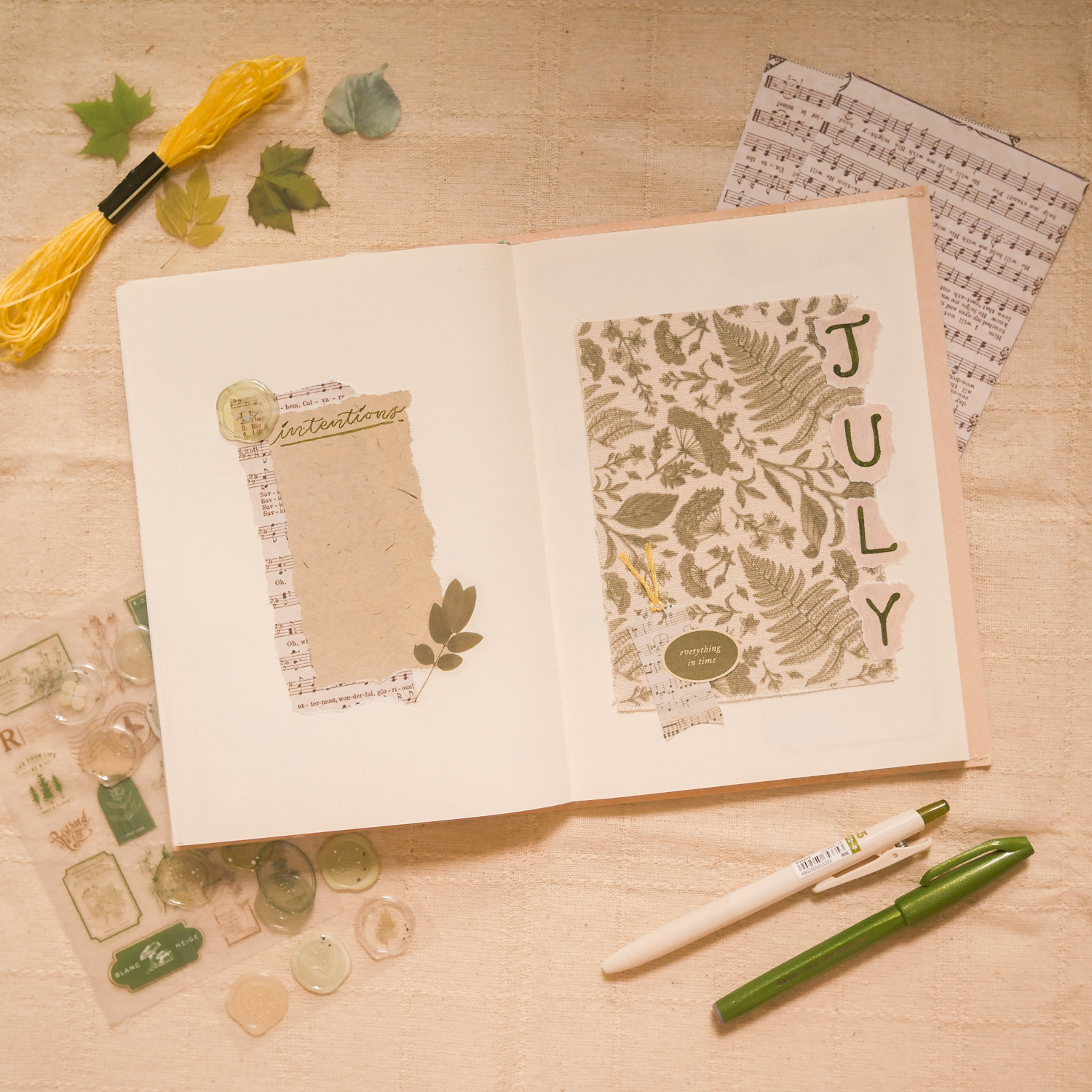 Collage Page
I have been sticking to this layout for a couple of months now – a huge collage on the right page, along with a smaller functional section on the left page. This layout makes the spread less busy, and accentuates the main collage.
One of the materials I found in my stash is the piece of printed canvas cloth which makes up the collage background. It has this beautiful leaves pattern in a calm shade of sage green. Since the cloth has a busy pattern, I kept the collage simple by pasting the July letters (lettered on textured paper), a mini music score tag, as well as the oval-shaped quote, "everything in time".  
Intentions Page
To accompany this theme, I'll be using music score ephemera to add a vintage touch to the collages. I tore a piece of textured brown paper and pasted it here to set my intentions for the month. The decoration is minimal, and I chose a PET leaves sticker and a faux wax seal sticker.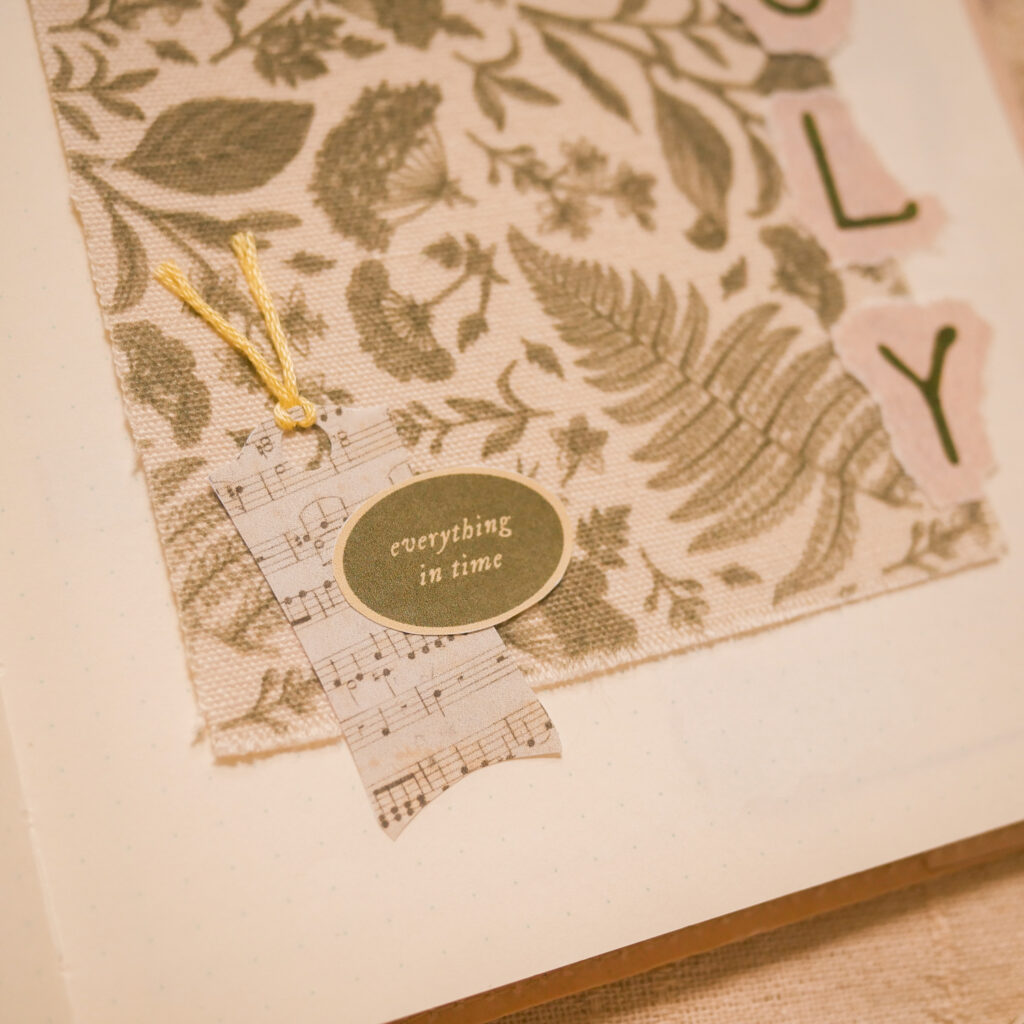 July Bujo Setup Weekly Spread 1
I printed some rectangular daily headers for the first weekly spread for July. These make setting up the spread quick and easy. Since there was quite a lot of empty space left, I created two functional sections for setting the week's priorities and gratitude logging. 
July Bujo Setup Weekly Spread 2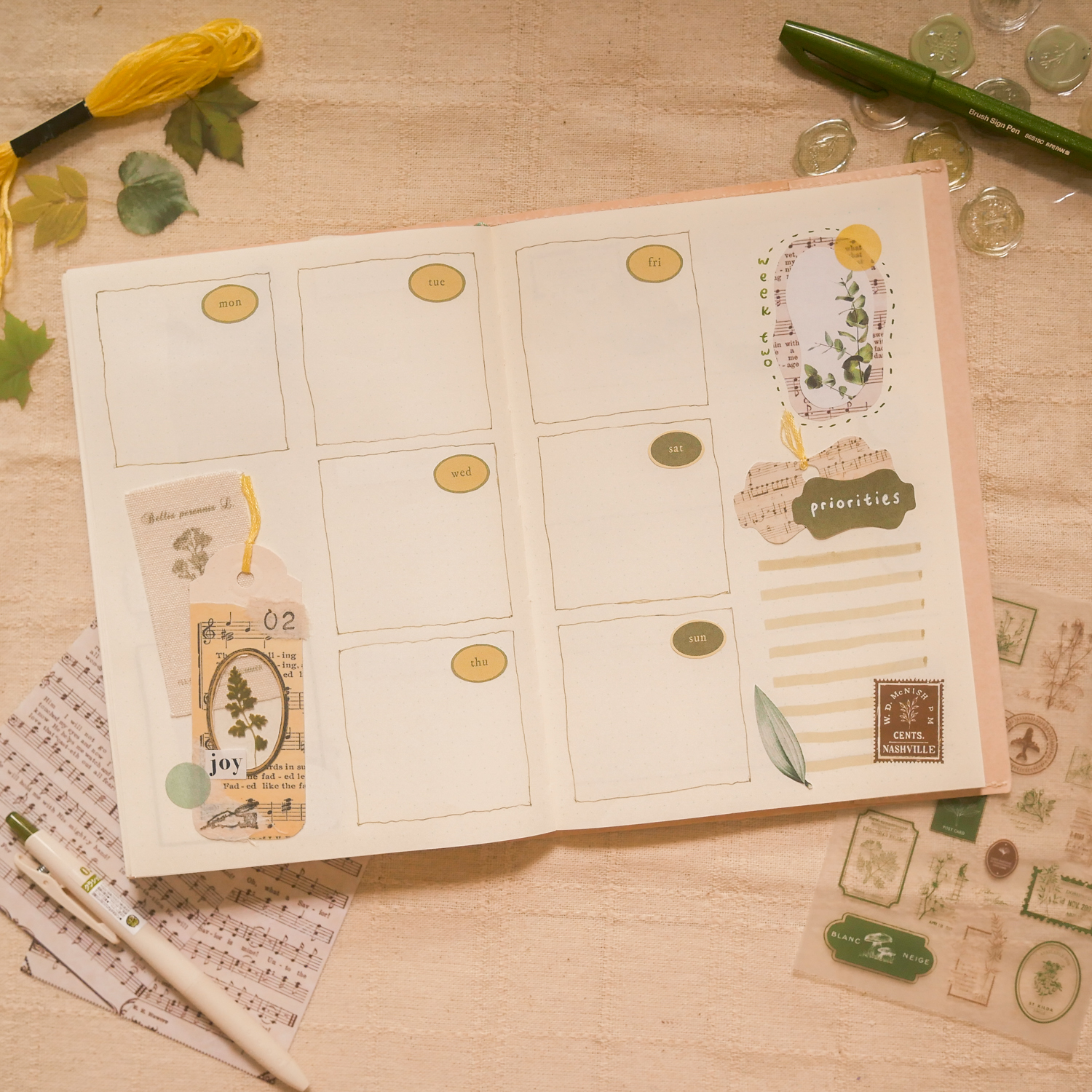 For the second weekly spread, I printed oval-shaped daily headers, and used a neat boxy layout. To collage, I added a decorated tag I made previously – it fits the theme perfectly! There is also a section for setting the week's priorities on the right page. 
Free Journaling Printable – Among the Foliage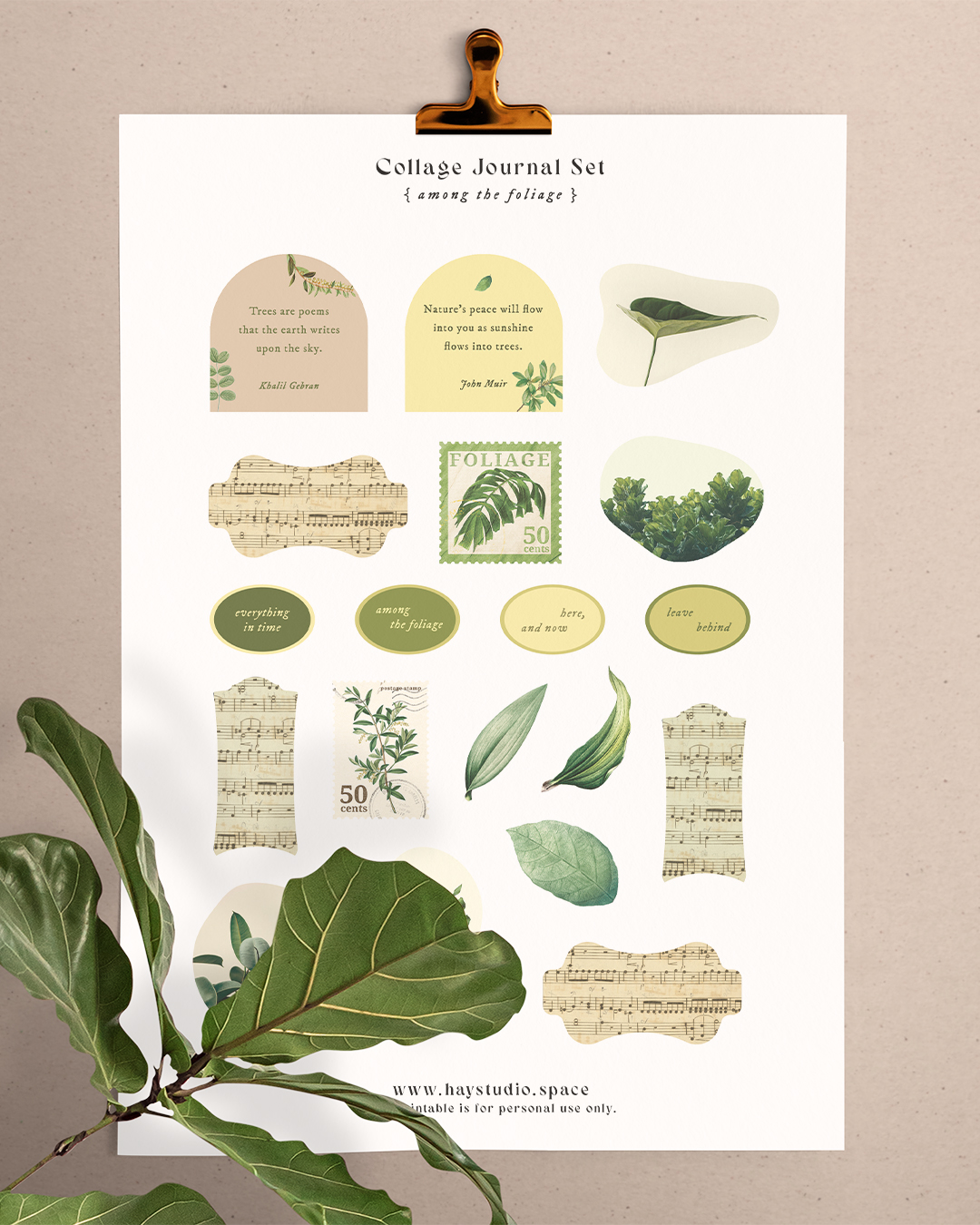 If you enjoy making botanical theme spreads, this printable set is for you. With elements like foliage photo blobs, postal stamps, leaf cutouts and nature-related quotes, you can use this printable for scrapbooking or decorating your journal. 
Tag me on Instagram (@hay.studio) if you share any of your creations that contain my free printables; I would love to see them. Happy journaling!
To download this free journal kit, click here.
More Bullet Journal Ideas
Subscribe to my YouTube channel for more bullet journal setups! Check out these videos for my setup for the previous months:  
Disclaimer: Some of the links above are affiliate links, meaning I earn a small percentage of commission via those links, but it doesn't cost you anything extra!
Enjoyed this post? Spread the joy!
☆ Pin this image to help this article reach more people. ☆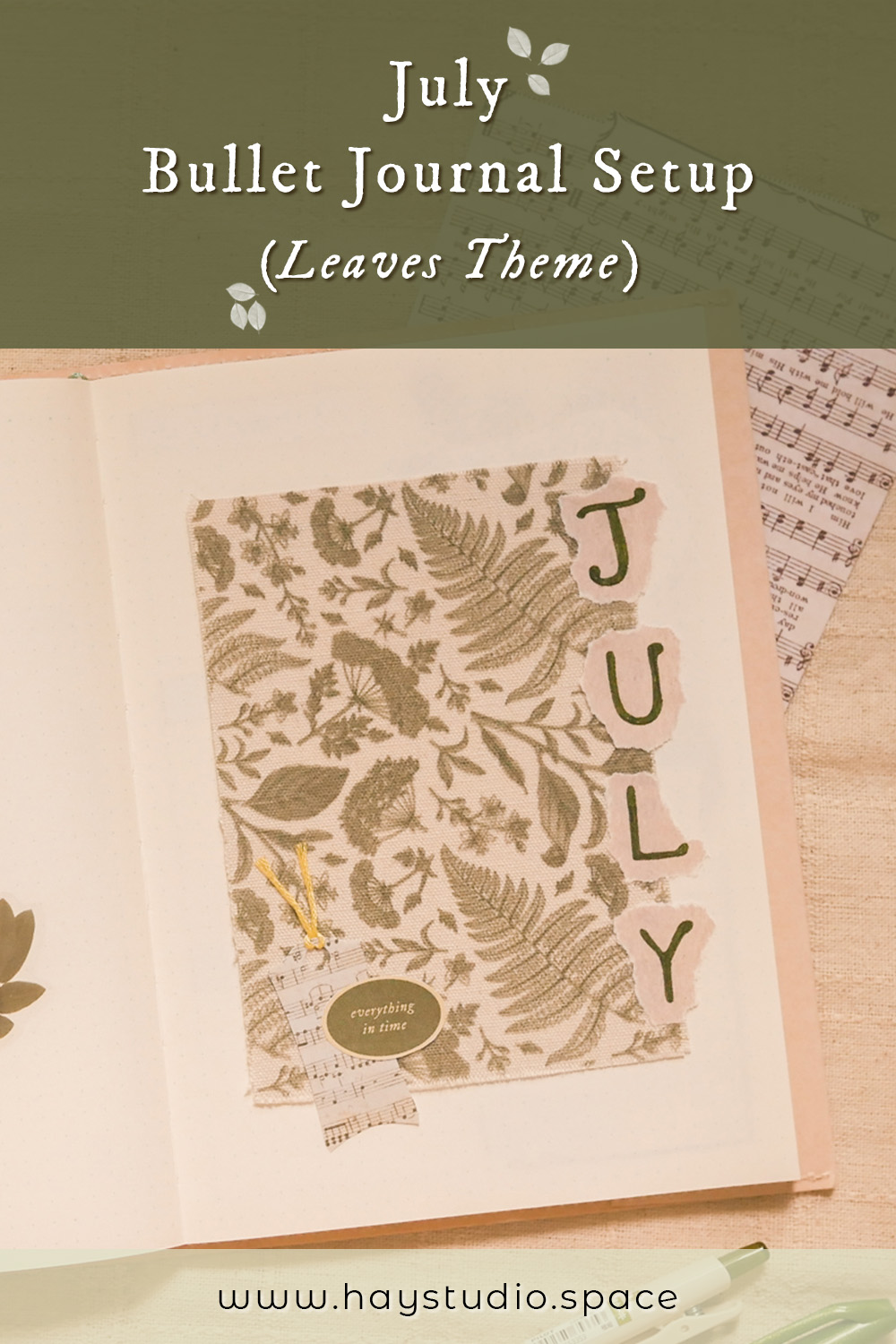 Clicking On These Helps Me Pay My Bills...