Tangerine Theme January Bujo Setup for a Fresh New Start (Free Printable!)
HAY, how art you? It's been a fun year of bullet journaling and I can't wait to create more creative and beautiful spreads this new year! Kicking off the year is this tangerine theme January setup, which features tangerine collages in warm orange and coral hues. The colour palette is a tad different from the vintage moody colours I have been using, but I thought this fresh look is fitting for a new start. Keep scrolling to see more of my January bujo setup!
Check out the following video to watch the setup process and plan with me!
What I used this month: 
Small alphabet stencil – Muji
Dotted kraft paper, wooden stamps – Taobao
You can use my affiliate codes to purchase stationery at the following stores:
January Bujo Setup Cover Page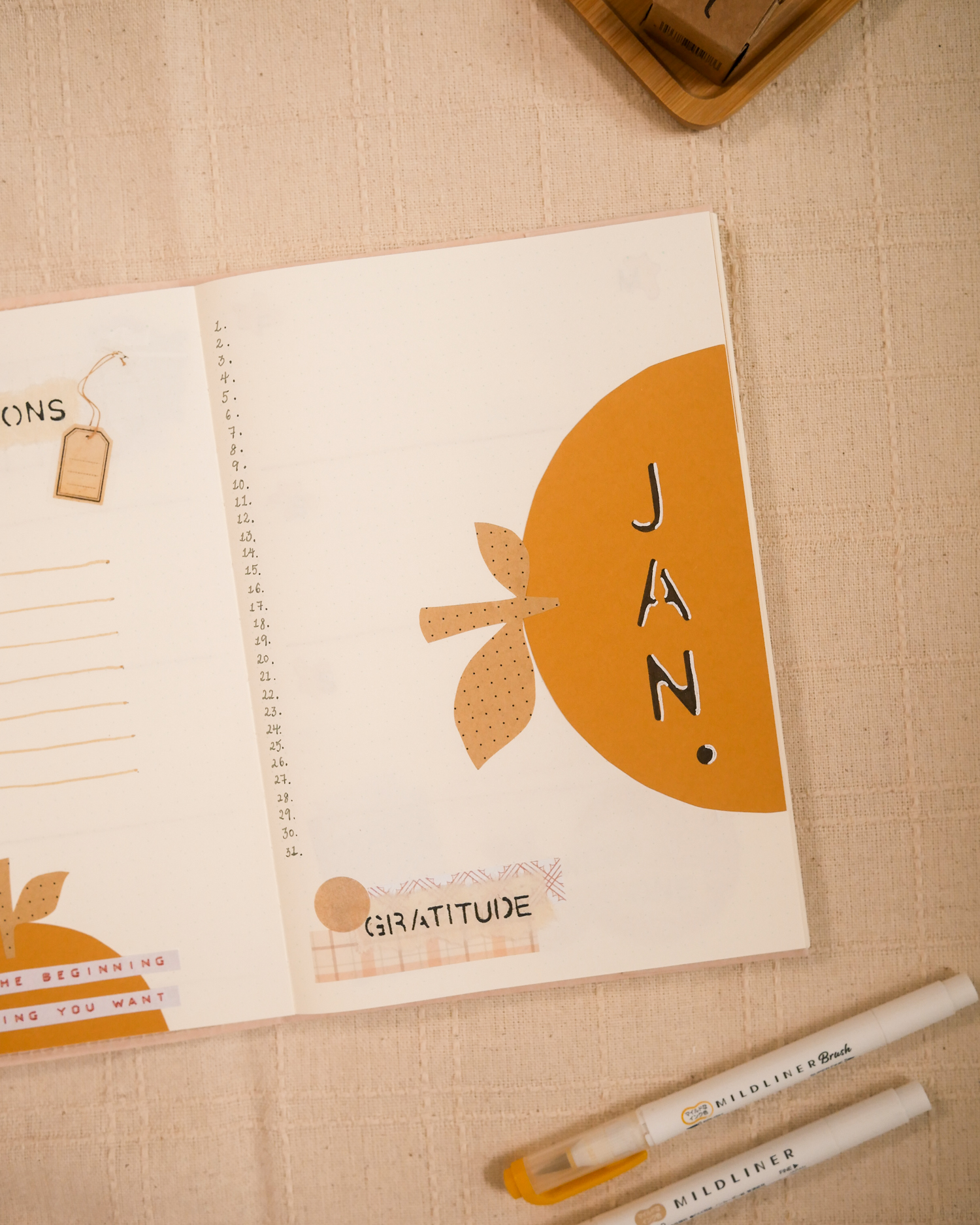 The January cover page features a large half tangerine peeking into the right side of the spread, made with orange craft paper and dotted kraft paper as the stalk and leaves. For the monthly header, I used a large alphabet stencil and a Sakura pigma micron pen to write the letters, and it was highlighted with a white Sakura gelly roll pen. 
Not letting the remaining space go to waste, I created a simple gratitude log by writing the dates vertically next to the tangerine. The page on the left will be used for setting intentions. I also added a smaller tangerine at the bottom and layered a quote cutout from my Fresh Tangerine collage journal printable over it. You can find the link to download the free PDF file at the end of this article!
January Bujo Setup Weekly Spread 1
For the first weekly spread, I used a minimal horizontal layout. This time round, I made two small tangerines that sit at the bottom page corner. I found a perfect sticker that matches the theme, and finished the collage with an orange pun – "everythin's gonna be all ripe" (lol).
I found a cute blob shape in one of the stencils I owned, and it reminded me of spilled orange juice. Using a Sarasa gel pen, I rotated the stencil at random angles to create irregular blobs for each daily header, and then coloured them with a mildliner brush pen.
January Bujo Setup Weekly Spread 2
The highlight of the second weekly spread is the large tangerines peeking into the pages from the corners. I drew seven boxes for each daily section, and finished the spread with a simple collage on the left to fill up the empty space. The quote printable on the right is downloaded from Planned by Jysla's Patreon page. 
Free Journaling Printable – Fresh Tangerine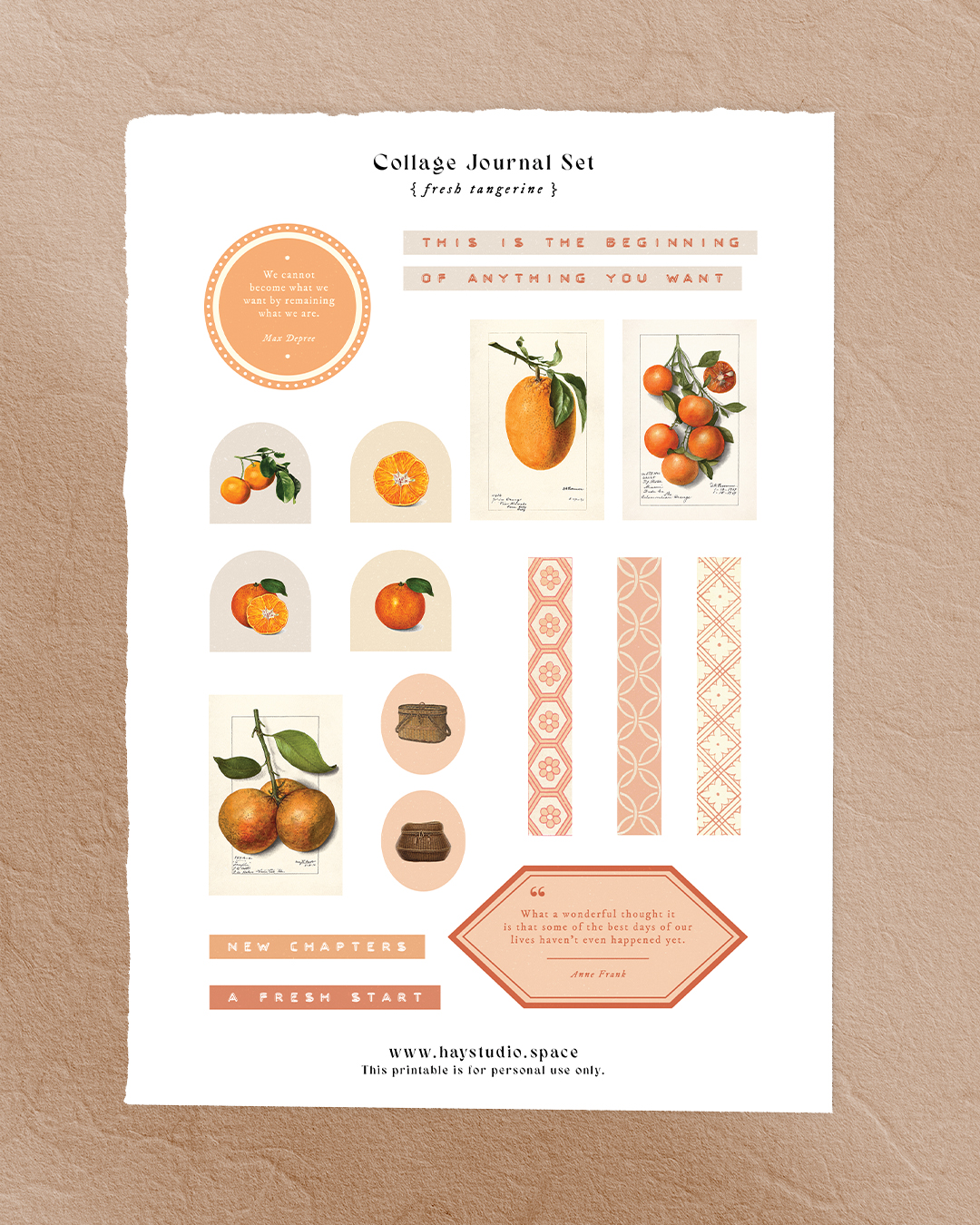 This month's free printable is a collage journaling set containing mini vintage-inspired tangerine posters, faux washi tape strips and quote cutouts. I hope the warm orange hues will get you excited for a fresh new year! Feel free to use them in your planner or journal, or anywhere you'd like.
Tag me on Instagram (@hay.studio) if you share any of your creations that contain my free printables; I would love to see them!
To download this free journal kit, click here.
More Bullet Journal Ideas
Subscribe to my YouTube channel for more bullet journal setups! Check out these videos for my setup for the previous months:  
***
 If you enjoyed this article, share the love with your bujo pals! To stay updated on future blog posts, subscribe here. 
Related articles, videos and resources:
Disclaimer: Some of the links above are affiliate links, meaning I earn a small percentage of commission via those links, but it doesn't cost you anything extra!
Enjoyed this post? Spread the joy!
☆ Pin this image to help this article reach more people. ☆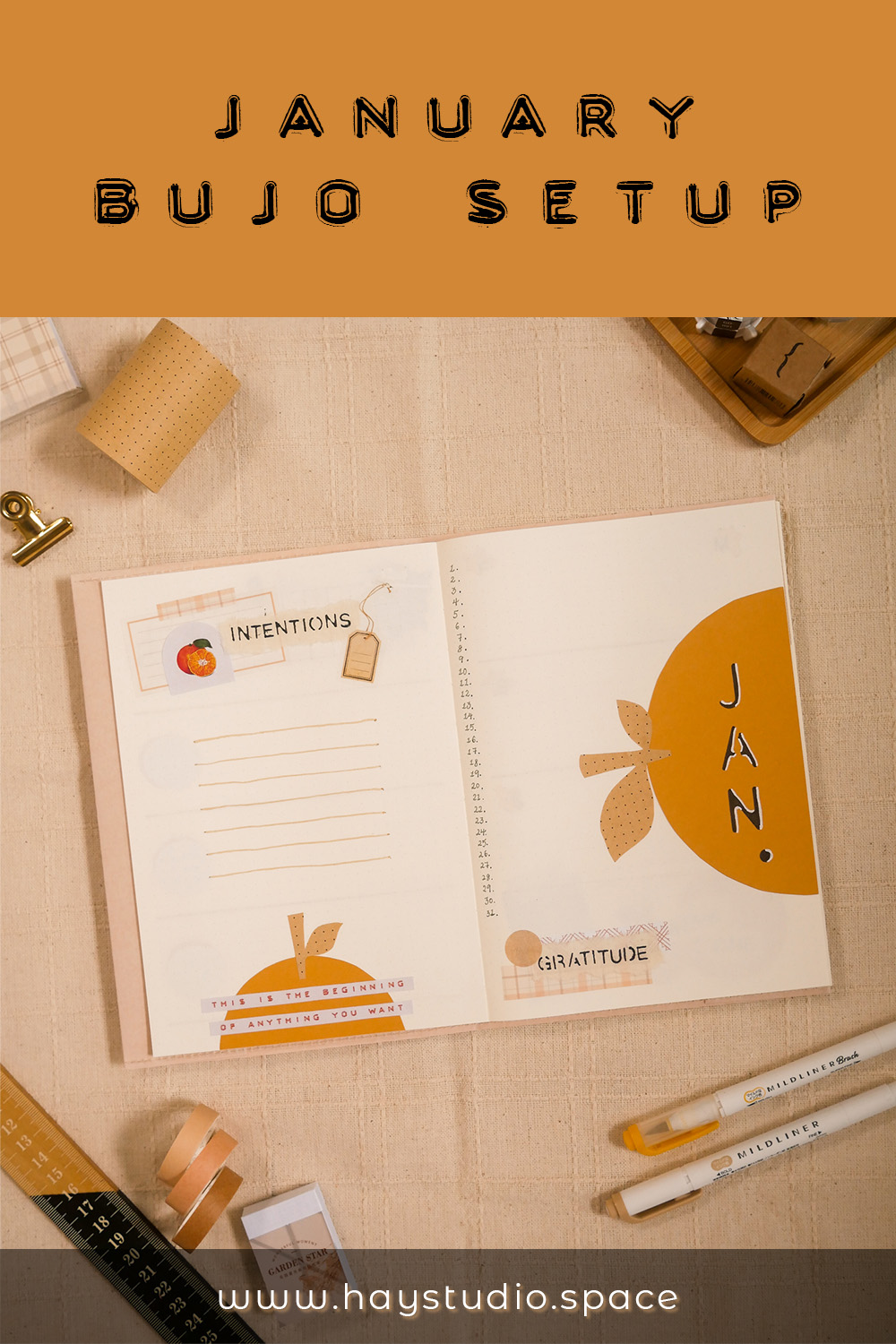 Clicking On These Helps Me Pay My Bills...