2023 Bullet Journal Setup - Refreshing Tangerine Mood Board Theme
HAY, how art you? It is a new year once again, and nothing excites me more than starting a new bullet journal with a fresh theme and setup. My bujo theme for 2023 is Tangerine Mood Board, and it was refreshing and fun to use a brighter coral and orange colour palette for the spreads. It is also my first time using a Modori notebook for bullet journaling. If you are interested to see more of my 2023 bullet journal setup, keep scrolling!
Check out the following video to watch the setup process and plan with me!
What I used this month: 
Mini kraft envelopes, small alphabet stencil – Muji
You can use my affiliate codes to purchase stationery at the following stores:
2023 Bullet Journal – Grid Spacing Guide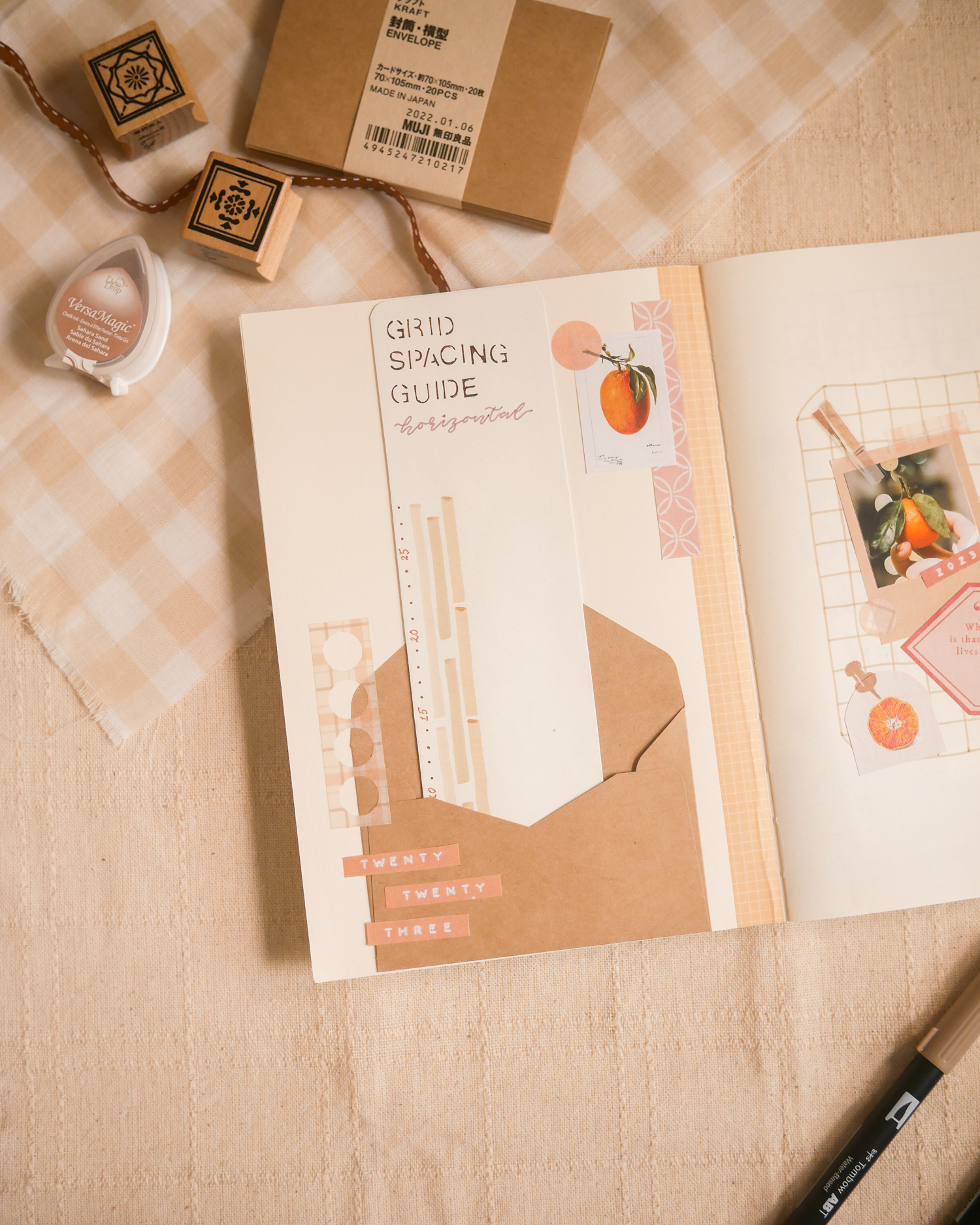 You know how the first page of a notebook always opens awkwardly? For this new setup, I decided to cut away the first page to make a portable grid spacing guide. This year, I found myself flipping to this guide very often when setting up my spreads to know the measurements of the dot grids. With a portable grid spacing guide, I can refer to it more easily than having to flip to the start of the notebook every time. It will also come in handy as a "ruler" if I want to start counting the dot grids not from the top of the page, but anywhere in the middle. 
Since Midori paper is pretty thin, I pasted it on a piece of recycled cardboard. If you are using a journal with thicker paper, you can do away with this step. It is double-sided and one side is for vertical spacing, and the other side for horizontal spacing. I also marked out the half, third, and quarter sections using various beige or brown brush pens and highlighters for easy reference. To store it in the notebook, I pasted a mini kraft envelope behind the name page. You can also store it on the pocket of your journal or journal cover if there is one.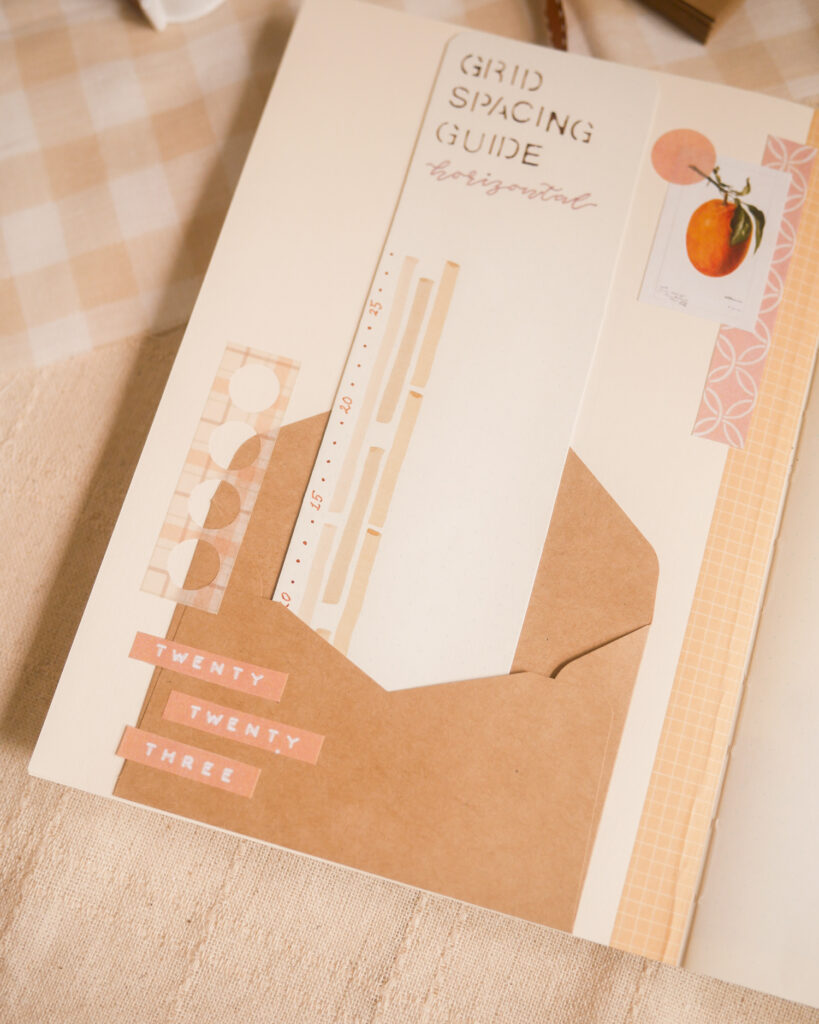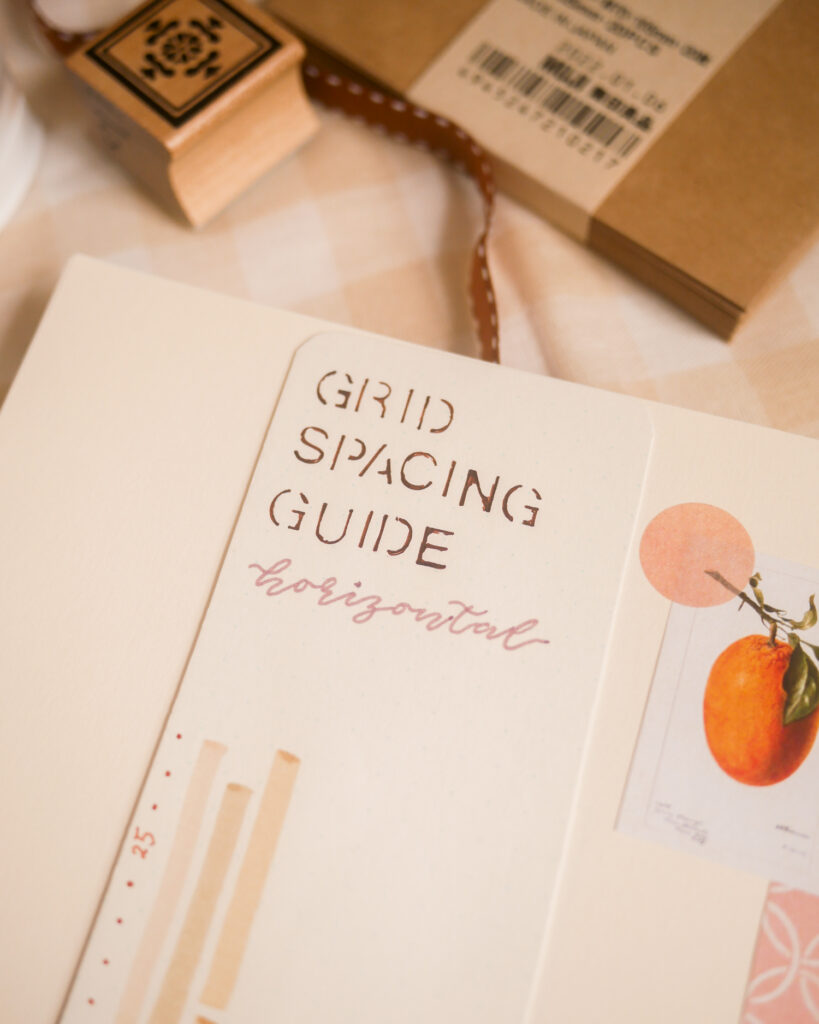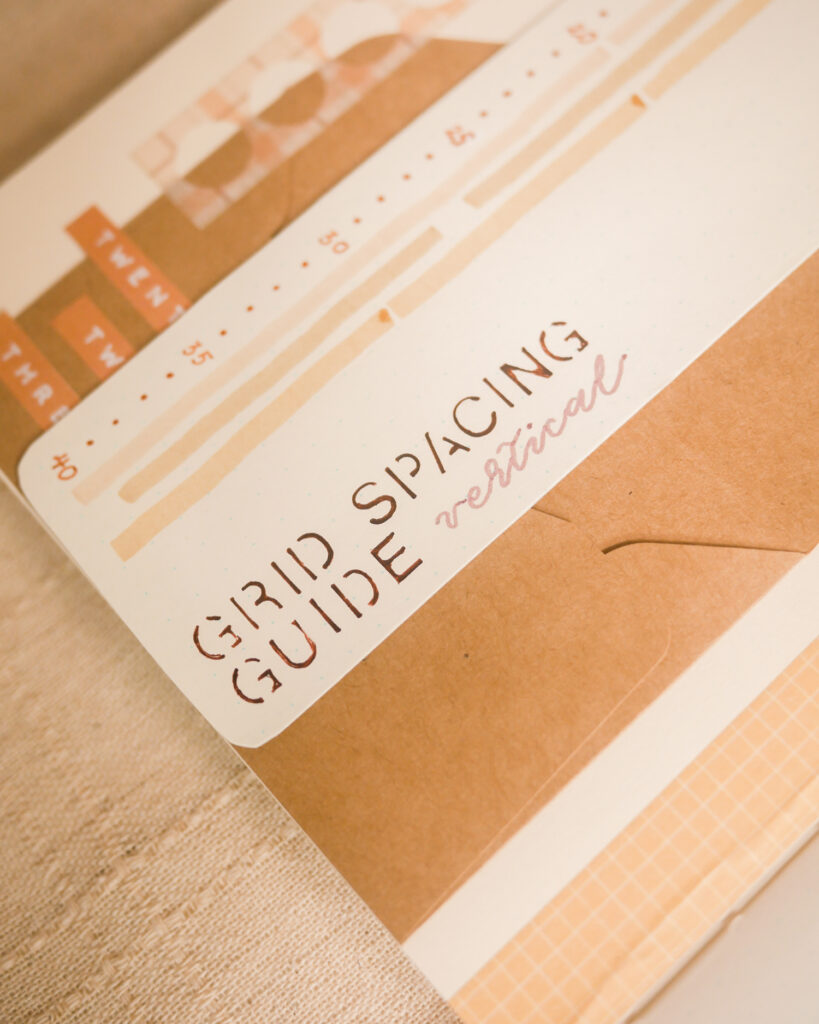 2023 Bullet Journal – Cover Page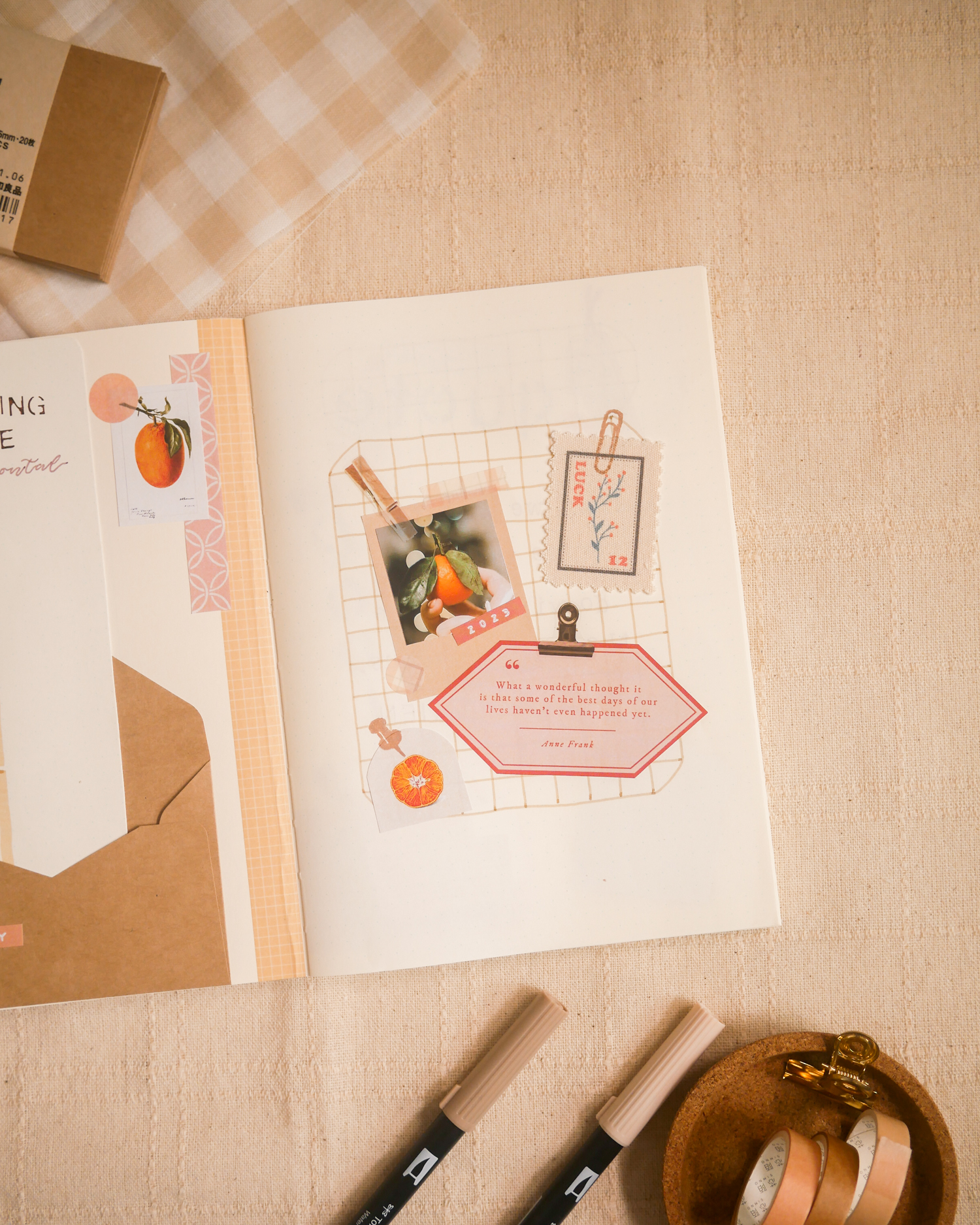 The cover page for my 2023 bullet journal setup is quite simple to make and minimal. To start, I drew a grid background using a Tombow dual brush pen. Then, I pasted various stickers and printables to create a mood board. 
Ever since getting an instant photo printer, I've been printing photos for memory keeping and for decorating my spreads. This time, I printed four photos I found on Unsplash that matches the tangerine theme, and used one of it for the cover page. To create a Polaroid look, I pasted the photo on a faux Polaroid frame from my year-end free printable kit. 
The quote is from an upcoming free printable set that will be available in January, so look out for it if you're interested and subscribe to my newsletter to download it first-hand once it is made available!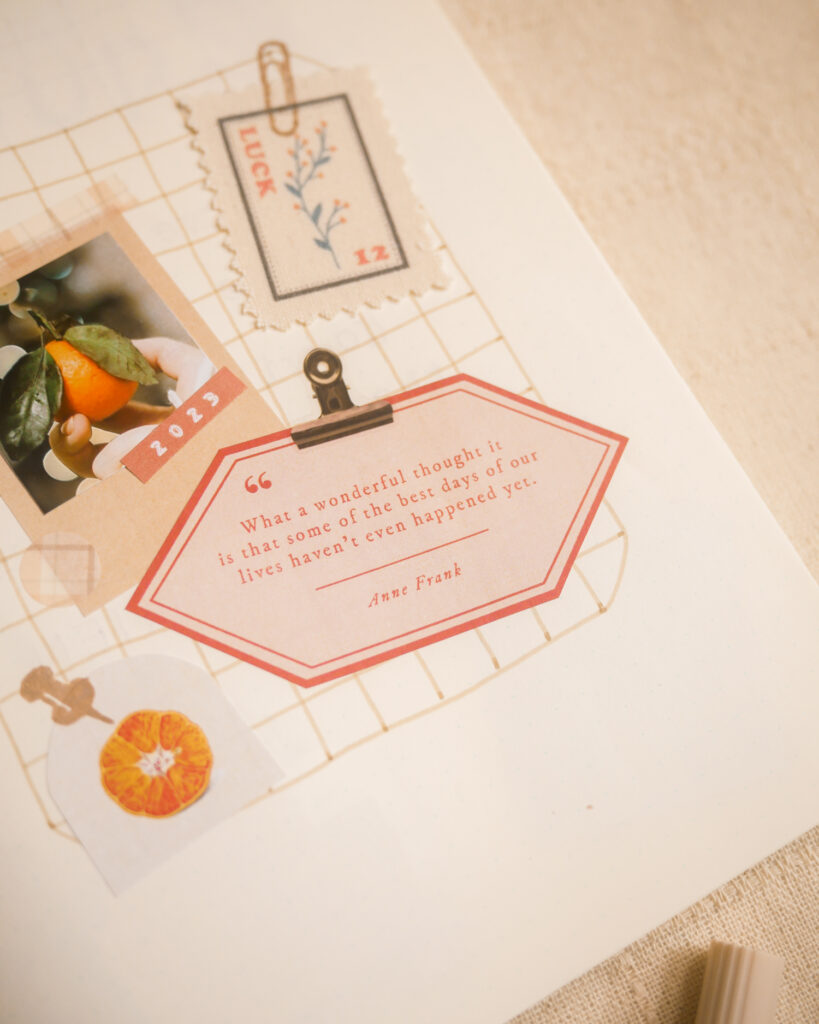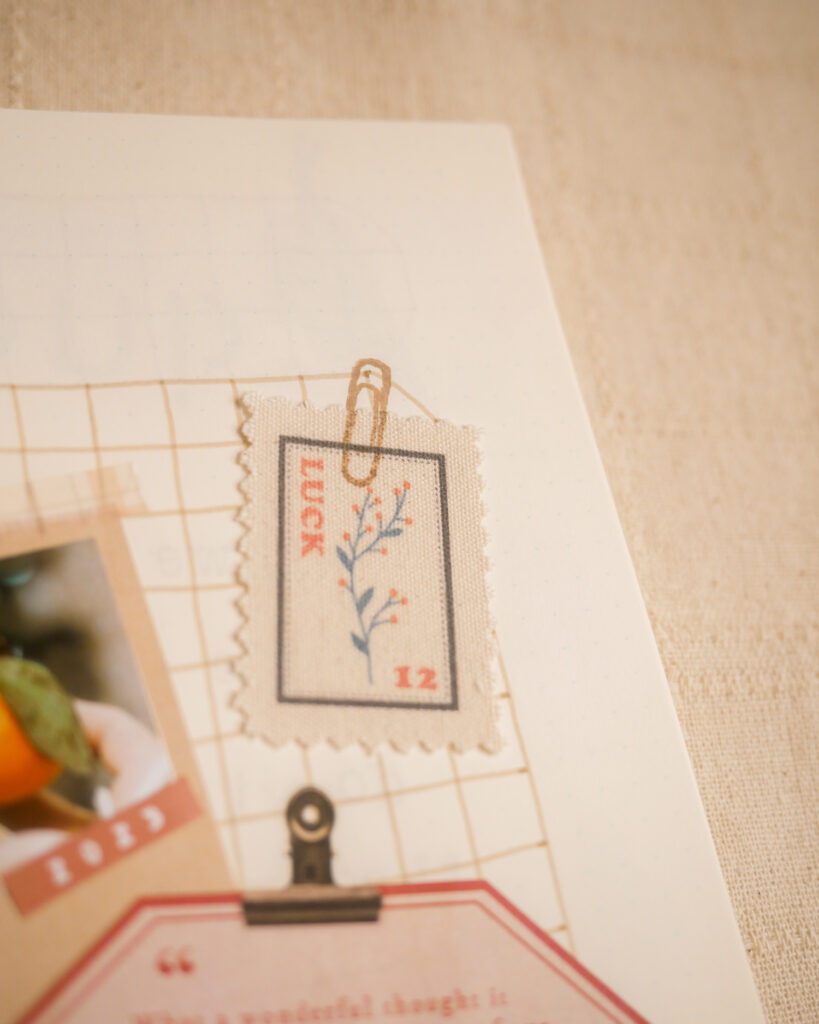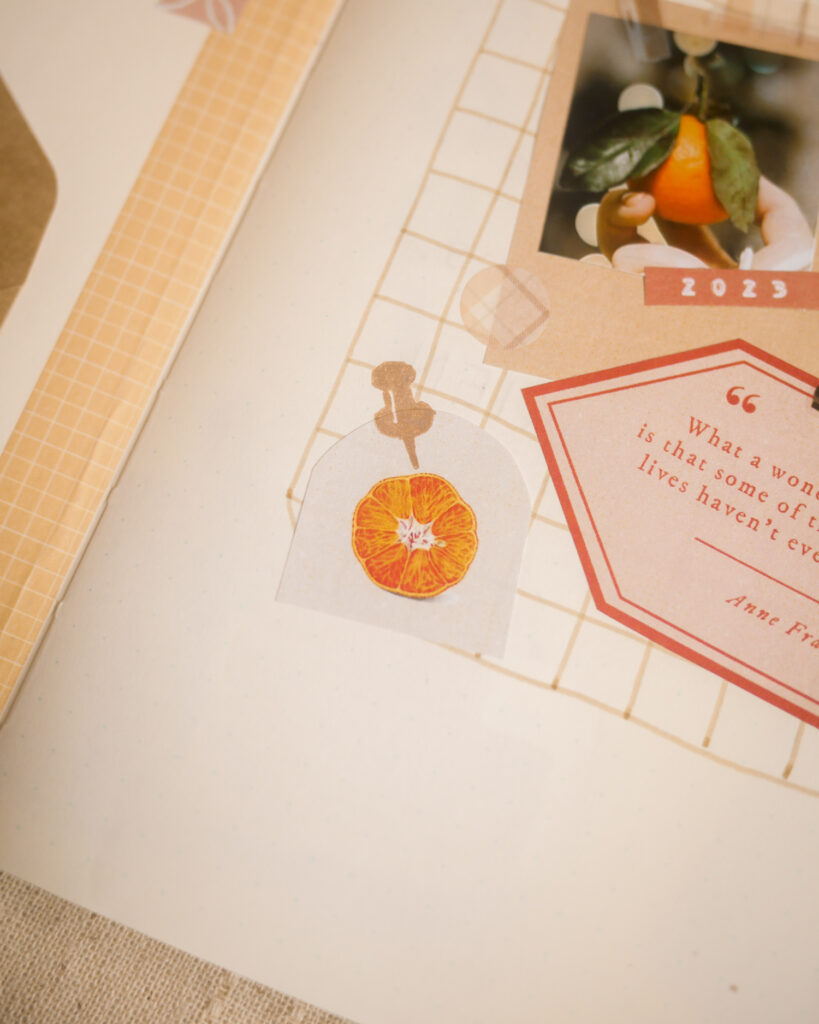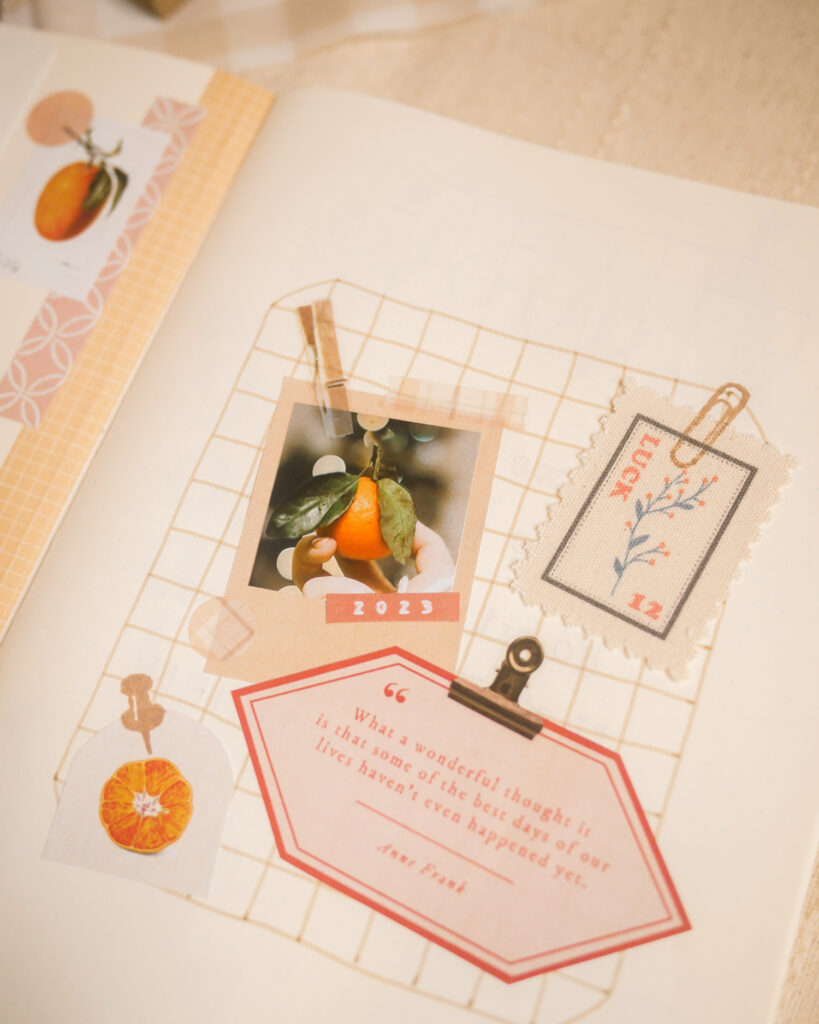 2023 Bullet Journal – Quote & Goals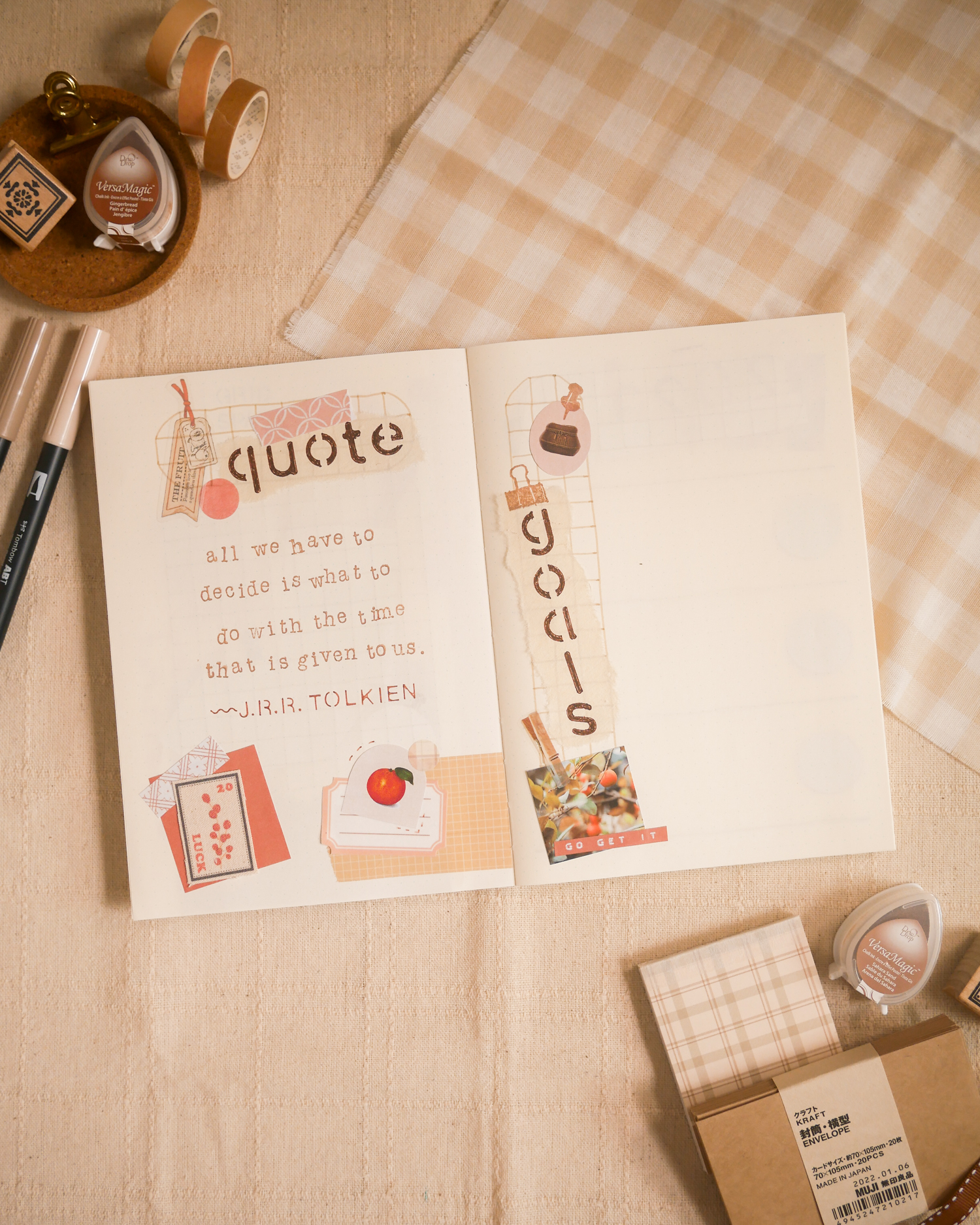 For a uniform look, I drew a grid background for all the headers of the remaining spreads. An alphabet stencil was used to create bigger titles. On the next page, I stamped on a quote using an alphabet stamp set and decorated the rest of the page with other coral, orange and beige elements. 
The following page will be used to set goals for the new year. I left it pretty blank as I haven't decided what areas I want to focus on for the year. To create a different look, the header was done vertically.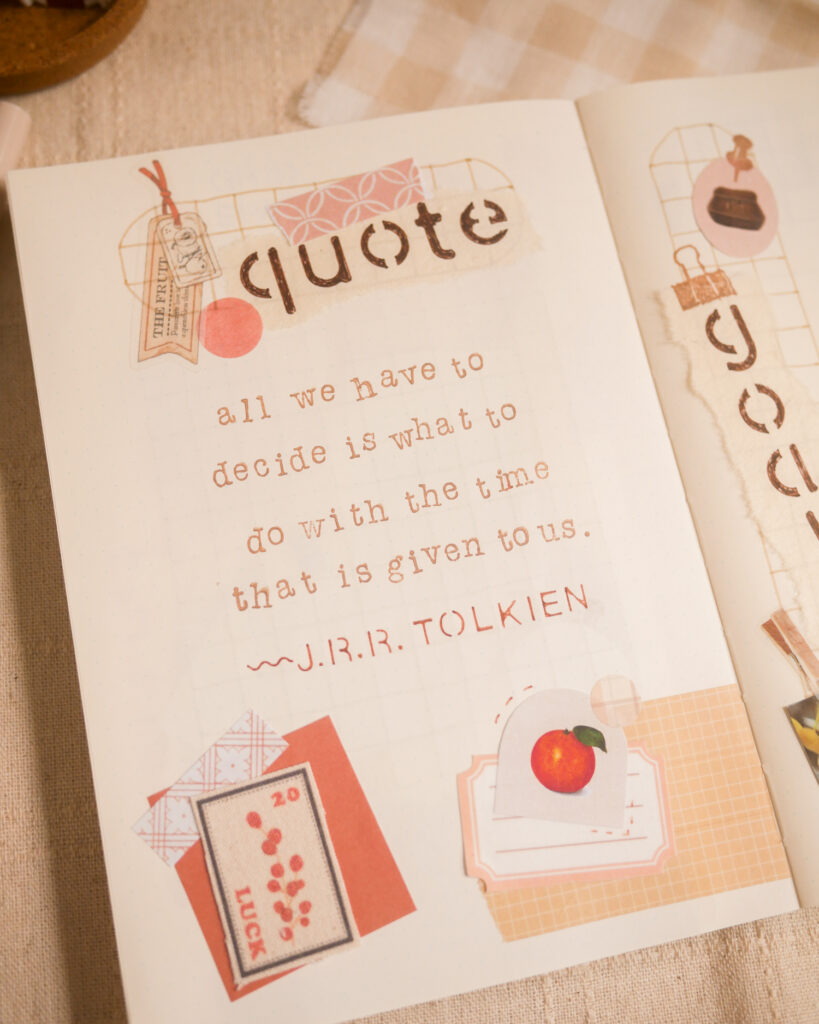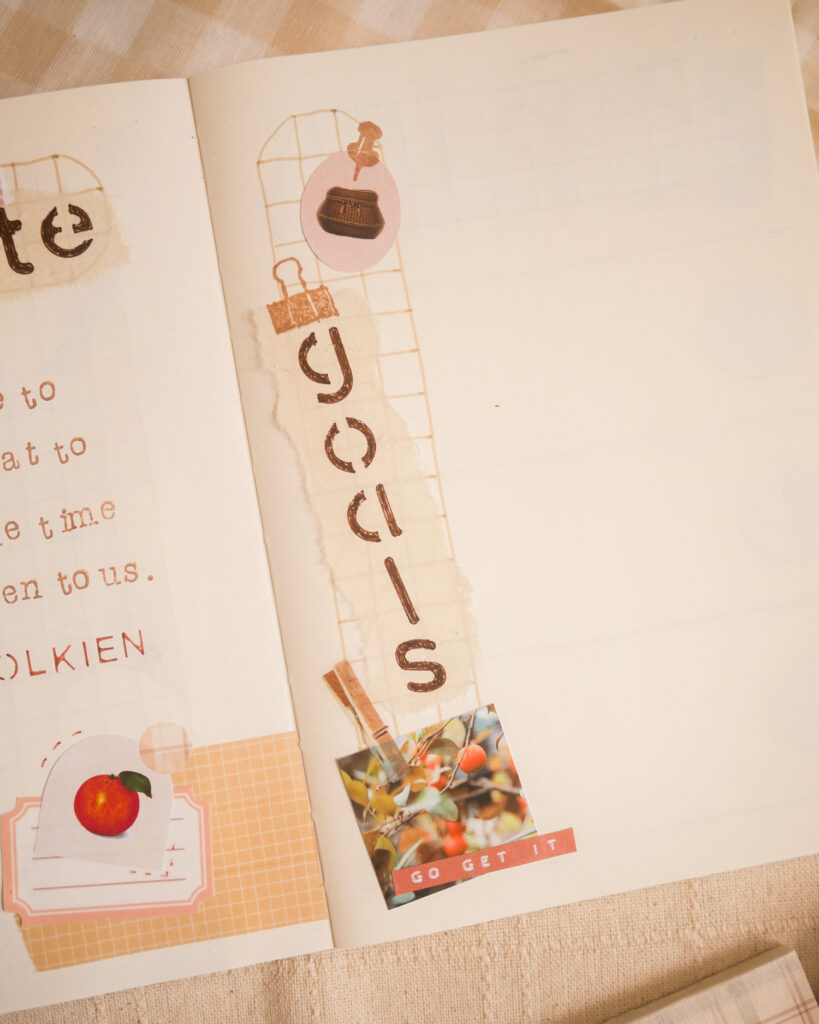 2023 Bullet Journal – Monthly Highlights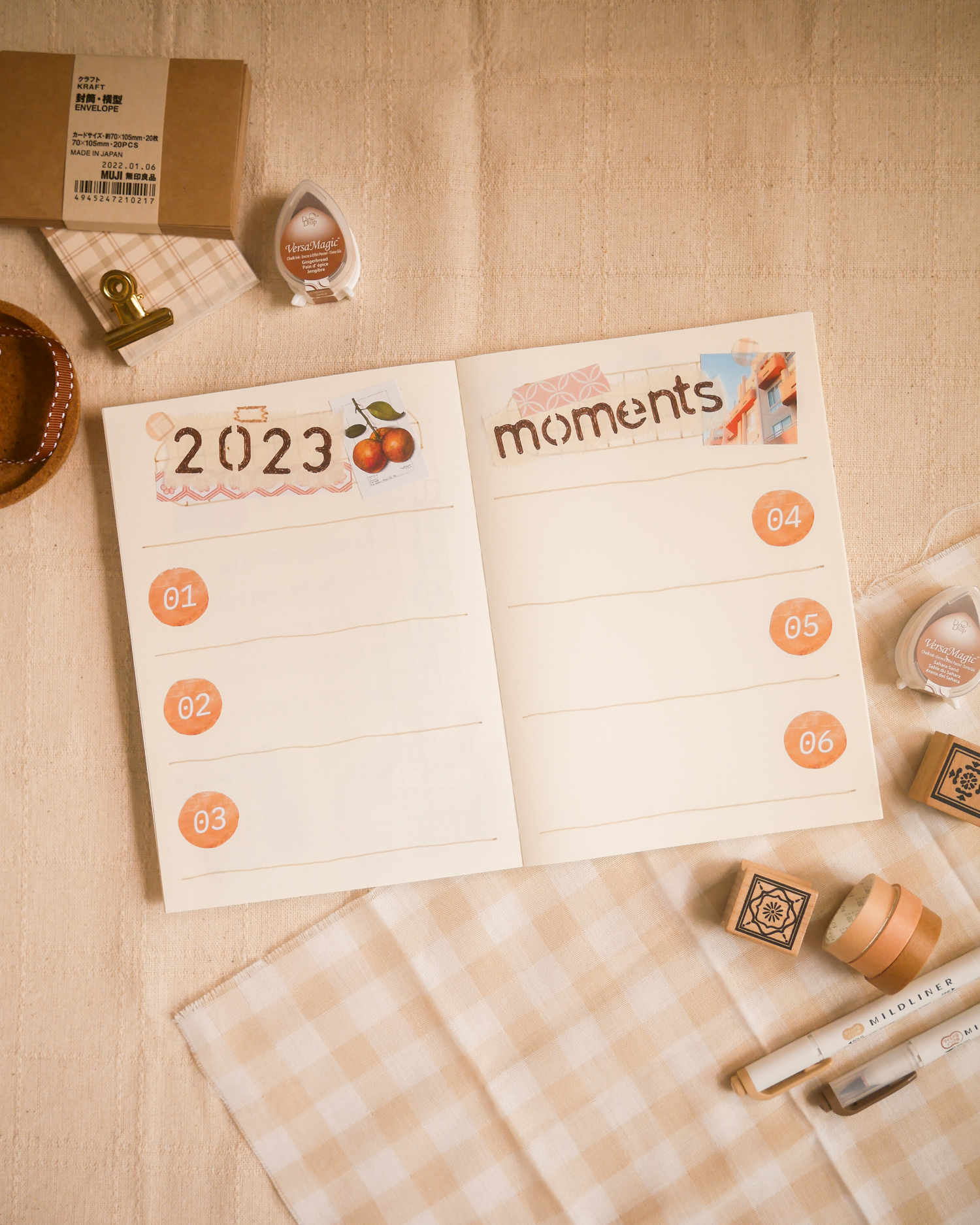 One of my favourite spreads to make and fill up as the year goes by, is the monthly highlights page. This coming year, I intend to print out photos of my favourite moments and paste them here each month, and perhaps leave a short note about each photo. The monthly round stickers are actually icons from my 2023 Notion dashboard (which is also tangerine theme!), and I put them to good use by printing them out for these spreads. 
More Bullet Journal Ideas
Subscribe to my YouTube channel for more bullet journal setups! Check out these videos for my setup for the previous months:  
***
 If you enjoyed this article, share the love with your bujo pals! To stay updated on future blog posts, subscribe here. 
Related articles, videos and resources:
Video – Year-End Journaling Ideas
Disclaimer: Some of the links above are affiliate links, meaning I earn a small percentage of commission via those links, but it doesn't cost you anything extra!
Enjoyed this post? Spread the joy!
☆ Pin this image to help this article reach more people. ☆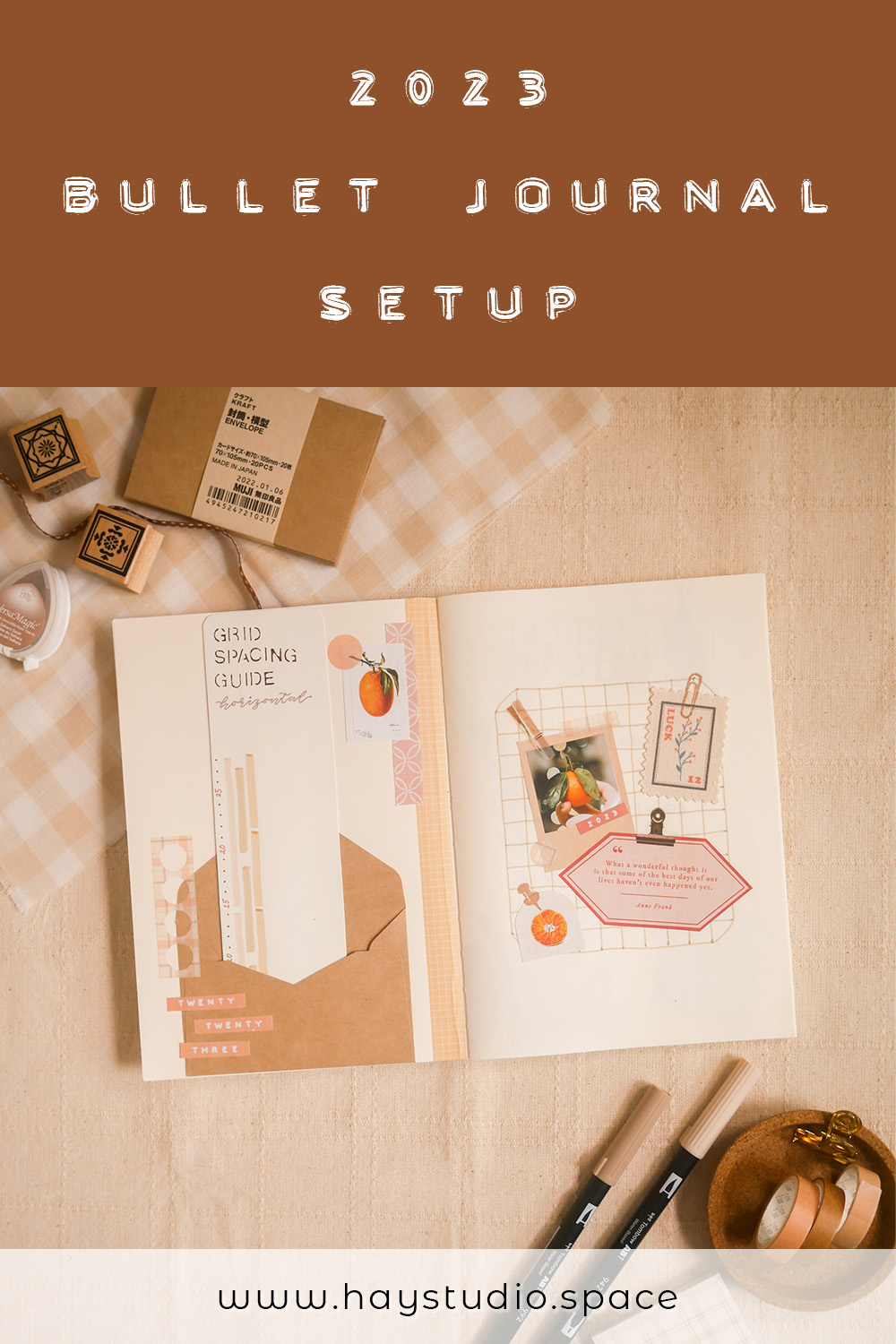 Clicking On These Helps Me Pay My Bills...