February Bujo Setup - Neutral Vintage Letter Theme (Free Printable!)
HAY, how art you? After a month of using a bright and fresh colour palette, I am back to using my favourite neutral and brown tones for February. Since it's the month of Valentine's Day, I went with a "vintage letters" theme with elements like stamps, post cards, wax seals and envelopes. I also created a free journaling printable set for this theme, and you can find the download link at the end of this article. Without further ado, let's check out my February bujo setup!
February Bujo Setup Video
Check out the following videos to watch the setup process and plan with me!
What I used this month: 
You can use my affiliate codes to purchase stationery at the following stores:
February Bujo Setup Cover Page
The February cover page features a kraft paper envelope tied with a cream coloured string and secured with a mini wax seal. It is simple and sets the theme immediately. I kept the page simple by adding the word February using round washi dot stickers. To finish off, I lettered the phrase "it's not all bad", which is the same phrase on the oval wax seal on the left side of the spread. 
To add more textures to the spread, I tied several decorative papers and a canvas fabric together and pasted them on the left, topping them all with a black wax seal. Check out this video to watch the making of these wax seals! I also added some gold glitter stars around the spread for some extra shine. Lastly, I pasted a textured paper, and marked this section for setting my monthly intentions.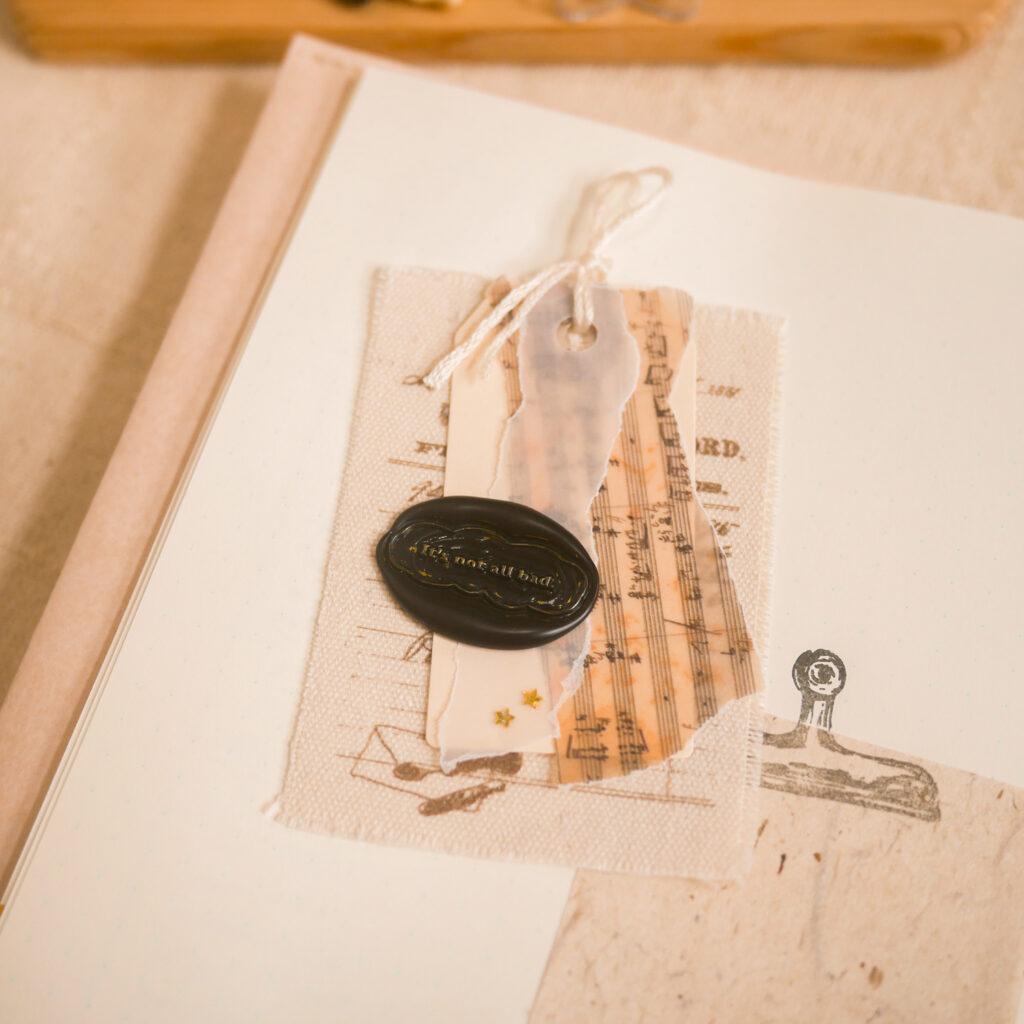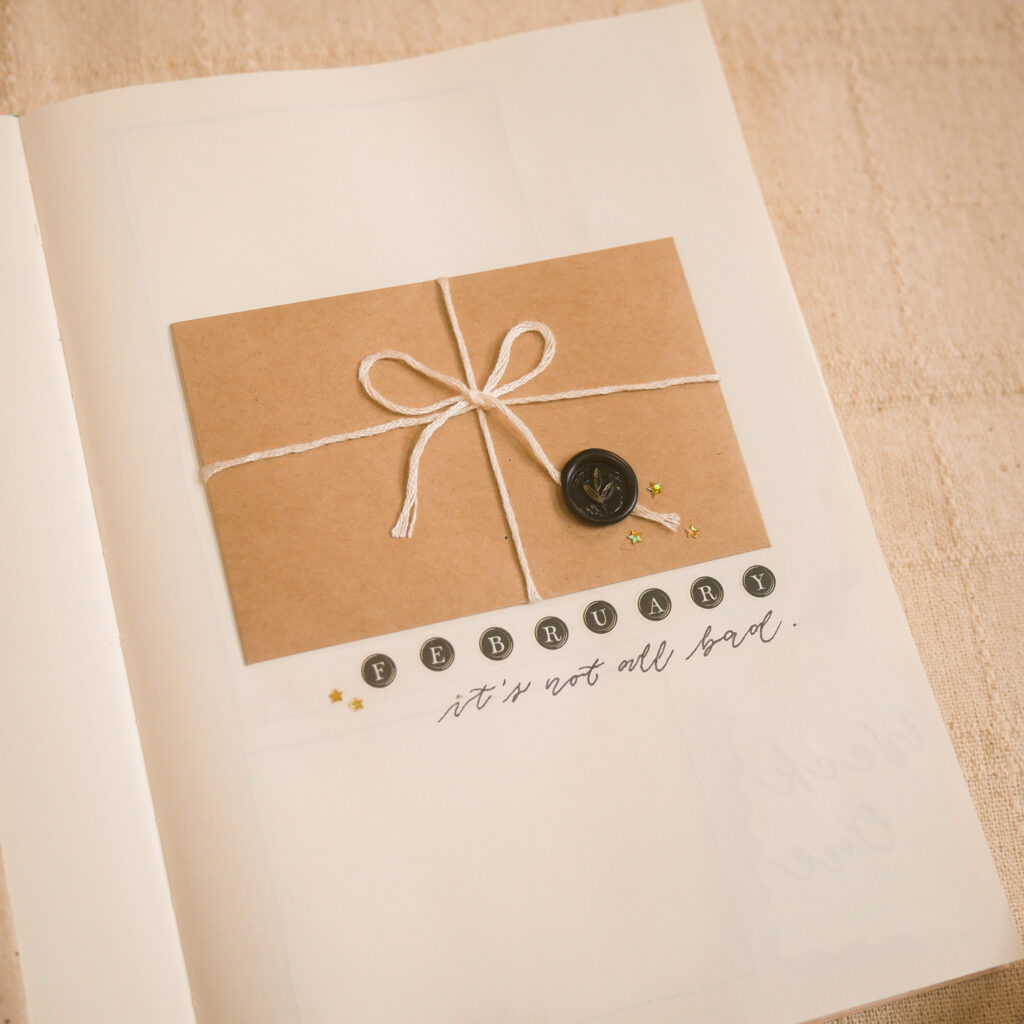 February Bujo Setup Weekly Spread 1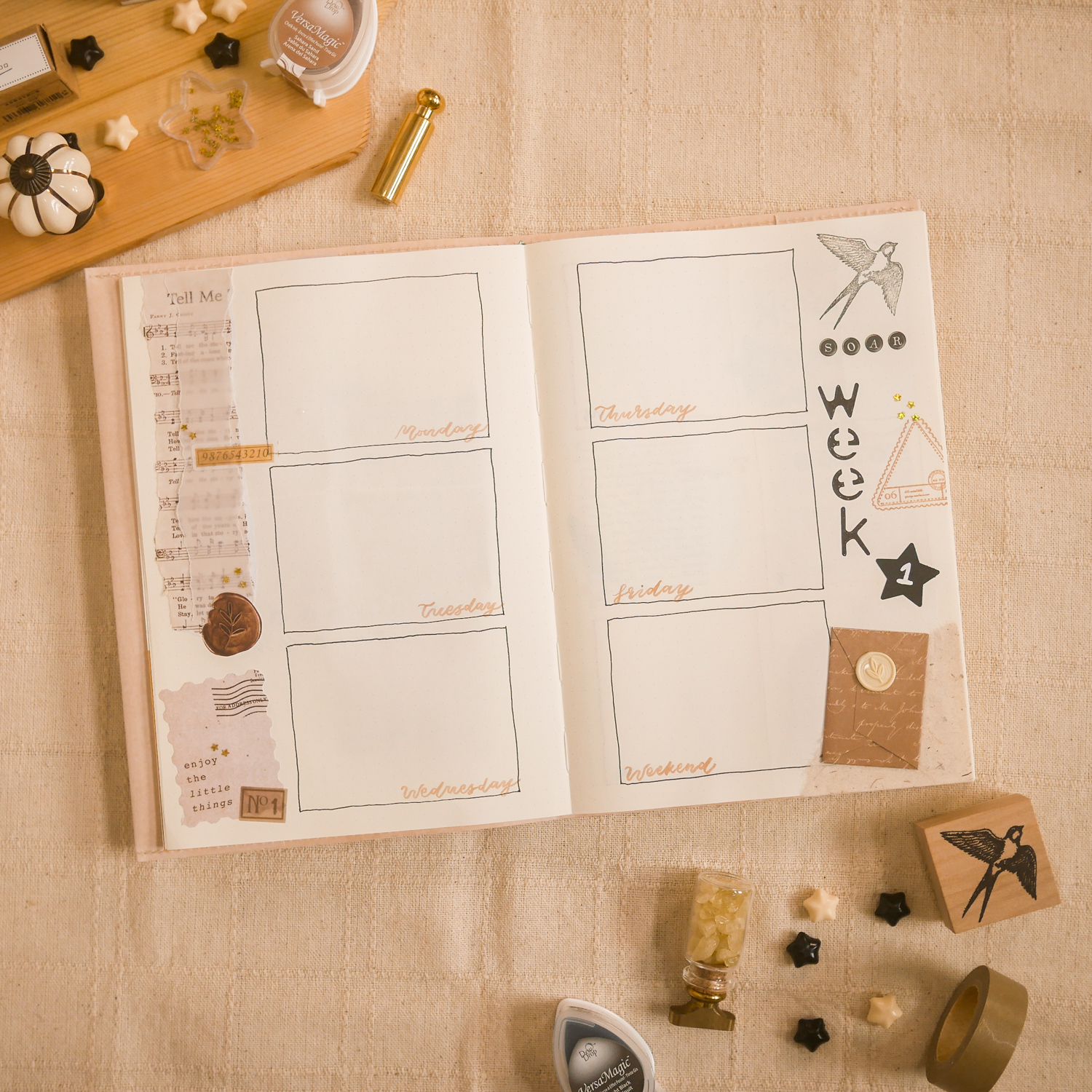 For the first weekly spread, I drew six boxes for the daily sections. To decorate the side panels, I used decorative papers, vellum paper, stamps, and stickers. You can find the mini envelope template in my free printable set (link at the end of this article). 
February Bujo Setup Weekly Spread 2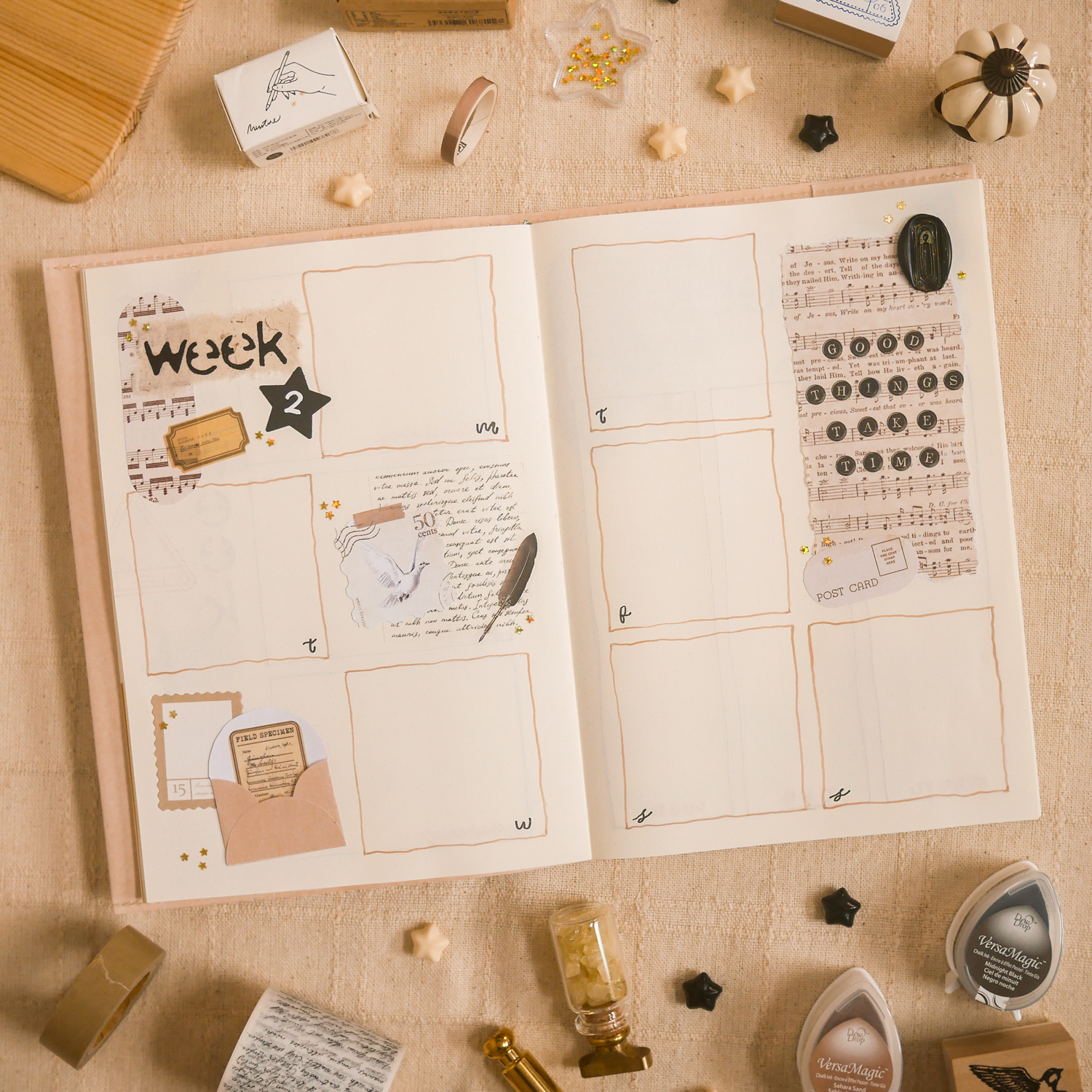 The second weekly spread features seven squares for each day of the week. To fill up the remaining spaces, I created small collages using postal elements to match the theme. 
February Bujo Setup Weekly Spread 3
The third weekly spread uses a vertical layout. It was so much fun putting together the collages to decorate the top section of the spread!
February Bujo Setup Weekly Spread 4
And finally, here is the fourth and last weekly spread for this theme. I pasted a bow made from the same cream coloured string as the one on the cover page. It makes the collage more interesting and dimensional!
Free Journaling Printable – Vintage Letters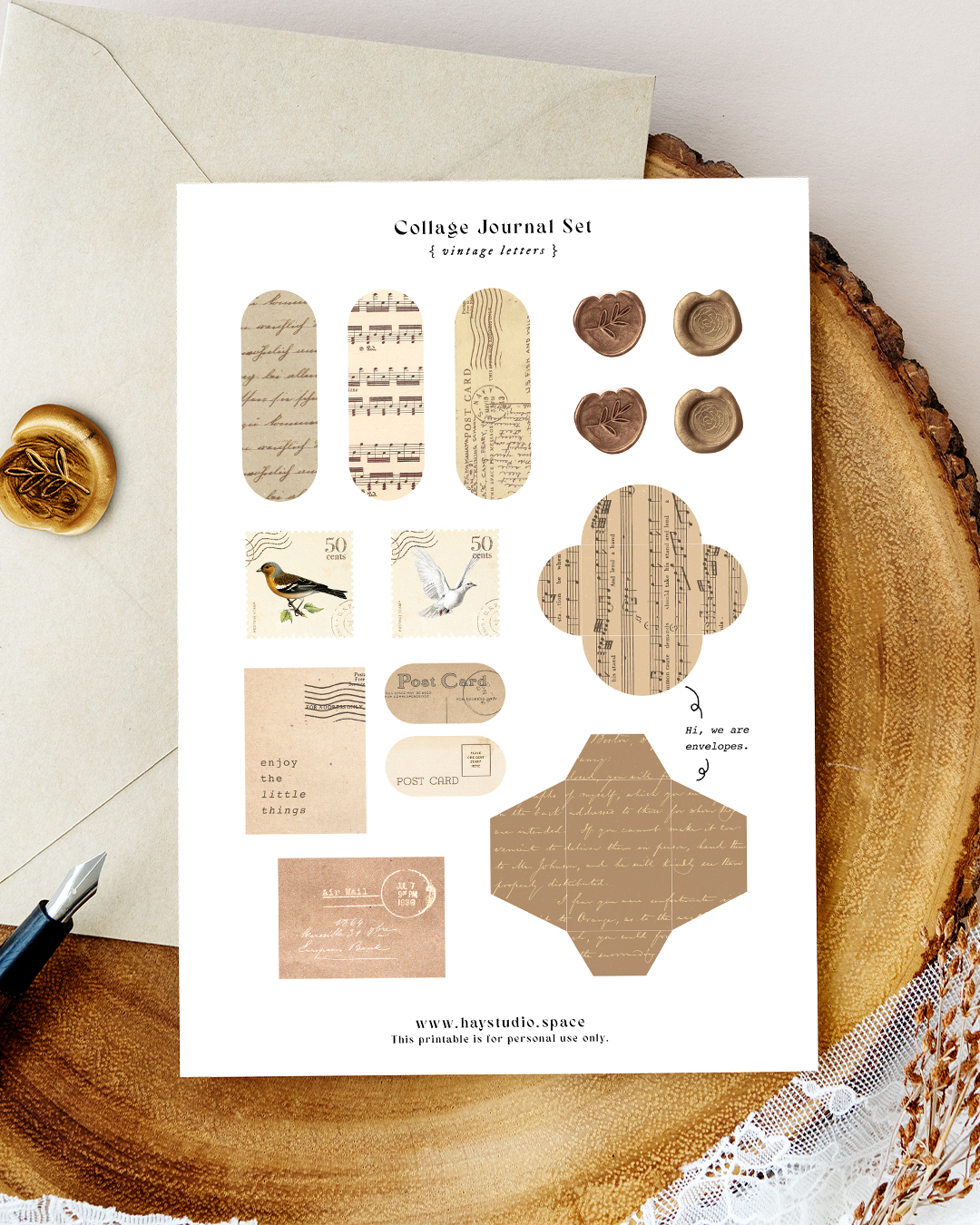 This month's free printable is a collage journaling set with mini envelope templates, stamps, wax seals and decorative patterns. Hope you'll enjoy using it as much as I did!
Tag me on Instagram (@hay.studio) if you share any of your creations that contain my free printables; I would love to see them!
To download this free journal kit, click here.
More Bullet Journal Ideas
Subscribe to my YouTube channel for more bullet journal setups! Check out these videos for my setup for the previous months:  
***
 If you enjoyed this article, share the love with your bujo pals! To stay updated on future blog posts, subscribe here. 
Related articles, videos and resources:
Video – Creative Wax Seal Ideas
Disclaimer: Some of the links above are affiliate links, meaning I earn a small percentage of commission via those links, but it doesn't cost you anything extra!
Enjoyed this post? Spread the joy!
☆ Pin this image to help this article reach more people. ☆
Clicking On These Helps Me Pay My Bills...