Simple Notebook Page Ideas That Don't Involve Drawing or Painting
HAY, how art you? Are you a serial notebook-hoarder? If you are, chances are you have blank notebooks or journals lying around, and is wondering how to fill up the empty pages. In this article, I'll be sharing 4 simple notebook page ideas that don't involve any drawing or painting. So, let's get started!
Notebook Page Ideas Video Demonstration
Before reading on, you can also check out this video to watch a demonstration of how I put together these notebook page:
Notebook Page Idea #1: Recycle Product Packagings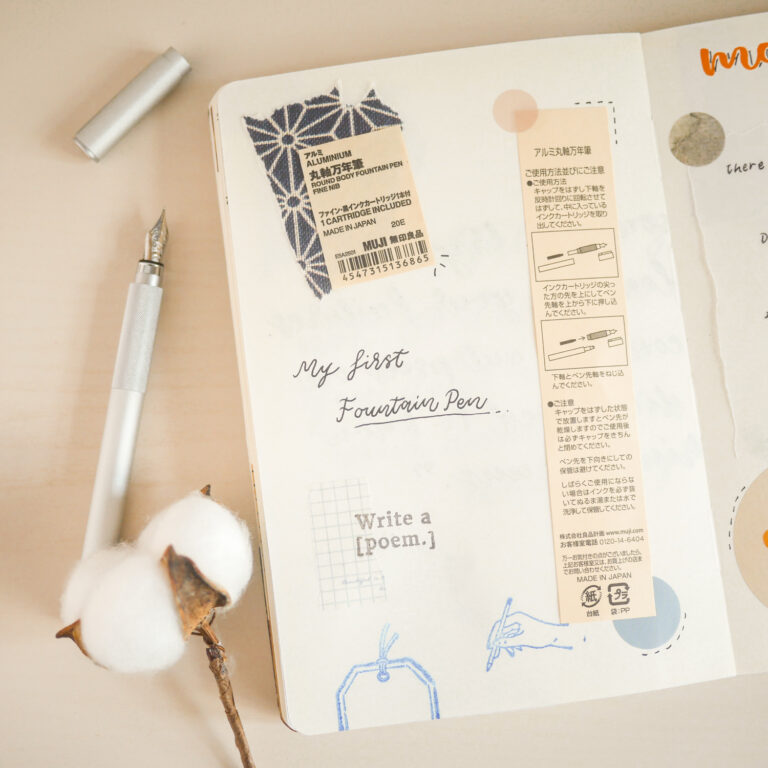 I have always enjoyed looking at labels, tags and packagings of products, and sometimes I feel like it's a waste to throw them away. 
Recently, I purchased my first fountain pen – a very affordable and basic one from Muji. I wanted to keep the labels for keepsake so I  pasted them in my journal, and decorated the page. 
Besides stationery labels, box packagings of food, beauty products or fashion items are often thoughtfully and aesthetically designed. You can always grant them a new lease of life by using them as decorative pieces in your notebook!
Notebook Page Idea #2: Copy Favourite Song Lyrics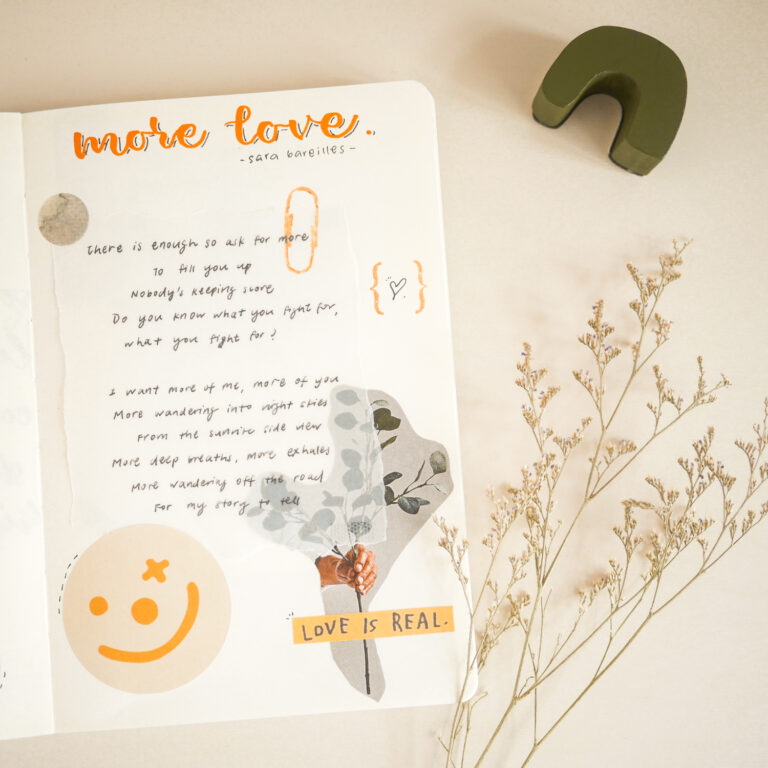 The second way to fill up a notebook is to copy lyrics from a favourite song. I feel that this doesn't require much mental capacity, and it's just a relaxing way to journal and exercise  creativity. 
For my page, I used a piece of vellum paper for the lyrics because my notebook pages are quite thin and I didn't want the ink to show up on the other side. Then, I placed a lined paper below it to serve as guidelines. I'm using my fountain pen again for practice since I'm not very used to writing with it yet. The song I have chosen is More Love by Sara Bareilles. I love her work! 
Notebook Page Idea #3: Incorporate a Travel Momento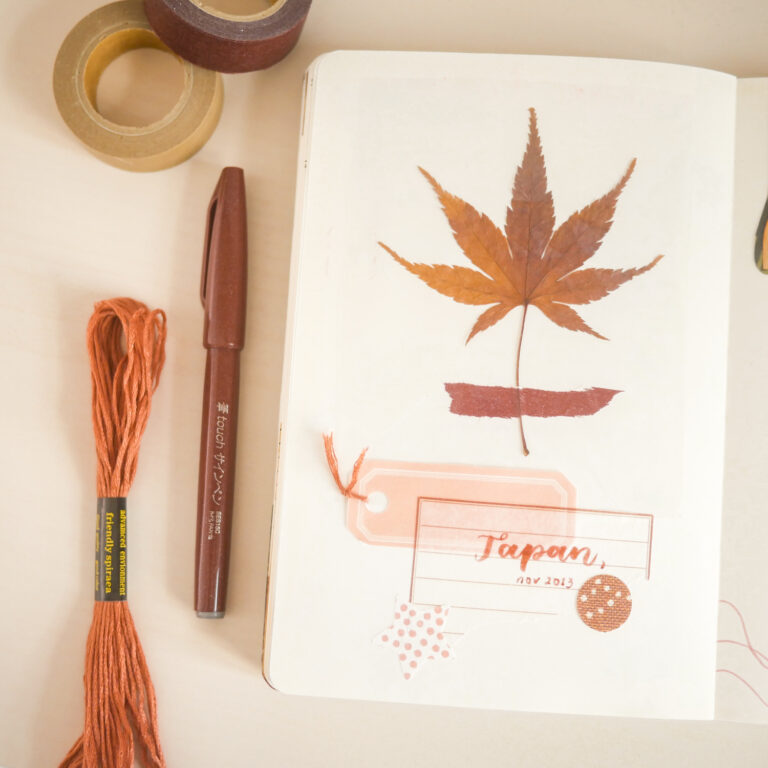 The third idea is to incorporate a travel momento. Travelling is a distant dream for now, but looking at old travel photos or souvenirs really brings back good and warm memories. Train tickets, brochures and receipts, are all wonderful travel momentos that you can fill your notebook or journal with. 
I brought this maple leaf back from a Japan trip back in 2013, and it's been sitting in my stash for years! I remembered it one day and I'm really surprised that it's still in pretty good condition, even though the colours have faded a little. 
Notebook Page Idea #4: Document a Food Recipe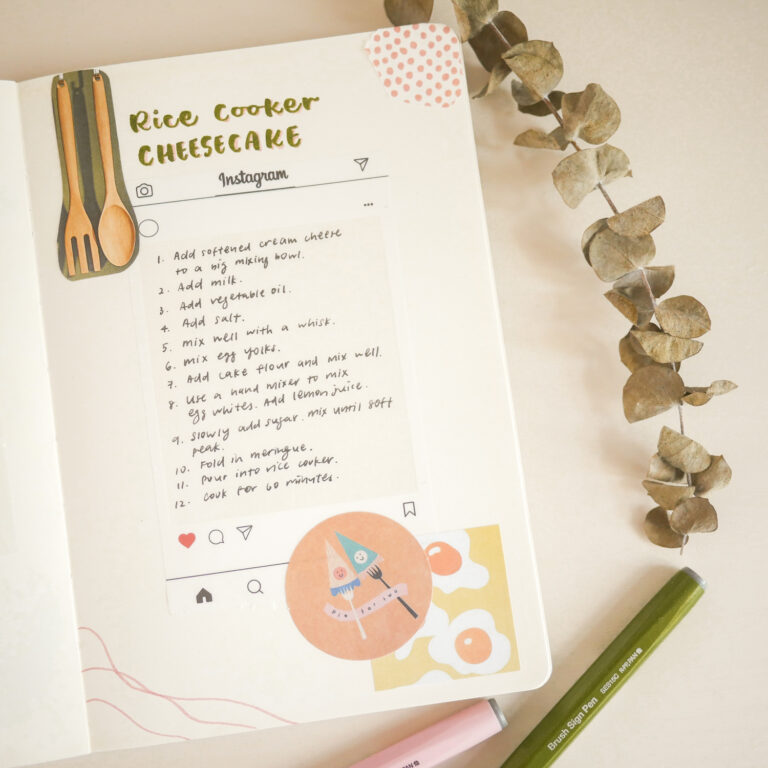 The fourth and last idea is a food recipe page. I've been obsessed with making cakes using a rice cooker lately so I thought I would document the procedure of making a Rice Cooker Cheesecake in my journal. If you cook frequently, you can even consider setting up a notebook just for documenting all your favourite recipes! 
Subscribe to my YouTube channel for more journaling ideas! Check this one out for more inspiration:  
Disclaimer: Some of the links above are affiliate links, meaning I earn a small percentage of commission via those links, but it doesn't cost you anything extra!
Enjoyed this post? Spread the joy!
☆ Pin this image to help this article reach more people. ☆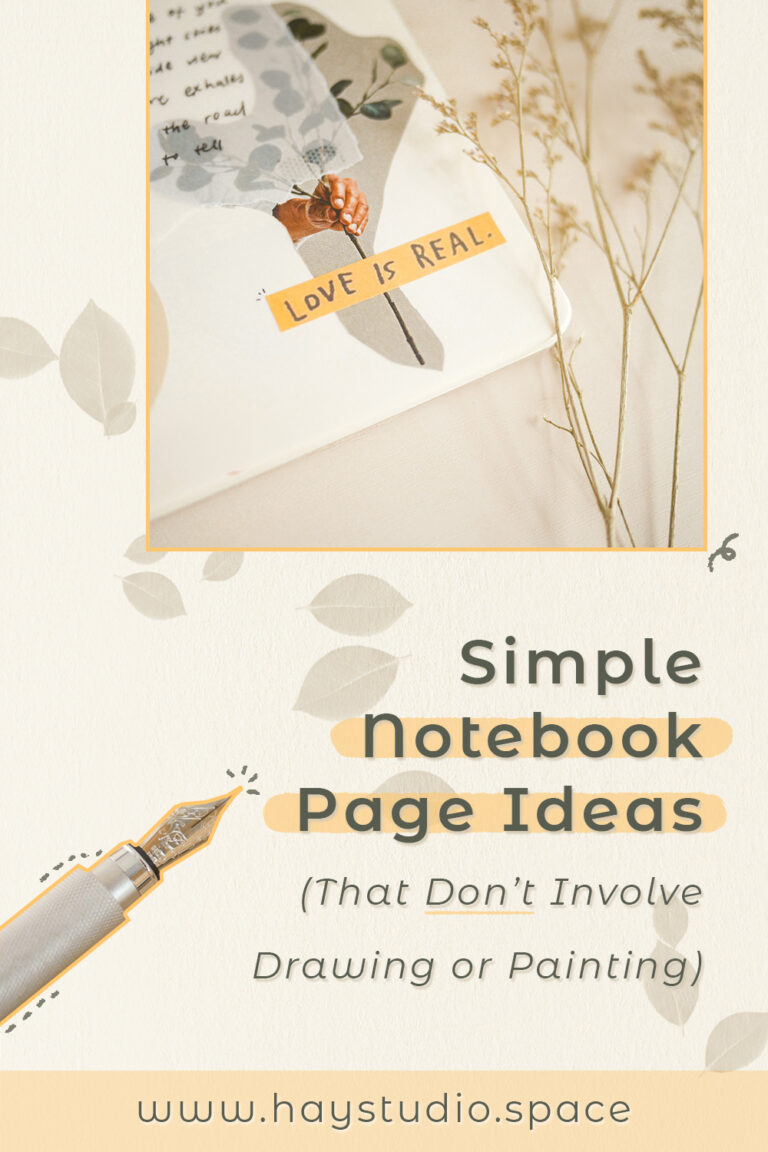 Clicking Here Helps Me Pay My Bills...