Best Journaling Supplies for Creative Journaling
HAY, how art you? I've been into creative journaling for close to a year now, and it's been such a fun and fulfilling adventure (fruitful for the soul, draining for the pocket, haha). To celebrate this little milestone (journaling and stationery-hoarding), I made a TikTok-inspired video featuring the best journaling supplies (in my opinion) that have been my companions on this creative journey. Link down below, enjoy! 
Best Journaling Supplies – Fun Aesthetic Video
Here's a fun TikTok-inspired video featuring all my favourite journaling supplies, stationery and tools!
Best Journaling Supplies for Creative Journaling
1. Brush Pens
My favourite brush pens are Pentel brush sign pens. Great for lettering and doodling, I sometimes use them as highlighters too. Also, they come in a wide variety of colours which make them versatile for different journal styles. 
For a list of brush pens suitable for beginners, check out this blog article: 
6 Best Brush Pens For Beginner Lettering And Calligraphy
2. Micron Pens
Micron pens come in different tip sizes. I love using size 01 and size 05 for doodling and adding fine details, and size 08 for outlining. The Sakura pigma micron pens are a cult favourite. 
3. White Gelly Roll Pens
The Sakura gelly roll pens in white are the best white pens I've ever used! The ink is opaque, plus they come in two tip sizes – 01 and 05. I love how white ink looks on kraft paper, and I also enjoy using them for titles and adding doodle accents. 
4. Washi Tapes
Washi tapes are by now, considered staples in journaling as they come in a wide variety of colours, patterns and designs. Besides using them as decoration, I sometimes use them to demarcate sections when I'm lazy to draw lines and boxes. 
5. Wooden Stamps
I love anything wooden, so it's not a surprise that wooden stamps take up a huge part of my stationery collection. Alphabet and number stamps are great for creating neat headings, titles and dates, while other stamps with gorgeous designs are great for adding layers in a spread. 
Check out the following video for 6 tips on using stamps during journaling: 
6. Printed Craft Papers
A quick way to add colour and design to a journal spread is by using printed craft papers. I love visiting the origami paper section in Daiso to hunt for printed and textured papers with beautiful patterns and designs. These can also be combined with other materials to be used in a collage.
7. Kraft Papers
I find the organic texture kraft paper adds to a spread very charming. Kraft papers are usually affordable and come in different forms – A4 sized, cardstock, kraft tape, etc. Moreover, lots of online retailers use kraft paper as packaging, which means that they can be recycled as journaling supplies at no additional cost. 
8. Stickers
Stickers are great as
embellishments
and
filling up awkward spaces
between elements. Additionally, 
stickers remind me of childhood days – I would collect them in sticker books and use them to decorate
everything and anything
. It is amazing that this hobby has come full circle now that I'm a full-fledged adult, haha. 
9. Dried Plants
Dried flowers and leaves add texture and interest to a journal spread. It is also a wonderful feeling to collect these tiny pretty things on a nature walk and document them in a journal! They are best paired with kraft paper (in my opinion) to create a calming and organic page.
10. Ribbons, Twine & Threads
Other than dried plants, ribbons, twine and threads are also great choices for adding texture during journaling. These can be recycled from packaging or gifts, or obtained from any craft supply stores. 
11. Long Grid Ruler
I got my long grid ruler from Daiso and it has been such a great help during my journaling process! The grids help with quick measurement and alignment, plus the length of the ruler ensures that I can cover the entire length or width of my notebook at any single time. 
12. Stencils
I wish I had gotten my stencils earlier – they are the perfect tools for neat titles and headings, and drawing shapes and lines. The stencil font has that retro and handmade feel as well, which adds character to journal pages. 
13. Craft Punchers
Craft punchers are absolute lifesavers that allow me to quickly cut shapes from papers, especially hard-to-cut shapes like circles and stars. I guess I won't have to worry if I ever run out of dot stickers, since I can easily make circles using these handy punchers.
14. Label Maker
My 
little label maker 
has been in my possession even before I started journaling regularly. I find the process of making labels using this old-school machine very
therapeutic
(ASMR clicking sounds). I love the
embossed texture
and
typewriter font
on the completed labels too – so
retro
and
nostalgic
! 
Subscribe to my YouTube channel for more journaling content! Check out these videos for some inspiration:  
***
I hope you enjoyed this article on the best journaling supplies for creative journaling. Have fun exploring these stationery and tools!
 If you enjoyed this article, share the love with your journaling pals! To stay updated on future blog posts, subscribe here. 
Related articles, videos and resources:
Video – 2021 Bullet Journal Setup
Disclaimer: Some of the links above are affiliate links, meaning I earn a small percentage of commission via those links, but it doesn't cost you anything extra!
Enjoyed this post? Spread the joy!
☆ Pin this image to help this article reach more people. ☆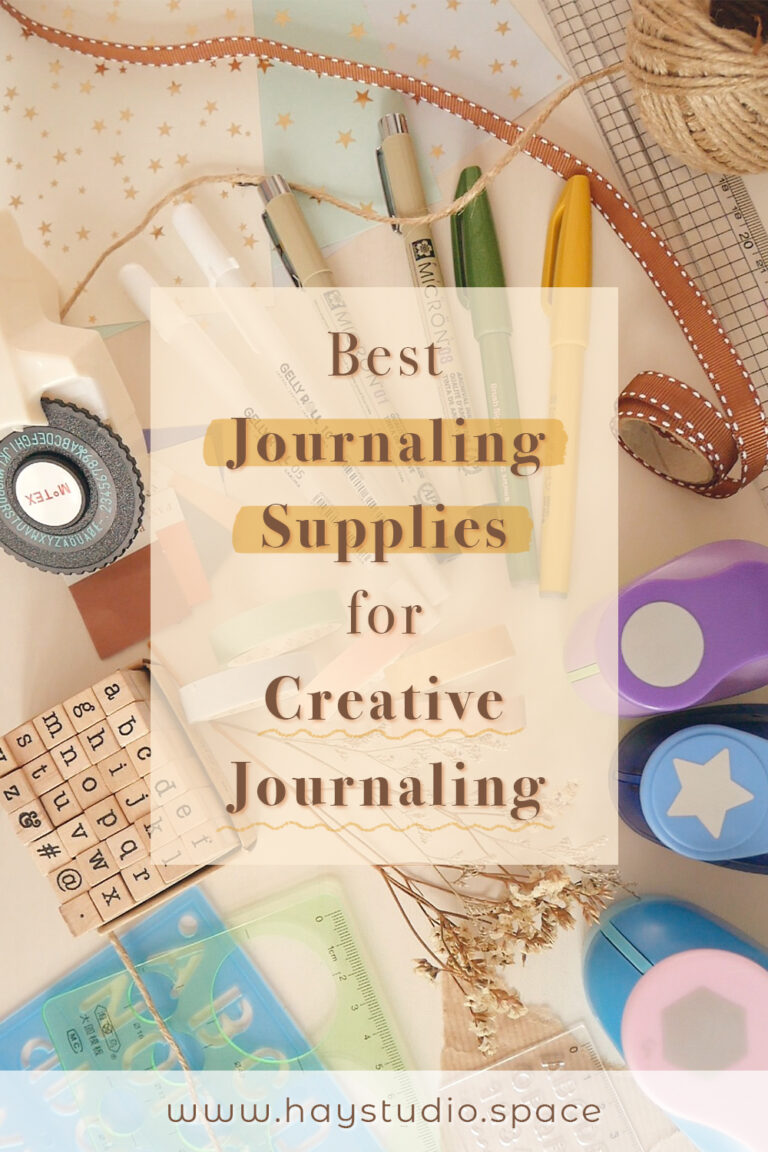 Clicking On These Helps Me Pay My Bills...