April Bullet Journal Setup - Vintage Spring Theme (Free Printable!)
HAY, how art you? April is always the best time for a good old Spring floral theme! This month, I wanted to keep the usual vintage vibes and designed a set of Spring-related printable with a vintage colour palette. It is available as a free download and you can find the link at the end of this article. Keep scrolling to see more of my April bullet journal setup!
April Bullet Journal Video
Check out the following video to watch the setup process and plan with me!
April Bullet Journal setup – Supplies I used
Here is a list of supplies I used for the setup this month: 
Journal – Tittle&Jot
Stencil – Muji
Pentel Energel liquid gel pen in brown 0.5
April Bullet Journal – Cover Page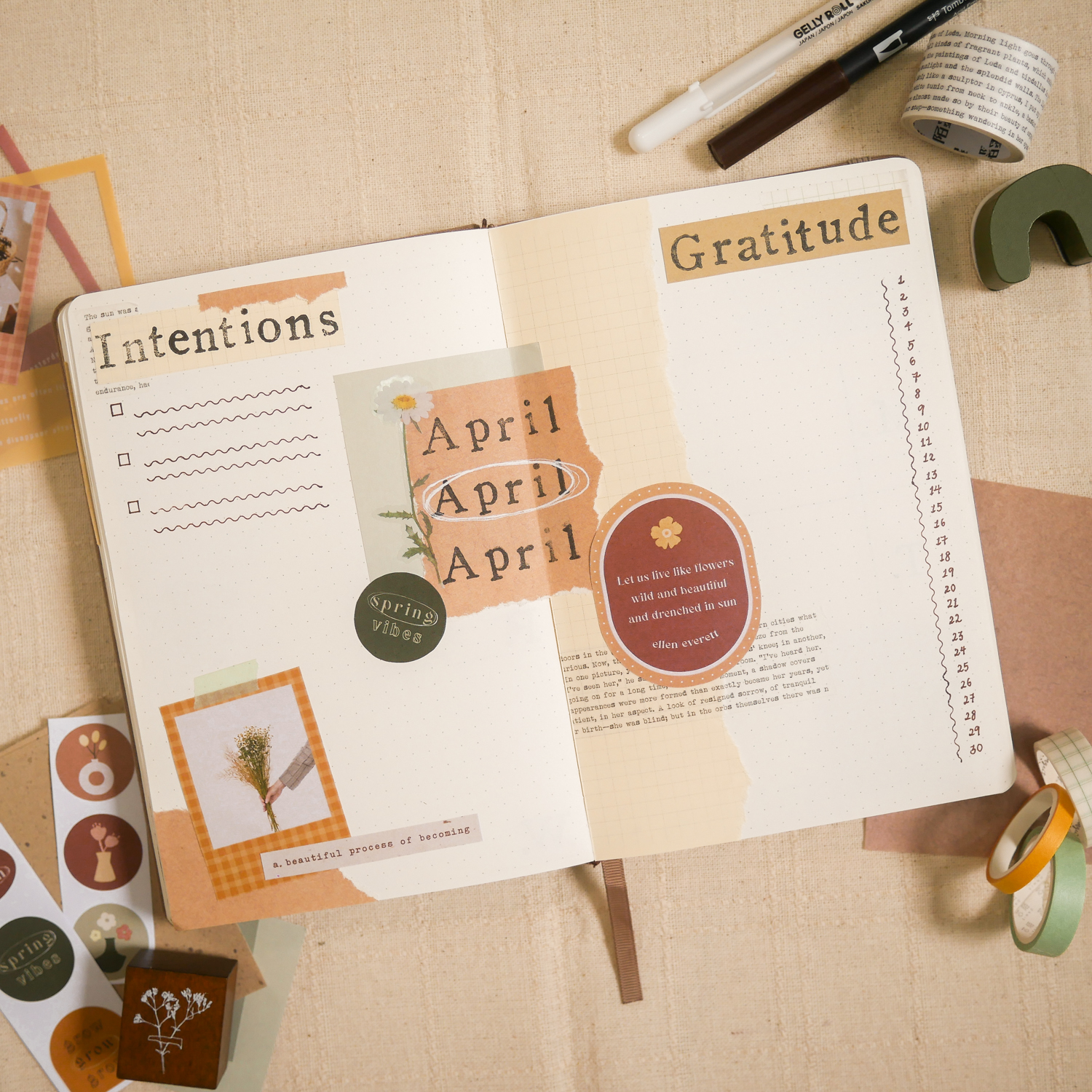 For the cover page, I created a casual asymmetrical collage using elements from my printable and other stationery supplies in my stash. To highlight the month, I stamped April three times on a brown textured paper, and drew several ovals over the middle word using a white Sakura gelly roll pen. Some elements were pasted at an angle to create a fun and quirky look. 
For added functionality, I used the empty space at the side for writing down the month's intentions. The column on the right is used as a vertical gratitude log, where I plan to write down one thing that I am grateful for each day. 
The printable was a test print, and the colours came out a little darker than I would prefer. I didn't want them to go waste so I used them in my setup anyway! Other than that, I love this casual and functional cover page. What do you think?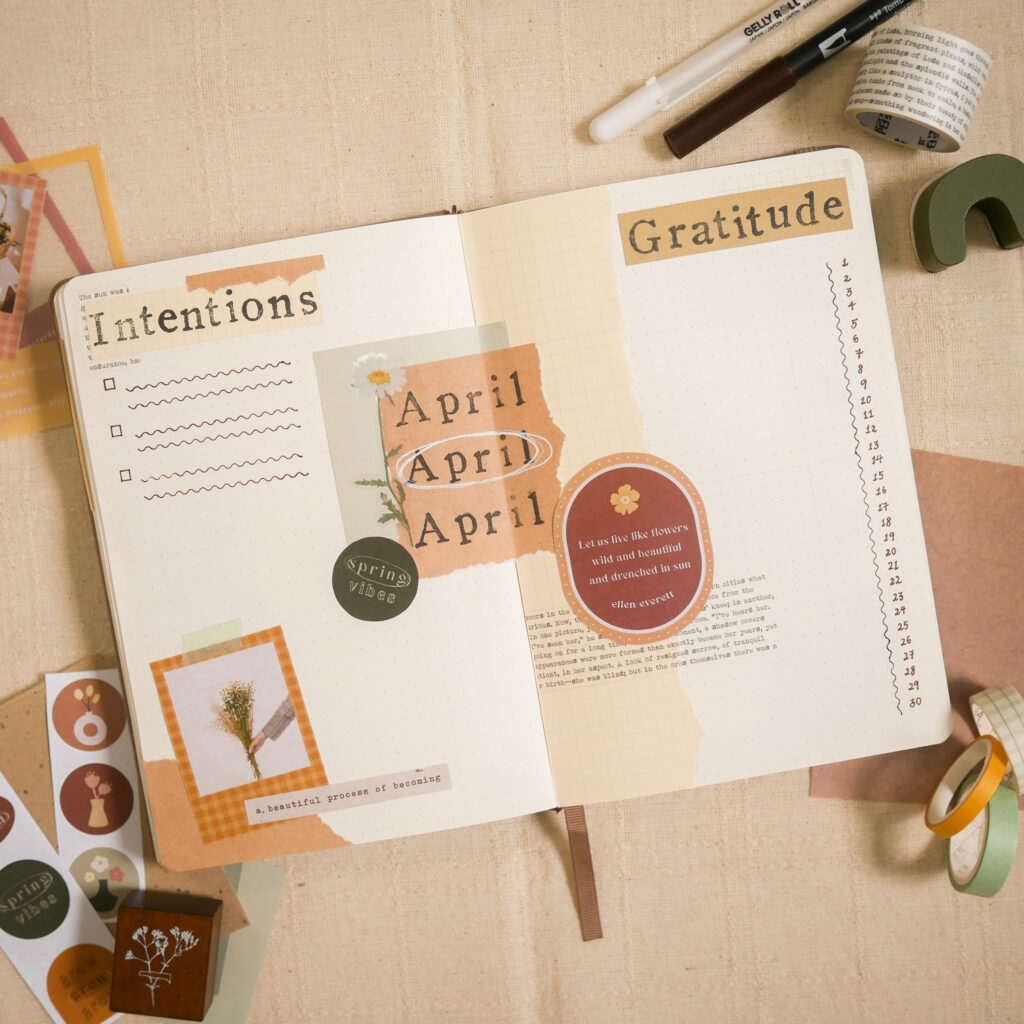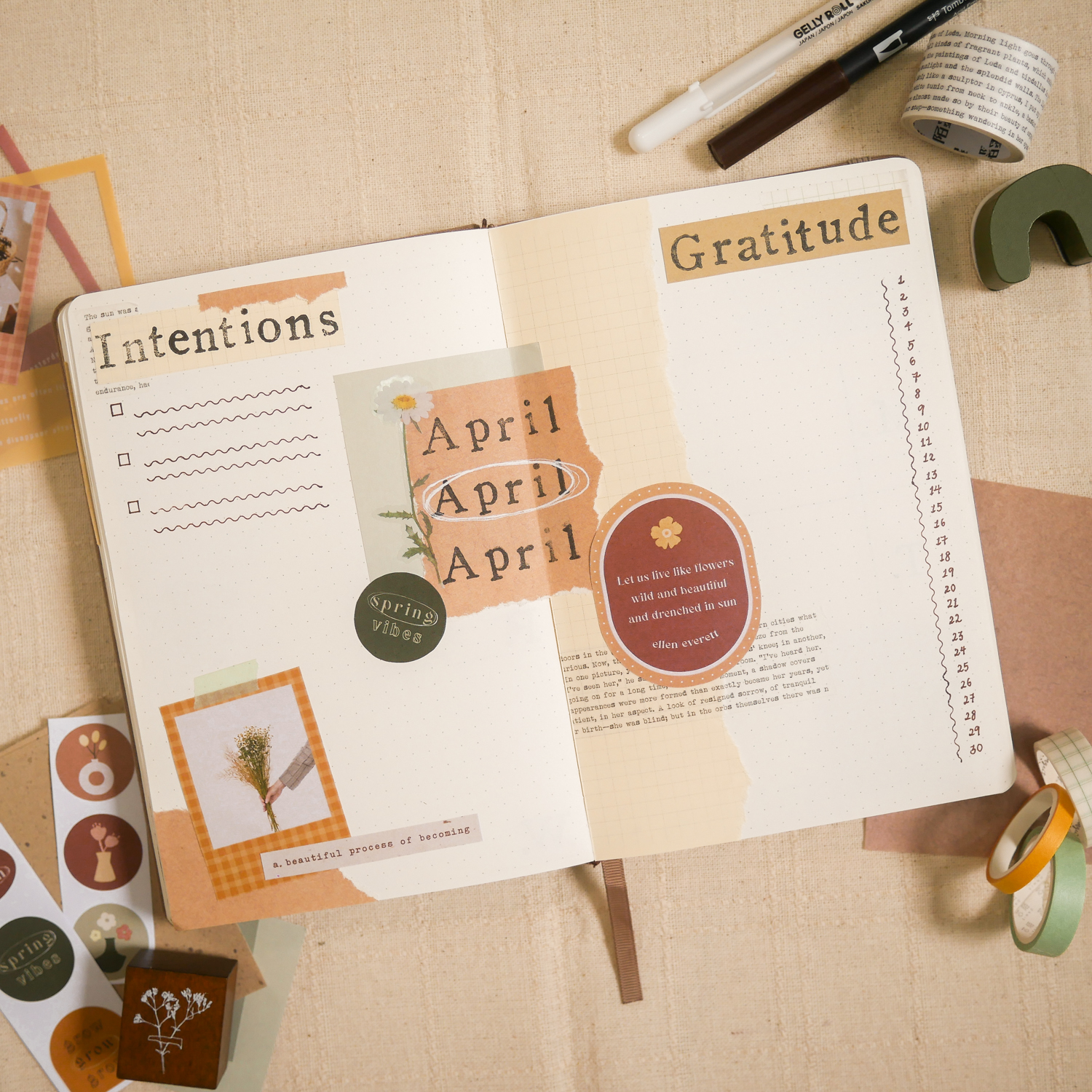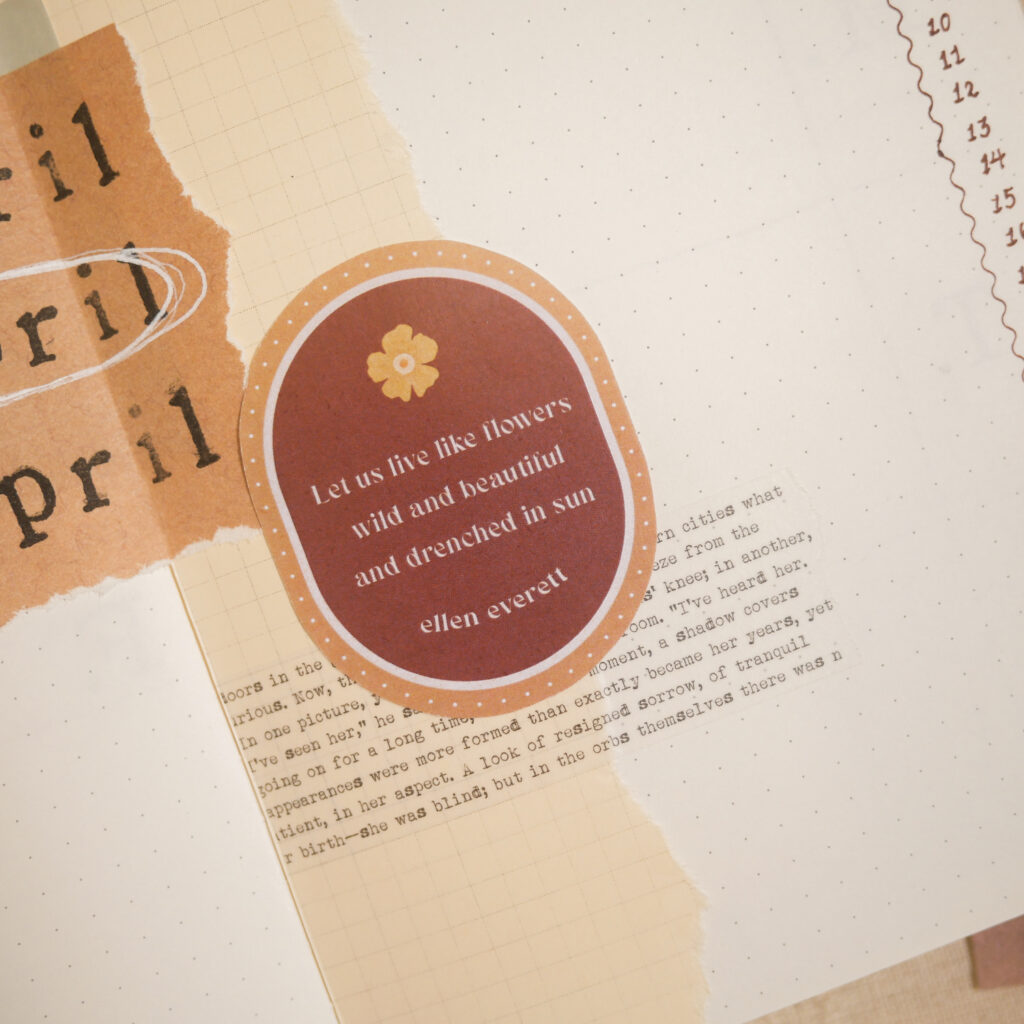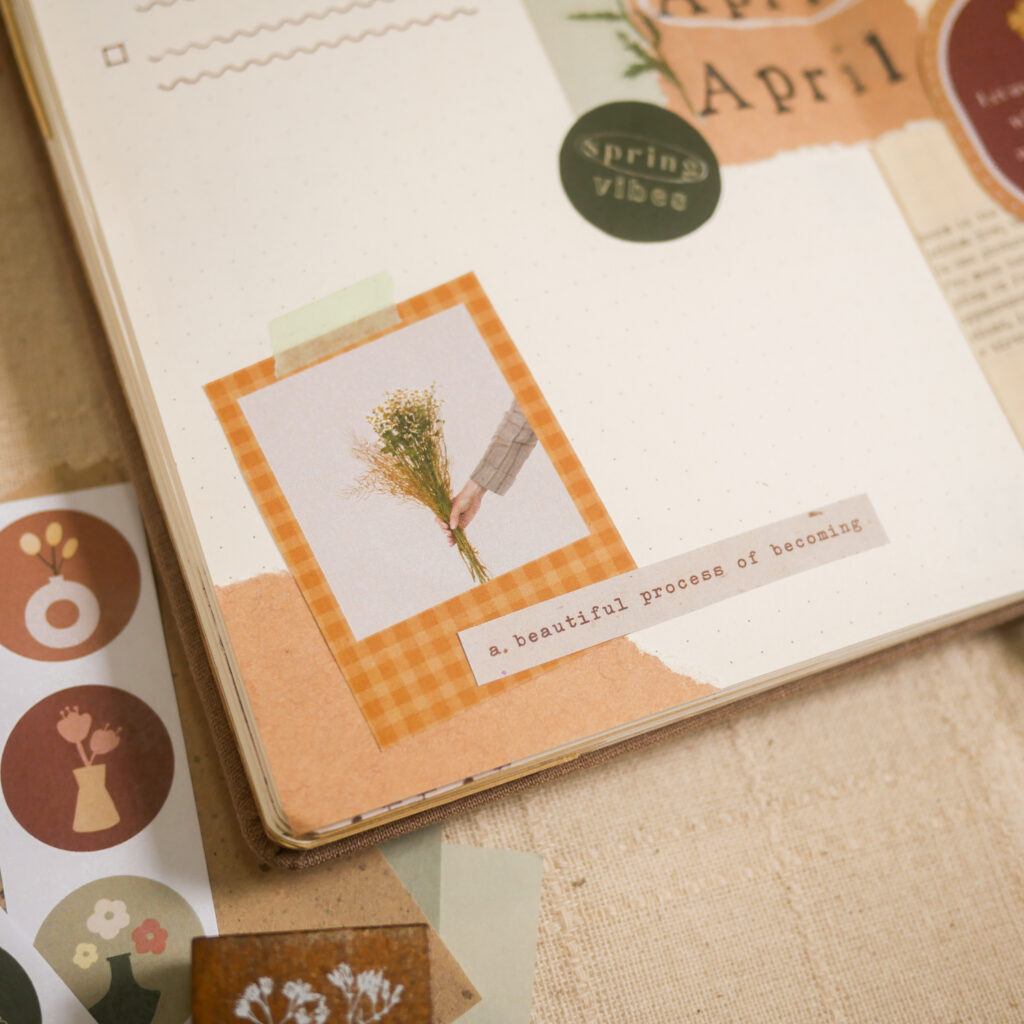 April Bullet Journal – Weekly Spread 1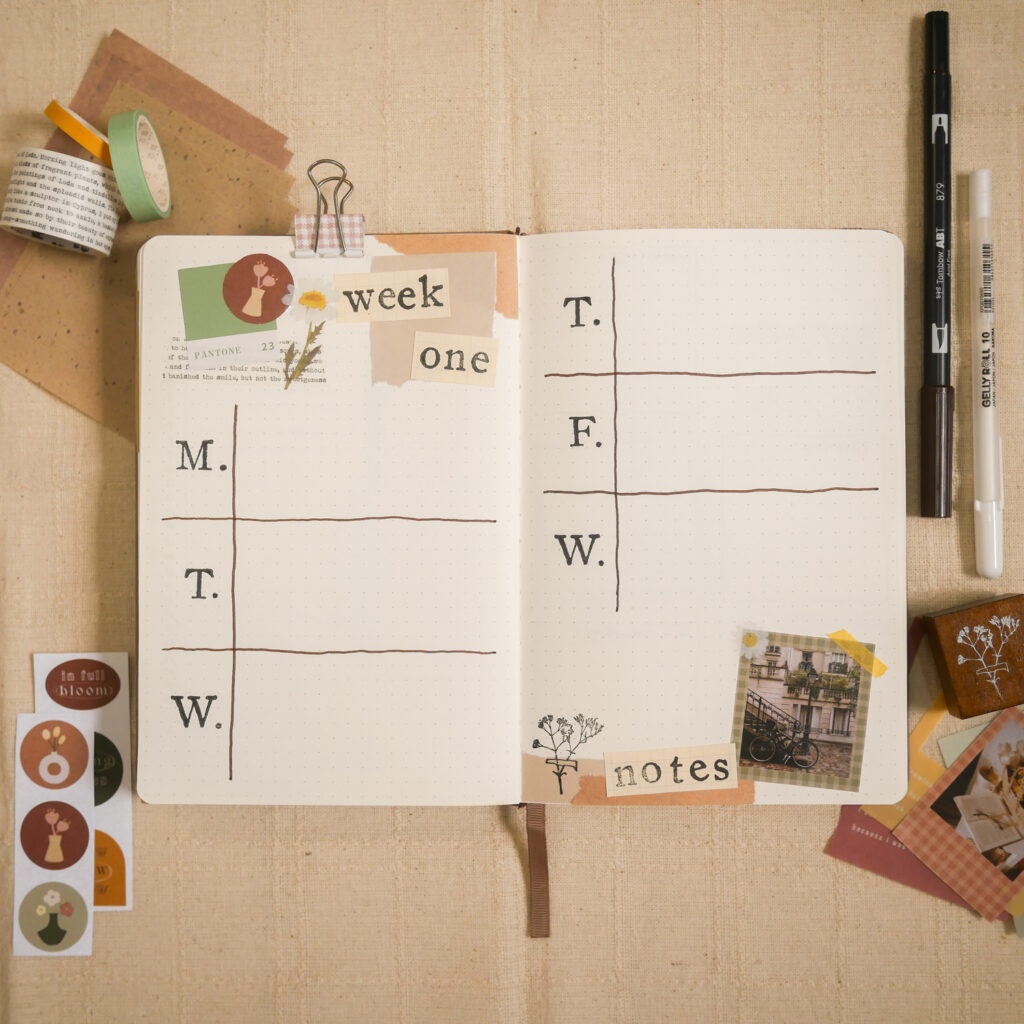 I went for this simple and clean weekly spread layout for the first week of April. It is really easy to set up and there still is sufficient space for a little collaging! To create this layout, simply make six (or seven, if you like) horizontal sections for days of the week. I used the marker tip of a Tombow dual brush pen (in 879) to draw the lines, and an alphabet stamp set to stamp the letters. 
Here's a fun fact: There isn't any dot in my alphabet stamp set, so I used the dot on letter i to stamp the dots next to the letters (lol)!
April Bullet Journal – Weekly Spread 2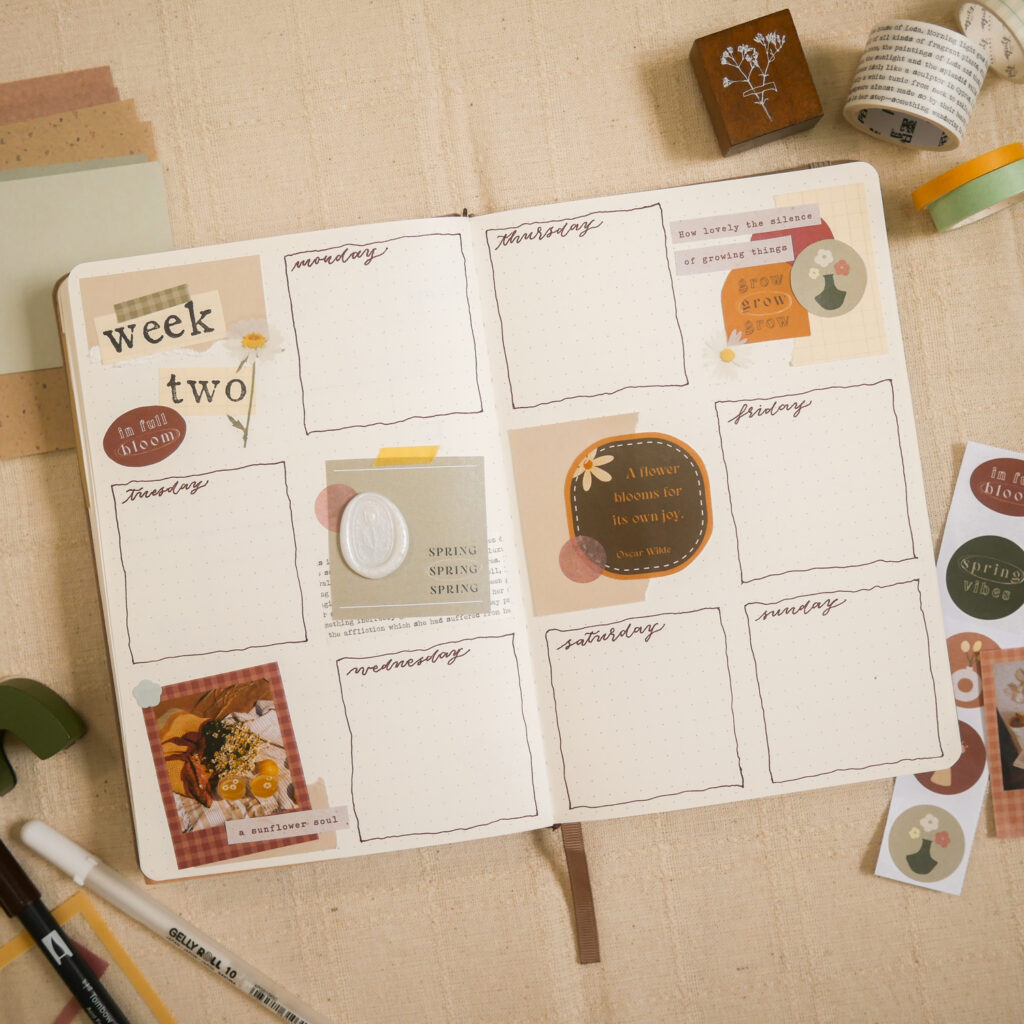 If you have seen my March setup, you might recognise this layout! For the second weekly spread, I divided each page into six squarish sections. Seven boxes were used for the daily logs, and I filled up the rest of the sections with little collages. It was really fun to combine different supplies and colours to make the spread a cohesive one! 
Free Journaling Printable – Vintage Spring Set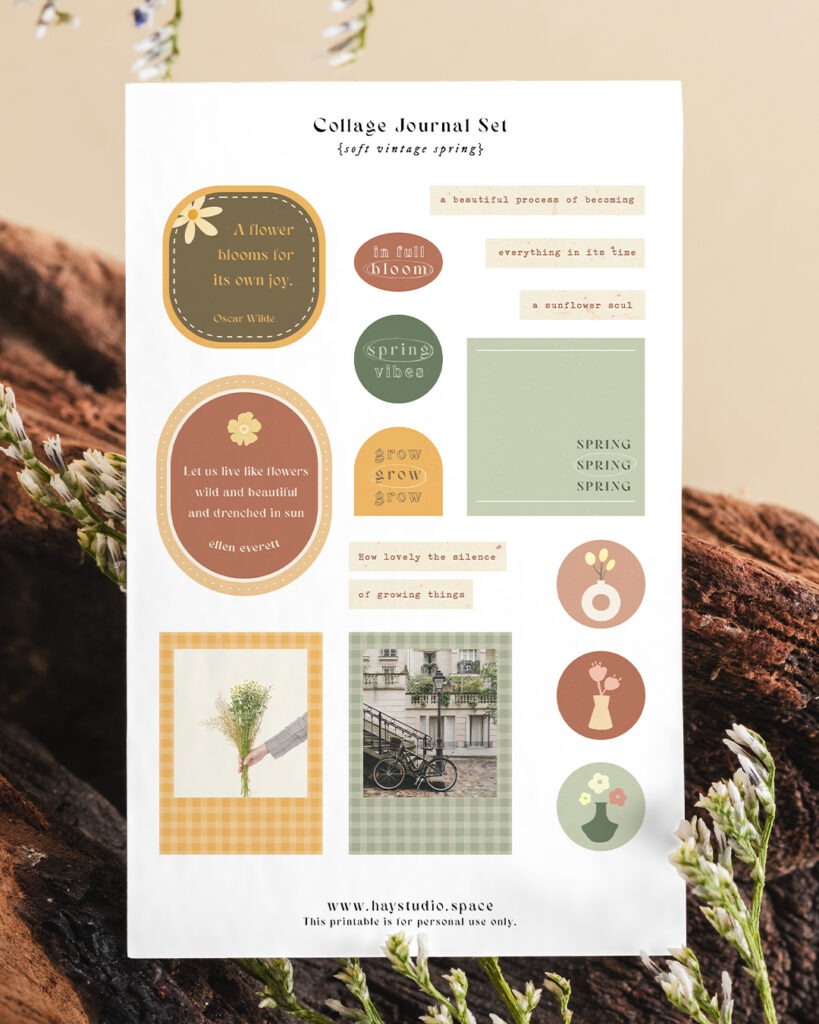 This month's free printable is designed to the theme of soft vintage Spring. Hope you love it as much as I do! Feel free to tag me on Instagram (@hay.studio) if you share any of your creations that contain my free printables. 
To download this free journal kit, click here!
More Bullet Journal Ideas
Subscribe to my YouTube channel for more bullet journal setups! Check out these videos for my setup for the previous months:  
***
 If you enjoyed this article, share the love with your bujo pals! To stay updated on future blog posts, subscribe here. 
Related articles, videos and resources:
Disclaimer: Some of the links above are affiliate links, meaning I earn a small percentage of commission via those links, but it doesn't cost you anything extra!
Enjoyed this post? Spread the joy!
☆ Pin this image to help this article reach more people. ☆
Clicking On These Helps Me Pay My Bills...