Tittle & Jot Journal Review & Pen Test - Sustainable Journal
HAY, how art you? A few months back, I ordered an A5 dot grid journal from Tittle&Jot during their anniversary sale. If you haven't heard of Tittle&Jot, it is a journal brand based in Singapore. I was really curious about this journal because it is a local brand, plus, I really love the selection of colours for their journal covers. In this article, I'll be sharing my Tittle & Jot journal review and pen test results. Scroll down to know more!
Video – Tittle & Jot Journal Review
Check out the following video to watch the full review and pen test!
Tittle & Jot
journal review

– Basic Information
The journal that I purchased is the one in taupe. This journal is currently retailing at USD$26, and contains 192 120gsm unbleached cotton blend pages. It is A5 sized with ivory-coloured pages filled with 5mm dot grids. The following table compares the Tittle&Jot bullet journal with other A5 dot grid journals from a few popular brands: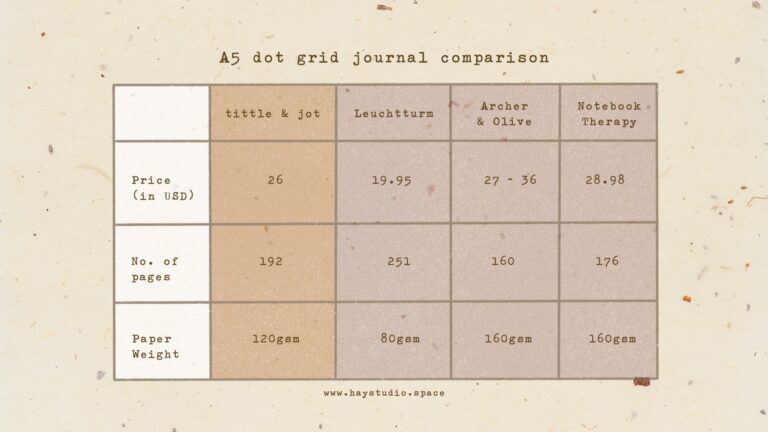 Tittle & Jot
journal review

– Journal Features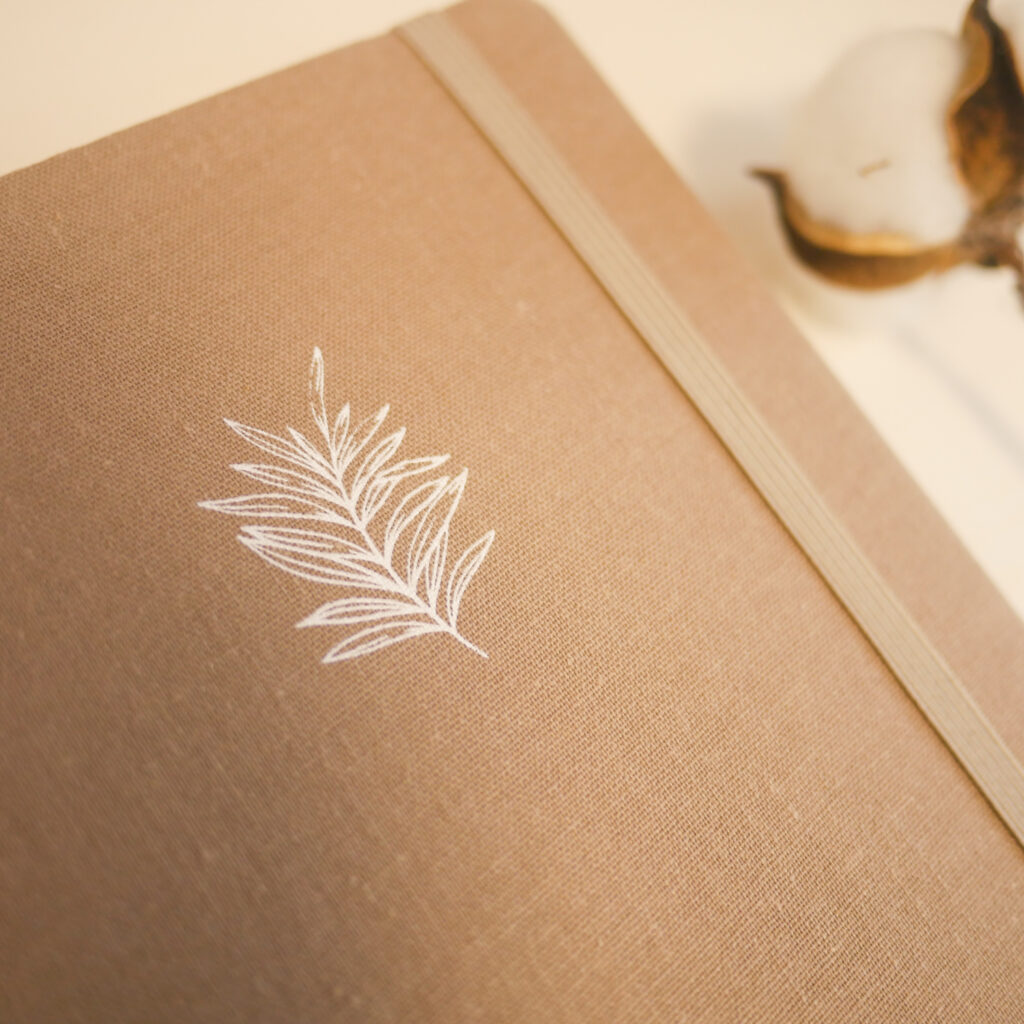 Let's talk about the linen journal cover; I really love this shade of brown which is gentle and organic. The linen is slightly textured but still smooth to touch, and it comes with a botanical print in front and the T&J logo at the back. 
The first page for writing our names is minimal and elegant. The pages are able to lay flat on the desk, which makes writing more convenient. The pages feel really smooth to the touch. 
The journal comes with one ribbon bookmark in a matching shade of brown. I wish it came with two bookmarks instead, since an additional bookmark makes it easier to reference earlier spreads. 
It's also a pity that there is no paper pocket at the back, as I think a pocket is pretty handy for storing loose papers or stickers. Lastly, it comes with a brown elastic string for securing the journal.
Tittle & Jot journal review – Pen & Watercolour Test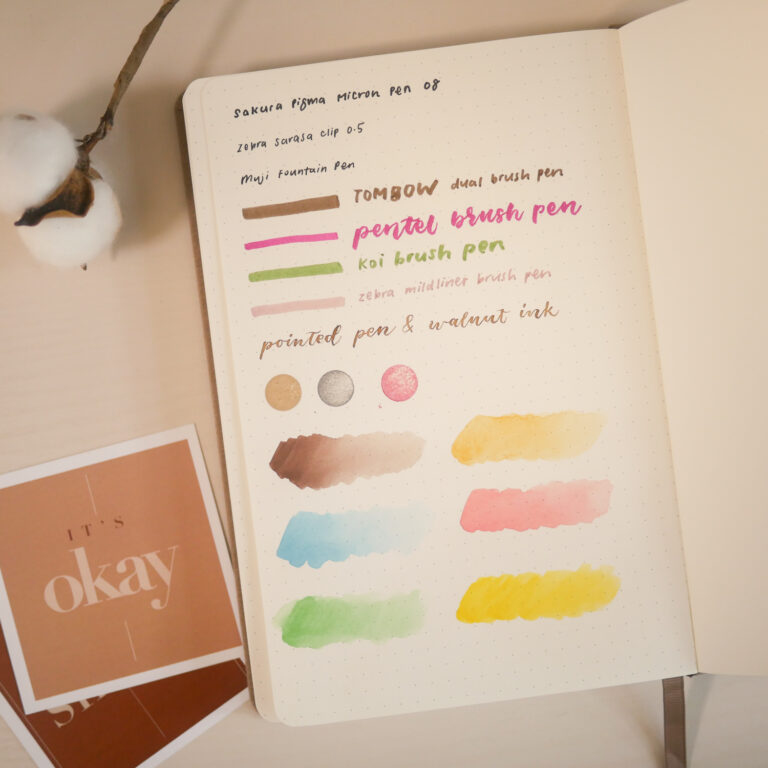 A pen test is essential for understanding which stationery works best on the journal pages.
Pens
First, I tested the Sakura micron pen, and as expected, it writes on really smoothly without any issues. I also tried the Zebra Sarasa clip gel pen as well as the Muji fountain pen. There were no feathering problems and none of the ink bled through to the other side.
Brush Pens
Then I tried out a couple of brush pens which all worked beautifully on the smooth paper:
Please don't mind the ugly lettering; I'm not sure why my lettering skills decided to go on holiday that day (*facepalms*). On a closer look, the Pentel brush pen feathered and ghosted a little more than the other pens, but I'm not sure if it's because this pen is relatively newer and has more ink than the rest.
Pointed Pen & Ink
Next, I tested the pointed pen using a Gillott 170 nib and walnut ink, and surprisingly, they worked fine without any scratchiness and the ink didn't feather at all. There was hardly a trace of the writing on the other side which was a pleasant surprise.
Stamp Ink Pads
Also, I tested a few pigment stamp pads since I love using stamps during bullet journaling. None of the ink pads bled through the page, and they were all pretty quick-drying.
Watercolour
Lastly, I was curious how watercolour works in this journal so I tried painting a few colours using a water brush. I didn't make the paint too watery, and only painted a single layer for each colour. None of the paint bled through even though the paper did warped a little due to the water. The results definitely surpassed my expectations since the paper is only 120 gsm thick!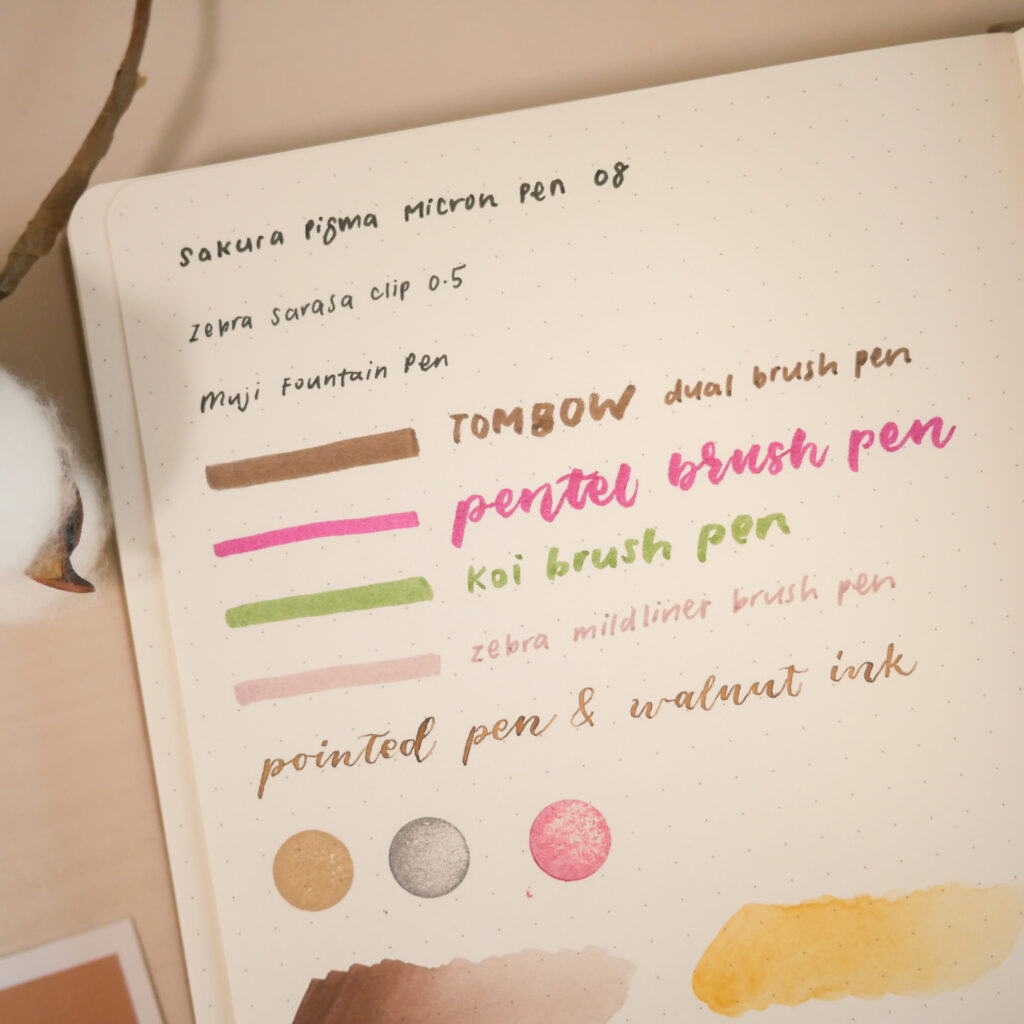 tittle & jot journal review – Sustainability
Lastly, if sustainability is a concern for you – according to their website, the journals are crafted sustainably since their linen and papers are not chemically bleached. Their packaging is made with sustainable materials as well. If you're interested, you can check out my unboxing experience in one of my previous vlogs to check out the packaging and freebies I received with my order:
***
I'm pretty excited to use this journal next year! I would recommend this journal if you're looking for a small business to support, a journal with smooth ivory-coloured pages, or a sustainable journal option. 
If you enjoyed this article, share the love with your bujo pals! To stay updated on future blog posts, subscribe here. 
Related articles, videos and resources:
Disclaimer: Some of the links above are affiliate links, meaning I earn a small percentage of commission via those links, but it doesn't cost you anything extra!
Enjoyed this post? Spread the joy!
☆ Pin this image to help this article reach more people. ☆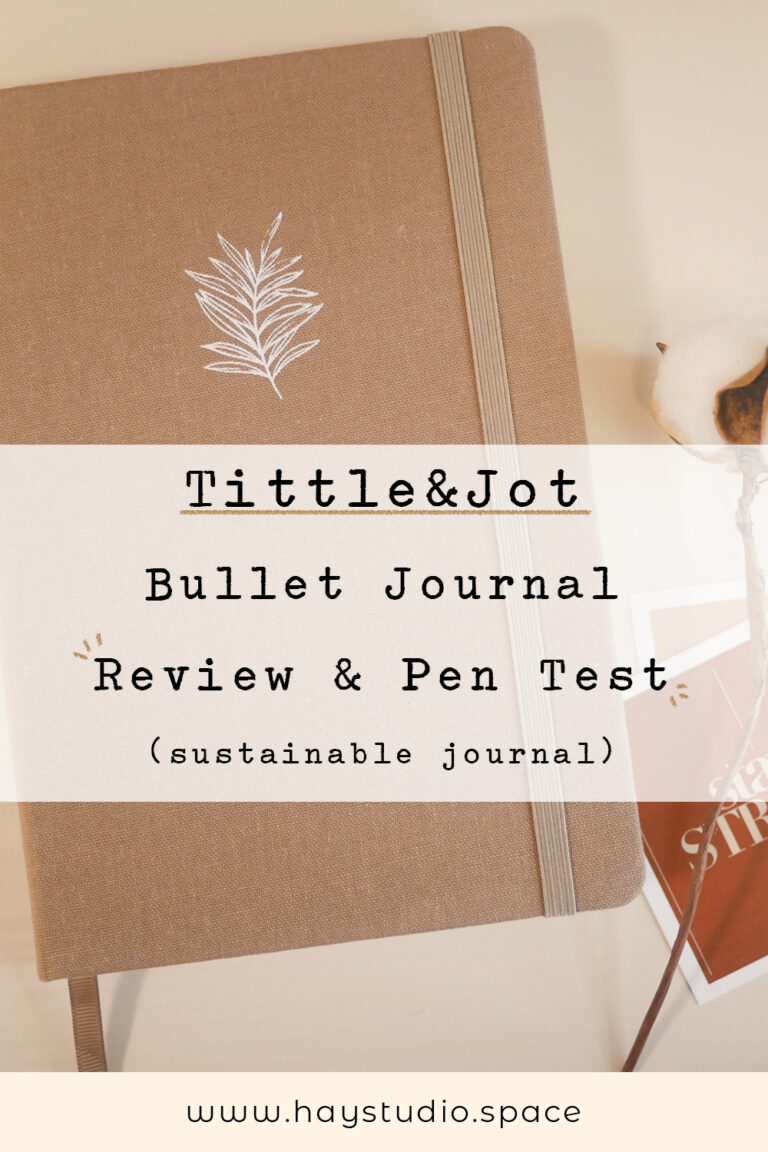 Clicking On These Helps Me Pay My Bills...