BUKE Bullet Journal Review - The Most Affordable Quality Bujo (Video)
HAY, how art you? I have been on the hunt for an affordable bullet journal notebook that would not break the bank. I have always believed that bullet journaling does not have to be expensive nor extravagant. In this article, I am sharing a BUKE bullet journal review. Read on to discover more about this A5 dot grid notebook!
If you are more of a visual person, watch the video below for the unboxing and pen test process: 
BUKE Bullet Journal Specifications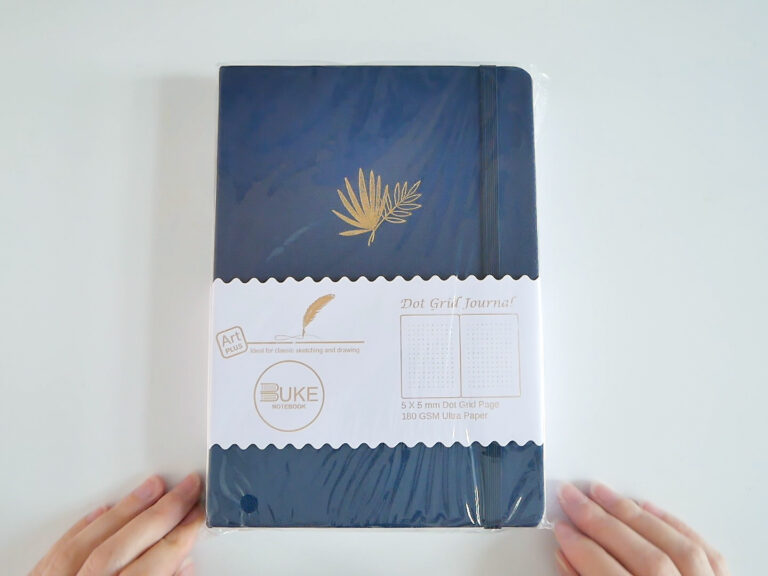 A5 size
5 x 5mm dot grids
160 pages
180gsm bamboo paper
They also have 160gsm notebooks, but I went with the 180gsm as I might want to try using paint in my bullet journal set-ups this year. Due to the thickness of the paper, the journal feels slightly heavy and bulky, but that is usually the case for most bullet journal notebooks. 
I purchased this bullet journal from BUKE official notebook store on AliExpress and paid about $16.44 USD. I used a coupon code for a small discount as this was my first order on AliExpress.
Shipping took about 1 month and a few days, which was slightly long in my opinion. Luckily, I ordered it in end October and it arrived early December, which was in time for my 2021 bullet journal set-up.
It arrived with a few freebies – a stencil, a stick-on pen holder, index stickers as well as a bookmark. They are quite practical and their quality is not too shabby.
The cover is made of canvas material with a small leaves gold print. It would probably trap dirt more easily than paper covers, but wiping with a damp tissue might do the trick (I have not tried that out though).
There is also a small gold BUKE notebook logo at the back.
I am not a fan of the "name" page, as it looks a bit too decorative for me.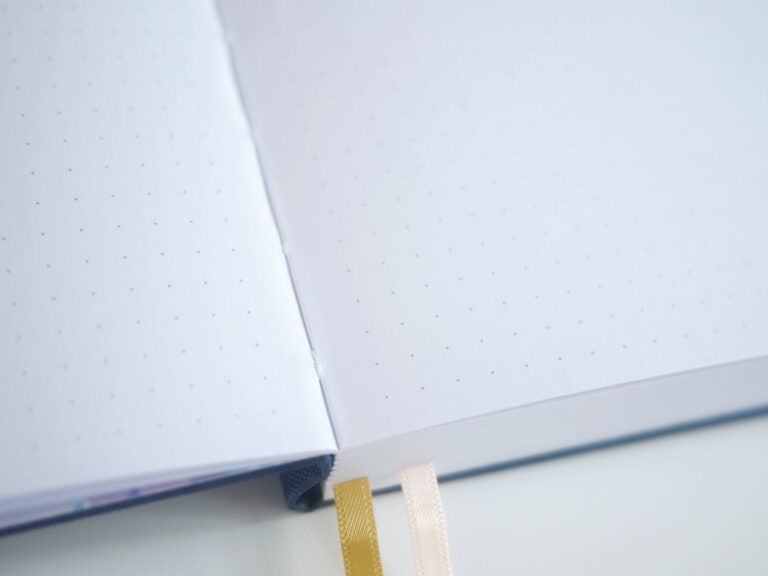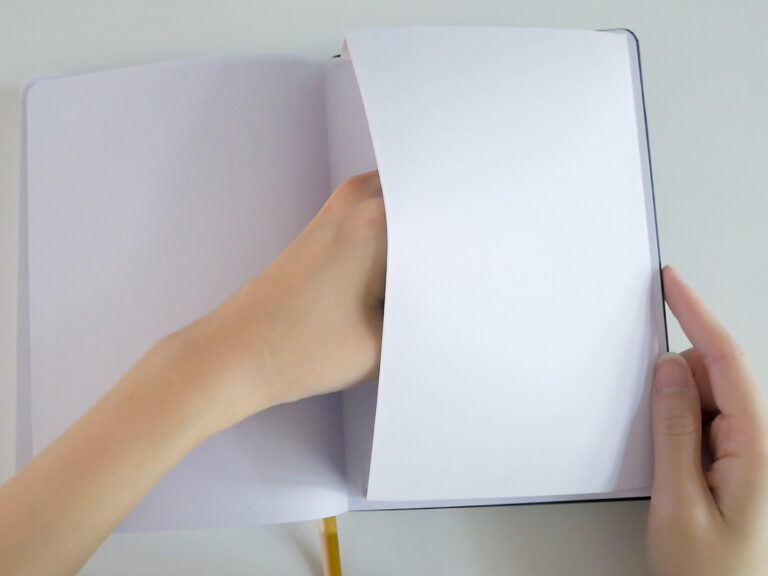 As for the dots, I like how they are faint yet visible!
It comes with two ribbon bookmarks in gold and beige, as well as a paper pocket at the end of the notebook.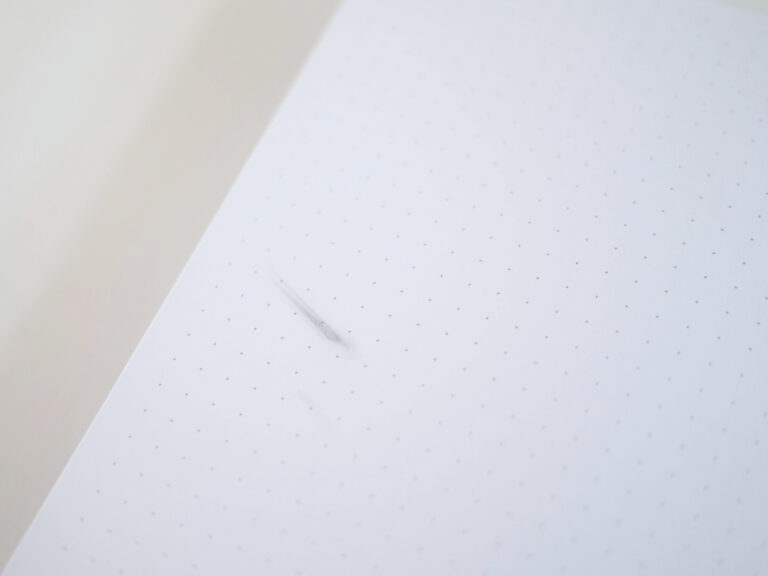 My copy came with a black mark on one of the beginning pages. Later on, I tried to erase it with an eraser, which helped to reduce its visibility but did not remove the mark completely. 
BUKE Bullet Journal Pen Test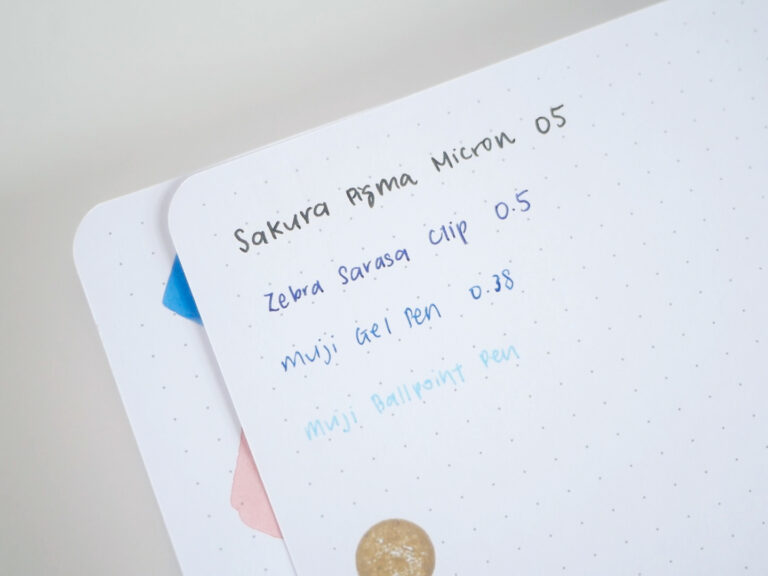 The pen test I did was not super extensive as I only tested the four pens I use most frequently for bullet journaling. These are the pens I tested:
Sakura pigma micron pen 05
Zebra sarasa clip blue pen 0.5
Muji gel pen 0.38
Muji ballpoint pen
All the pens show up nicely on the paper without bleeding or feathering. The Muji gel pen take a while to dry on some other notebooks I have used but it seemed to dry sooner on this BUKE notebook, yay!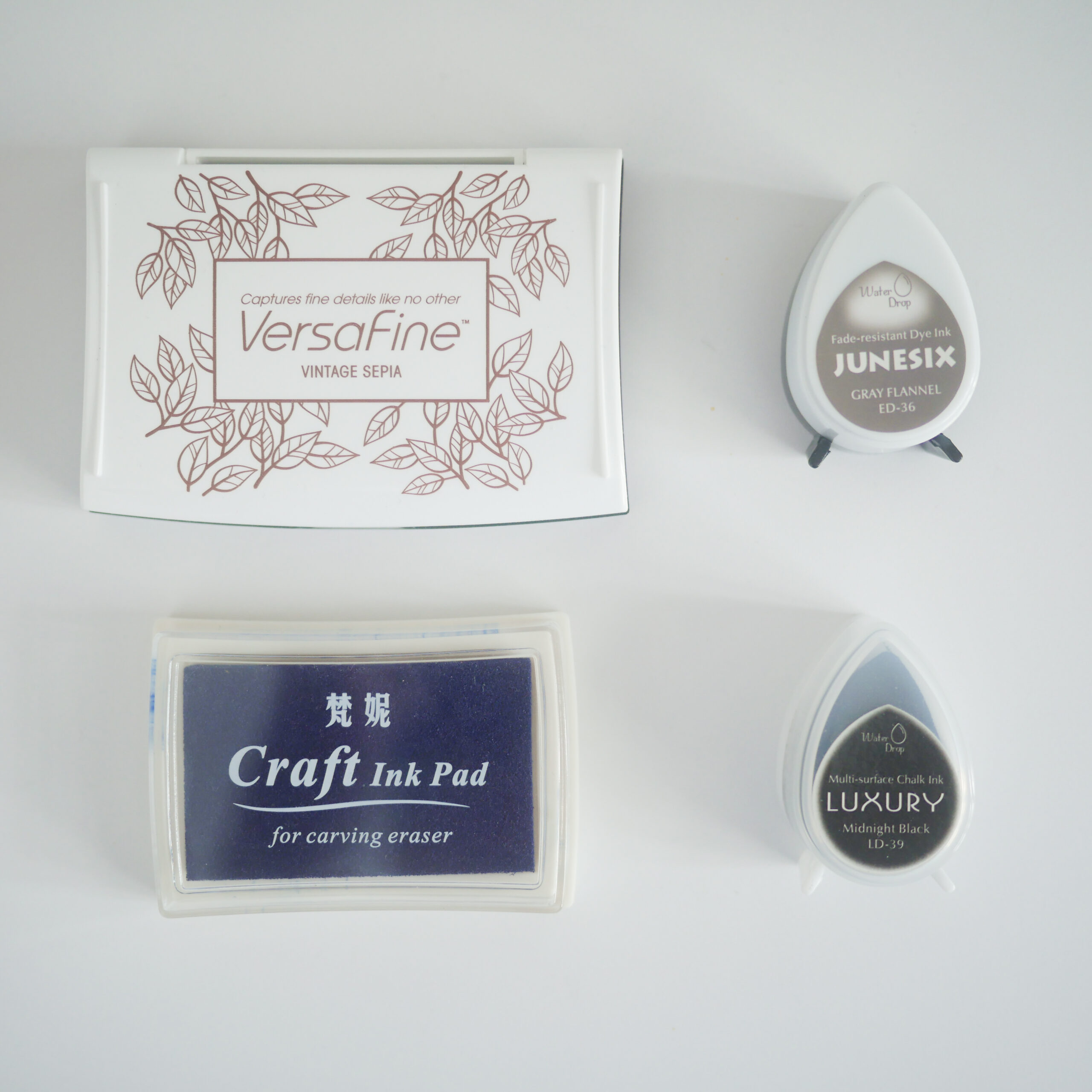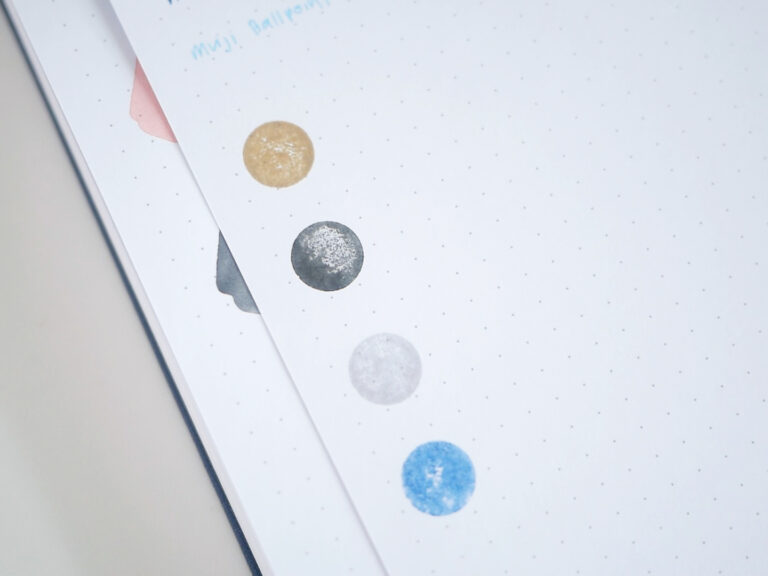 I love using stamps in my bullet journal spreads. Hence, I decided to test out a few ink pads. None of them bled through the pages. The blue ink usually takes a while to dry on my older notebook but it dried pretty quickly on the BUKE bullet journal. Fantastic!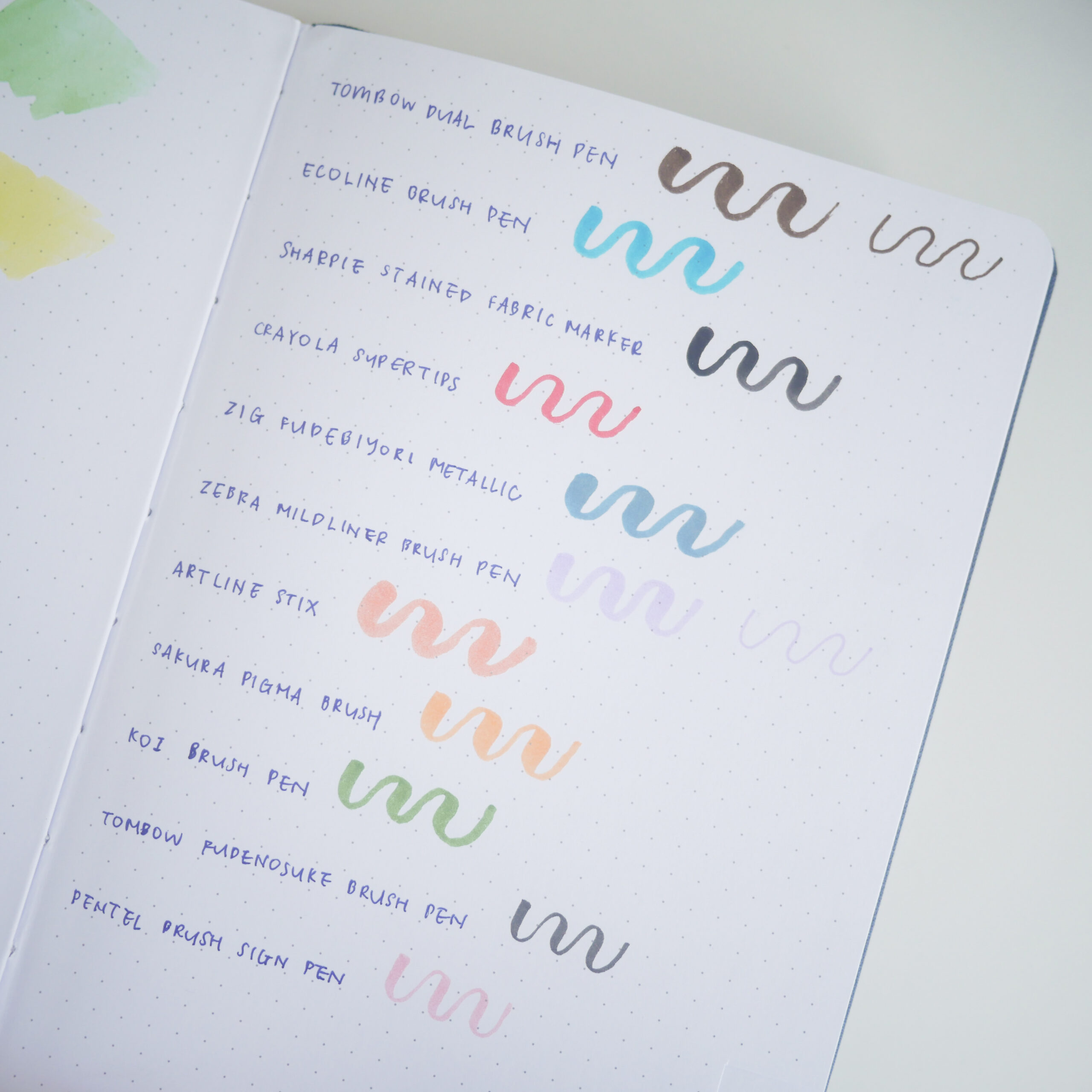 I took out one brush pen from each brand in my pen collection to test on the 180gsm BUKE notebook paper. I am happy to report that all of them glided on smoothly without feathering or bleeding!
Pens tested: 
Tombow Dual Brush Pen
Ecoline Brush Pen
Sharpie Stained Fabric Marker
Crayola Supertips
Zig Fudebiyori Metallic Brush Pen
Zebra Mildliner Brush Pen
Artline Stix Brush Marker
Sakura Pigma Brush
Koi Brush Pen
Tombow Fudenosuke Brush Pen
Pentel Brush Sign Pen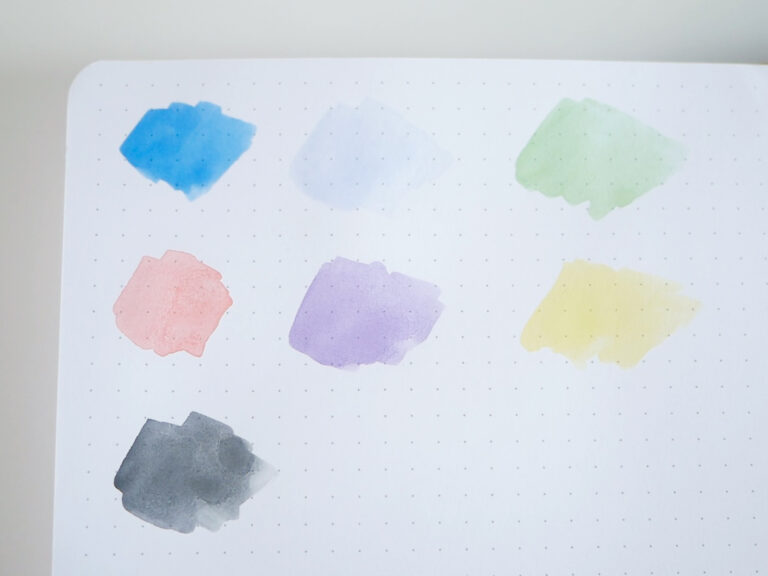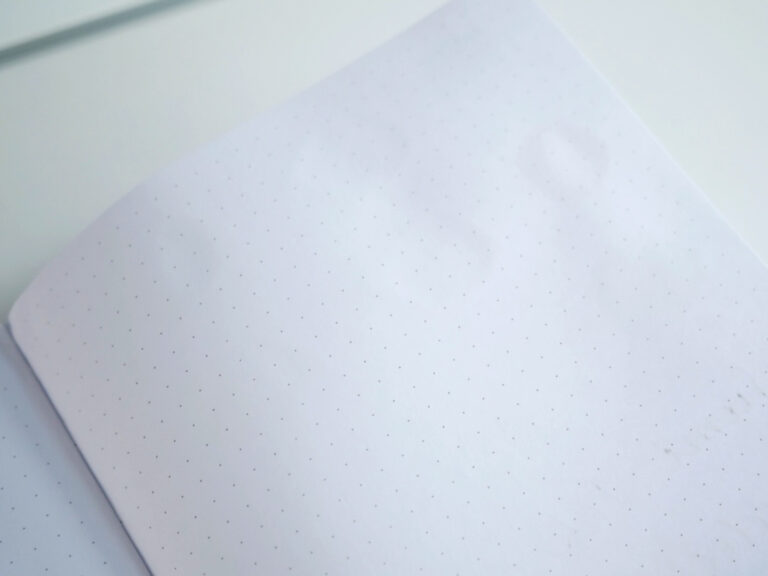 The 180gsm BUKE bullet journal paper held up against the watercolour quite nicely, as none of the colours showed up on the other side. The paper did warp slightly, and I imagine that paint that is not so watery should perform better.  
BUKE Bullet Journal Review 
Overall Rating: 4/5 
At about half the price of an Archer and Olive notebook, the BUKE dot grid bullet journal is extremely affordable compared to other notebook brands offering 160 to 180gsm paper. Even though the selection of cover design is limited, the paper quality makes up for it. The only complaint would be the long shipping duration as well as the defective black stain on one of the beginning pages. The useful freebies that came with the order is a sweet surprise! Check out the video below for my 2021 bullet journal set-up process in this BUKE notebook. 
Disclaimer: Some of the links above are affiliate links, meaning I earn a small percentage of commission via those links, but it doesn't cost you anything extra!
Enjoyed this post? Spread the joy!
☆ Pin this image to help this article reach more people. ☆
Clicking On These Helps Me Pay My Bills...