October Bujo Setup - Fall Theme (Free Printable!)
HAY, how art you? Fall is such a beautiful and poignant season. Though there's no season change where I am located, I did not want to miss out on the fun of using warm orange and brown hues in my journal spreads. I had a good time designing this month's Autumn Memories free printable as well! You can find the download link at the end of this article. Keep scrolling to see more of my October bujo setup!
Watch the following video for the setup process and plan with me!
What I used this month: 
You can use my affiliate codes to purchase stationery at the following stores:
October Bujo Setup Cover Page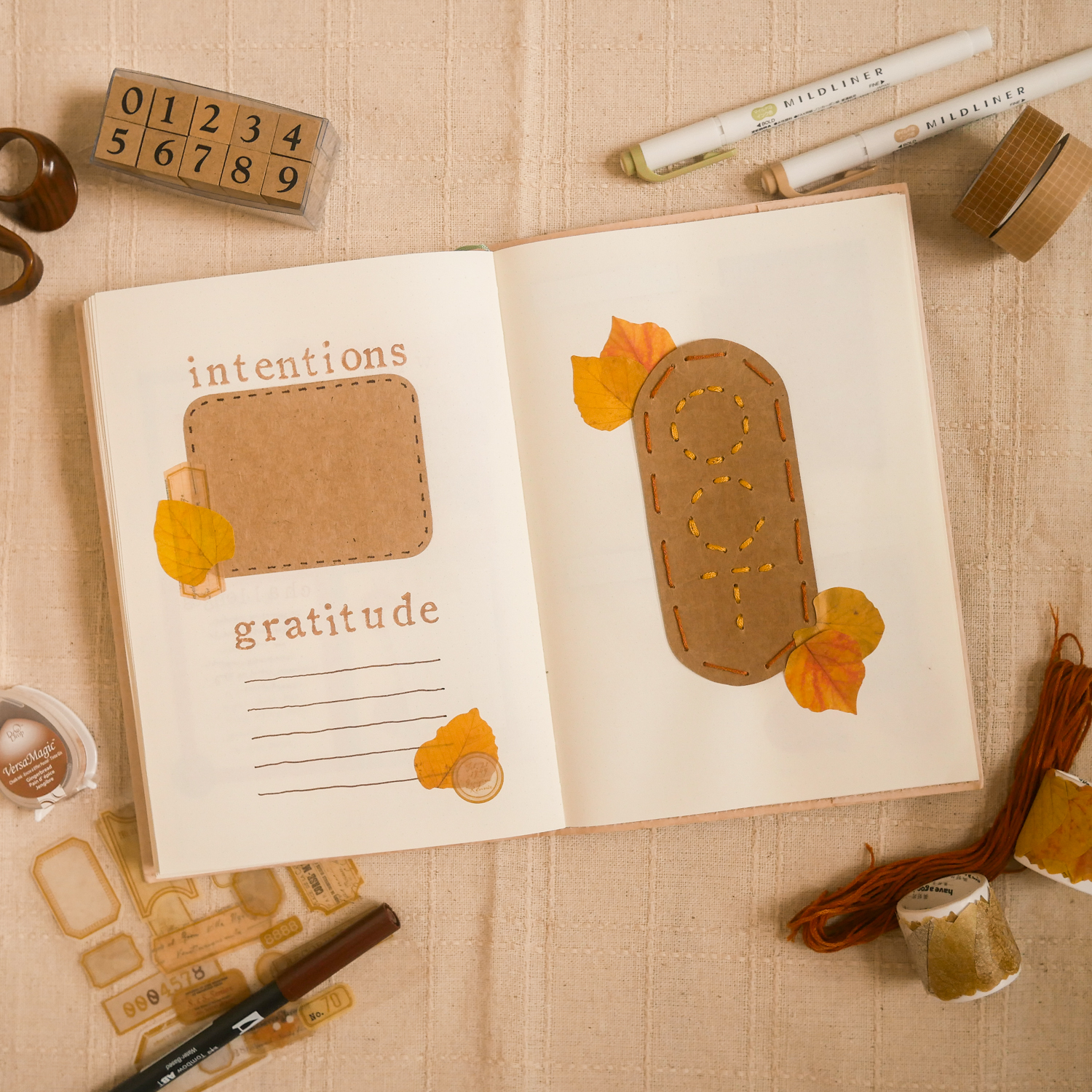 Threaded Monthly Header
The cover page features a rounded rectangular kraft paper with the letters "OCT", made using threaded strings. To create this mix media effect, simply poke holes on card paper and thread embroidery floss through with the help of a needle. It is a tad time-consuming, but also really therapeutic and satisfying! I layered fall leaf stickers around it to keep the cover page simple and elegant. 
Intentions & Gratitude Page
To match the monthly header, I pasted a round kraft paper rectangle for the Intentions section, and drew a dotted border with a marker. Below it is the Gratitude section, kept minimal with some lines and stickers. 
October Bujo Setup Weekly Spread 1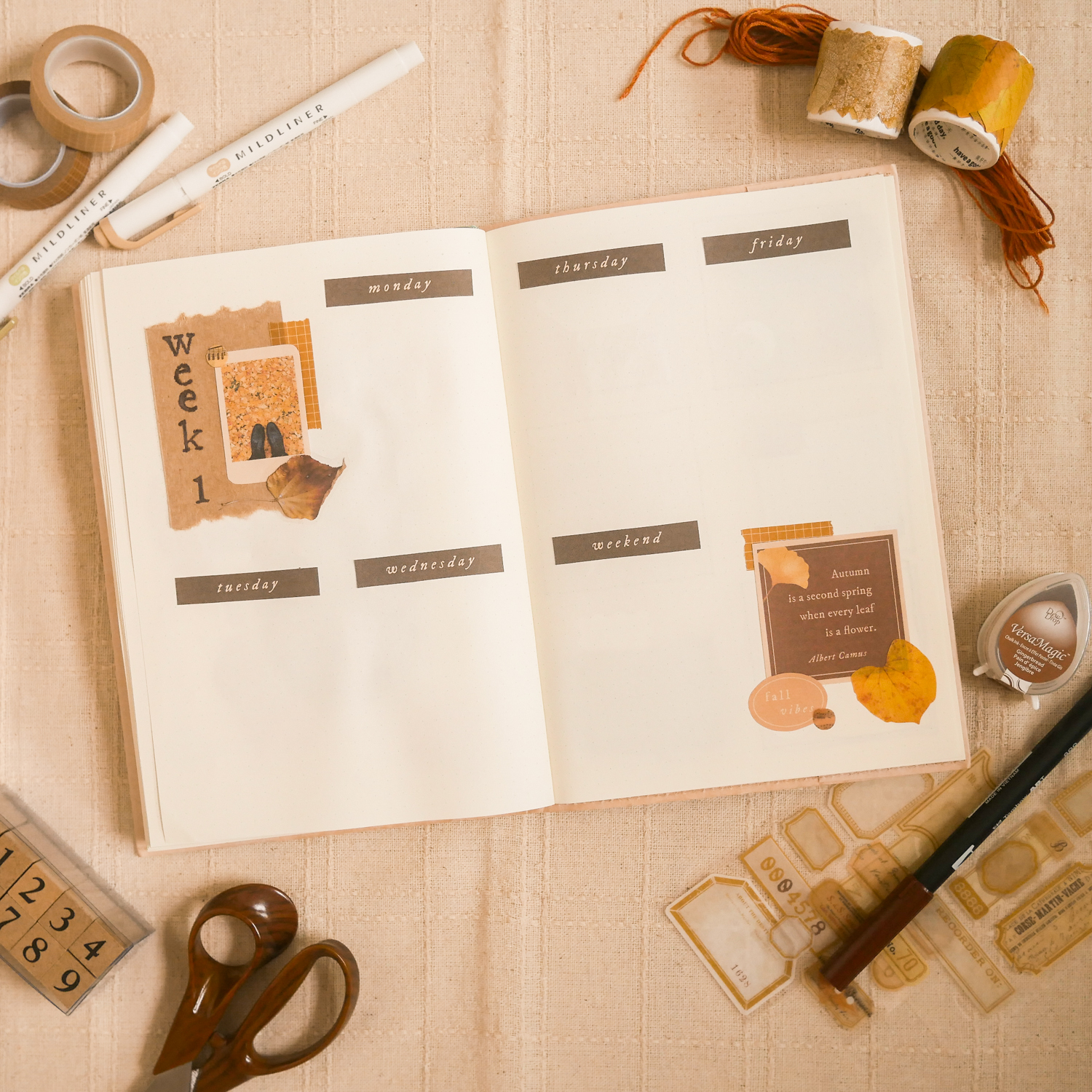 The first October weekly spread features two collage sections. Some of the cutouts are from my Autumn Memories printable, and you can find the download link at the end of this article. The headers for the daily sections were printed and pasted neatly across the spread.
October Bujo Setup Weekly Spread 2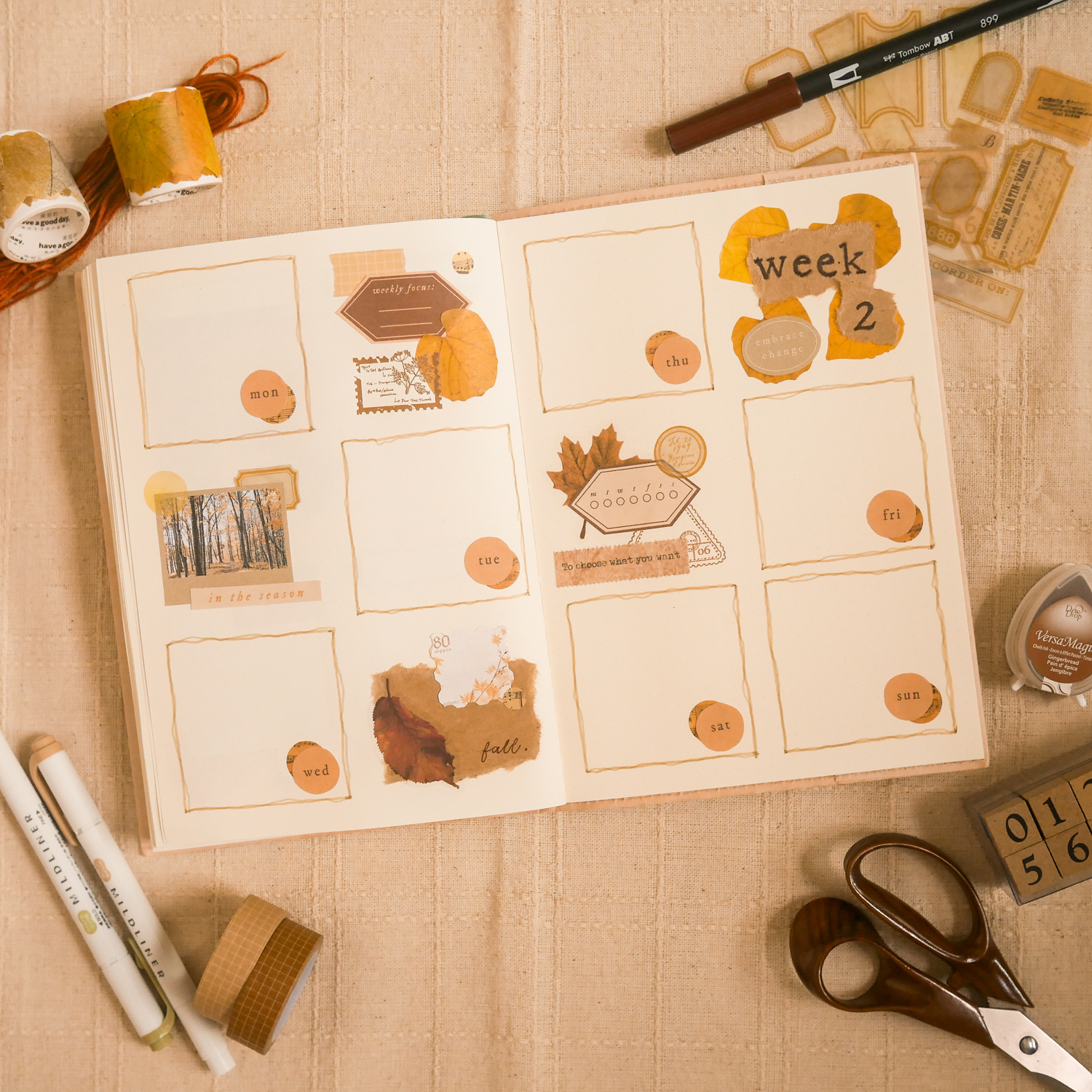 For the second weekly spread, each page was divided into six sections. After drawing seven boxes for the daily sections, I filled the rest of the spaces with little collages. This is my favourite layout as I get to experiment with different layer styles and combine a variety of stationery. Lastly, I layered each round daily header with a vintage dot sticker to complete the spread. 
Free Journaling Printable – Autumn Memories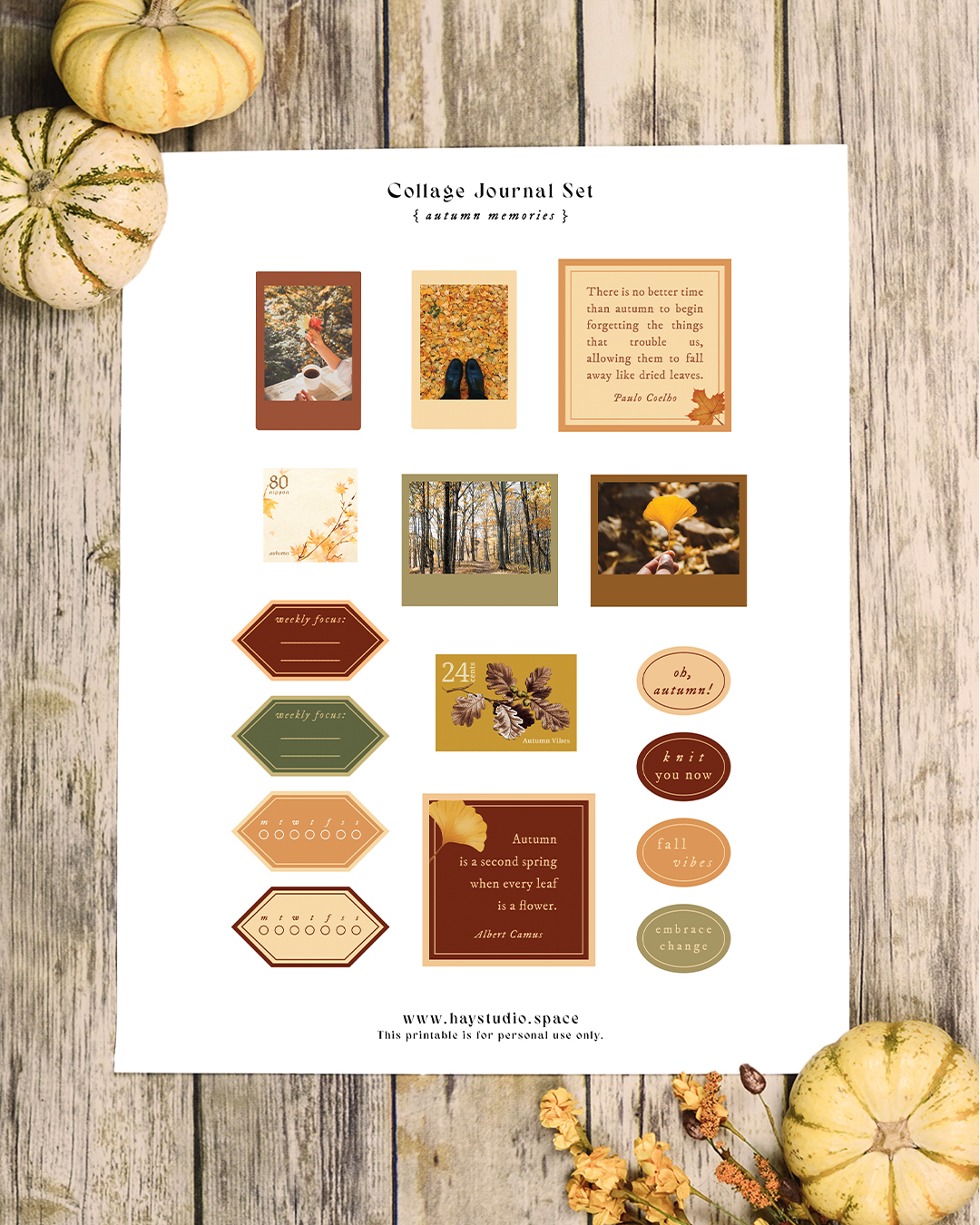 Put together a pretty fall-inspired journal spread with this Autumn Memories printable. Comes with faux Polaroids, fall vibes quotes and weekly trackers in warm moody Autumn colours.
Tag me on Instagram (@hay.studio) if you share any of your creations that contain my free printables; I would love to see them. Happy journaling!
To download this free journal kit, click here.
More Bullet Journal Ideas
Subscribe to my YouTube channel for more bullet journal setups! Check out these videos for my setup for the previous months:  
***
 If you enjoyed this article, share the love with your bujo pals! To stay updated on future blog posts, subscribe here. 
Related articles, videos and resources:
Disclaimer: Some of the links above are affiliate links, meaning I earn a small percentage of commission via those links, but it doesn't cost you anything extra!
Enjoyed this post? Spread the joy!
☆ Pin this image to help this article reach more people. ☆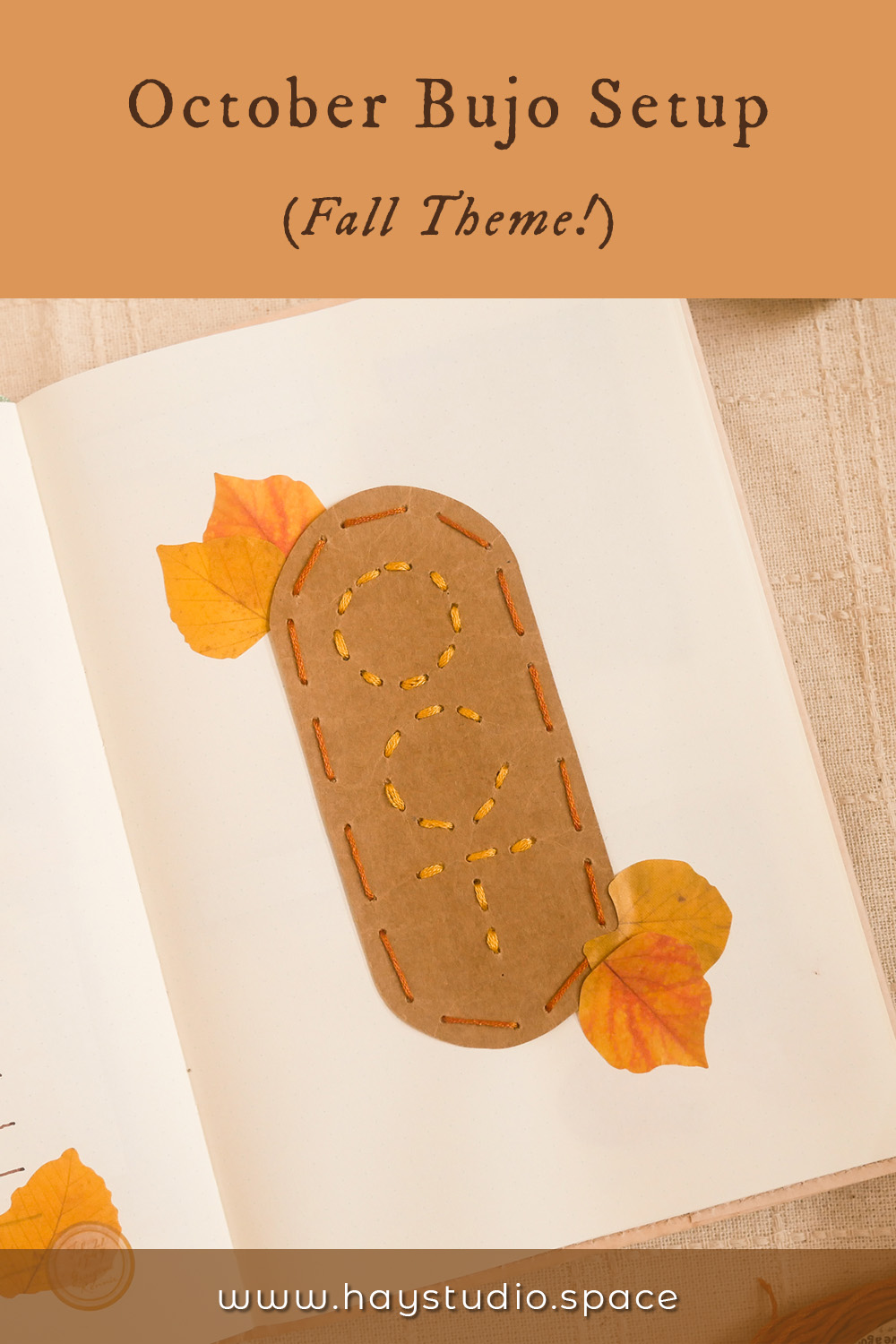 Clicking On These Helps Me Pay My Bills...