May Bullet Journal Setup - Vintage Memories Theme (Free Printable!)
HAY, how art you? Here is my bullet journal setup for May to the theme of vintage memories. Think film rolls, old tickets, antique cameras and typewriters! The set of printable I used in the setup is available to download for free and you can find the link at the end of this article. Keep scrolling to see more of my May bullet journal setup!
Check out the following video to watch the setup process and plan with me!
Here is a list of supplies I used for the setup this month: 
Tittle&Jot Journal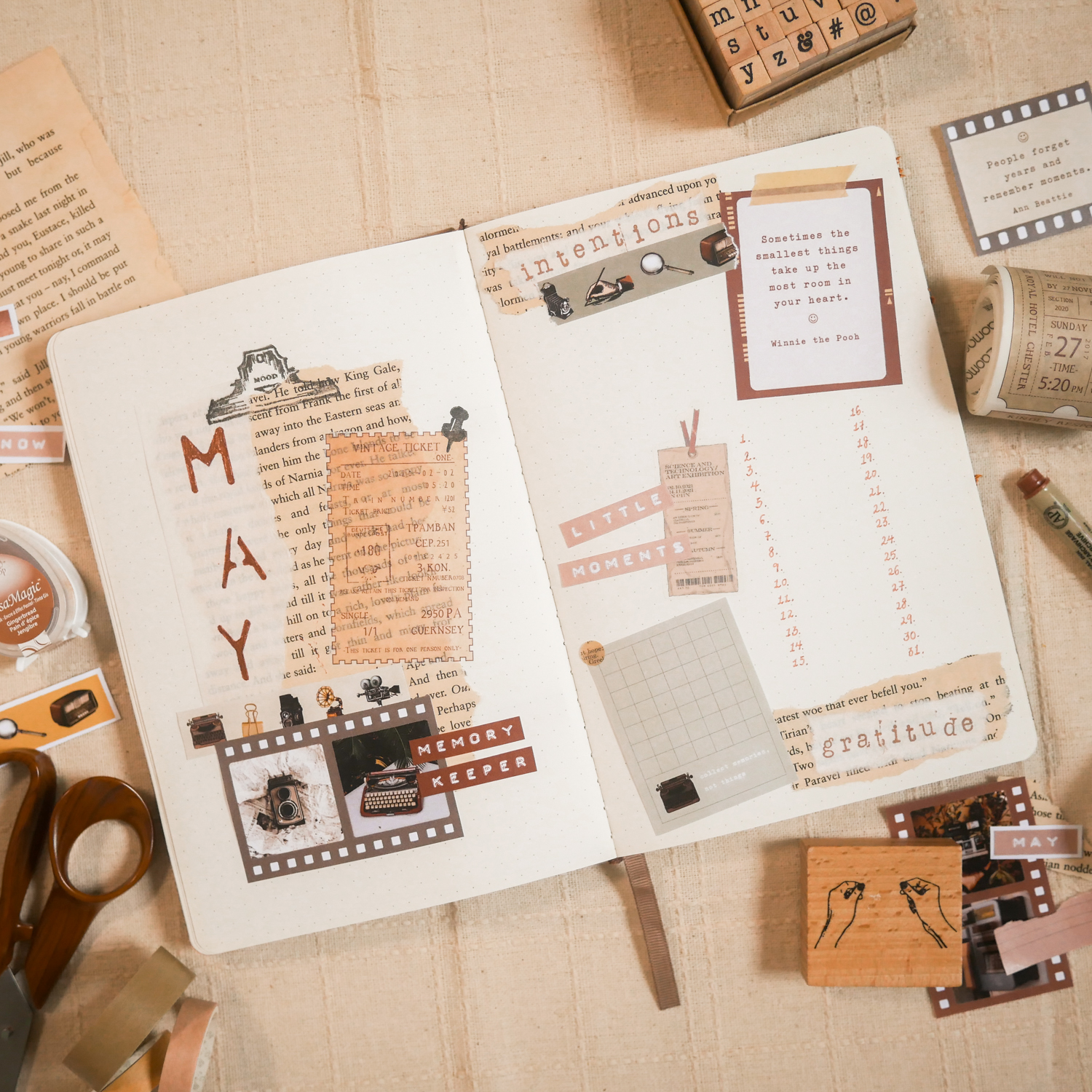 My May cover page is made up of a collage on the left, and a functional page on the right. This month, I used pages from a book I thrifted from a second-hand book store to add layers to the collages. Stamps of pins, pegs and clips were used to create a bulletin board effect. 
As usual, I made space to set intentions for the month. I enjoyed using the gratitude log last month, and decided to include it in this month's cover page too. I kept the colours used to shades of brown, yellow and muted greens to match the vintage-inspired theme.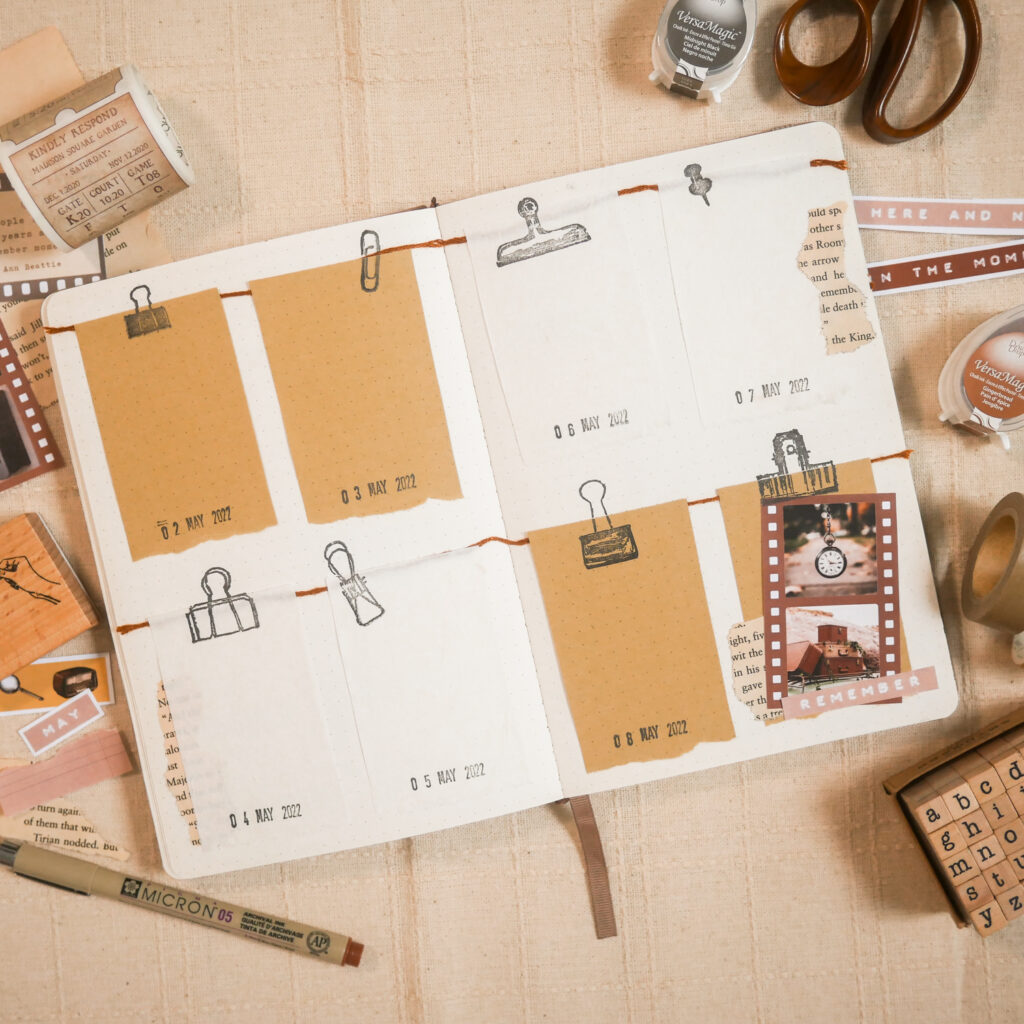 The first weekly spread for May is inspired by pegged Polaroid photos on a rope. I glued brown threads on the pages, and then pasted scrap papers for each day of the week. To keep track of the dates, I used a date stamp for each scrap paper. Lastly, I used a variety of stationery stamps to make the spread more fun and interesting.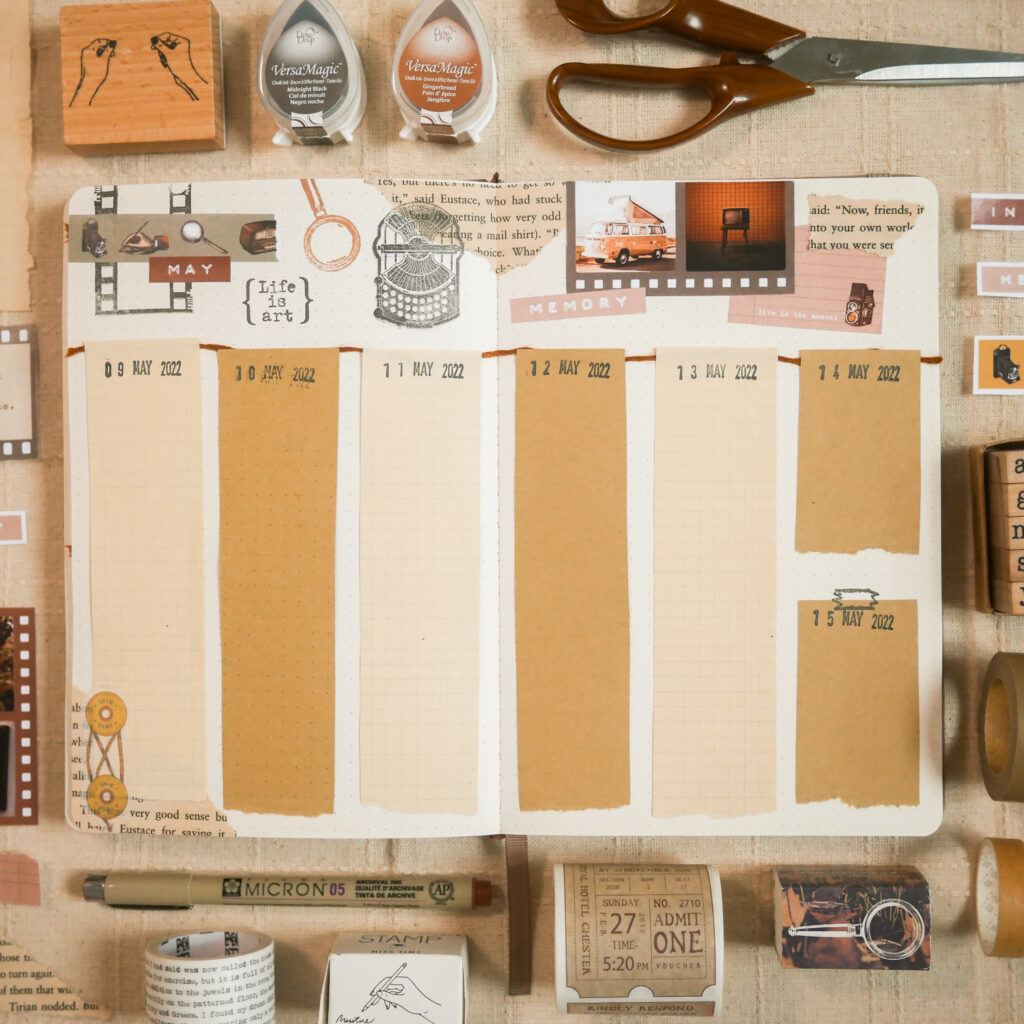 The second weekly spread follows the same idea as the first. To change things up a little, the scrap papers were narrower and longer for each day of the week (besides the weekend). I filled the top area of the spread with my cutouts from my printable, stamps and the book pages. 
Free Journaling Printable – Vintage Memories
This month's free printable is designed to the theme of vintage memories. Hope you love it as much as I do! Feel free to tag me on Instagram (@hay.studio) if you share any of your creations that contain my free printables.
To download this free journal kit, click here!
More Bullet Journal Ideas
Subscribe to my YouTube channel for more bullet journal setups! Check out these videos for my setup for the previous months:  
***
 If you enjoyed this article, share the love with your bujo pals! To stay updated on future blog posts, subscribe here. 
Related articles, videos and resources:
Video – 2022 Bullet Journal Setup
Disclaimer: Some of the links above are affiliate links, meaning I earn a small percentage of commission via those links, but it doesn't cost you anything extra!
Enjoyed this post? Spread the joy!
☆ Pin this image to help this article reach more people. ☆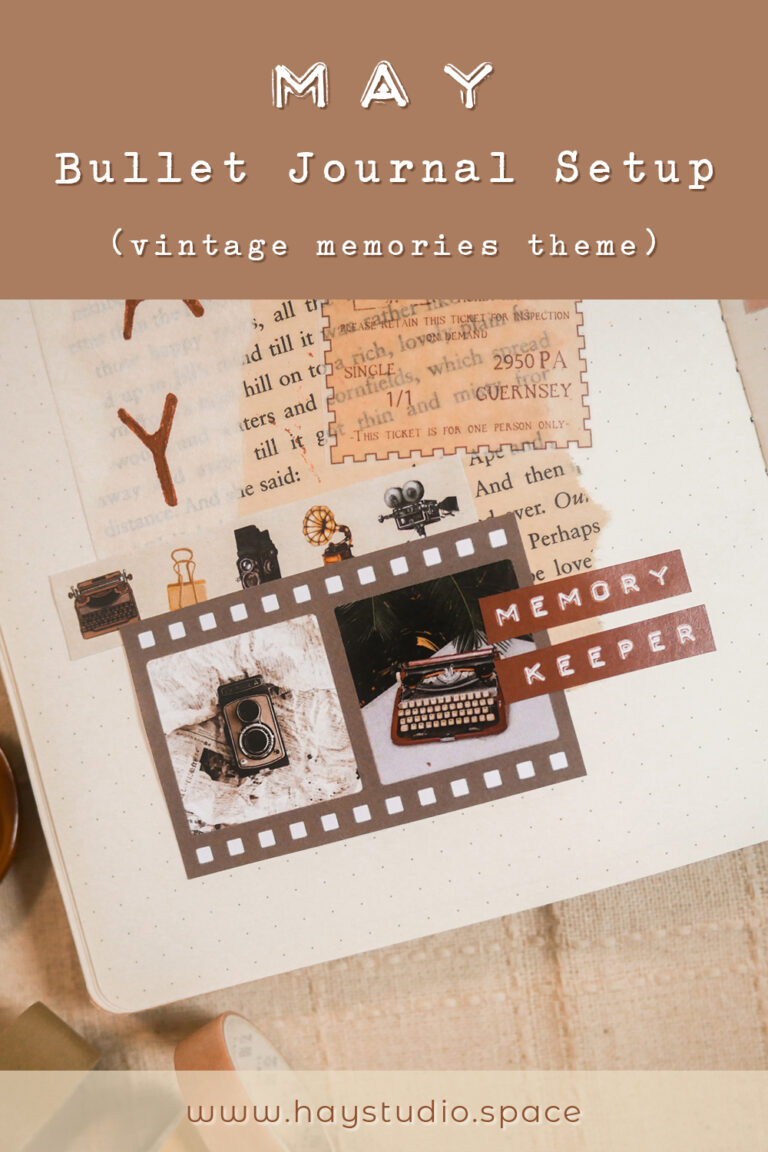 Clicking On These Helps Me Pay My Bills...