Journaling Prompts from A to Z - The Ultimate List
HAY! How art you? Do you journal? Journaling allows us to channel our emotions creatively. Through writing, we can make sense of our thoughts and feelings, have mastery over them and improve our mental well-being. However, people who are new to journaling may find it tough to choose a topic to journal on and start writing. In this article, I have put together the ultimate list of journaling prompts from A to Z, and you can even have fun picking prompts based on the initials of your names. Read on to check out all the prompts!
Look back at what you have achieved so far, make a list and journal about them. It's a wonderful spread to look back on during times when you feel down, run low on motivation, or when you simply need a perk-me-up.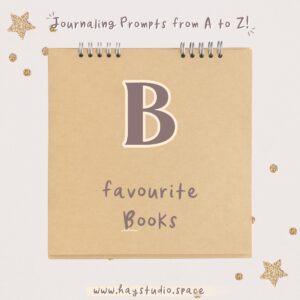 Document a book summary of your favourite book, rewrite the ending, pretend you are the main character – the possibilities of a book-related journal spread are endless. 
Check out the following Instagram post of my journal spread, where I documented my favourite lines from Austin Kleon's Steal Like an Artist.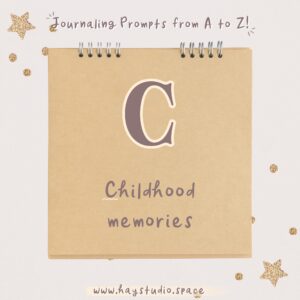 For this journaling prompt, reflect and write about your favourite childhood memory. Including that photo of you when you were chubby and cute is a bonus!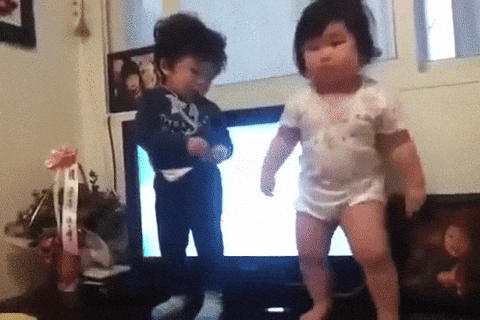 d: Ways to Battle Self-Doubt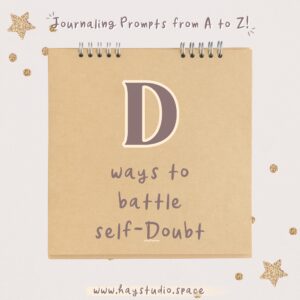 Everyone experiences bouts of self-doubt or feelings of imposter syndrome once in a while. Jot down ideas or tips on how to overcome these feelings and revisit the spread when you need to. 
How are you feeling now? Calm, anxious, elated or sorrowful? Take a moment to record your current emotions, and deep dive on why you think you are feeling this way. 
Unless we face our fears, they will continue to haunt us when we are in a more vulnerable state. Think about what you are most afraid of, journal about them, and you might just realise that some of them are just irrational fears after all.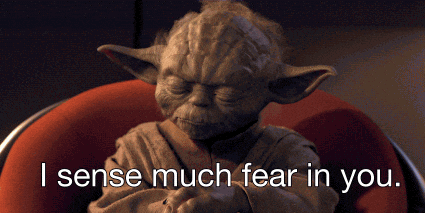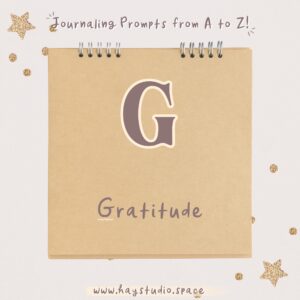 To journal about gratitude can be as simple as writing one line a day. Research has shown that practising gratitude can improve our psychological well-being and make us more resilient to setbacks. 
h: Hobbies (past & present)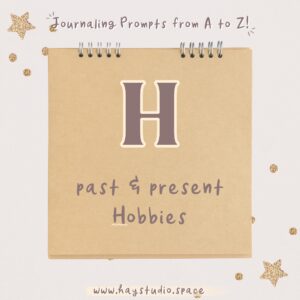 Here is a journal prompt that is more light-hearted – journal about all the hobbies you have had in the past, versus now. You might find one or two hobbies that you would like to revisit.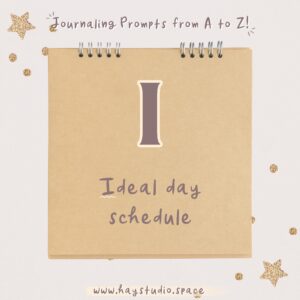 What would an ideal day look like to you? Create a journal spread about your ideal day, routines or activities. You can then translate it to small actionable steps to include in your current routine. 
J: Things that Bring Me Joy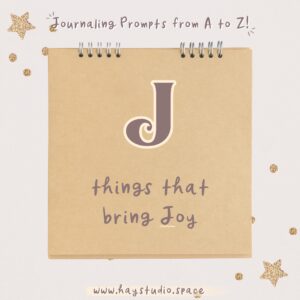 Chances are that, we will be able to find joy in our everyday life (that we thought to be mundane), if we look close enough. It can be as simple as a morning coffee, a text from a friend or a friendly smile from a stranger. Journal about what brings you joy, and let it inspire you to spread happiness to the people around you.
Check out the following Instagram post showing my journal spread on the theme, "Everyday Joy".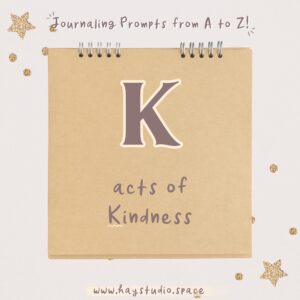 Have you experienced a random act of kindness that touched your heart and left a lasting impression? Use this journal prompt to make a list of such encounters; it's a nice entry to revisit when you are craving for heartwarming stories.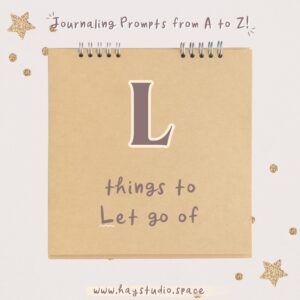 It could be the need for perfection, an old disagreement with a once-close friend, or even the passing of a loved one. Write about the things that are holding you back and how to resolve these issues that are weighing you down.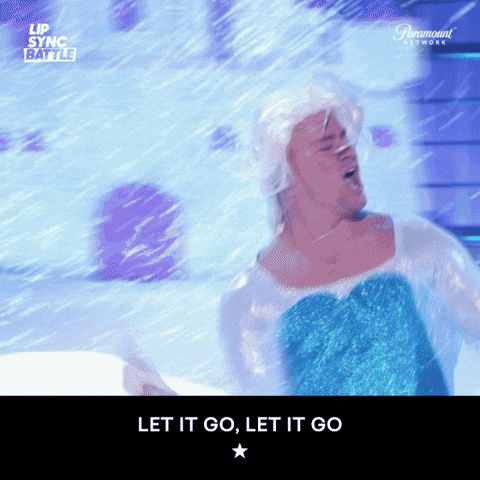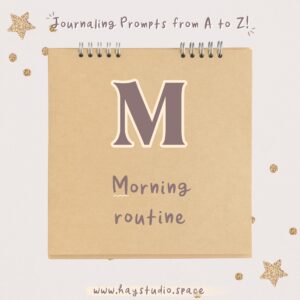 Similar to the Ideal Day journal prompt, create a fruitful morning routine that you can incorporate into your day. If you are not a morning person, you can also make an evening routine for winding down and preparing for a good night's sleep.
Read this article "What Successful Creatives Do In the First Hour of Their Day" by Creative Market for some inspiration.
Below are some popular journals you might want to check out!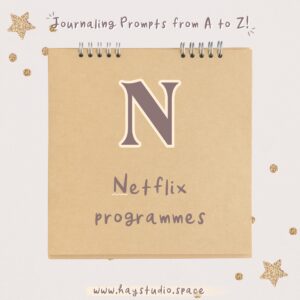 Journal about your favourite Netflix programmes and jot down your reflections and thoughts.
I shared my short reflection journal page on Instagram after watching The Social Dilemma, a Netflix documentary.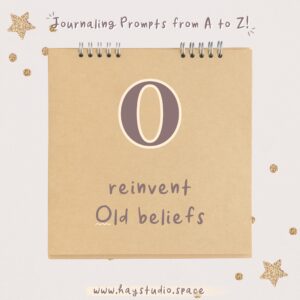 What old beliefs did you have when you were younger, and how have they evolved now? Journal about the mindset shifts you experienced and you might just come to appreciate how much you have matured and grown.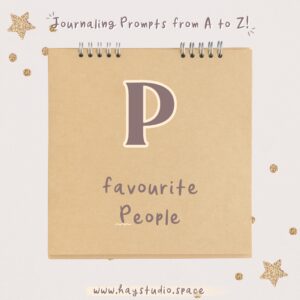 Journal about your favourite people! It could be a list of their traits, memories of good times spent with them, or even a thank you letter to thank them for coming into your lives, and staying.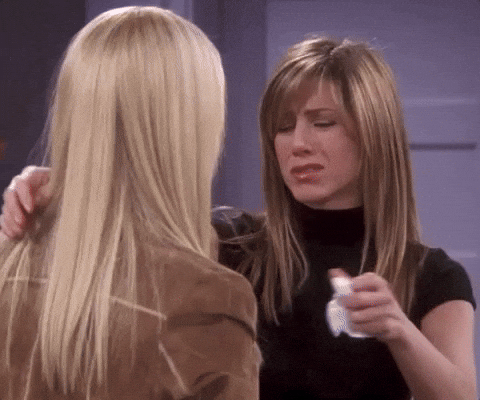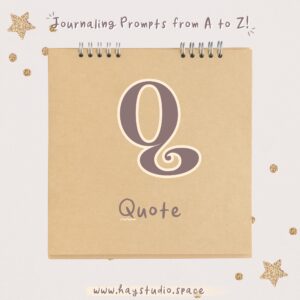 If you come across a quote that you really resonate with, use it as a journal prompt to draw or write. 
I love quotes and I think I could probably start a journal dedicated to quote journal entries only! The following Instagram post is my journal spread of a quote from Brené Brown's book, Daring Greatly.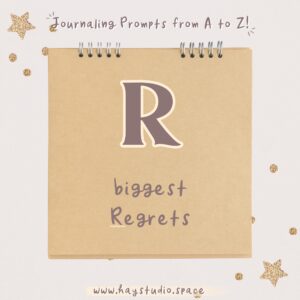 "Regret is such a short word… and yet it stretches on forever." – Ranata Suzuki 
Accepting and moving on from regrets is easier said than done. This journal prompt could ease these feelings by helping you acknowledge them, and come up with actionable steps to prevent similar regrets from occurring in your current life. 
This idea came from Yasmine Cheyenne's Skillshare course, Writing for Self-Discovery: 6 Journaling Prompts for Gratitude and Growth. If you are not a Skillshare member, you can sign up with this link for 2 weeks free Skillshare premium subscription. 
S: Success Definitions (Past & Present)
Another journal prompt from the course mentioned above, reflect on how your definitions of success have changed from past to present. Success to you could look like a big house or that dream car ten years ago, but now it could be just that small Etsy shop you are running and super proud of.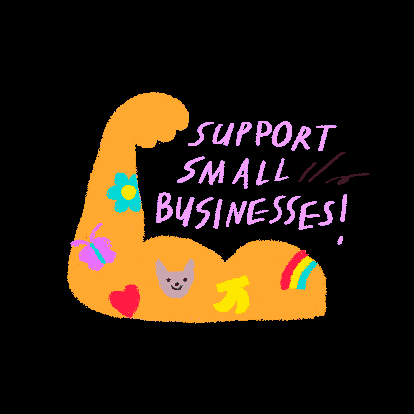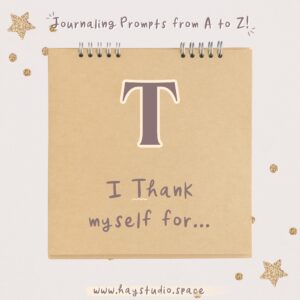 Here is another journal prompt for self-care. If you could write a letter to yourself, what would you thank yourself for? 
U: What Unconditional Love Looks Like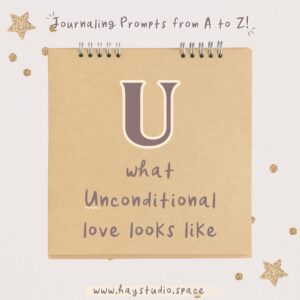 For this journal prompt, define unconditional love and write about what it means to you. This process could allow us to appreciate our loved ones more and also remind us to be pro-active and show unconditional love through our actions. 
V: Values Important to Me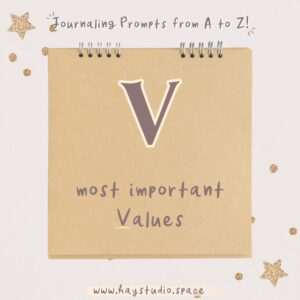 We all have a set of values we unconsciously govern our lives by. Take a moment to write about the values that you find most important. Here is a comprehensive list of values curated by James Clear, if you need some inspiration. 
W: Wildest Dreams & Desires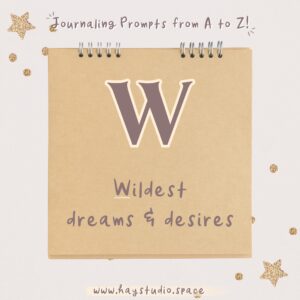 This a fun prompt to let your imagination run wild; write about your wildest dream and desires. Maybe your secret dream is to build a treehouse and live in it forever, or have a house full of cats. Go ahead and reveal them, no one will be judging!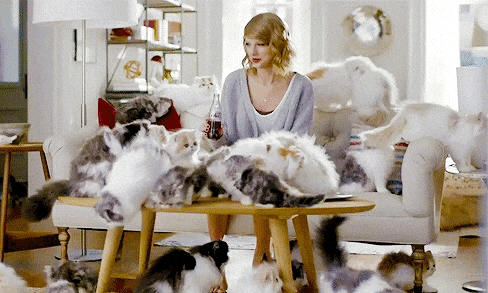 Okay, so I cheated for this prompt since I could not think of any legit prompt starting with letter X. So I thought of this one instead – you can relax while journaling about your favourite activities to relax. You're welcome.
Y: Letter to My Younger Self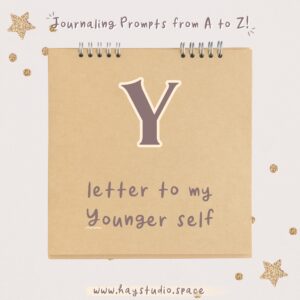 For this prompt, write an imaginary letter to your younger self. If you could meet the younger you from years ago, what would you say to him or her?
Last but not least, journal about your zodiac sign! Even if you are not into astrology, reading about common personality traits or weekly forecasts may provide fresh perspectives and lead to new discoveries about yourself. 
***
I hope this list of prompts is useful for your journaling journey. When you are stuck, check out this Instagram post and take a screenshot to decide your next journal topic!
Disclaimer: Some of the links above are affiliate links, meaning I earn a small percentage of commission via those links, but it doesn't cost you anything extra!
Enjoyed this post? Spread the joy!
☆ Pin this image to help this article reach more people. ☆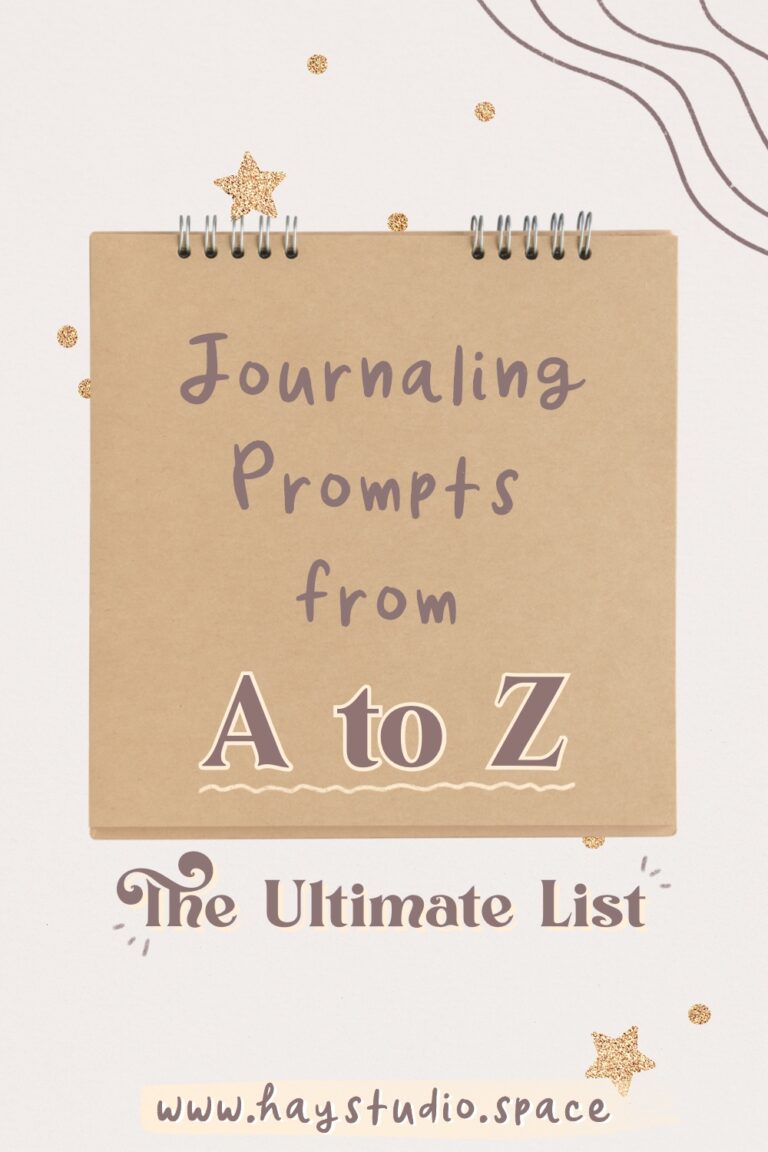 Clicking On These Helps Me Pay My Bills...