March Bujo Setup - Cottagecore Theme (Free Printable!)
HAY, how art you? The "Cottagecore aesthetic" has been all the rage in recent years, and I am surprised that I haven't gone for this bullet journal theme yet. This March, I am excited to be using some of my favourite elements like florals, gingham patterns and vintage textures in warm and cosy hues. Check out the Cottagecore theme journaling printable set I designed, which you can download for free at the end of this article. Keep scrolling to see more of my March bujo setup!
Check out the following videos to watch the setup process and plan with me!
What I used this month: 
You can use my affiliate codes to purchase stationery at the following stores:
March Bujo Setup Cover Page
The March cover page features a whimsical collage on the right and a functional page on the left. To create the collage, I found some photos from Unsplash and scaled them to size using Photoshop. Then, I printed and assembled them on the vintage text paper. I added the orange gingham circle and "lost in the moment" phrase from my free printable. Lastly, I stamped the March letters on kraft paper and arranged them on top of the collage. 
For the page on the left, I will be writing down my intentions and priorities for March. I also included a small gratitude log section using kraft paper at the bottom of the page. The space is kind of limited, so I can only include a short phrase per day for this gratitude log.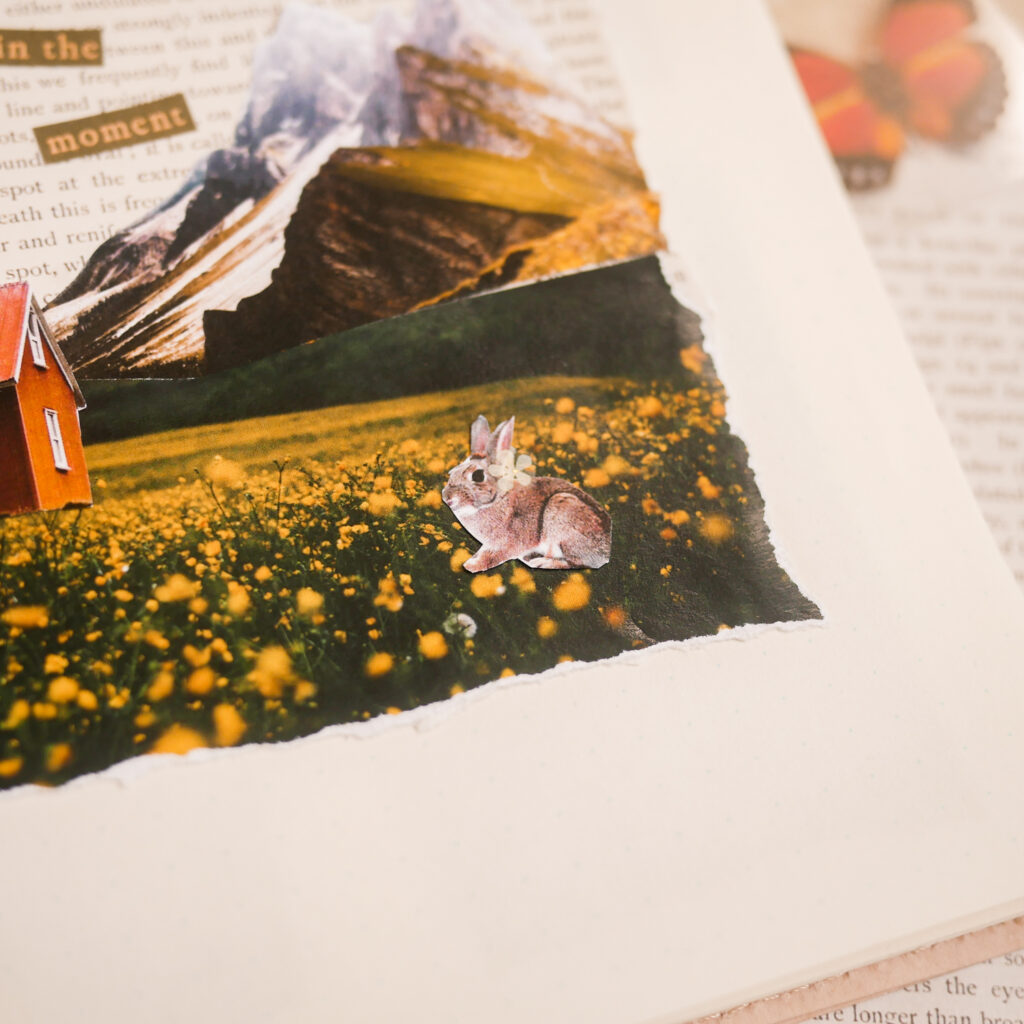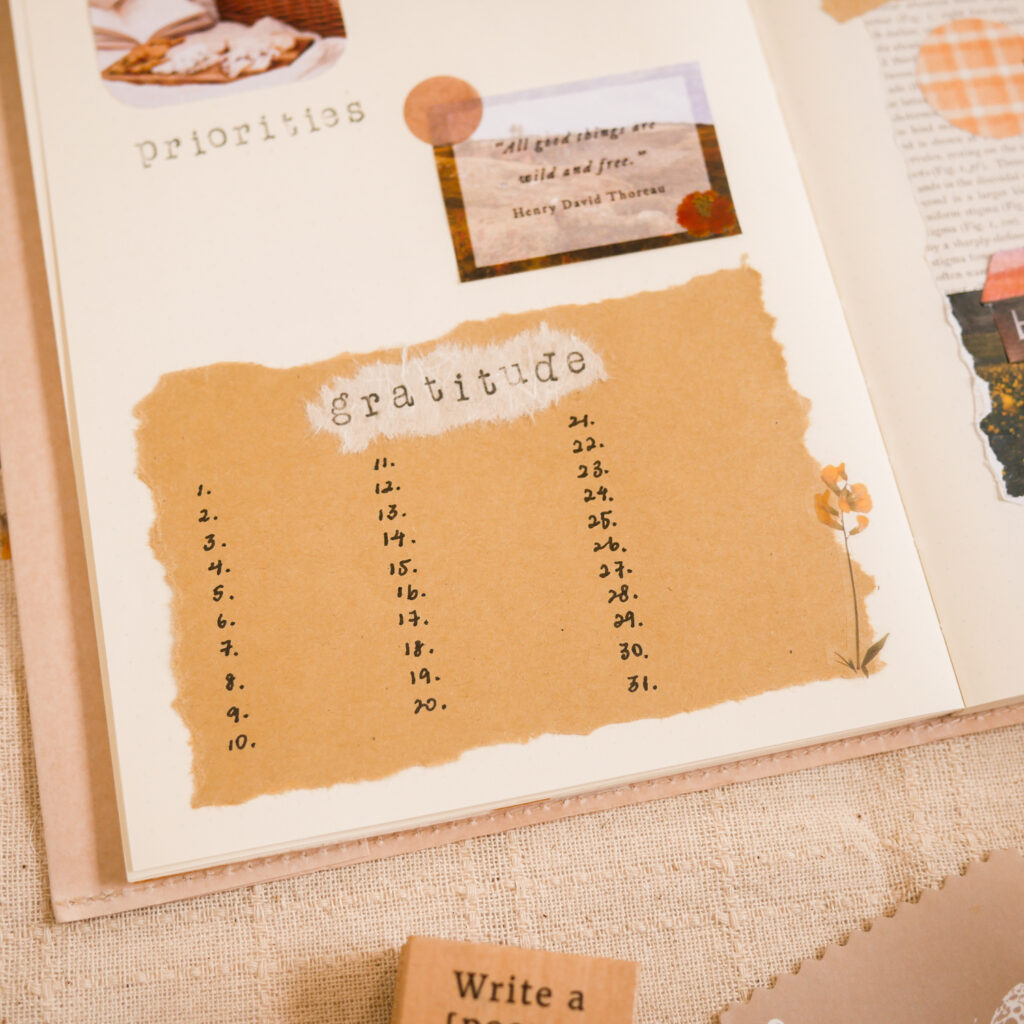 March Bujo Setup Weekly Spread 1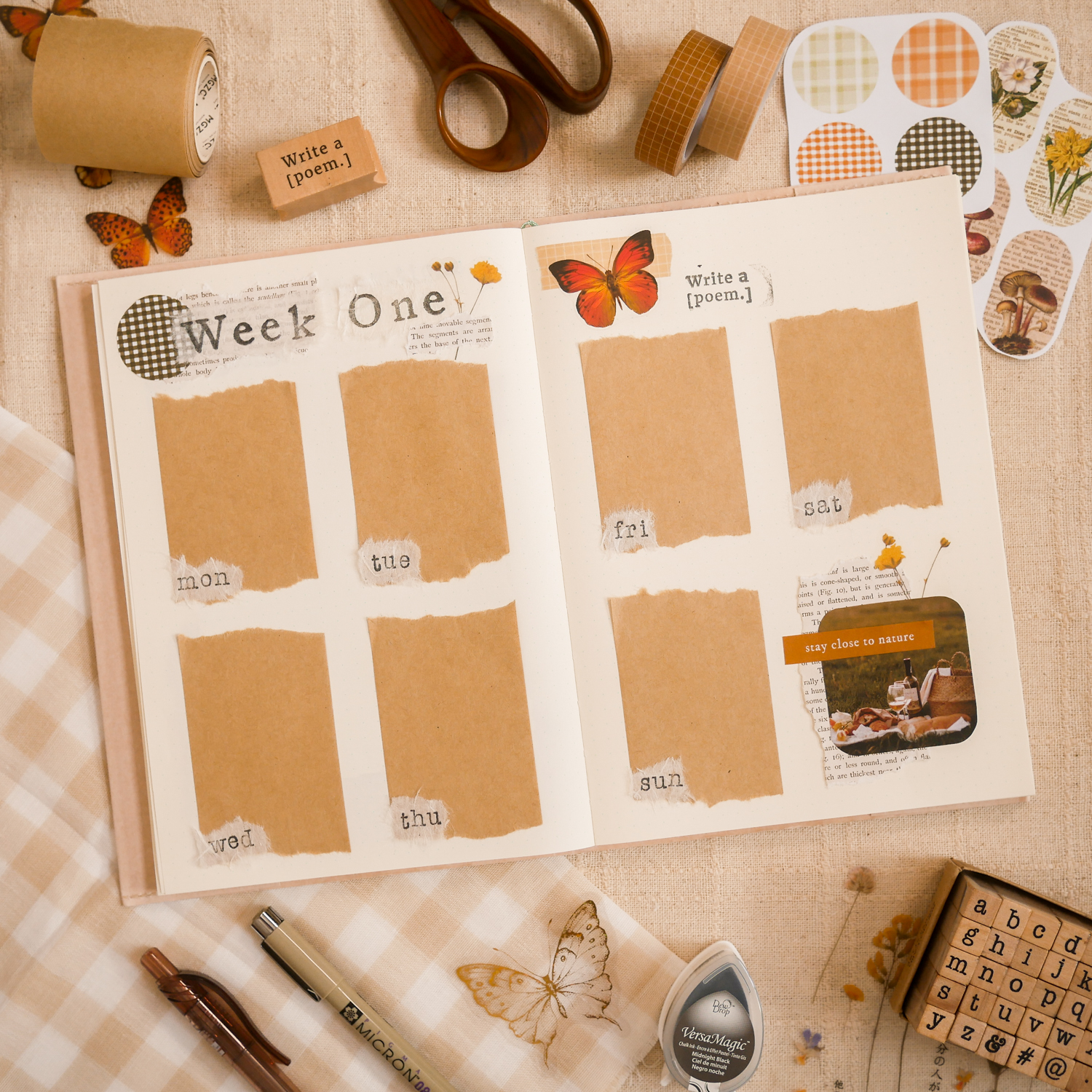 For the first weekly spread, I tore seven pieces of kraft paper for each daily section. All the headers were stamped on a cream handmade paper for some added texture. I filled up the remaining spaces with collages using stickers and elements from my printable set.
Free Journaling Printable – Cottagecore
This month's free printable is a collage journaling set with aesthetic photos, stamps, gingham patterned circles, quotes and vintage botanicals. 
Tag me on Instagram (@hay.studio) if you share any of your creations that contain my free printables; I would love to see them. Happy journaling!
To download this free journal kit, click here.
More Bullet Journal Ideas
Subscribe to my YouTube channel for more bullet journal setups! Check out these videos for my setup for the previous months:  
***
 If you enjoyed this article, share the love with your bujo pals! To stay updated on future blog posts, subscribe here. 
Related articles, videos and resources:
Disclaimer: Some of the links above are affiliate links, meaning I earn a small percentage of commission via those links, but it doesn't cost you anything extra!
Enjoyed this post? Spread the joy!
☆ Pin this image to help this article reach more people. ☆
Clicking On These Helps Me Pay My Bills...