5 Free Inspiring Newsletters on Self-Development & Creativity (And All That Good Stuff!)
HAY, how art you? Do you like newsletters? I love the idea of having a dose of inspiration delivered straight to my inbox every week. If you're anything like me, you would enjoy this article where I will be sharing 5 free inspiring newsletters on creativity, self-development and all that good stuff (you-know-what). Read on to know more!
Free Inspiring Newsletters: #1 – James Clear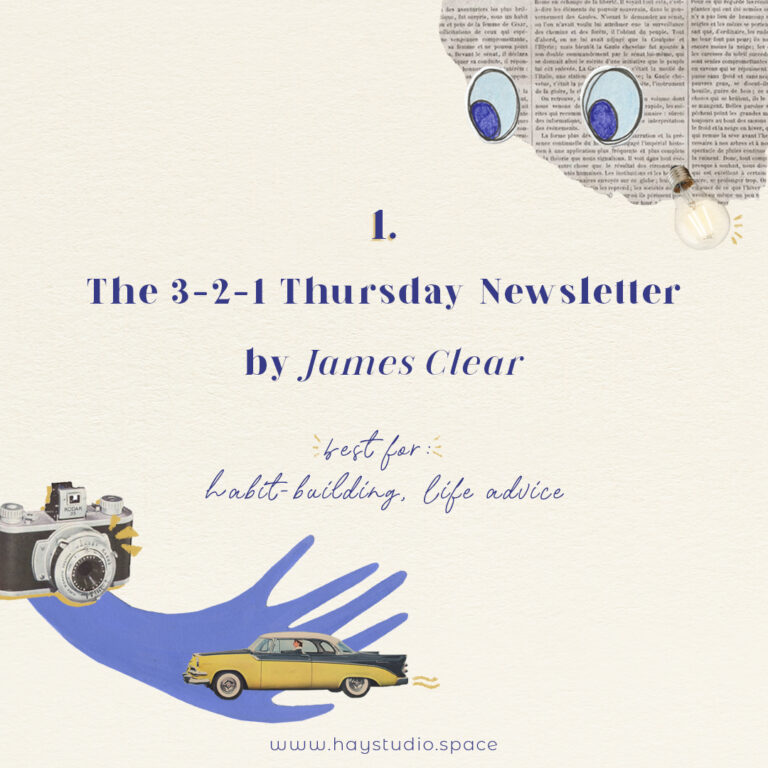 James Clear is clearly topping my list (pun intended). Ever since I discovered his works and subscribed to his newsletter, I have derived so much inspiration and knowledge on habit-building and life in general. His writing is succinct, straightforward yet informative, thus it is not surprising that his self-help book Atomic Habits is an international bestseller. His weekly newsletter titled "The 3-2-1 Thursday newsletter", contains 3 ideas from him, 2 quotes from others and 1 question to consider for the week. This simple structure makes the newsletter easy to read and fun to digest. According to his website, this newsletter has over a million subscribers til date (wow!). James Clear's newsletter is indeed one that I look forward to the most every week.
If you are intrigued, you can sign up via this link to subscribe.
Best for: habit-building, life advice
Free Inspiring Newsletters: #2 – Seth Godin
Anyone who starts dipping their toes in the world of productivity and self-development would definitely come across Seth Godin. He is an author of not just one, but 19 bestselling books (whut?!) including The Dip, This Is Marketing and Linchpin. If the world ever needs an ambassador for consistency, Seth Godin would be it, as he puts up a blog post almost every single day on his blog, seths.blog. While his content largely revolves around business tactics and marketing, much of those content can be extrapolated to how we deal with life's hardships and even interpersonal relationships.
Choose between daily blog posts and less frequent news and updates when you sign up on Seth Godin's blog here.
Best for: business advice, life advice
Free Inspiring Newsletters: #3 – Austin Kleon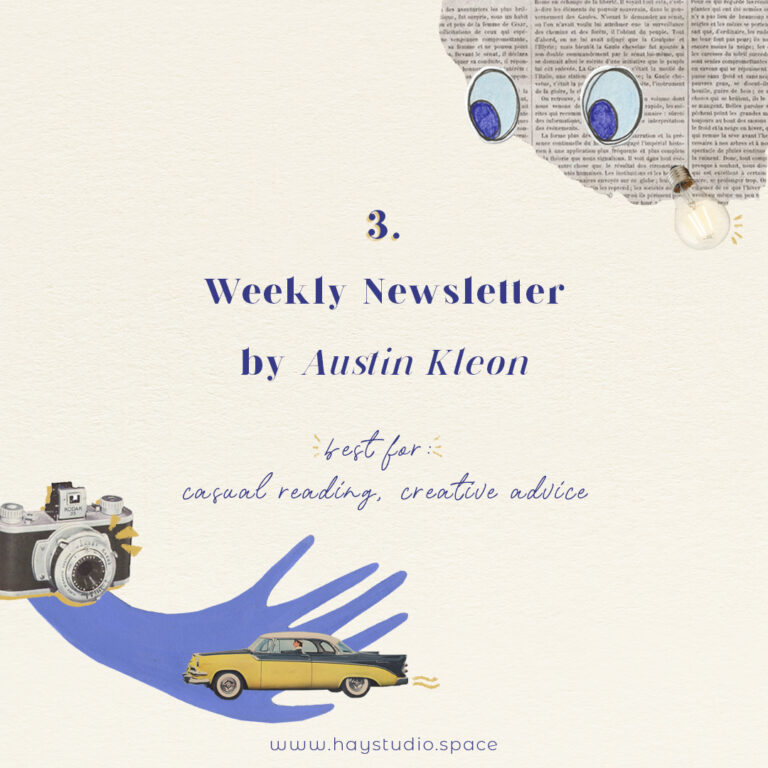 Austin Kleon is best known for his trilogy of books on creativity in today's digital age: Steal Like An Artist, Show Your Work! and Keep Going. Reading Steal Like An Artist inspired this blog article on ways to overcome a creative block. The way he writes is casual and reminiscent of a witty friend giving creative advice. I just completed the book Keep Going, and just as I have expected, it did not disappoint! Each week, Austin Kleon shares 10 things in his newsletter — things ranging from articles, books, music, to films. The stuff he shares demonstrates his ability to look out for magic in the mundane (a line I stole from Keep Going), and inspires me to do the same.
Sign up for Austin Kleon's newsletter on his website here.
Best for: casual reading, creative advice
Free Inspiring Newsletters: #4 – Four Minute Books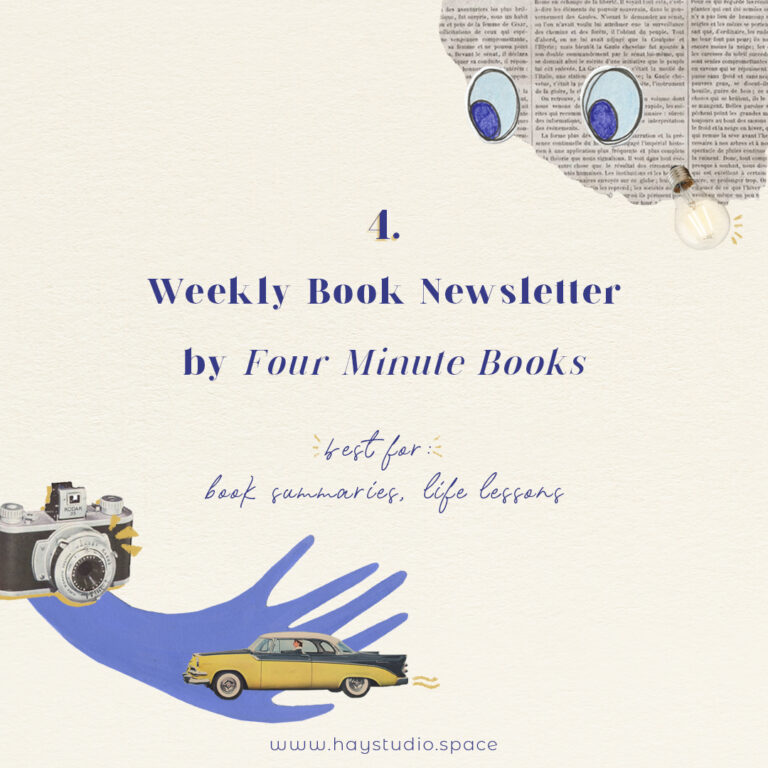 I started reading self-help and personal development books regularly since last year, so imagine my joy and excitement when I stumbled on Four Minute Books, a website dedicated to helping people learn more from books in less time. At the time of this writing, they have over 800 book summaries available on their website. Each one can be read in four minutes and covers three valuable lessons (productivity at its finest). Personally, I have discovered many interesting books from their weekly newsletter and video summaries which are available for free on their YouTube channel here. Each weekly newsletter contains a link to their latest animated video summary, as well as three book summaries on a variety of topics. Check out this animated summary that I particularly enjoyed:
Sign up for their newsletter on Four Minute Books.
Best for: book summaries, life lessons
Free Inspiring Newsletters: #5 – Intelligent Change
Intelligent Change is a company that retails elegant journals and planners with the aim of helping customers live a positive and fulfilling life. Among their products, The Five Minute Journal has been endorsed by Tim Ferriss, author of the bestselling book Four Hour Work Week. Their newsletter delivers a weekly dose of inspiration on happiness, productivity and mindfulness to the subscribers' inbox, accompanied by links to articles, videos and even podcasts. I especially enjoy a section called the "Success Corner", which contains a few paragraphs of life advice that are often great food for thought.
Sign up for the Intelligent Tuesday newsletter here.
Best for: personal growth, mindfulness
Subscribe to my YouTube channel for more productivity tips! Check this one out for more inspiration:
Disclaimer: Some of the links above are affiliate links, meaning I earn a small percentage of commission via those links, but it doesn't cost you anything extra!
Enjoyed this post? Spread the joy!
☆ Pin this image to help this article reach more people. ☆
Clicking Here Helps Me Pay My Bills...