February Bullet Journal Setup - Vintage Letter Theme (Free Printable!)
HAY, how art you? February is the month of love and this month, I decided to go for a theme related to self-love — A Letter to Myself. I'm still relishing in the vintage collaging phase, thus you can expect the usual kraft paper and dried botanical elements in this setup. Keep scrolling to see more of my February bullet journal setup!
February Bullet Journal Video
Check out the following video to watch the setup process and plan with me!
February Bullet Journal setup – Supplies I used
Here is a list of supplies I used for the setup this month: 
Journal – Tittle&Jot
Small stencil – Muji
Linen stamp, clear stamps – Taobao
February Bullet Journal – Cover Page
Similar to my 2022 bullet journal setup and January spreads, I decided to use an alphabet stencil for most of the headings in this month's setup. For the cover page, I kept the left side simpler with "February" written vertically, a linen stamp, a section for setting the month's intention, as well as a small collage at the bottom right-hand corner.
To add some contrast, I covered the page on the right with kraft paper and attached a floral-printed envelope at the centre. In line with the theme, I stamped on the words "dear me…" on a cream textured paper and inserted it in the envelope. To decorate the page corners, I used stamps and a gold tulip wax seal that fits the theme and colour palette really well.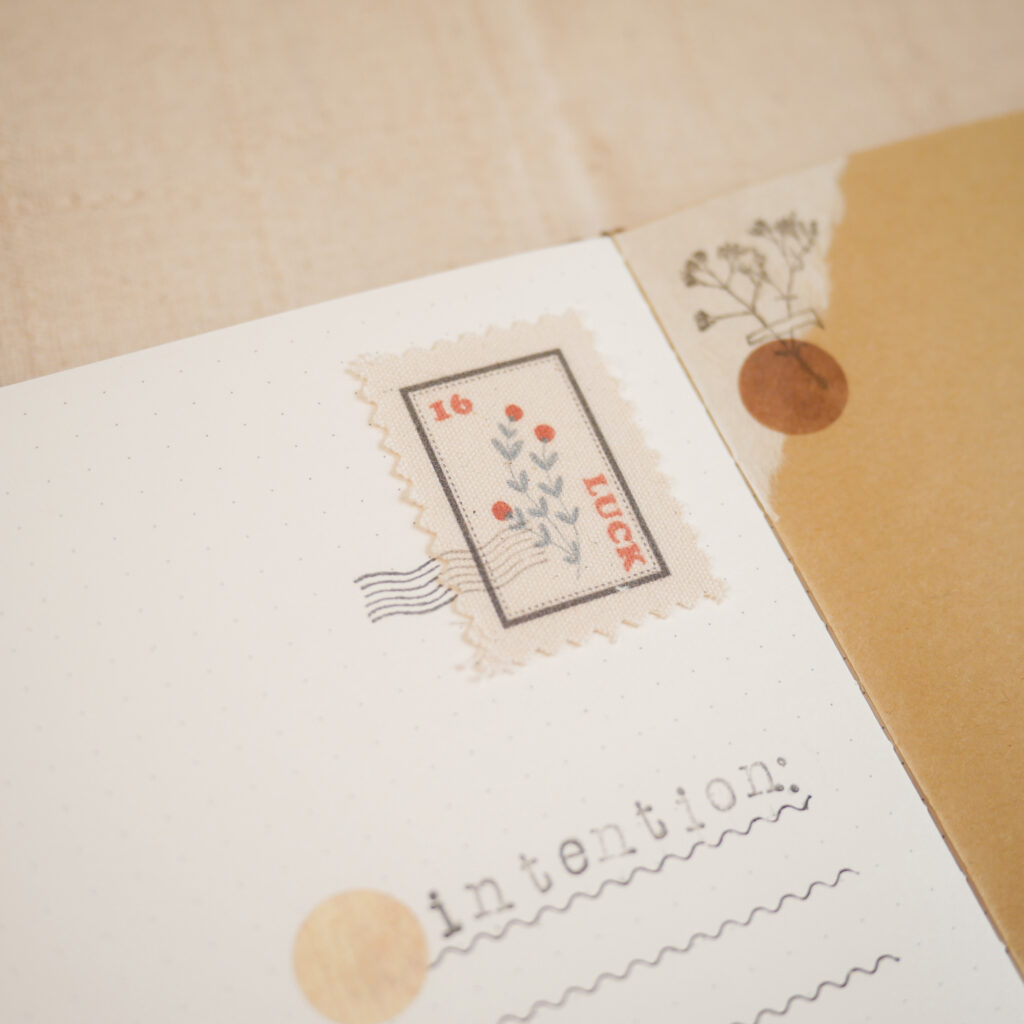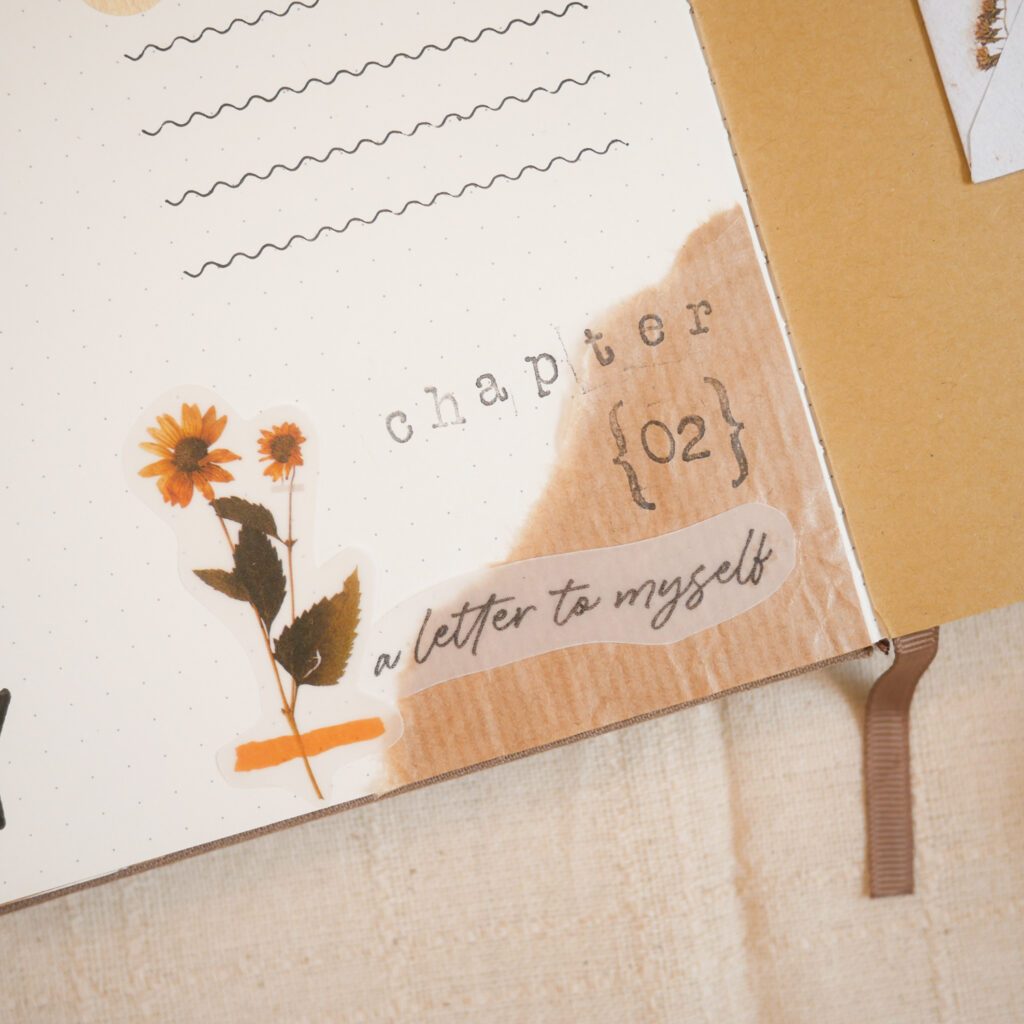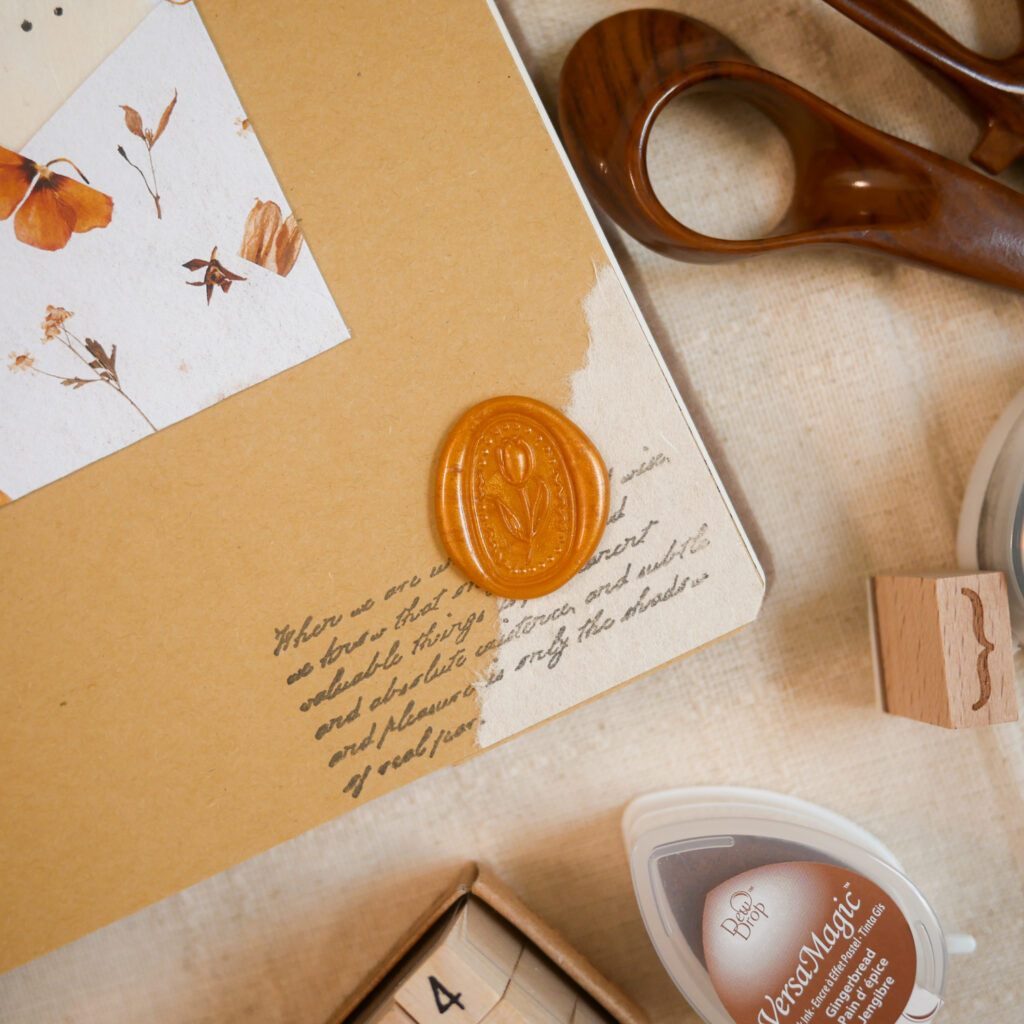 February Bullet Journal – Weekly Spread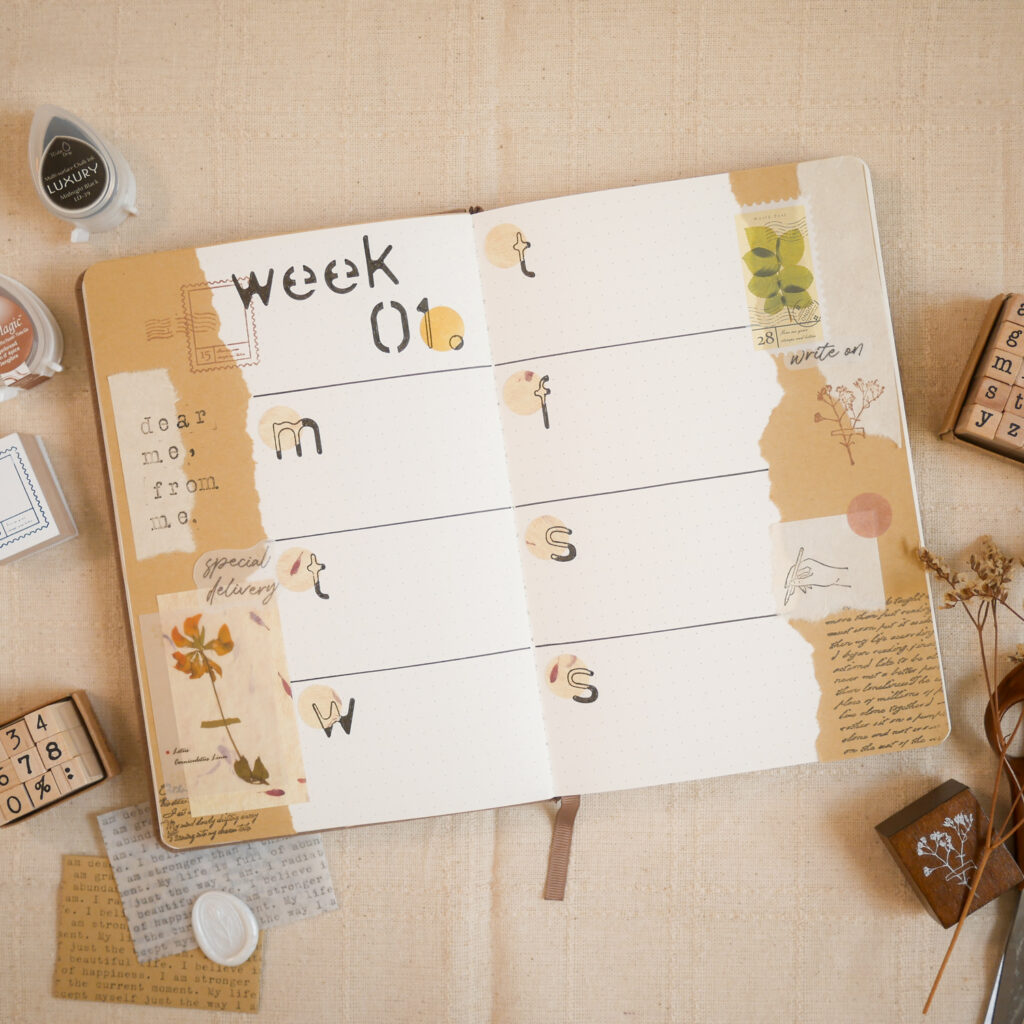 During one of the weeks in January, I created this weekly spread layout and really enjoyed using it. Hence, I recreated it as my first weekly spread in February. I started off by pasting torn kraft papers at the sides to create some layering and collaging space. Next comes the fun part — decorating and layering using stamps, paper scraps and stickers!
For each day of the week, I pasted cream paper dots and used the alphabet stencil to layer the letters of the week over them.
Free Journaling Printable – Vintage Journaling Set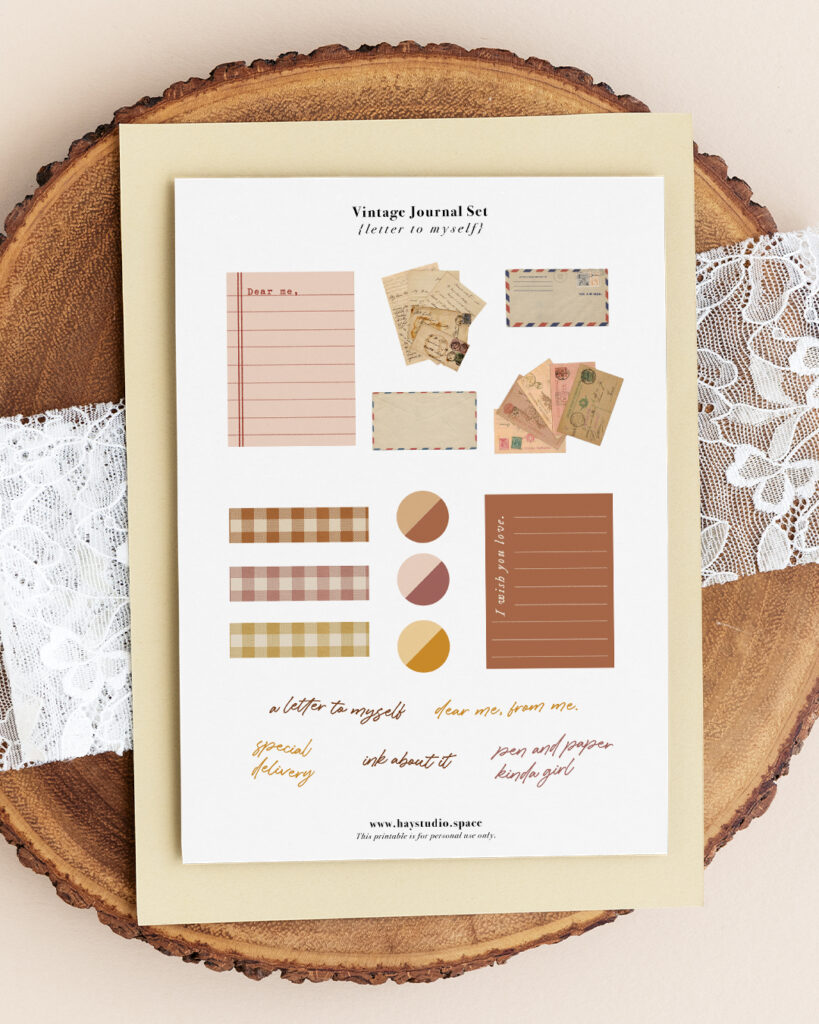 For this setup, I created a free printable centred around the theme "a letter to myself". It includes images of vintage ephemera, mini letters, faux washi tapes, and short phrases related to the theme.
To download this free journaling printable, click here!
More Bullet Journal Ideas
Subscribe to my YouTube channel for more bullet journal setups! Check out these videos for my setup for the previous months:  
***
 If you enjoyed this article, share the love with your bujo pals! To stay updated on future blog posts, subscribe here. 
Related articles, videos and resources:
Article – 5 Unique & Creative Wax Seal Ideas
Disclaimer: Some of the links above are affiliate links, meaning I earn a small percentage of commission via those links, but it doesn't cost you anything extra!
Enjoyed this post? Spread the joy!
☆ Pin this image to help this article reach more people. ☆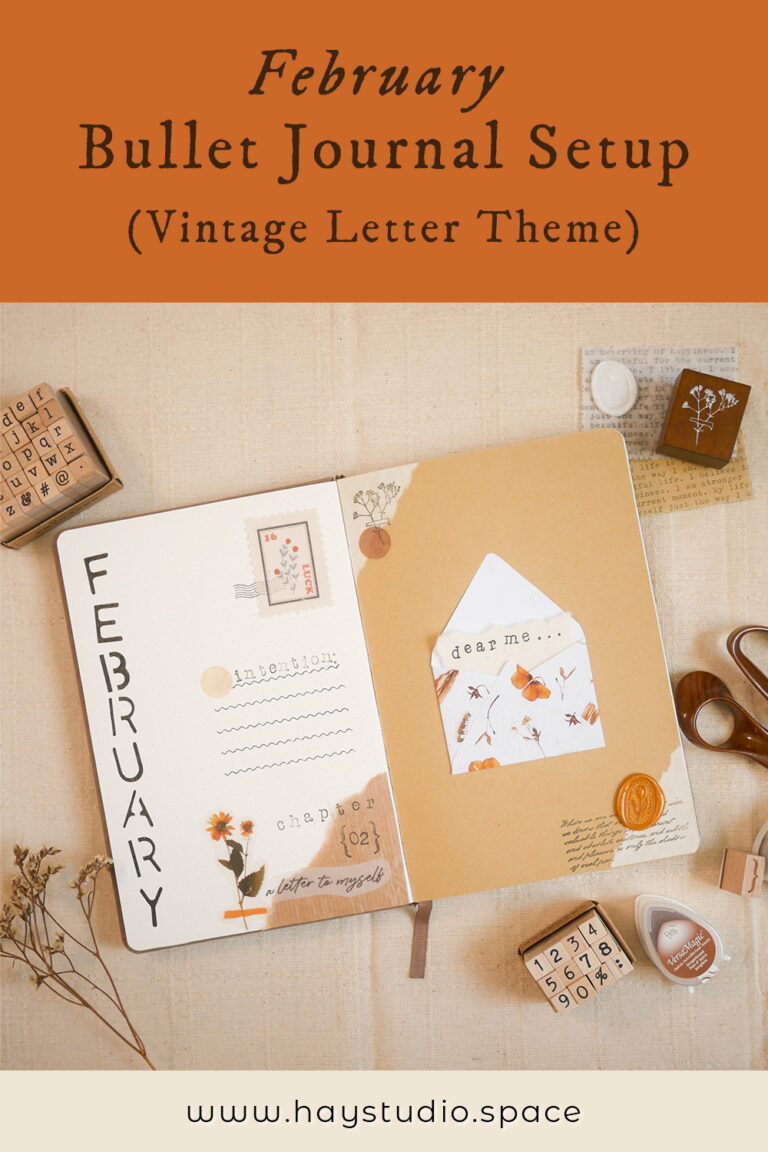 Clicking On These Helps Me Pay My Bills...