Derwent Watercolour Pencils Swatches (12 Colour Tin)
HAY, how art you? I've been wanting to try watercolour pencils for the longest time – so I grabbed the 12 colour Derwent watercolour pencils tin when I saw it on sale at my local art supply store, Art Friend. Here is a short post to share the swatches of all the colours included in this set, and my first impressions of this product! 
Check out the following video to watch a short snippet of the swatching process!
Derwent Watercolour Pencils 12 Colour Tin
The 12 colours included in the tin are:
06 Deep Cadmium
10 Orange Chrome
14 Deep Vermilion
20 Crimson Lake
23 Imperial Purple
32 Spectrum Blue
35 Prussian Blue
45 Mineral Green
47 Grass Green
59 Golden Brown
61 Copper Beech
67 Ivory Black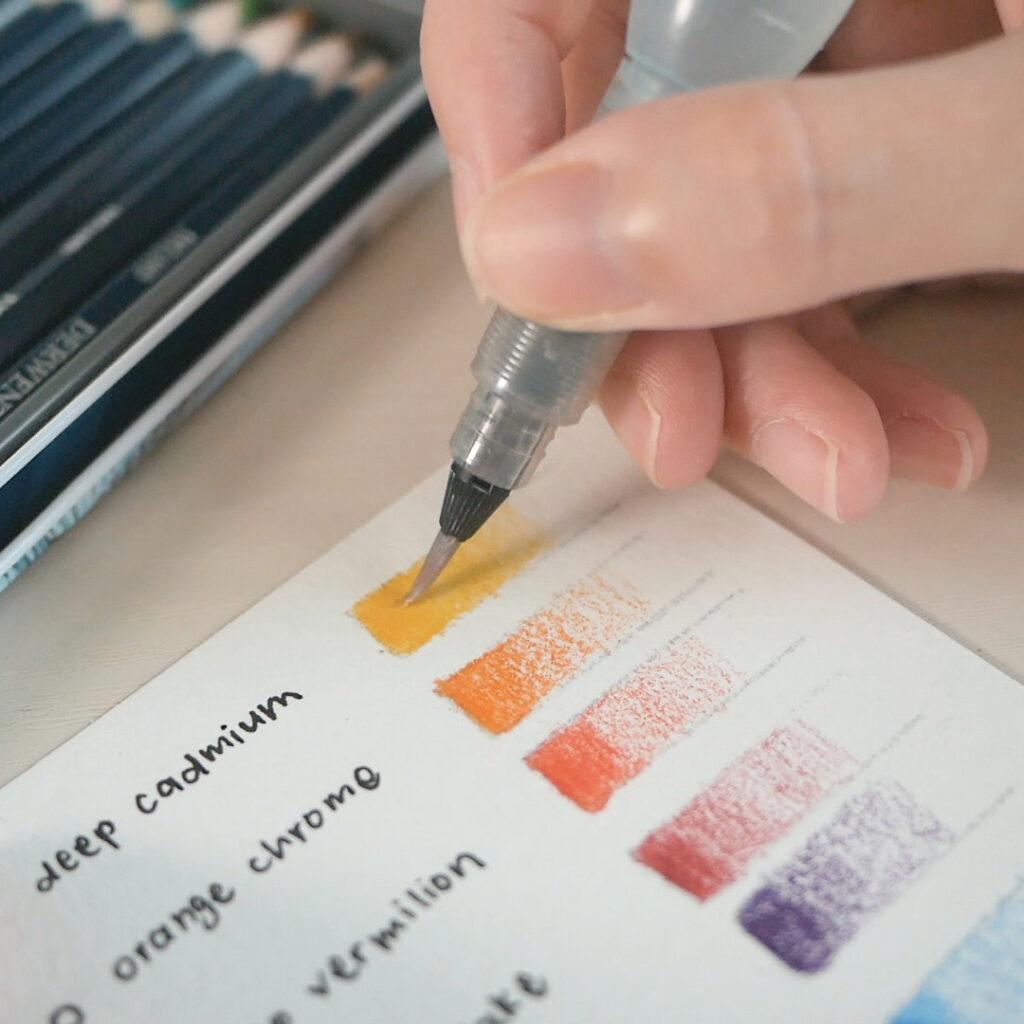 I tested all the colours on Strathmore 200 series watercolour paper, and I was pleasantly surprised by how pigmented the colours are. The colour selection covers the basic colours, but in vibrant and saturated tones. 
Upon wetting the swatches with a Pentel aquash water brush, the colours dry while retaining their vibrancy. I noticed that it was a little harder to blend the darker colours smoothly, but I cannot be sure if it was due to the watercolour pencils or the paper I was using. 
Since this is my first set of watercolour pencils, I don't really own a similar product to compare these Derwent watercolour pencils to. Overall, I love how they performed and I'm looking forward to using them more in my art projects!
Derwent Watercolour Pencils Swatches
Before blending with water: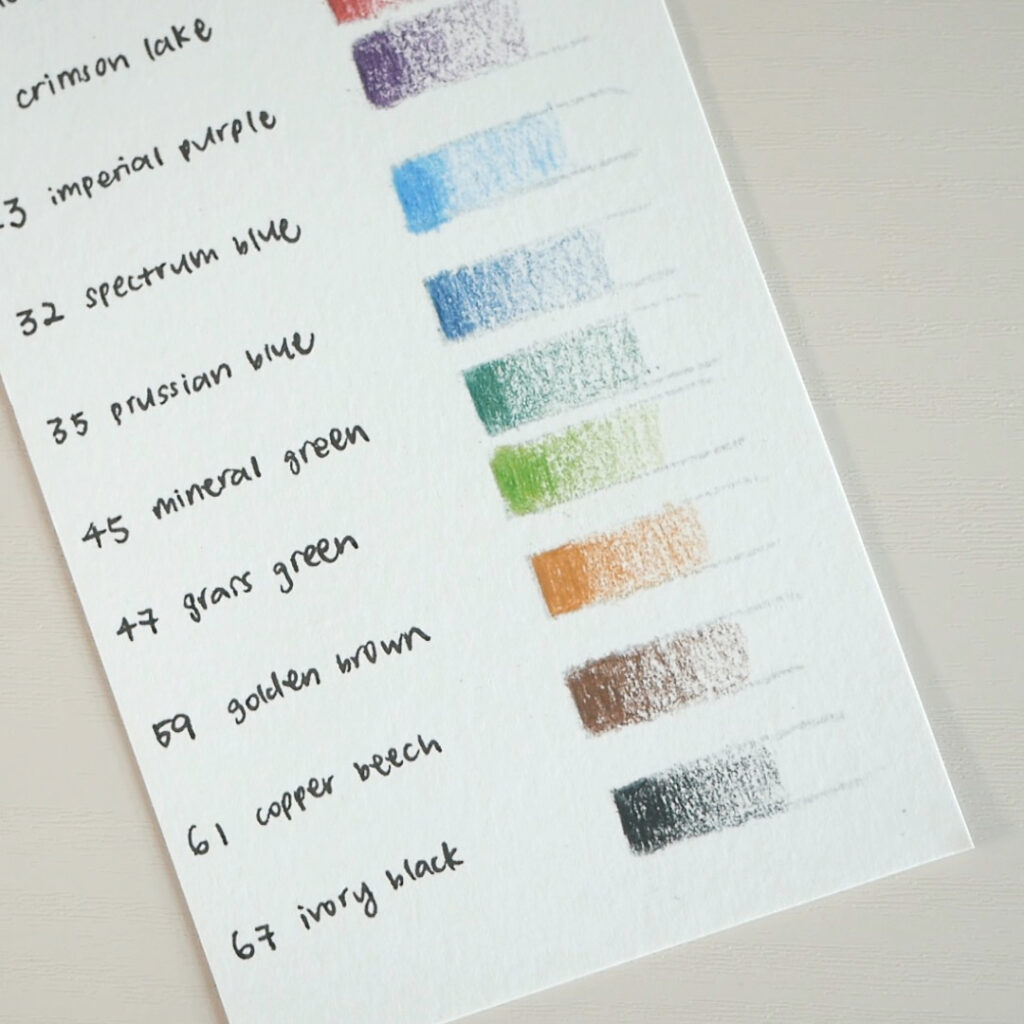 After blending with water: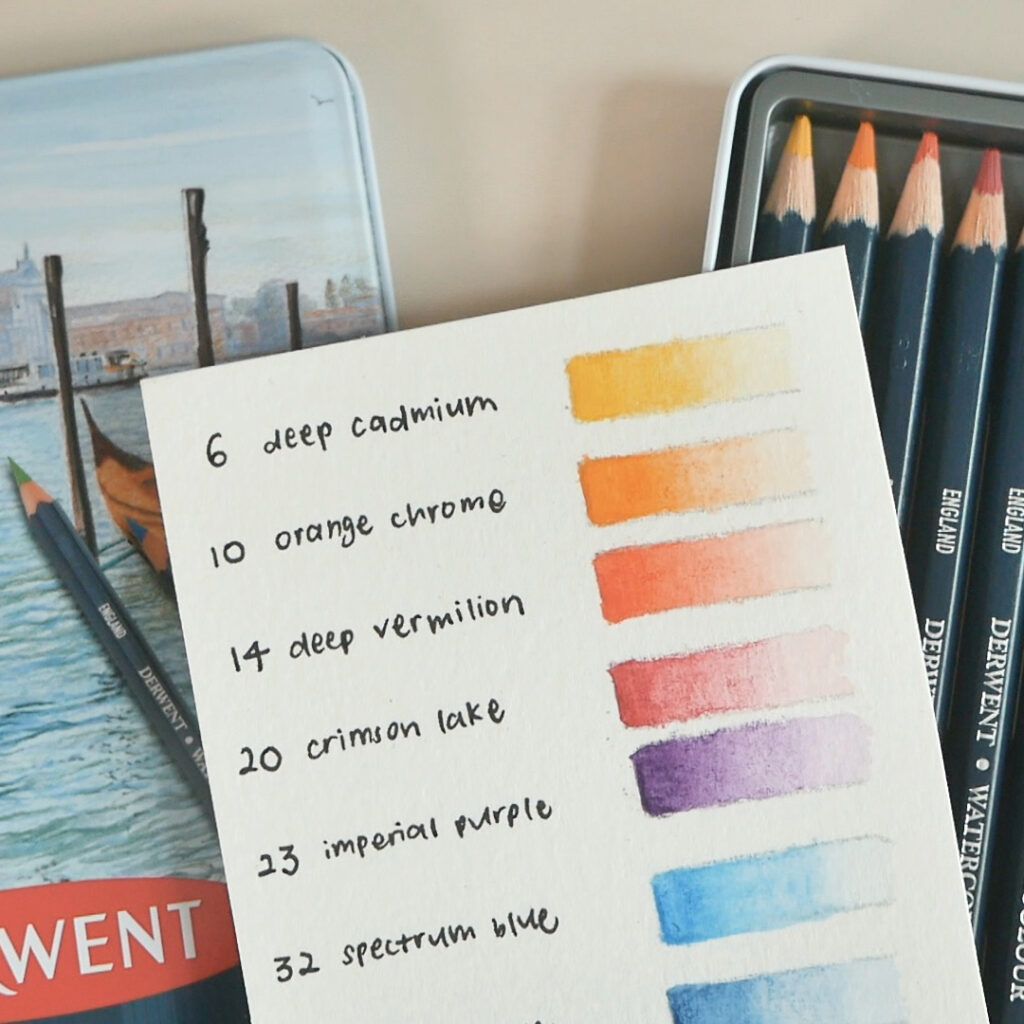 Subscribe to my YouTube channel for more artventures! Check out these videos for some inspiration:  
***
 If you enjoyed this article, share the love with your stationery pals! To stay updated on future blog posts, subscribe here. 
Related articles, videos and resources:
Disclaimer: Some of the links above are affiliate links, meaning I earn a small percentage of commission via those links, but it doesn't cost you anything extra!
Enjoyed this post? Spread the joy!
☆ Pin this image to help this article reach more people. ☆
Clicking On These Helps Me Pay My Bills...