December Bullet Journal Setup - Cosy Home Theme Collage
HAY, how art you? We are down to the last 31 days of 2021 (*inserts shocked emoji*) and in this article, I am sharing some photos of my December bullet journal setup. I wonder if it is an end-of-year thing, but I have been feeling the urge to revamp my room and clean and organise it properly. Instead of a holiday or Christmas-related theme, I decided to set up my journal to the theme of "cosy home", using photo cutouts from IKEA's catalogue magazine. Keep scrolling to see the setup!
December Plan With Me Video
Check out the following video to watch the setup process and plan with me!
COllage Bullet JOurnal Supplies
Here's a list of supplies I used for the setup this month: 
December Bullet Journal 

– Cover Page
For the cover page collage, I picked a cosy shelfie photo from IKEA's catalogue magazine, and paired it with an iPhone camera sticker. I kept the colour scheme to light brown tones and greens to match the house plants in the photo. I was also excited to use some of my new supplies, like the linen stamp and a couple of clear stamp sets I got recently! 
December Bullet Journal 

– Monthly Log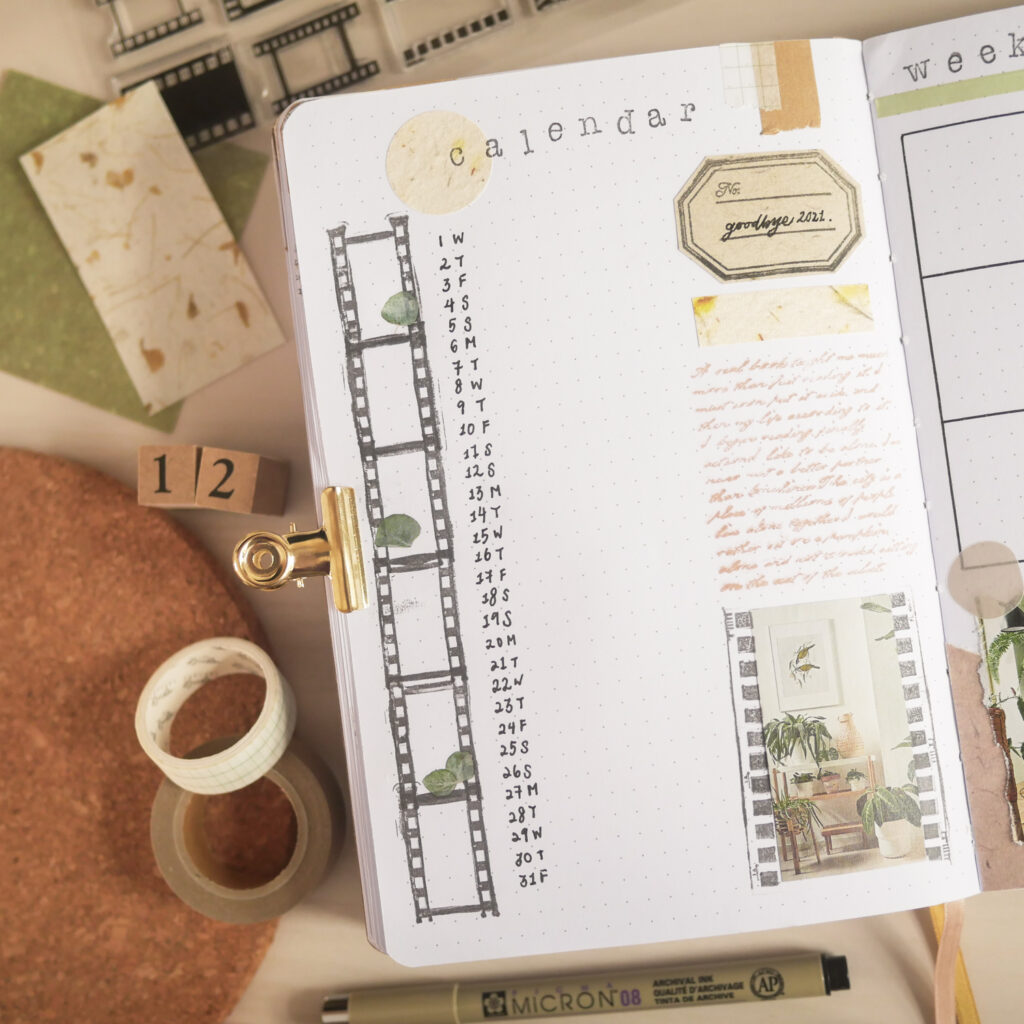 For the monthly log, I used a vertical layout which is simple and easy to set up. The film roll at the side is created using a clear stamp, and I love the final effect! I also stamped the film roll borders at the sides of the photo cutout to match. 
December

 Bullet Journal – Weekly Log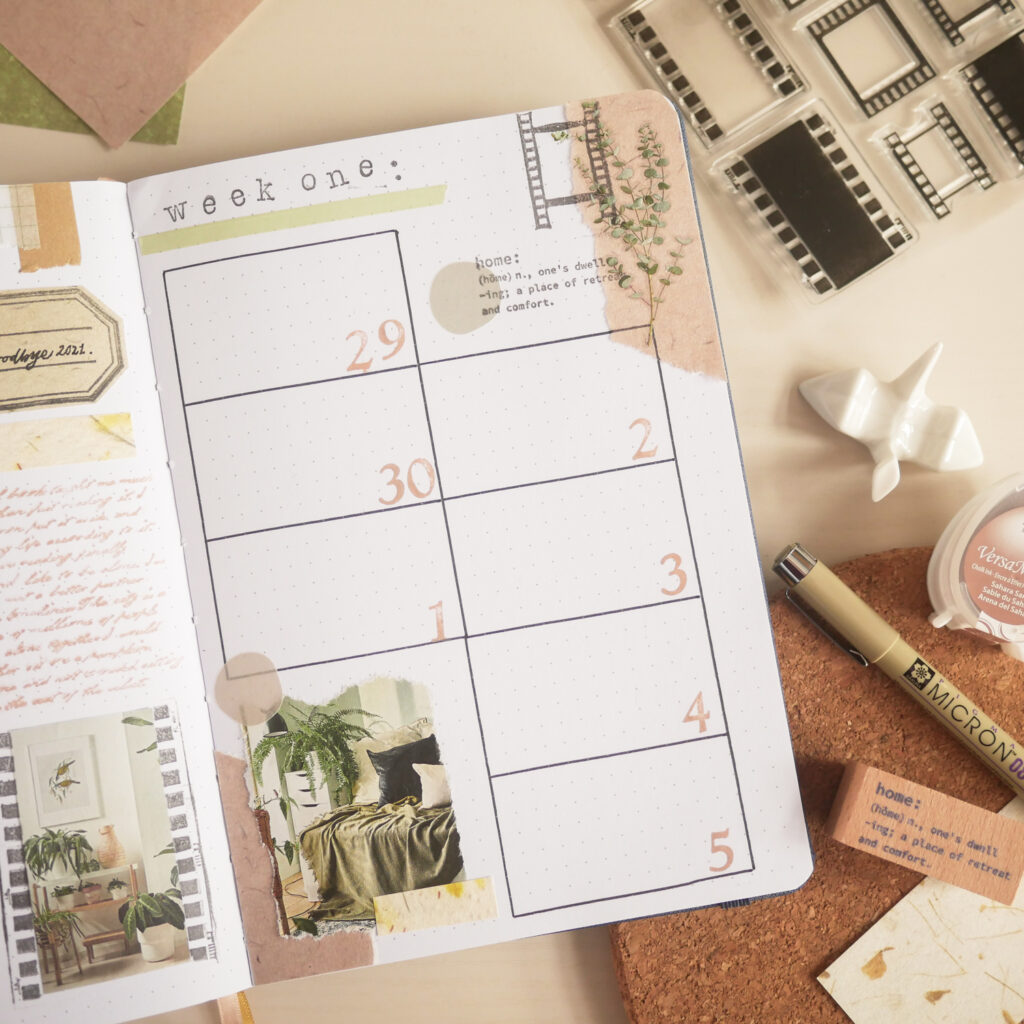 Here is my first weekly log for December, which has two columns for days of the week and two small collages at the corners. I tore the edges of the photo to create a worn out effect and combined it with textured papers. I knew I had to include the "home" stamp, since it is perfect for this theme!
More Bullet Journal Ideas
Subscribe to my YouTube channel for more bullet journal setups! Check out this video for my setup for the previous months:  
***
 If you enjoyed this article, share the love with your bujo pals! To stay updated on future blog posts, subscribe here. 
Related articles, videos and resources:
Article – How to Create a Notion Bullet Journal
Disclaimer: Some of the links above are affiliate links, meaning I earn a small percentage of commission via those links, but it doesn't cost you anything extra!
Enjoyed this post? Spread the joy!
☆ Pin this image to help this article reach more people. ☆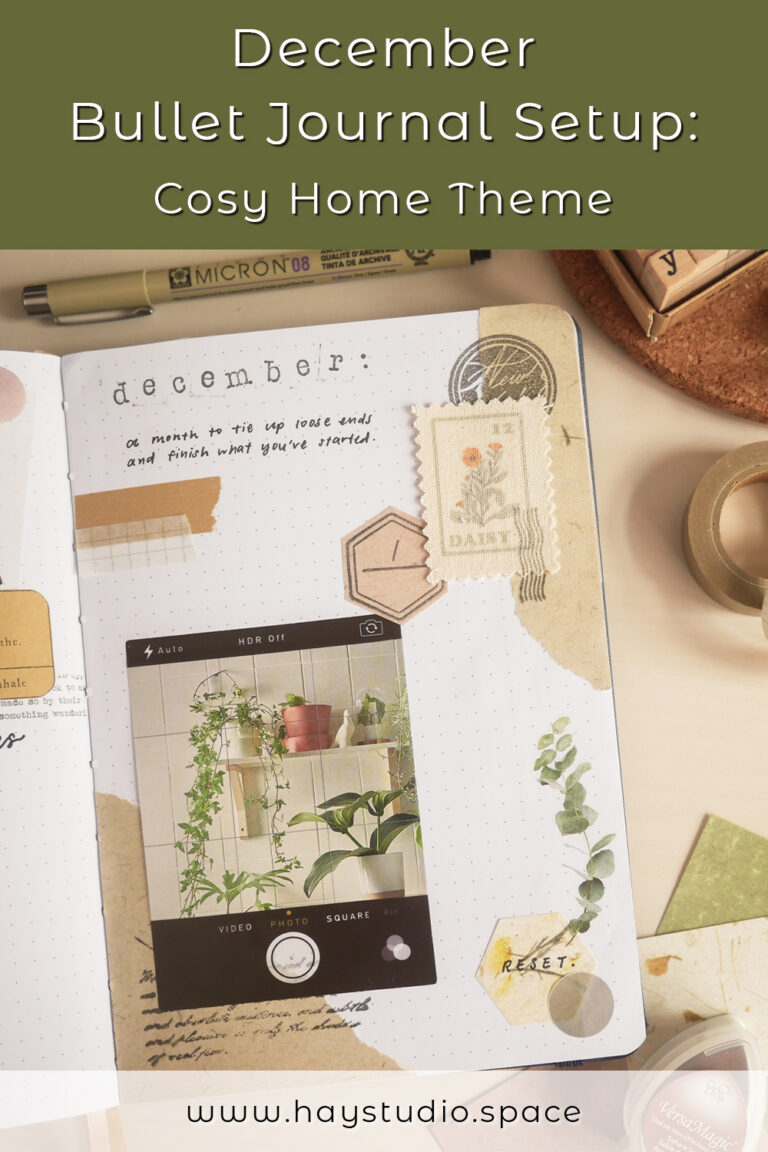 Clicking On These Helps Me Pay My Bills...