December Bujo Setup - Cosy Cafe Theme (Free Printable!)
HAY, how art you? Can't believe we are almost done with 2023! Here's the last bullet journal setup for December before I migrate to a new journal for 2024. I'm ending the year with cosy vibes with a café theme. As usual, I designed a free printable set titled Café Hopping to go along with these spreads. You can find the download link at the end of this article. Keep scrolling to see more of my December bujo setup!
December Bujo Setup Video
Watch the following video for the setup process and plan with me!
What I used this month: 
Mini alphabet stencil – Muji
Glitter star stickers – Daiso
You can use my affiliate codes to purchase stationery at the following stores:
December Bujo Setup Cover Page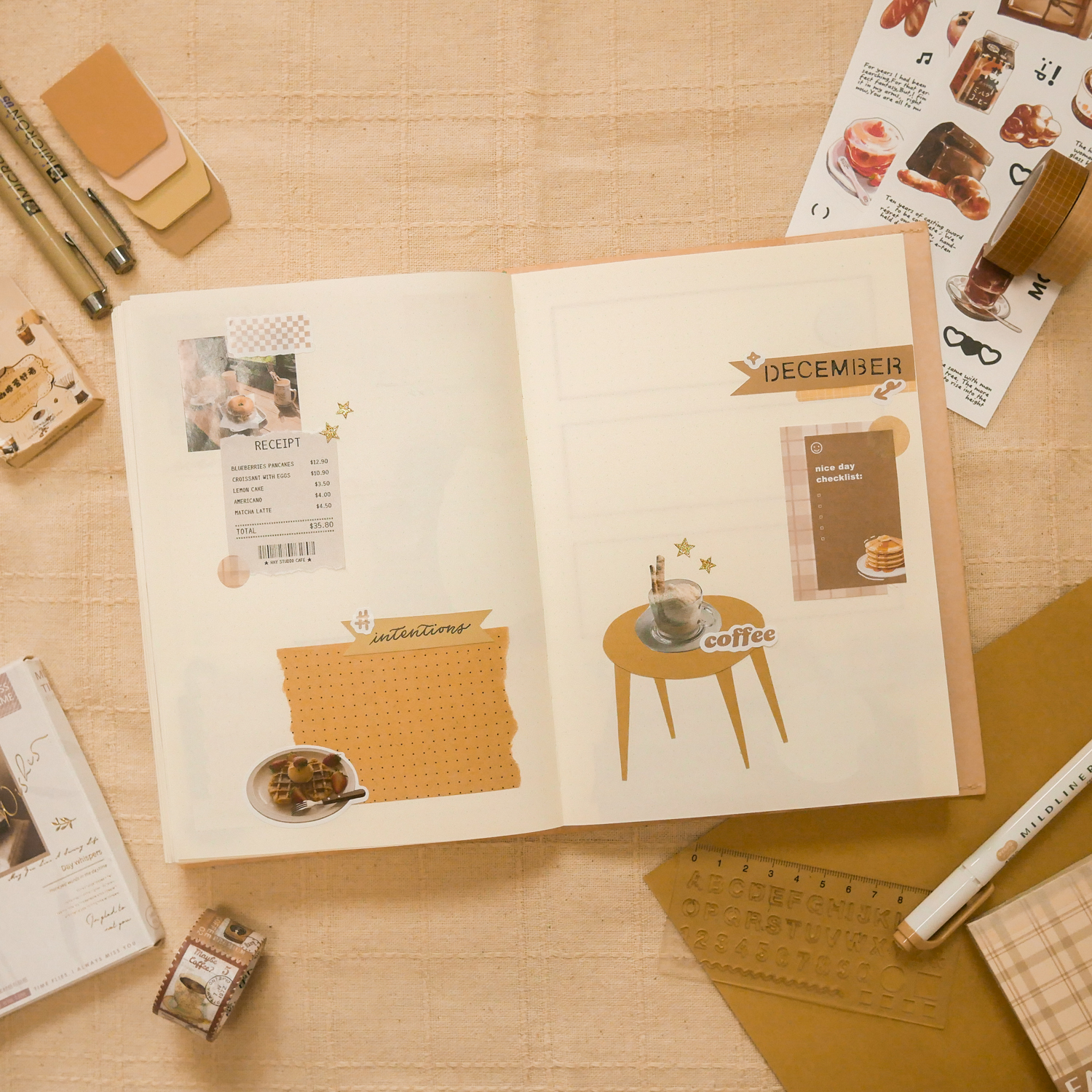 Collage Page
Surprise, surprise! This month's cover page has lots of white space, which is quite different from my usual cover pages in the past. I am kind of digging this minimalistic look, and the entire layout looks very clean and neat. 
I made a little coffee table by cutting an oval and four irregular strips from kraft paper. Then, I pasted a cute drink sticker on it, accompanied by gold glitter stars and a coffee text sticker. 
For the header area, I used a checklist cutout from my free printable set, and traced the word December using a small alphabet stencil from Muji. 
Intentions Page
The intentions page is kept minimal too, with a collage on top and a kraft paper section below for writing. My favourite element is the faux café receipt I designed! It is available in two colour combinations in my Café Hopping freebie.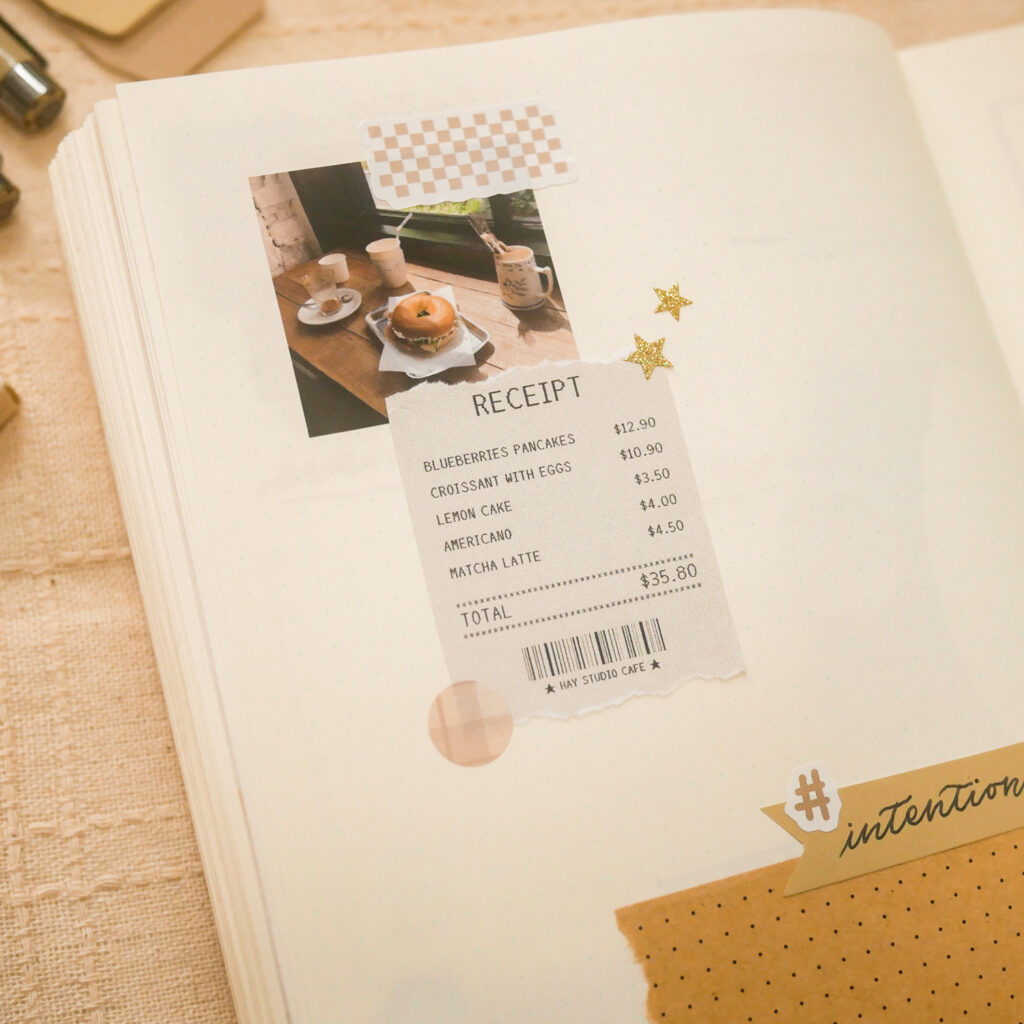 December Bujo Setup Weekly Spread 1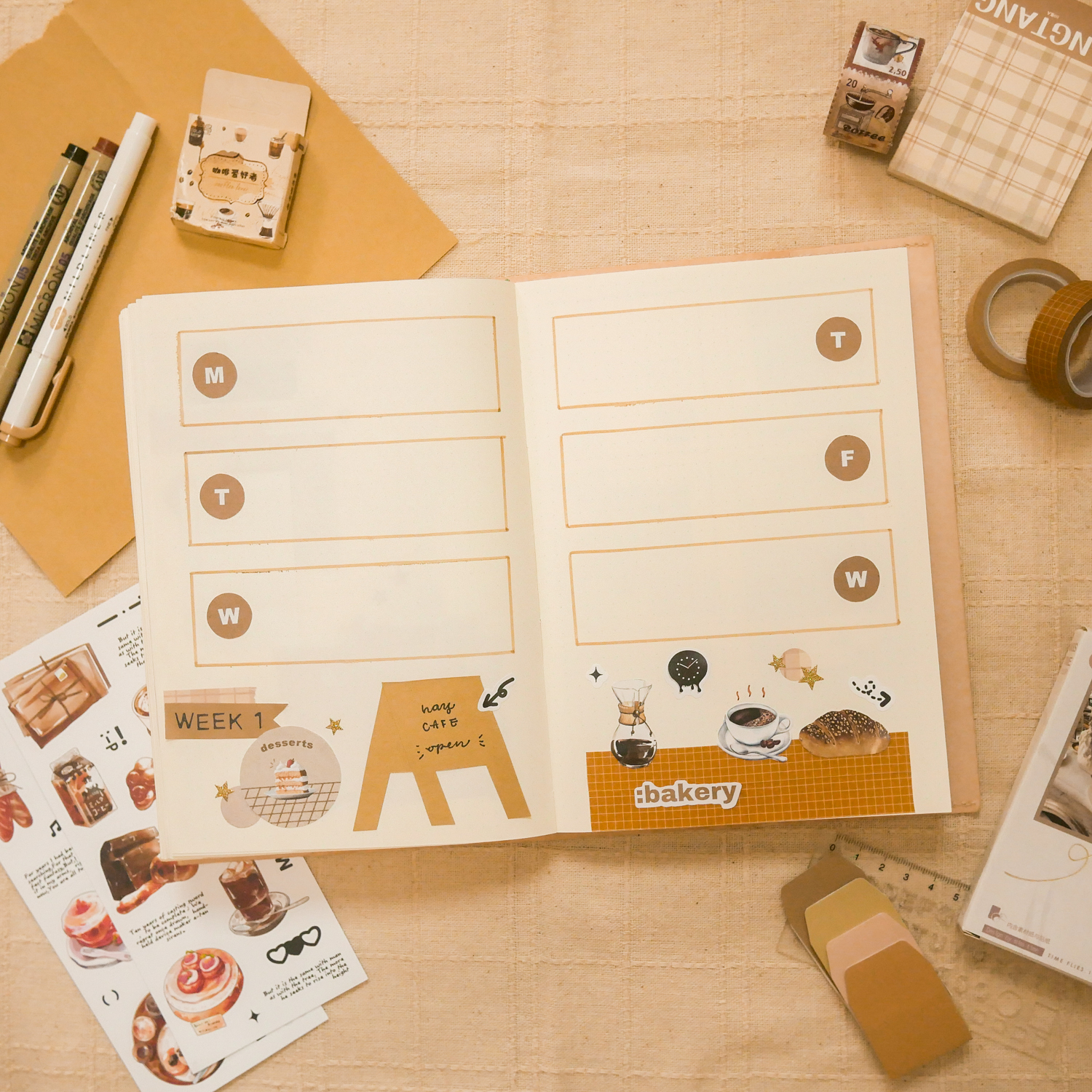 For the first weekly spread, I went with a simple horizontal layout. First, I drew six boxes for the daily sections and pasted round headers that I printed. To decorate the rest of the left page, I made a café signage from kraft paper. On the right, I used grid washi tape to make a counter top, and pasted different coffee and bread stickers on top to decorate. 
December Bujo Setup Weekly Spread 2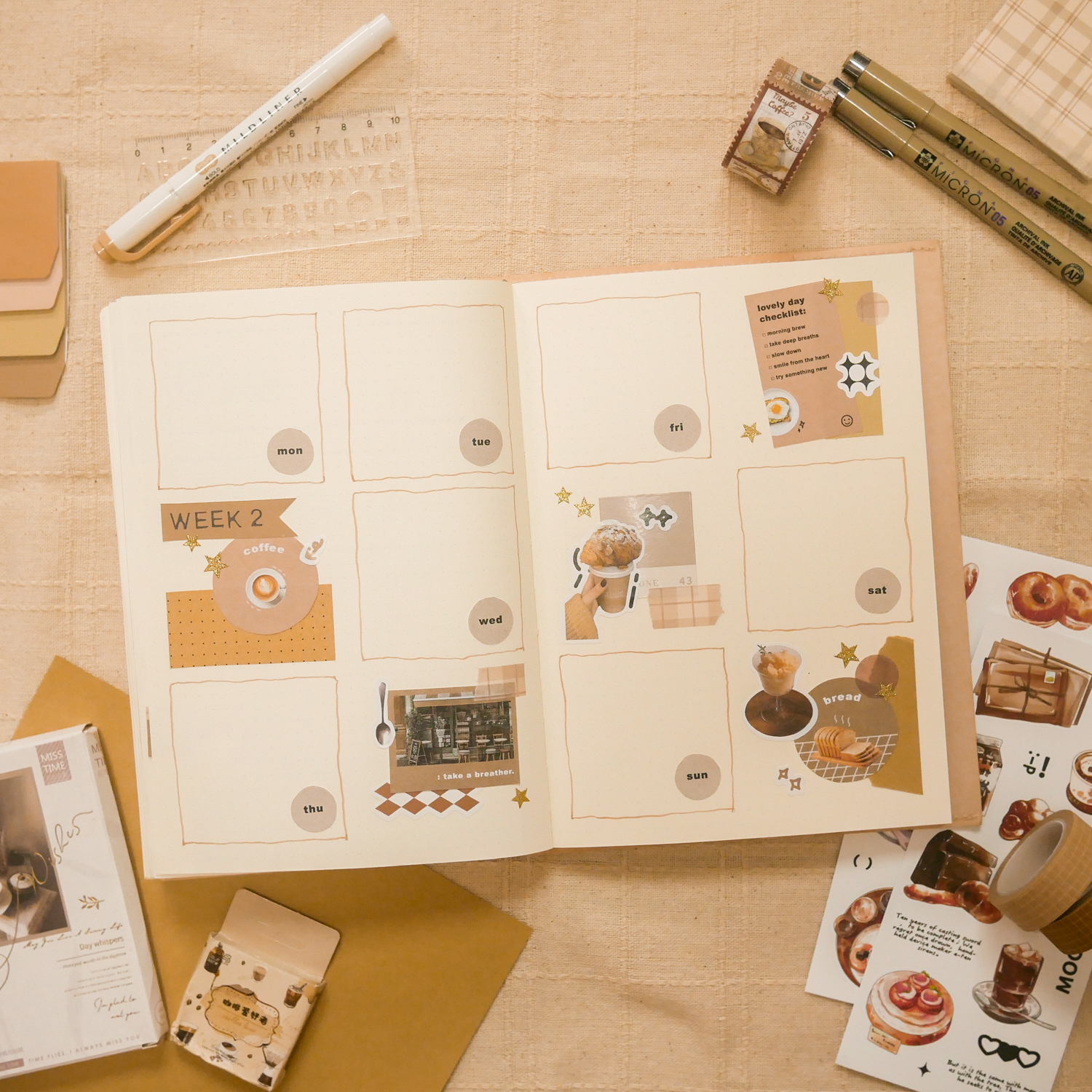 For the second weekly spread, I went with my favourite boxy layout. Each daily section measures 12 grids by 12 grids, and the daily headers were printed as well. Then, I had fun layering stickers, cutouts and washi tapes for each mini collage.
Free Journaling Printable – Cafe Hopping
This month's free printable screams cosy! It comes with several café photo Polaroids, receipts, checklists and cute faux round stickers featuring various café food. Hope you'll have a good time using these elements, just like I did!
Tag me on Instagram (@hay.studio) if you share any of your creations that contain my free printables; I would love to see them. Happy journaling!
To download this free journal kit, click here.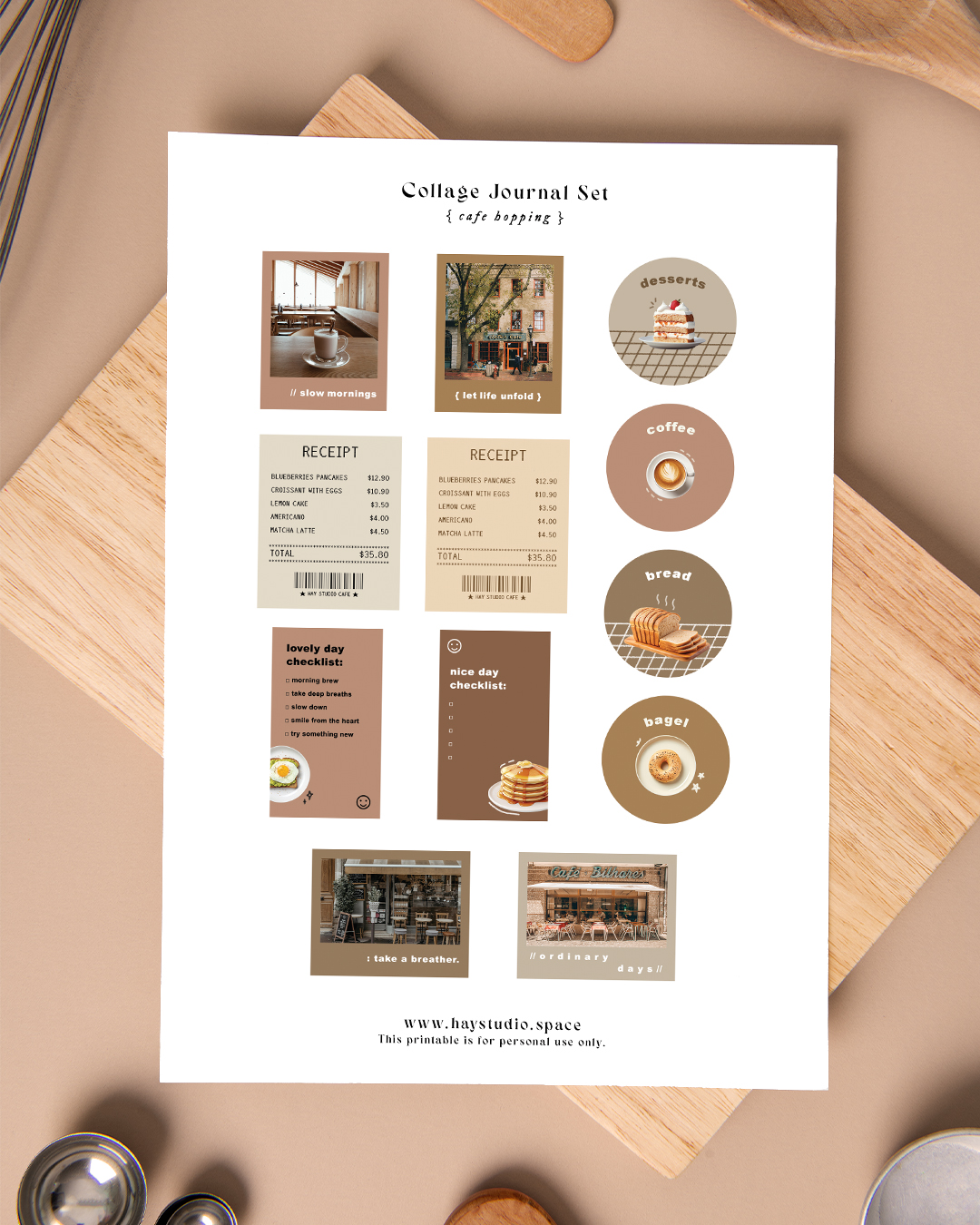 More Bullet Journal Ideas
Subscribe to my YouTube channel for more bullet journal setups! Check out these videos for my setup for the previous months:  
***
 If you enjoyed this article, share the love with your bujo pals! To stay updated on future blog posts, subscribe here. 
Related articles, videos and resources:
Disclaimer: Some of the links above are affiliate links, meaning I earn a small percentage of commission via those links, but it doesn't cost you anything extra!
Enjoyed this post? Spread the joy!
☆ Pin this image to help this article reach more people. ☆
Clicking On These Helps Me Pay My Bills...