August Bujo Setup - Nautical Theme (Free Printable!)
HAY, how art you? This August, I decided to go for a nautical theme in my bullet journal using a soft baby blue and light brown colour scheme. It reminds me of a calm nursery room! I hardly use blues in my journal spreads, and it was fun to explore this palette. To accompany the theme, I designed a free journaling printable titled Nautical Voyage. You can find the download link at the end of this article. Without further ado, let's check out my August bujo setup!
Watch the following video for the setup process and plan with me!
What I used this month: 
Wood grain printed papers, stars printed papers – Daiso
You can use my affiliate codes to purchase stationery at the following stores:
August Bujo Setup Cover Page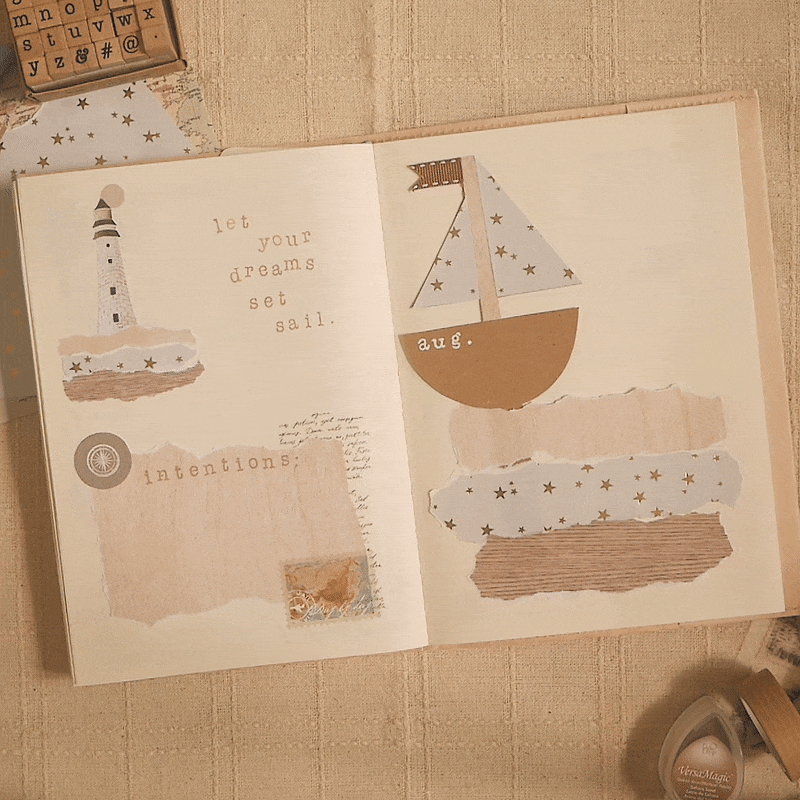 Collage Page
The collage page features a paper boat made from kraft card paper and various printed papers. It can be removed from the paper ocean waves, and I imagine that it can be used as a bookmark for this month's spreads. 
To make the boat movable, I attached a paper strip behind it. Glue tape was applied only on the sides of each torn paper, so that the paper strip can move across them freely. As I didn't have any suitable blue papers in my stash (besides the baby blue starry paper), I ended up with this neutral blue and brown colour palette for the theme. I am not complaining though, and the colour scheme reminds me of a cute and calm nursery room.
Intentions Page
On the left, I made a little collage of a lighthouse and utilised small pieces of torn papers to represent the ocean. Keeping it simple, I stamped a short quote beside it. 
For some functionality, I added a section for setting intentions of the month at the bottom of the page.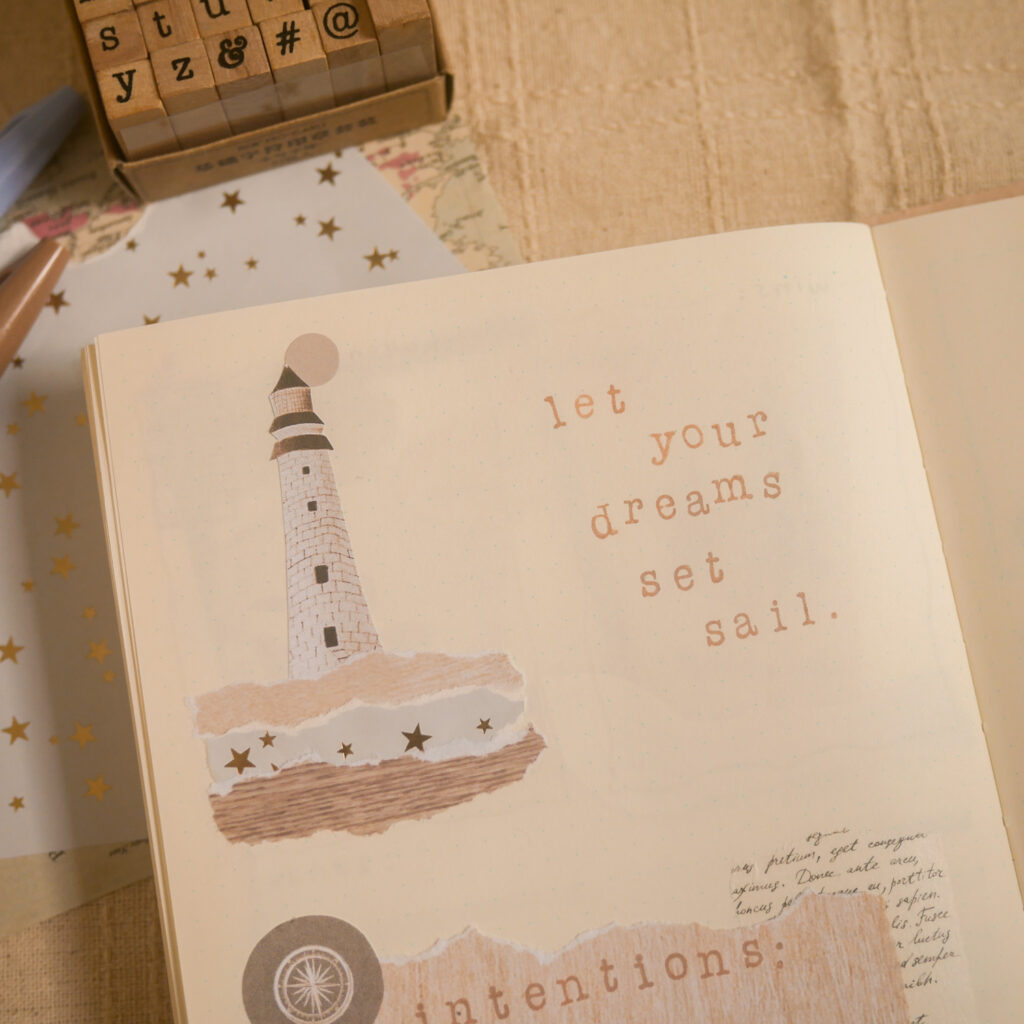 August Bujo Setup Weekly Spread 1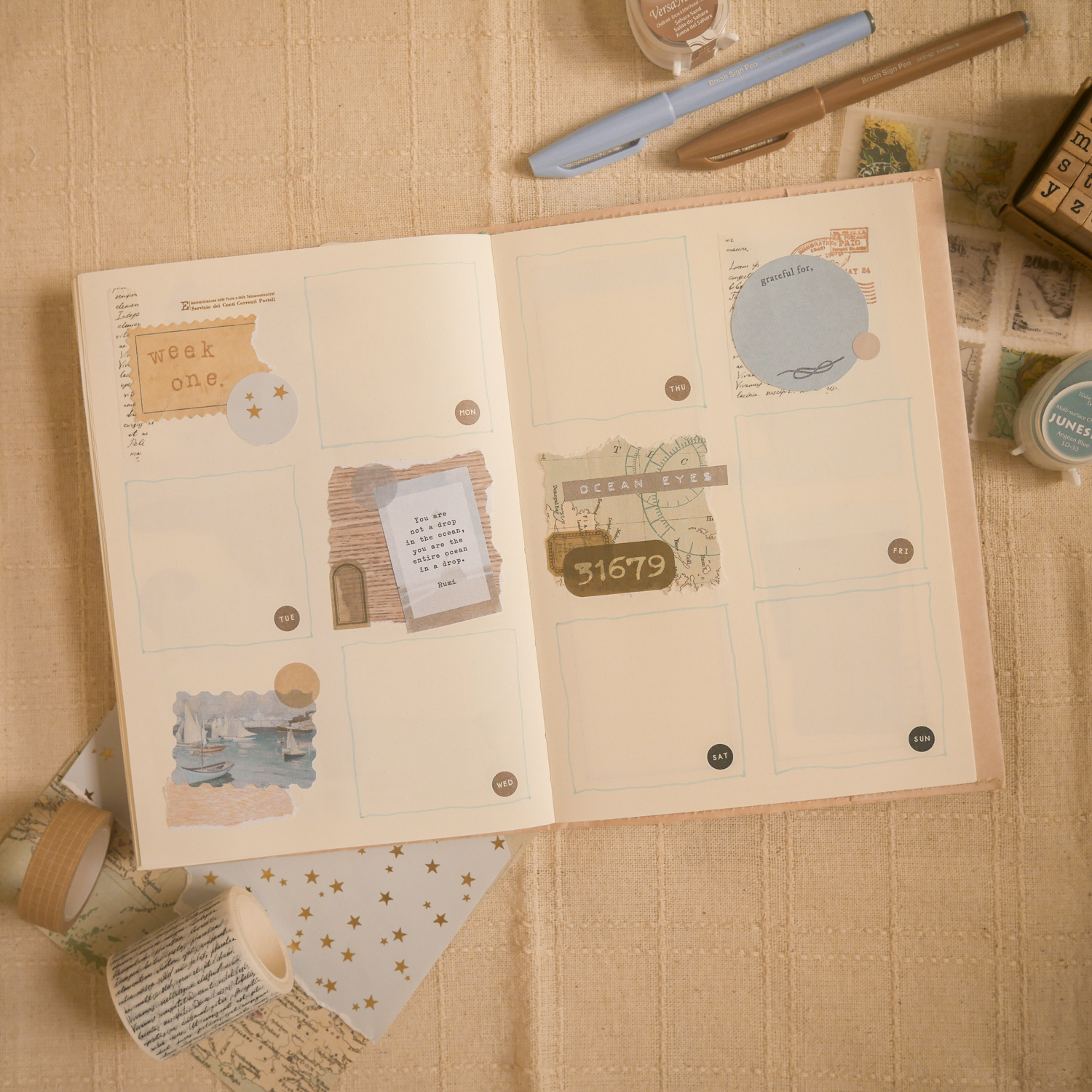 For the first August weekly spread, I drew seven square boxes for the daily sections and marked them using Suatelier dot stickers. The rest of the spaces were filled with mini collages using a mishmash of scrapbooking papers, stickers, washi tapes, and cutouts from my Nautical Voyage free printable set. 
August Bujo Setup Weekly Spread 2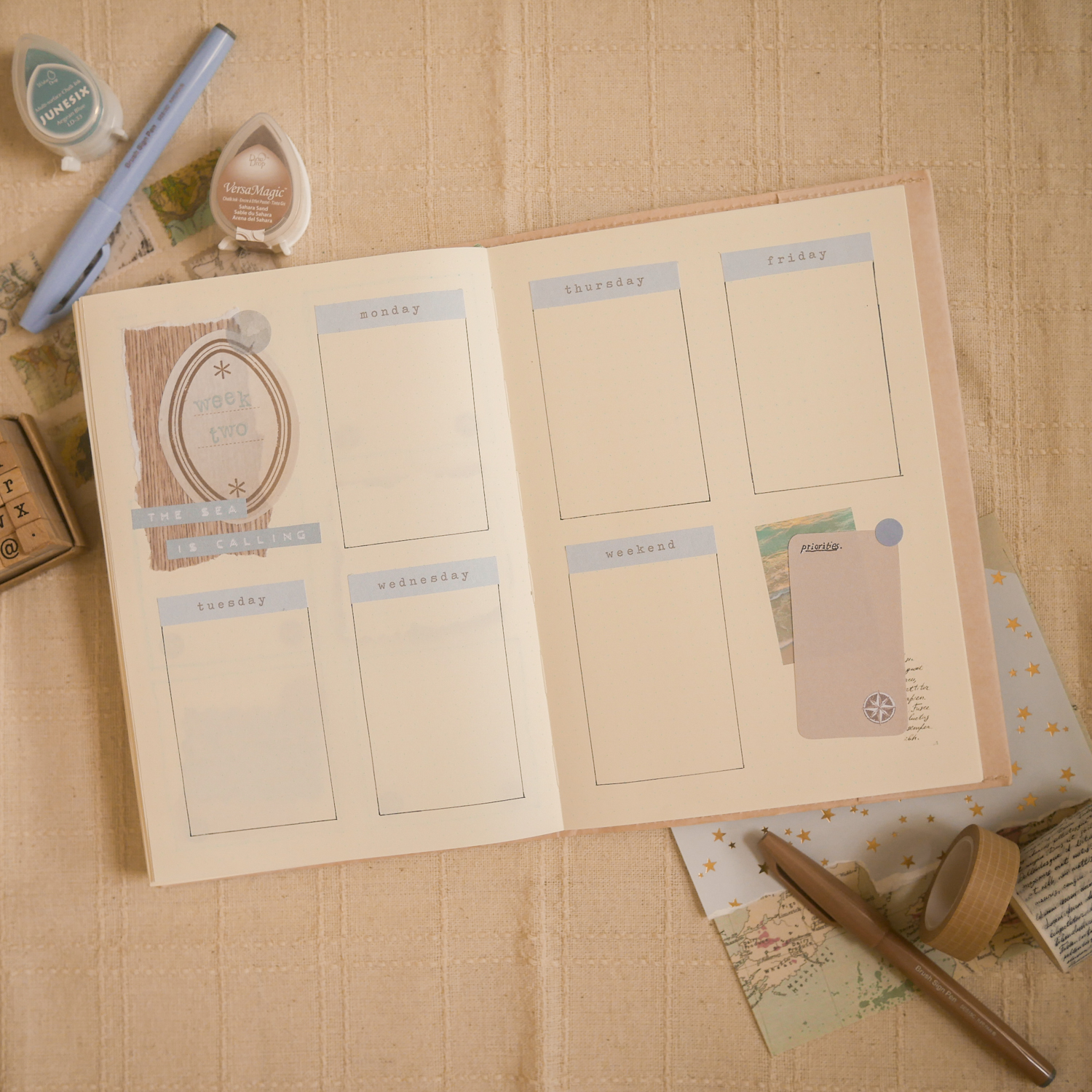 The second weekly spread features a neat boxy layout. The daily headers were printed in matching colours with the theme and then pasted. There is also a priorities section for setting the week's to-dos.
Free Journaling Printable – Nautical Voyage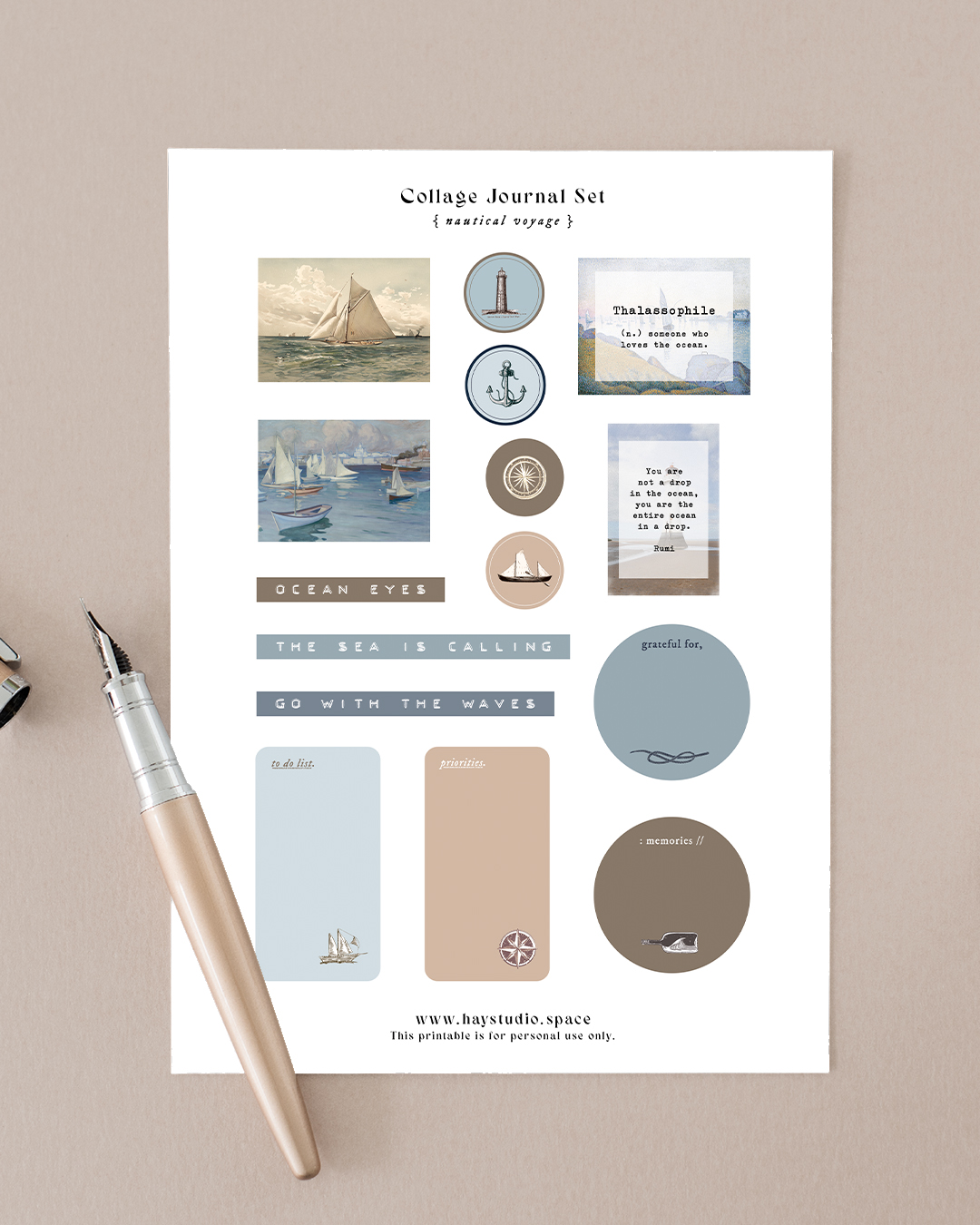 A nautical theme printable in a neutral blue and brown colour palette. Adorn your journal or scrapbook with mini boat paintings, ocean quotes and faux memo sheets.
Tag me on Instagram (@hay.studio) if you share any of your creations that contain my free printables; I would love to see them. Happy journaling!
To download this free journal kit, click here.
More Bullet Journal Ideas
Subscribe to my YouTube channel for more bullet journal setups! Check out these videos for my setup for the previous months:  
***
 If you enjoyed this article, share the love with your bujo pals! To stay updated on future blog posts, subscribe here. 
Related articles, videos and resources:
Disclaimer: Some of the links above are affiliate links, meaning I earn a small percentage of commission via those links, but it doesn't cost you anything extra!
Enjoyed this post? Spread the joy!
☆ Pin this image to help this article reach more people. ☆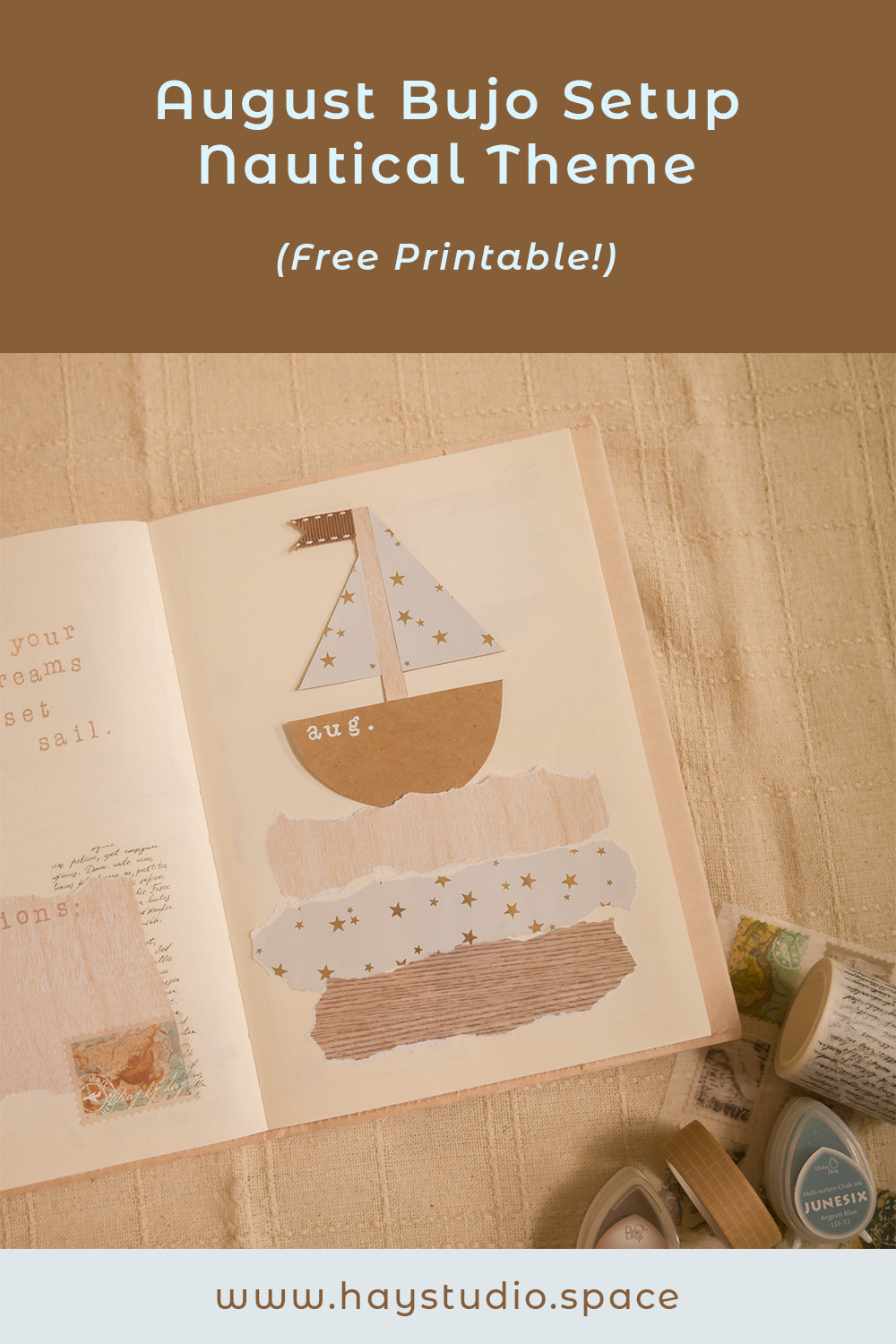 Clicking On These Helps Me Pay My Bills...