2021 Vision Board Tutorial in 5 Beginner-Friendly Steps (Free Printable!)
HAY, how art you? Do you know about a powerful tool that can help you manifest your goals and dreams? This tool is none other than the vision board, sometimes referred to as a dream board or a goal board. In this article, I have broken down the process of making your vision board into five small and actionable steps. There is also a free downloadable printable that is helpful for creating your vision board. Keep reading to check out this vision board tutorial for beginners!
Watch the vision board tutorial video
Watch the creation process of my 2021 vision board here:
Here's a simple definition of a vision board and what it contains:
A vision board is a visual representation of your goals and ideal life and it can contain both images and text.
Step #1: Define the time validity of your vision board and set your goals
The first step is the most important step of all because you will be planning the content of your vision board.
First, decide if your board is for short-term or long-term goals. Annual boards are the most common because they are the easiest to keep track of and plan for.
Then, take a moment and think about one to three segments of your life that you want to improve. Take note of words that instinctively come to your mind. You can also check out this article for a few New Year journaling ideas to get started:
Creative Journaling Prompts to Kickstart 2021 (Or Any New Year)
Step #2: Set aside a home for your vision board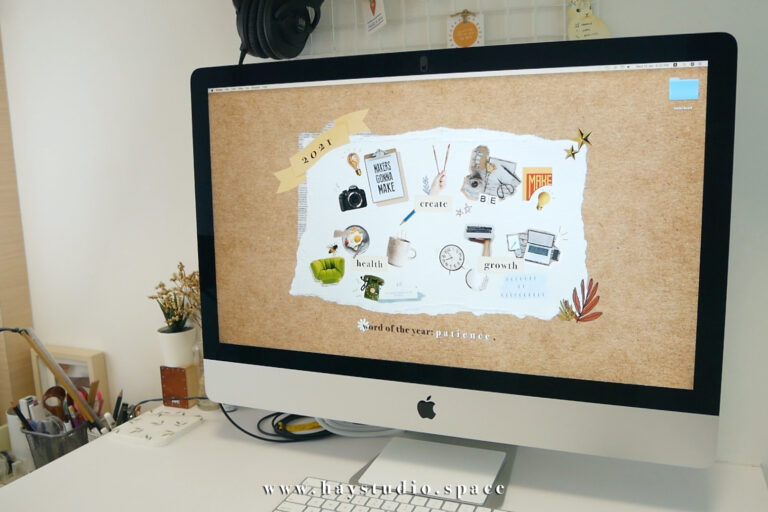 Think about where you want to display your vision board. It can be a digital board that can be saved as your desktop or phone wallpaper, or a physical board that you can pin up on your wall. You can also create the board digitally, then send it for print. The other method is to craft your own board using magazine cutouts or print out some images from the internet. Either way, make sure that the vision board is in your sight regularly so that it serves as a reminder of your goals and dreams. 
I have created a digital vision board which I set as my desktop wallpaper. I use my computer pretty much every day, which means that I get to see the vision board very frequently. To quickly capture the perfect screen dimensions, take a screenshot of your desktop or phone, and then create the digital file based on the screenshot's dimensions. 
Step #3: Collect imagery, quotes and text for your vision board
This step is most fun, IMO!
Find pictures that speak to you and represent the goals or keywords you have come up with during Step 1. Choose vivid and striking images so that the message is clear every time you look at your vision board. For text, use short sentences or single words. The board should be attention-grabbing enough to serve as your reminder.
If you're unsure about what to include, start small. The board doesn't have to be huge! It can be as small as an A4 paper or the size of your phone screen. 
I downloaded most of the images for my vision board from these sites: 
Step #4: Put Everything Together!
To put the board together, I used good old Photoshop, but free programs like Canva, Keynote or Powerpoint work as well.
There are absolutely no rules for how to arrange your vision board, but it should ultimately look pleasing and clear to you.
In addition, remember to be selective. Avoid including too many elements which may make the board cluttered and distracting. Each and every one of the images and text should be meaningful to the vision and time period you have defined in Step 1.
Free downloadable Printable!
In the process of making my board, I decided to create a free printable to share (*sprinkles confetti*). It includes 30 keywords that you can add to your own vision board. It is also great for creative journaling and making collages. Enjoy!
Download the high-resolution PDF file here. 
Step #5: Keep working at your goals!
Congratulations! You are now ready to create your own dream vision board. Even though having a vision board is not a guarantee that all your goals will be achieved, it's still a  great daily reminder of the things you would like to focus on and the life that you would like to be leading. So, keep working hard at your goals!
Also, it's completely okay to make changes to your vision board if your goals have changed along the way, and there are new things that you want to prioritise in your life.
Subscribe to my YouTube channel for more creative content! Check these ones out for more inspiration:  
Disclaimer: Some of the links above are affiliate links, meaning I earn a small percentage of commission via those links, but it doesn't cost you anything extra!
Enjoyed this post? Spread the joy!
☆ Pin this image to help this article reach more people. ☆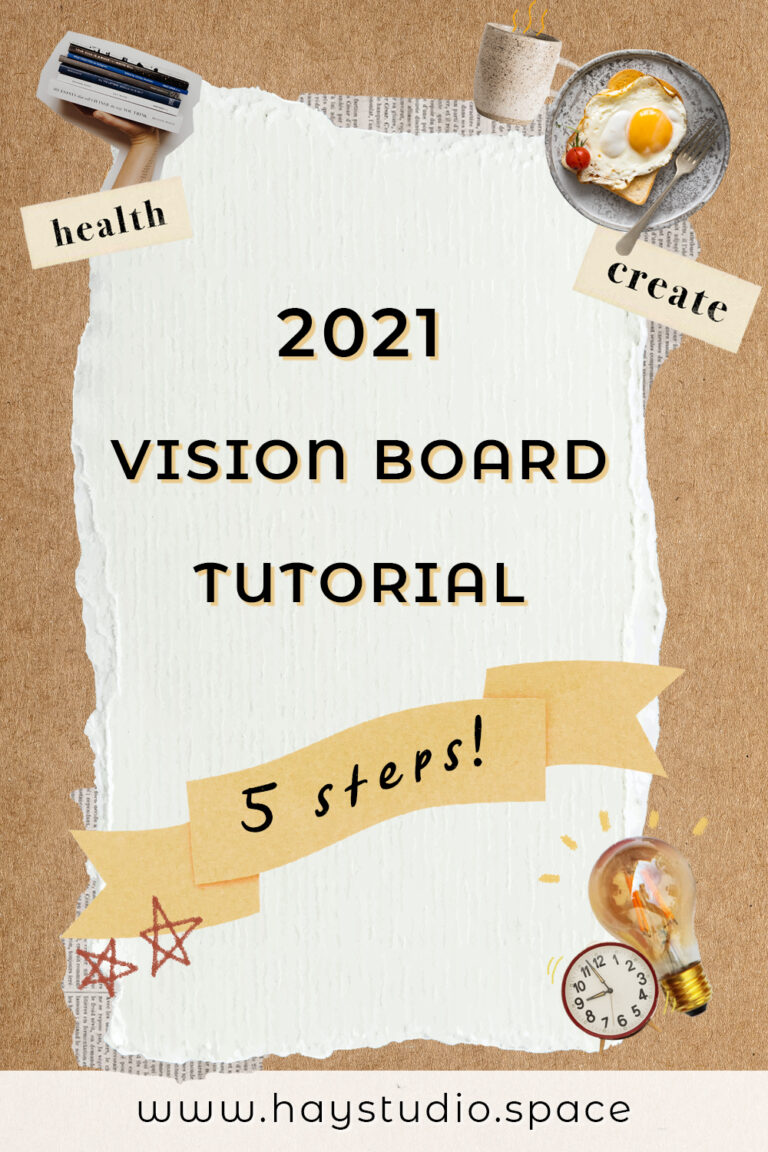 Clicking On These Helps Me Pay My Bills...