Whimsical Pop Up Bullet Journal Setup (Free Printable)
HAY, how art you? For August, I decided to set up my bullet journal collage-style again, but this time with a couple of pop-up elements. I was having a little creative block before the setup, but I really love how it all turned out in the end! I also designed a set of affirmation and reminder banners this month, and included a few of them in this setup. Scroll down for the video process, photos of the spreads, and link to the free printable. 
Check out the following video to watch the setup process and journal with me!
whimsical pop up Bullet Journal Setup – Cover Page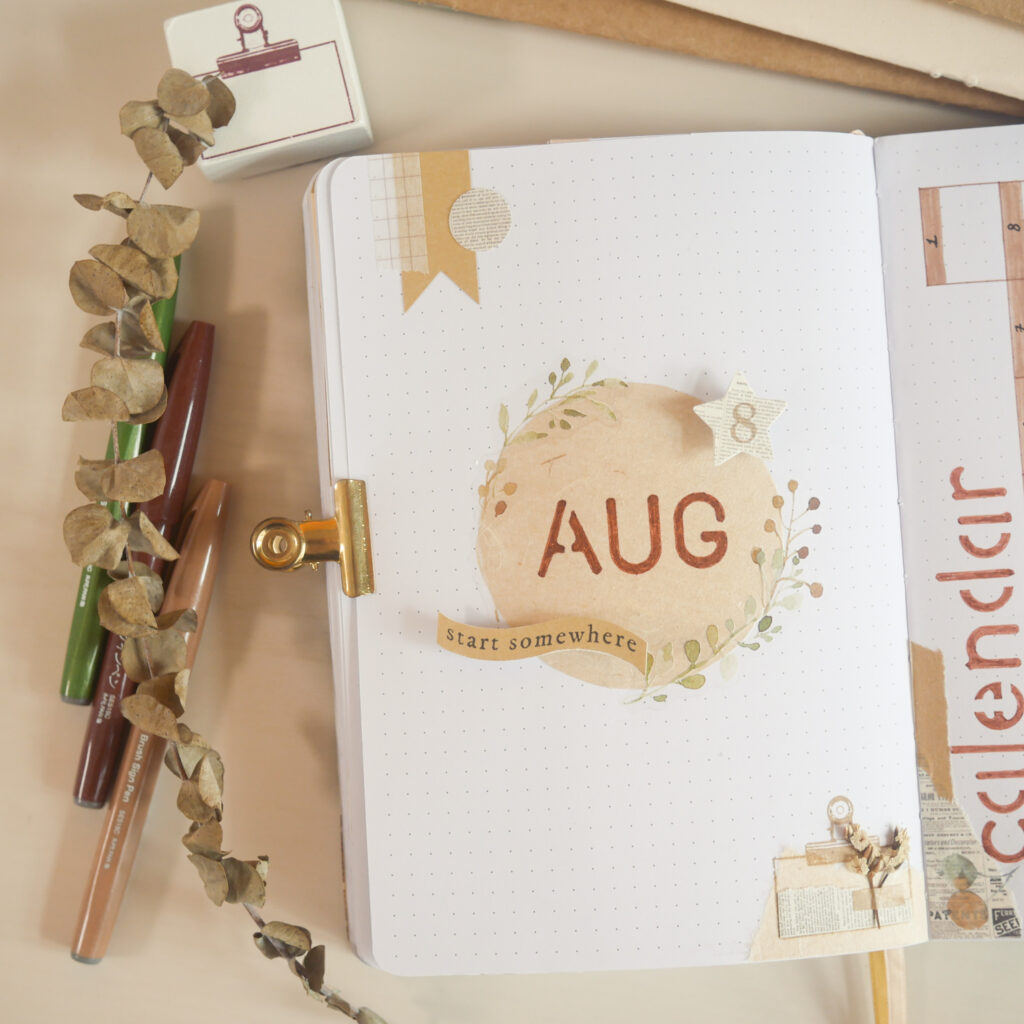 The cover page features a circle cut out from a piece of beige textured paper, leafy branches transfer stickers, and "Aug" written with the help of an alphabet stencil. The banner that says "start somewhere" is one of the free printable banners, which you can download here. To create the pop-up effect, I glued small pieces of sponge behind the elements. This ensures that the pages can still be completely flattened without ruining the pop-ups or make writing difficult. 
I'm in love with how the colours came together, and the elements look really whimsical and delicate!
whimsical pop up bullet journal setup – calendar
To fit the calendar on a single page, I used a landscape layout. The header was written in the same stencil font, and I decorated the corners with simple collages using the same materials as those used on the cover page. "One day at a time" seems like an apt phrase for a calendar spread!
whimsical pop up bullet journal setup – Supplies
Here's a list of supplies that I used for the setup this month: 
Muji fountain pen
whimsical pop up bullet journal setup – Weekly Spreads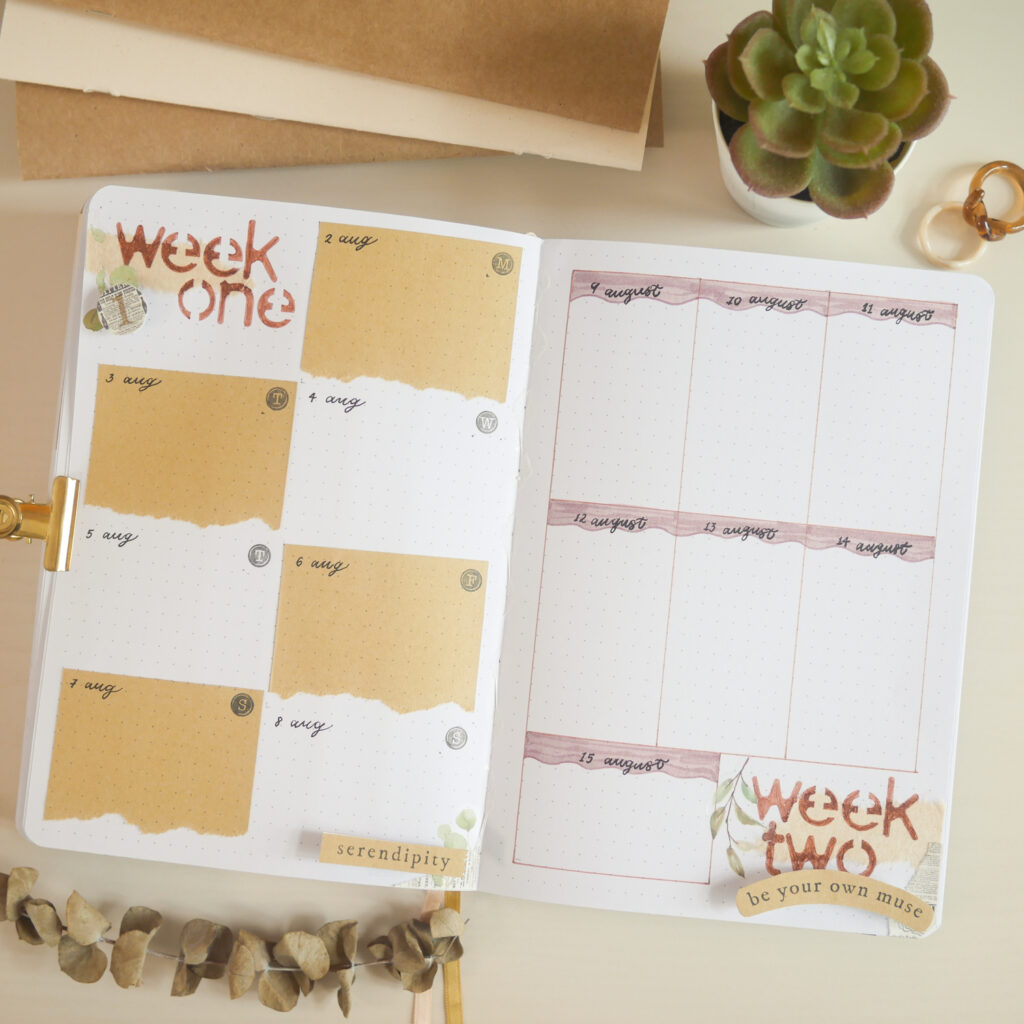 My journal is running out of pages and I really want to use this journal for the entire year! Hence, I decided to make single page weekly spreads until the end of this year. I experimented with two different layouts for the first two weeks of August.
There wasn't much space left for decorations, but I still managed to squeeze in at least one pop-up element for each page!
Free Journaling Printable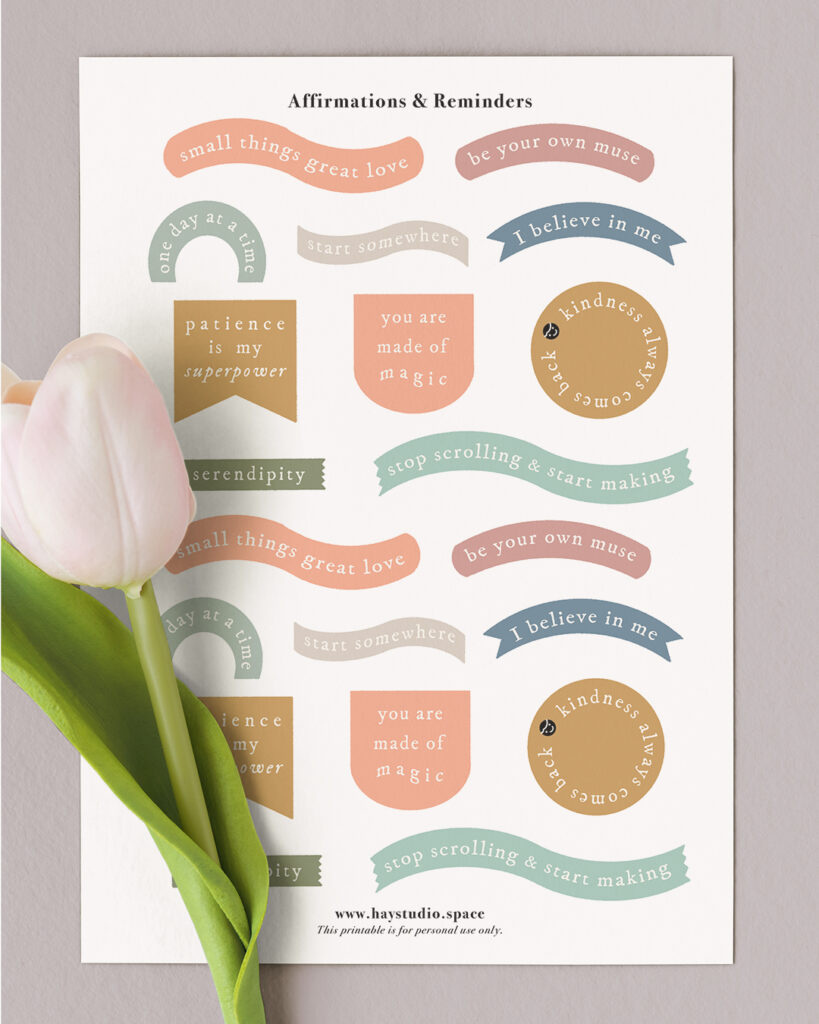 I printed the black and white version of these banners on kraft paper, and used them for this bujo setup. To download the high-resolution PDF file of this free printable, click the link below:
More Bullet Journal Ideas
Subscribe to my YouTube channel for more bullet journal setups! Check out these videos for some inspiration:  
***
 If you enjoyed this article, share the love with your bujo pals! To stay updated on future blog posts, subscribe here. 
Related articles, videos and resources:
Video – 3 Simple DIY Collage Zines
Disclaimer: Some of the links above are affiliate links, meaning I earn a small percentage of commission via those links, but it doesn't cost you anything extra!
Enjoyed this post? Spread the joy!
☆ Pin this image to help this article reach more people. ☆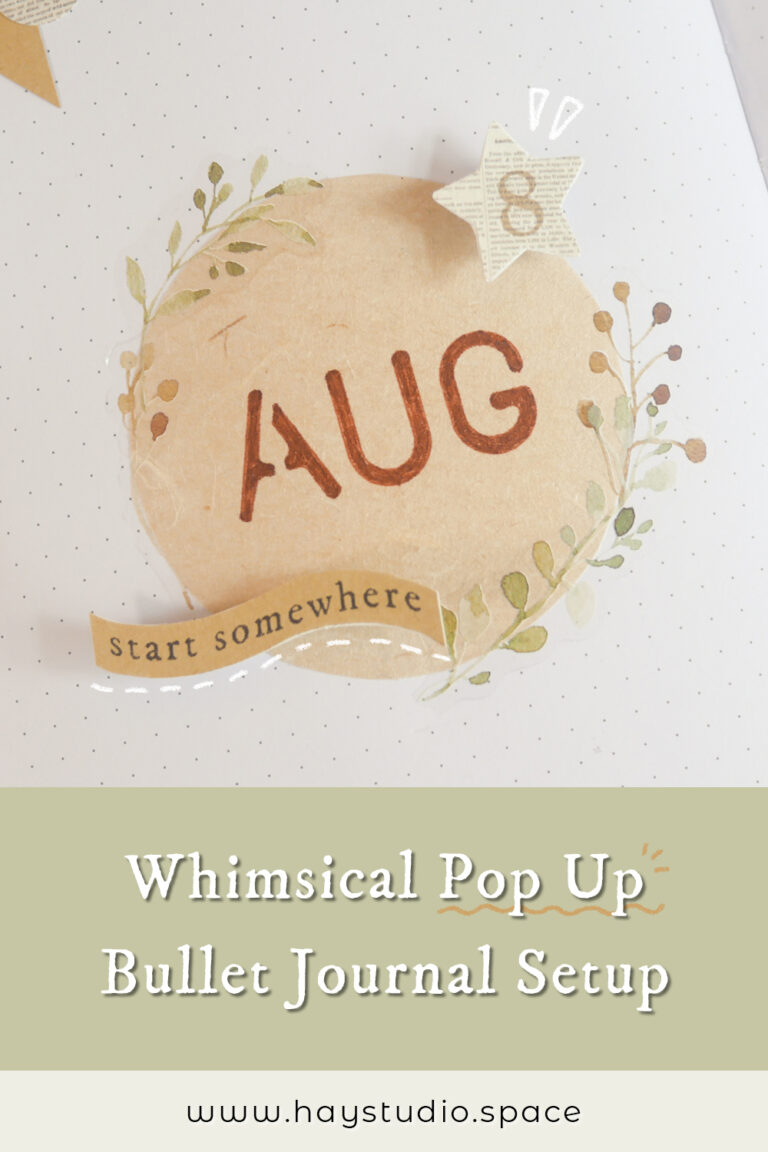 Clicking On These Helps Me Pay My Bills...