Book Journaling Ideas for Non-Fiction Books - How to Retain Information Better
HAY, how art you? I just finished reading my first book of this year – "The Obstacle Is the Way" by Ryan Holiday, which I thoroughly enjoyed. I started making my own book summaries and notes in my Notion database last year, to allow myself to better understand and retain the information from the books I have read. Even though I already have the information stored digitally, there is something different and enjoyable about creating these physical analog journal spreads. Keep reading for book journaling ideas for non-fiction books!
Watch the setup process of the journal spreads here:
Book Journaling Idea #1: Summarise 3 Key Ideas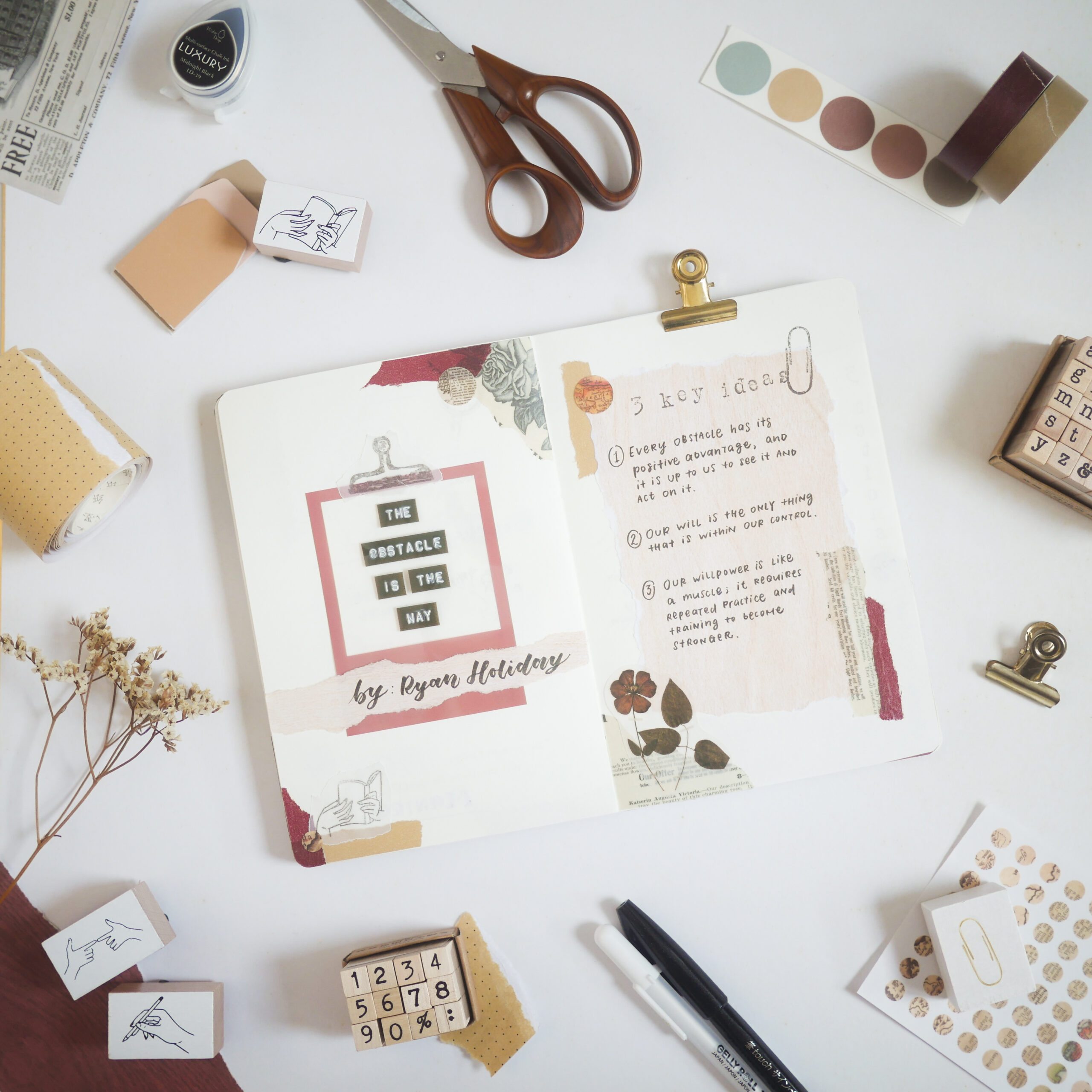 The first book journal idea is to summarise 3 key ideas from the book. This provides a clear overview of what the book is about, and also makes a good reference in future to decide if you want to re-read the book in future. 
On the left, I made a cover page with the book title and author's name, and used the space on the right for the summary of the key ideas.
The vintage-ish colour theme and floral elements is kind of inspired by the original book cover:
I used a label maker to print out the book title; this is one of my favourite ways to add texture and character to the journal spreads. Then, I pasted them on a polaroid sticker and lettered the author's name on a wood-print paper. I added some washi tapes and stamps to decorate the page and moved on to the right side of the spread.
Here are the three key ideas I summarised from this book:
Every obstacle has its positive advantage, and it is up to us to see it and act on it.
Our will is the only thing that is within our control.
Our willpower is like a muscle; it requires repeated practice and training to become stronger.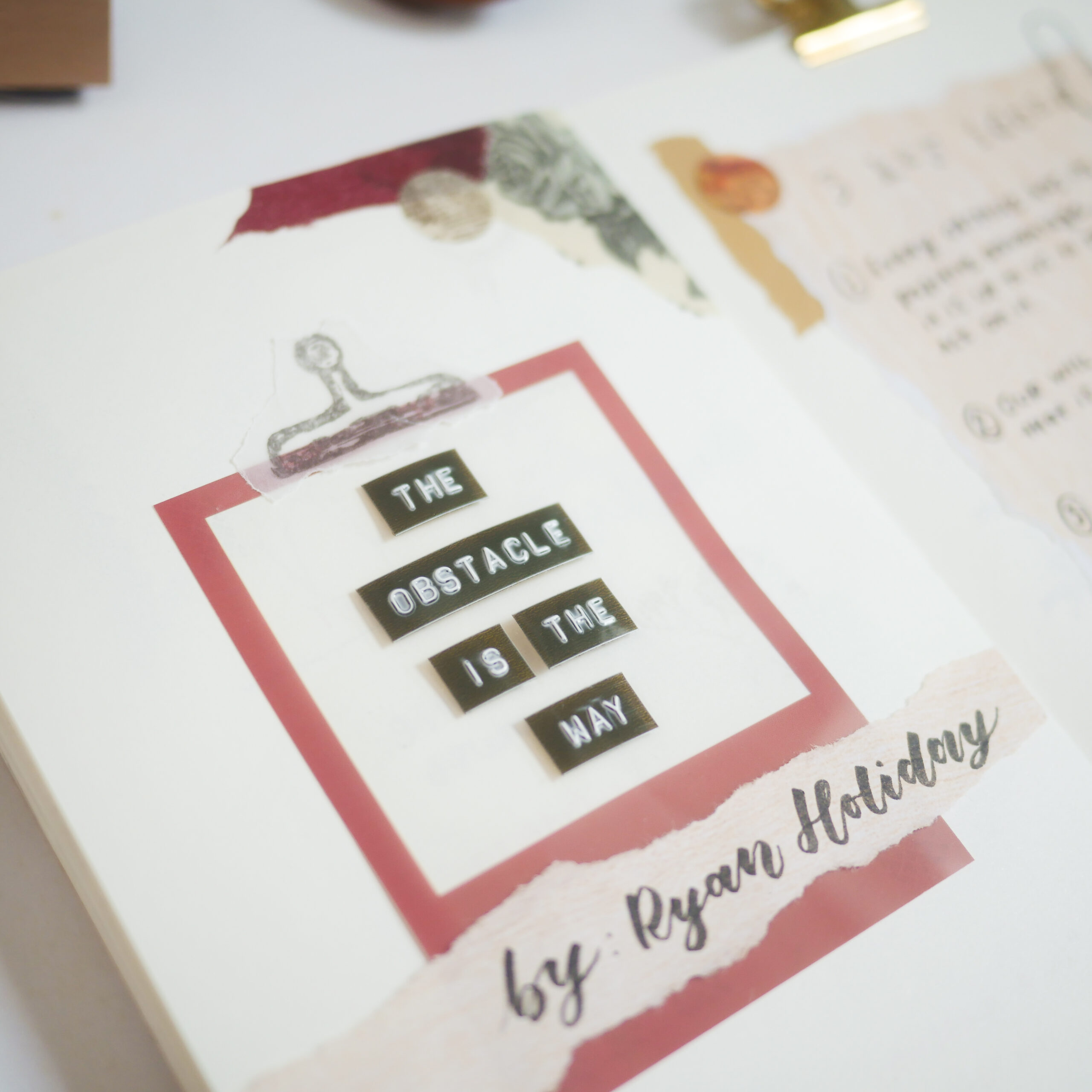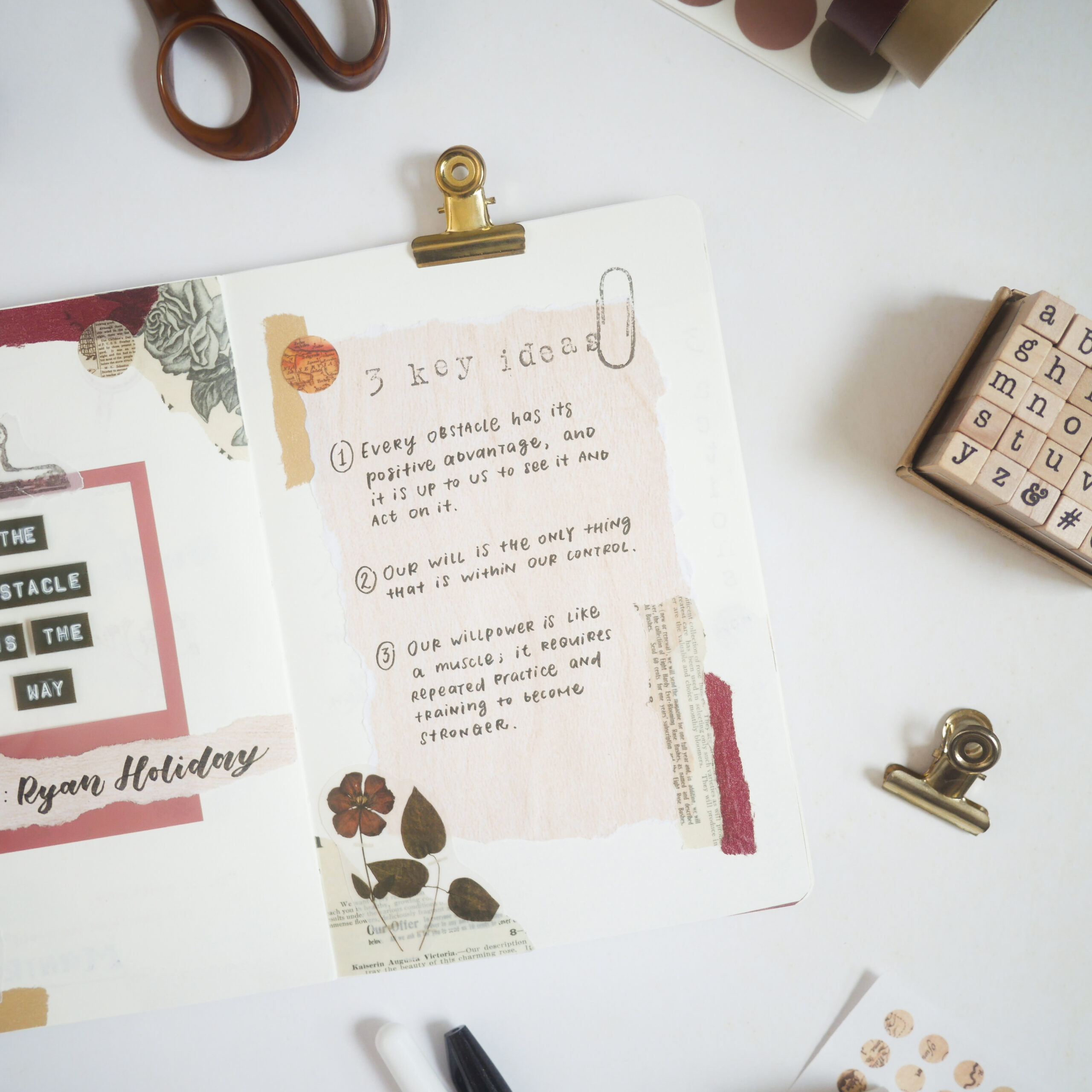 book journaling idea #2: 3 actions now & someday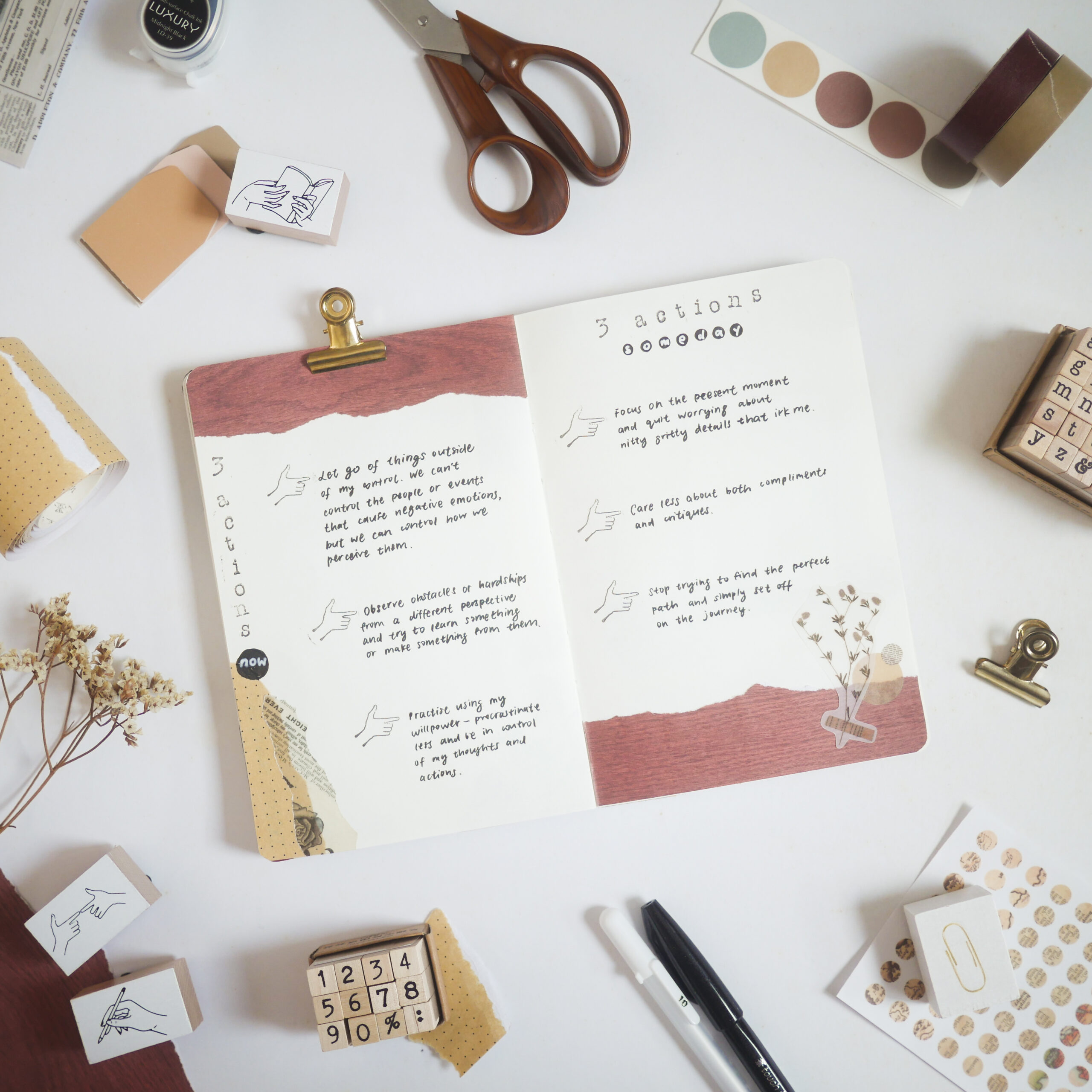 The second book journal idea is to pen down three actions to take now and three actions to take someday. After reading the book, I took some time to think about how I can apply the principles from the book to my life now. I used a wood-print paper in a darker colour,  kraft paper and other stickers to decorate the page first, before writing down the main content.
On the left side of the spread, I wrote down three actions that are relevant for my current stage of life: 
1. Let go of things outside of my control. We can't control people or events that cause negative emotions, but we can control how we perceive them.
2. See obstacles or hardship from a different perspective and try to learn something or make something from each of them. Observe, not perceive.
3. Practise my willpower – slowly procrastinate less and be in control and clear of my thoughts and actions.
On the right side, I wrote down three actions that I can take someday. I think it's a good idea to just record them and revisit them from time to time. These are actions that I find more challenging to implement as compared to the actions to take now:
1. Focus on the present moment and quit worrying about nitty gritty details that irk me.
2. Care less about compliments. If I don't feel as much for compliments, I won't feel as much for critiques, in the same way.
3. Quit trying to find the perfect path and just set off on the journey.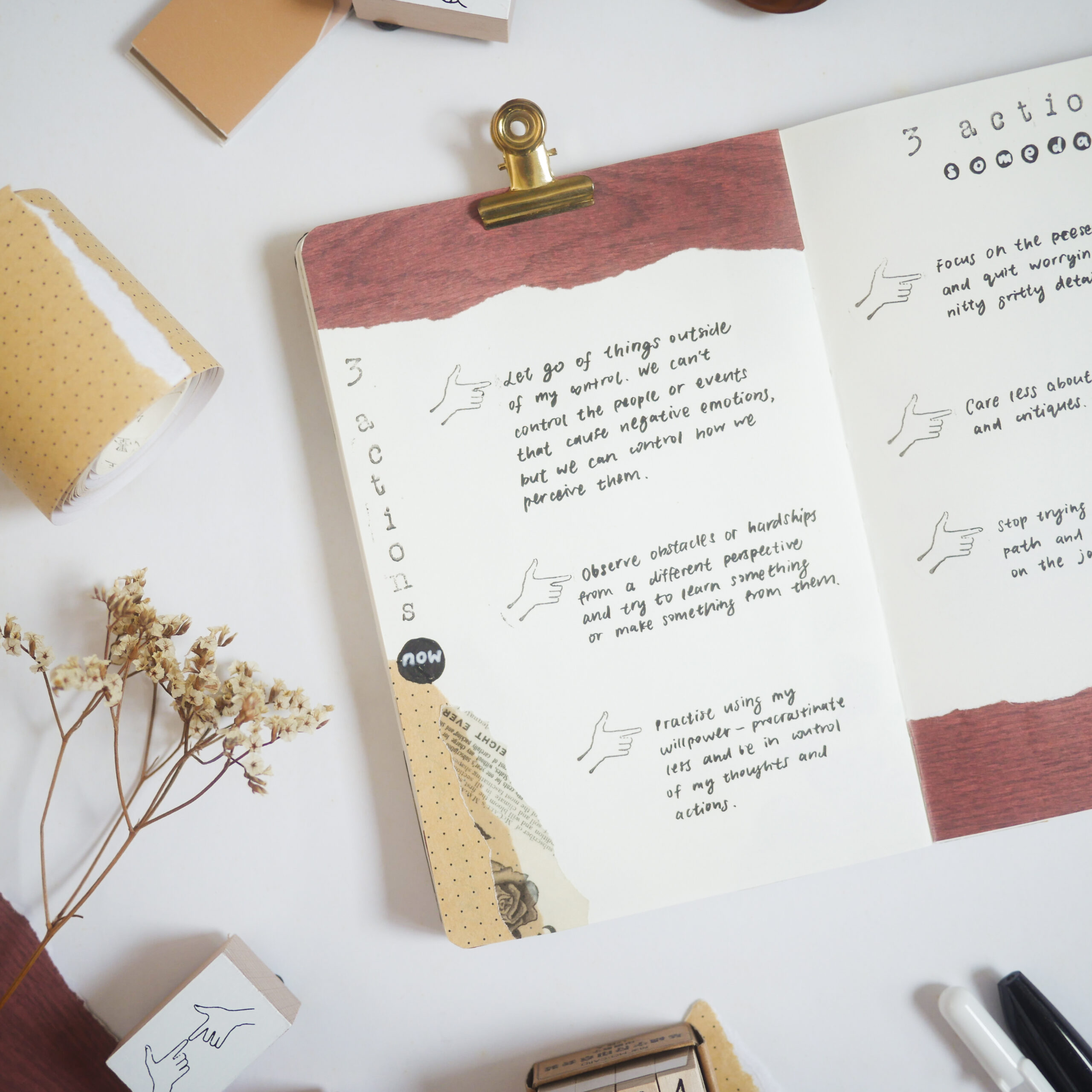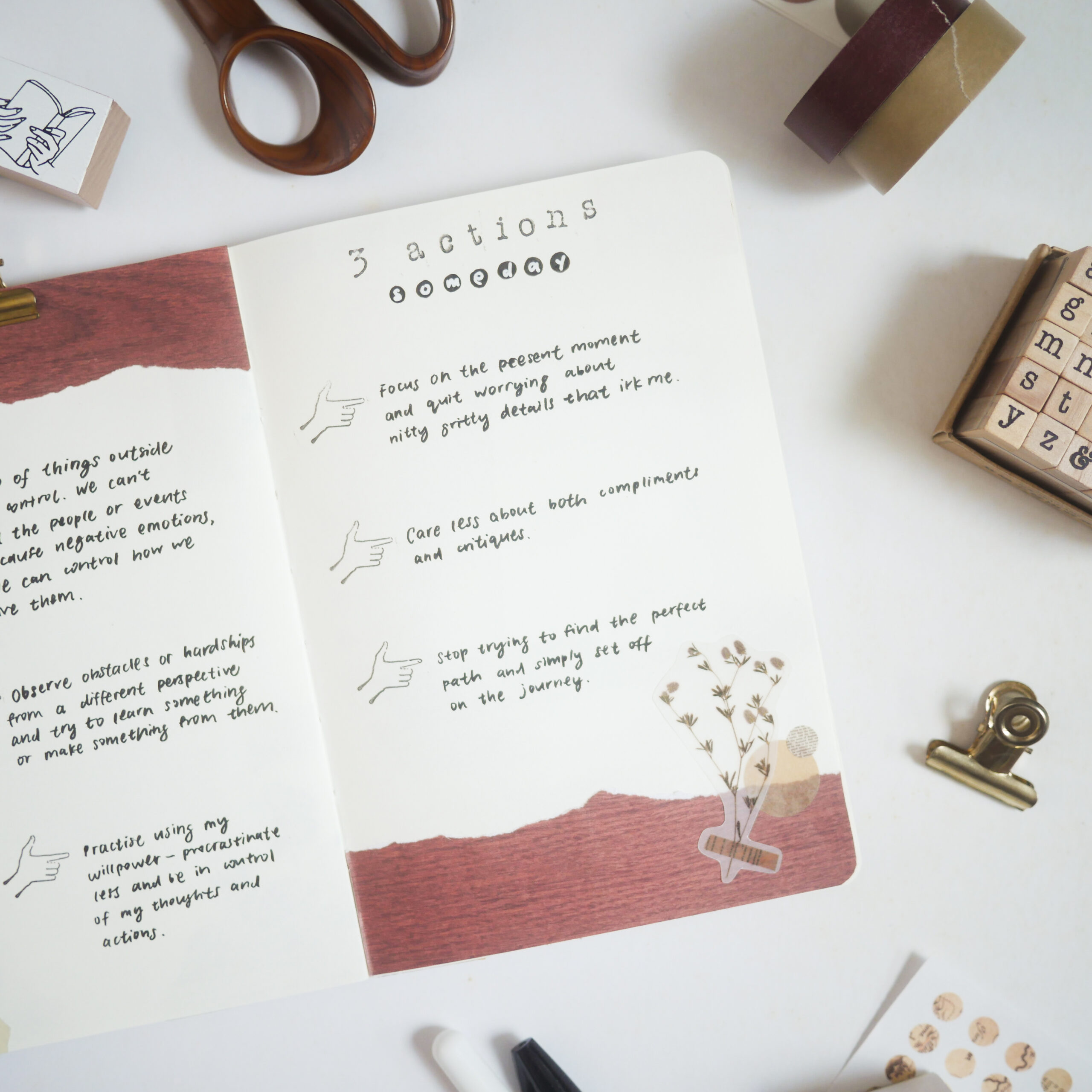 book journaling idea #3: 3 Favourite Quotes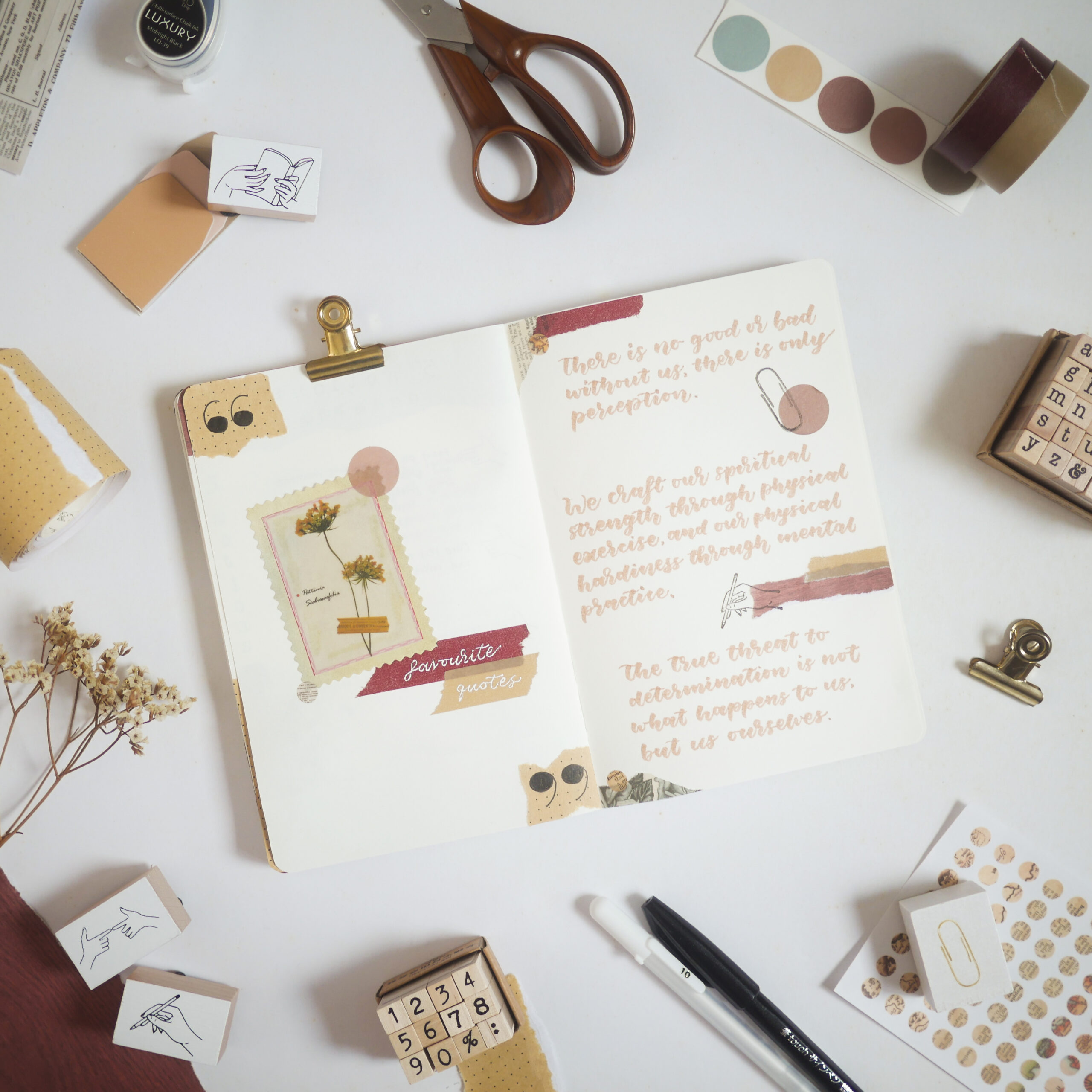 For the third and final book journaling idea, I recorded my favourite quotes from the book. I love collecting book quotes and I have a long list recorded in my Notion database, and I picked three of them for this spread:
1. "There is no good or bad without us, there is only perception. There is the event itself and the story we tell ourselves about what it means."
2. "We craft our spiritual strength through physical exercise, and our physical hardiness through mental practice."
3. "The true threat to determination, then, is not what happens to us, but us ourselves."
Subscribe to my YouTube channel for more creative content! Check these ones out for more journaling inspiration:  
Disclaimer: Some of the links above are affiliate links, meaning I earn a small percentage of commission via those links, but it doesn't cost you anything extra!
Enjoyed this post? Spread the joy!
☆ Pin this image to help this article reach more people. ☆
Clicking On These Helps Me Pay My Bills...